Ring-ding Revival: The Enduring Appeal of Kawasaki Triples and the Yamaha RD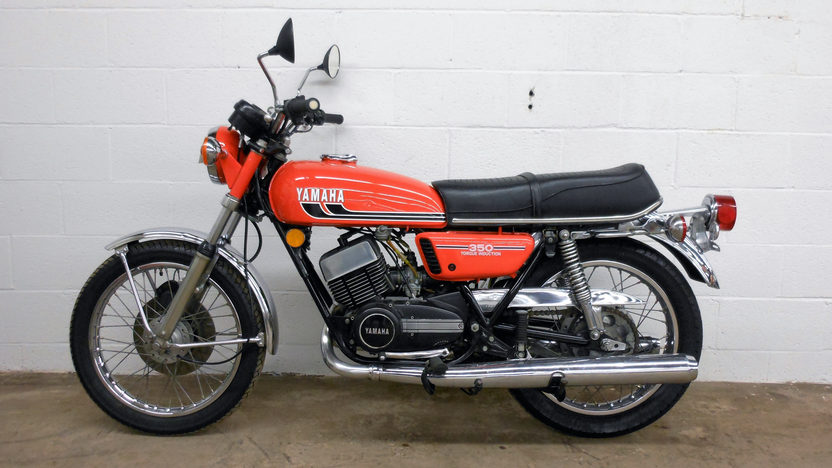 It's been nearly 40 years since you could buy a street-legal motorcycle powered by a two-stroke engine, and many enthusiasts still lament their demise. The air-cooled two- and three-cylinder two-strokes of the 1960s and '70s, made by Kawasaki, Suzuki and Yamaha (and imported in smaller numbers by Bridgestone), were light, quick and sometimes a bit uncivilized. They were available with displacements up to 750 cc; their fans still speak about them in alphanumeric code: RD350. H1. T500. H2. S3. GTR.
Looking back, the two-stroke road machines were renegades. They rode a wailing, smoky wave of popularity that lasted little more than a decade before falling victim to ever-tightening exhaust emission regulations. While their detractors, who typically rode Hondas and other four-stroke machines, dubbed them "ring-dings" — a jab at the engine's rough-sounding exhaust note at idle — their owners prized them as giant killers, mechanically simple devices capable of humbling larger, more expensive four-stroke competitors wherever they faced off.
Said Cycle magazine in its 1979 road test of Yamaha's new RD400F Daytona Special, the last of a long line of air-cooled RDs: "Anyone with the narrowest streak of antisocial behavior will find the RD the perfect conspirator. It is Dennis the Menace on Yokohama tires, and is the most fun street motorcycle currently for sale."
But by the time the one-year-only Daytona Special hit showrooms, engineers in Japan had already seen the low-emissions future — and it was the four-stroke engine, despite trying liquid cooling (on Suzuki's GT750 and the Yamaha RD350LC) and catalytic converters. Steadily, the bikes that had ruled the ring-ding roost when new — predominantly the Yamaha RD350 and 400 twins and Kawasaki's bullet-fast three-cylinder 500-cc H1 and 750-cc H2 superbikes — faded from regular use and emerged as bona fide classics. Owner clubs formed, parts supplies consolidated and restorers were soon scouring swap meets for feedstock.
"I've been buying, servicing and restoring them almost since they were new, and they keep getting more popular," said Johnny Bova, a Kawasaki triples expert and owner of Johnny's Vintage Motorcycles in Wadsworth, Ohio. Values continue to climb for early examples (1969-70) of the unruly H1 and are soaring for the mighty H2, which command prices from $4,500 (a somewhat worn but decent rider) to more than $20,000 for a like-new survivor from the initial 2,500-unit batch of first-year 1972 production. The relatively rare S1 250, S2 350 and S3/KH 400 triples have been rediscovered among collectors as well.
"The challenge with the big triples is they were the fastest stock bikes of their day," Bova said, "so naturally many owners modified them for even greater performance — expansion chamber exhausts, engine porting, carburetors — which affected their reliability." Some transmission gears are hard to find, he reports, and properly rebuilt crankshafts are in steady demand. Bova's shop currently manufactures nearly 60 parts for three-cylinder Kawasakis that were long unavailable.
Cheap, fast and more plentiful are Yamaha's feisty RD350 and RD400 twins, sold in 1973-79, and their R5 predecessor of 1970-72. All descended from the 1967 YR-1, the company's first 350 twin. But the RD350 is arguably the standard bearer of all Japanese two-stroke road bikes. Fitted with a single front disc brake and reed-valve induction (replacing the R5's old piston-port intake), and influenced by Yamaha's world-beating factory roadracers, the 1973 RD350 was almost unmatched on a twisty road but could also tour long distances.
"All those engines responded to basic tuning very well, but the RDs could easily be upgraded to parts made for the TZ series racers," observed Kevin Cameron, Cycle World's veteran technical editor and a renowned expert on two-stroke race bikes. "Fancier tuning could be modeled on the available racing cylinders made for the TZ," he said.
Retailing for about $800 when new (and, like the Kawasakis, typically ridden hard), RD350s in daily-rider condition now bring $2,500 and up. Clean original examples and correct restorations are in the $4,000 to $5,000 territory. Collectors aim for these and the final Daytona Specials, benefitting from a healthy supply of parts across the RD's seven years of production.
Yamaha RD350 and Kawasaki H1 Mach III
Years sold in the U.S.:
Yamaha RD350: 1973-76
H1: 1969-75
Engine type:
Yamaha RD350: Air-cooled reed-valve parallel twin two-stroke
Kawasaki H1: Air-cooled piston-port inline three two-stroke
Gearbox: 6-speed (Yamaha RD350), 5-speed (Kawasaki H1)
Displacement (cc):
Yamaha RD350: 347
Kawasaki H1: 499
Claimed horsepower:
Yamaha RD350: 39 @ 7,500 rpm
Kawasaki H1: 60 @ 7,400 rpm
Top speed (mph):
Yamaha RD350: 105
Kawasaki H1: 115
Price new:
Yamaha RD350: $880 (1973)
Kawasaki H1: $999 (1969)
Price range 2016:
Yamaha RD350: $1,000 to $5,500
Kawasaki H1: $3,500 to $15,000