Collector Motorcycles: Ticket to Ride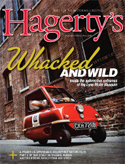 No longer just two-wheeled rebels, classic bikes are now considered blue-chip investments and valued additions to many serious car collections.
Back when we were kids, there were probably two kinds of magazines we dreaded having our parents find us with: modesty prevents mentioning the first type here, but the second kind was about motorcycles. That's because among life's many attractions, motorcycles have always deliciously balanced excitement and danger, with maybe a pinch of antisocialism thrown in.
Throttling a roaring engine, banking into a curve or just flying along a rural two-lane road and drinking in the smells of the earth are all powerfully attractive motorcycling experiences. And now that we're a little older, many of us are discovering classic motorcycles for their aesthetic beauty and relative affordability compared to cars. But where do you begin if you didn't grow up with kickstands and kick-starting in your blood?
As with cars, some of the most affordable and enticing motorcycle classics range from the 1950s to the early 1980s, and the countries that manufactured great cars in that period also produced some pretty amazing motorcycles. Not surprisingly, many engineering and design tenets are shared: high styling and ruggedness for American machines; exquisite design and exotic performance for the Italian bikes; practical yet graceful engineering for British iron; and fastidious detail and easy use for Japanese brands. Hardly sport bikes, German BMWs of the era were slow moving, thoughtful and solid, although they did exude quality and class.
Collector criteria
Collector motorcycles can range in price from a few hundred bucks for a small-displacement runabout, like a vintage Honda 90, to $500,000 for a one-of-a-kind factory racer. But many quality machines are available from $5,000 to $20,000. With scores of manufacturers and hundreds of models built during the postwar decades, there's no shortage of pathways to follow with collecting.
But unlike collector cars, most of which are street legal, motorcycles range from utilitarian street bikes to purebred dirt bikes and specialized road racers. For the general collector, street bikes are the best choice because they can be shown or ridden without having to trailer them to a track. Instead, you can wheel one out of the garage, fire it up in the driveway and be on your way for a ride on the open road.
When it comes to choosing a classic motorcycle, ask yourself what you want to do with it and then work backward. Do you mostly want to ride? Admire an artistic two-wheeler in your foyer? Or just fulfill a childhood fantasy your parents wouldn't allow? Having a clear idea as to your purpose will greatly simplify the selection process.
Here are some thoughts on compelling choices, grouped in three different price categories. Choose one dream bike for $20,000, or spread the excitement over several more affordable models. Every motorcycle below offers a unique and valuable combination of technical intrigue, visual appeal, riding pleasure and historical relevance, and all were built in sufficient numbers to remain reasonably available now. Best of all, in volatile economic times, such "blue chip" models hold up relatively well while also holding strong appreciation potential in good times.
Up to $5,000
With performance comparable to muscle cars, the Japanese superbikes of the early 1970s are fantastic bargains. Long considered a motorcycle icon, the 1969–76 Honda CB750 Four features a silky four-cylinder, air-cooled, overhead-cam engine, typical Honda attention to detail, strong but flexible performance and classic styling with its four chromed pipes.
The bad boy of the era is the 1969-72 Kawasaki 500 Mach III. Its dramatic three-cylinder, two-stroke engine's banshee wail, jackhammer vibration and smoky exhaust contrail guarantee a wild ride every time. Yamaha launched its first four-stroke, the 1970–72 XS650 (a.k.a. XS-1 and XS-2), during the reign of British twins. Its classic styling holds up beautifully today. Torquey performance from the 653cc parallel twin (with plenty of vibration), an upright seating position and a soulful exhaust note make Yamaha's first superbike a natural for collectors.
German motorcycle companies have always gone their own way in both engineering and design. One of the high-water marks is the superlative 1973-76 BMW R90S. Plenty fast, roomy and utterly smooth (at certain engine speeds), the pushrod 898cc opposed-twin engine was fed by big Italian 40mm pumper carbs on the early versions. A specially prepared R90S won the first-ever AMA Superbike race at Daytona back in 1976, but you can ride a production version from Los Angeles to New York in total comfort today.
New or smaller riders will appreciate the 1976-80 Moto Morini 3½. So named for its diminutive 344cc air-cooled, pushrod V-twin, this Italian-built roadster offers lovely styling as well as lighter weight. Besides an attractive and unusual powerplant, early Morini 3½ models also feature lovely stainless-steel fenders and spoke alloy wheels.
$5,000 to $10,000
One of the most famous bikes in the world is the 1959-72 Triumph Bonneville. Marlon Brando rode its earlier cousin, the Thunderbird, in "The Wild One." Its pushrod 649cc vertical twin engine, original two-tone fuel tank and unique "chrome pickle" exhausts long set the standard for British twin design.
England's stylish 1969-75 Norton 750 & 850 Commando is most deserving of classic status. It offered some the best engine and chassis performance of its day, and its four-stroke pushrod vertical twin is a thing of beauty. Norton's inventive "Isolastic" rubber engine mounting system also yields a wonderfully smooth "sweet spot" to go with its creamy powerband.
The best and brightest of a long-running line of Italian bevel-gear driven overheadcamshaft singles was the 1971-74 Ducati 350 Desmo. Plenty quick for highway work, in the turns it could outrun bikes with twice the displacement. Its unique engine featured a high-revving desmodromic valvetrain requiring no springs. Racing foot controls and handlebars and sprightly Italian styling add to the appeal.
Audacious was the 1978-80 Honda CBX. Inspired by the company's famous RC166 six-cylinder grand prix machine, the 1047cc CBX also featured six cylinders, dual overhead camshafts and 24 valves – with a stratospheric redline to match. Capable of 11-second quarter miles, it's still fast today – and looks it. A polar opposite is the 1971 Harley-Davidson Super Glide. Adorned with white "boat-tail" bodywork with red-and-blue accents, biggerthan- life dimensions and that famous 74-cubic- inch Harley shovelhead V-twin, the Super Glide is unashamedly all American.
$10,000 to $20,000
This level features some genuinely covetable motorcycles that single-handedly created new design genres and influenced generations of riders. From England comes the 1954-63 BSA Gold Star, a single-cylinder machine built in both 350cc and 500cc variants. The "Goldie" was the quintessential English "café racer" of its day and scored important racing wins on both sides of the Atlantic. Its alloy engine and chrome-sided fuel tank are simply incomparable, as is its heritage.
If the Gold Star is an open air masterwork, the exquisite 1965-71 Velocette Thruxton is impressionistic perfection. Its intricate pushrod 499cc single-cylinder engine, low bars and rearset foot controls, fishtail exhaust and racing "bum-stop" saddle defined it on the street and the track. But, like the Indy 500 roadsters of the mid-1960s, the Thruxton was also the swan song of big British singles as the hot-performing Japanese two-strokes laid waste to everything else on the track.
Ducati's win in the 1972 Imola 200 with its new 748cc desmodromic V-twin positioned the Italian company among the world's avant garde sportbike makers. The low-production first-series 1974 750 Super Sport race replicas that followed now trade for six figures, but the second-series 1975-77 900 Super Sport offers the same fundamental goodness at a fraction of the price. An alloy 864cc 90-degree engine with race-spec tuning, desmo valve gear, triple disc brakes, racing controls and plenty of stainless and alloy, plus dazzling Italian styling and a historic name, make the whole package.
Several postwar American bikes are deeply rooted in our culture. These include the 1946-53 Indian Chief, a 74- to 80-cubic-inch V-twin. Its relaxed, loping countenance, sprung leather saddle and tank-mounted gearshift make riding a full-dress Chief down an abandoned stretch of Route 66 a guaranteed time-travel experience. No owner of a 1957 Corvette should be without a matching 1957 Harley-Davidson Sportster. The first of the storied Sportster lineup, the '57 model debuted the minimalist styling that has defined the Milwaukee company ever since. Short, low-slung and brassy, the Sportster is all about the 55-cubic-inch V-twin engine.
Whatever vintage motorcycle kick-starts your interests, just remember that all 50 states require a separate license to ride one on the road, and that wearing appropriate safety apparel and getting proper rider training are a must. The Motorcycle Safety Foundation (msf-usa.org) provides expert rider-training programs nationwide, and joining the American Motorcyclist Association (ama-cycle.org) puts you in good company with almost 300,000 other like-minded souls. Now … ready, set, collect!
Hagerty also provides coverage for collector motorcycles. For info, go to hagerty.com/ motorcycles or call 877-922-9701.
***
To see this article in its original format, view the pdf version of the Fall 2009 issue of Hagerty magazine.