Riding cross-country on a pre-war motorcycle is the best kind of crazy
Riding a modern motorcycle cross country is just a little bit crazy. Riding a pre-1948 motorcycle cross county is insane. With just two small drum brakes, foot clutches, stamped steel, and hardtail chassis, most bikes of that era are not only complicated to ride, they are flat out demanding. Those demands are what almost 100 riders are setting out to prove they can handle this week as part of The Motorcycle Chase, a rally that stopped for a break at Hagerty's home office in Traverse City, Michigan on its way to Key West, Florida.
The rally of riders started even further north in Sault Saint Marie, Michigan, and the hopes that the weather would be kind were immediately dashed. Rain greeted the two-wheel enthusiasts as they left town and started south.
"We made it a little down the road and then the rain started," said Mike Butts, who was taking a break from the seat of his 1947 Harley Davidson EL. "I tried to put some more layers on, but once you're wet, it's just hard to dry out and get warm."
Staying warm isn't the only challenge for these riders, as many of these vintage machines were not built for long runs at sustained speed. Even in the Hagerty parking lot—which was the first stop since they started—maintenance was being performed on machines. A 1930 BSA Sloper had its primary cover removed to lubricate the primary chain, which transfers the rotation of the engine to the transmission.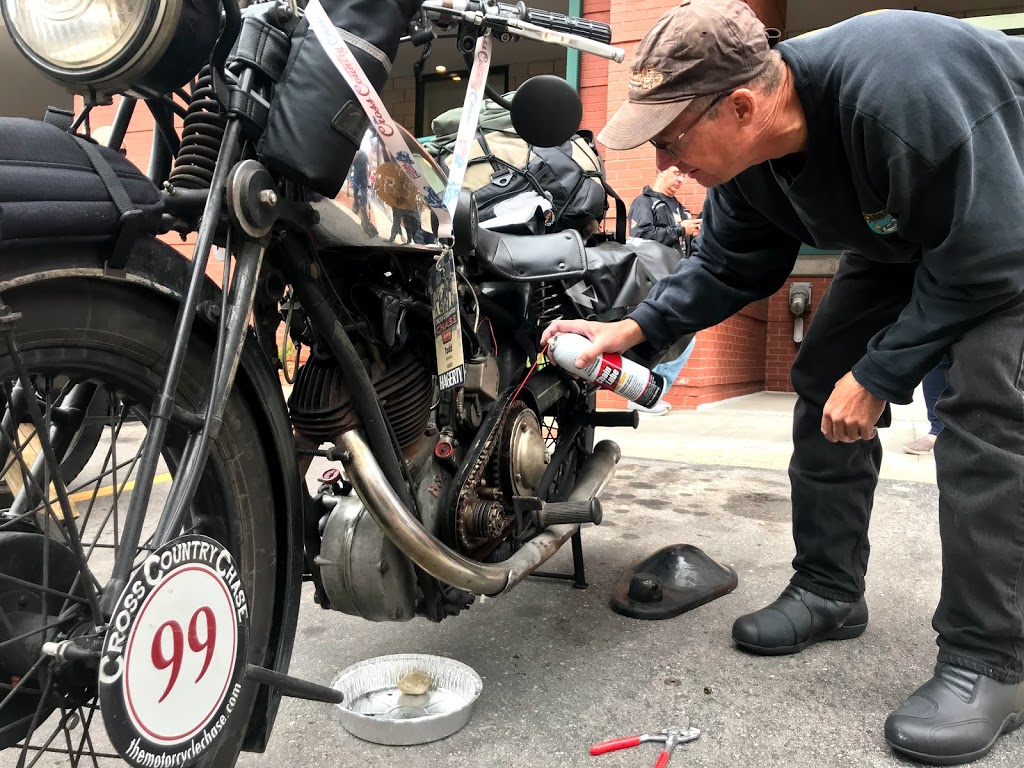 Todd Cameron, the rider of the BSA, mentioned that the chain should be automatically oiled, but instead it was dry as a bone. A quick reach in the saddle bags revealed a can of aerosol chain lube. Cameron fired up the engine and ran the bike in gear on the center stand to lube the chain in preparation for the afternoon's ride.
The maintenance done in the parking lot is just the tip of the iceberg. All of the competitors in this rally are making the run self-supported, carrying all the items they might need for maintenance on their bikes, unlike some other vintage motorcycle events which are set up for earlier bikes and have support crews that can drive separately. A quick look through the rider list reveals many of the competitors are veterans of long-haul trips on classic steeds, like the Motorcycle Cannonball.
If you want to see these mad men and women in action, you can check out The Motorcycle Chase's website, which lists all the stops over the next week of riding. Talking to the riders is infectious and it made me start searching for another two-wheeled friend to leak oil in my garage. But I won't be on the entry list for The Motorcycle Chase—yet.