Lancia Group B rally cars are tearing up the market
Lancia has made its way into the headlines a few times this year—for good reason. From RM Sotheby's sale in Essen, Germany, to Gooding & Company's Pebble Beach sale, some truly special Lancias have been up for grabs. And over the course of the summer, one thing has become apparent: Group B-era Lancias are going nuts.
The Group B years (1983–86) were those of raw, unrestrained power and had every major European manufacturer duking it out to have the most powerful cars to hit each stage. Lancia, a rally racing powerhouse from the 1960s–'70s, came out swinging and early on established a reputation as the marque to beat. It didn't take long for Audi and Peugeot to catch up, making it an all-out arms race.
This golden age of rally racing has made all associated cars quite sought after today. As of late, Lancia has been leading the charge, with some truly astonishing prices being paid. Most astonishing is that Stradale variants made for homologation have been bringing even higher prices than cars with actual race history. Historically, cars with race history are eligible for special events, thus adding to their desirability and higher prices, so this recent trend is unusual.
Perhaps enthusiasts would rather have the drivable variants than event-eligible ones. Either way, these cars are incredibly cool and a major piece of rallying history.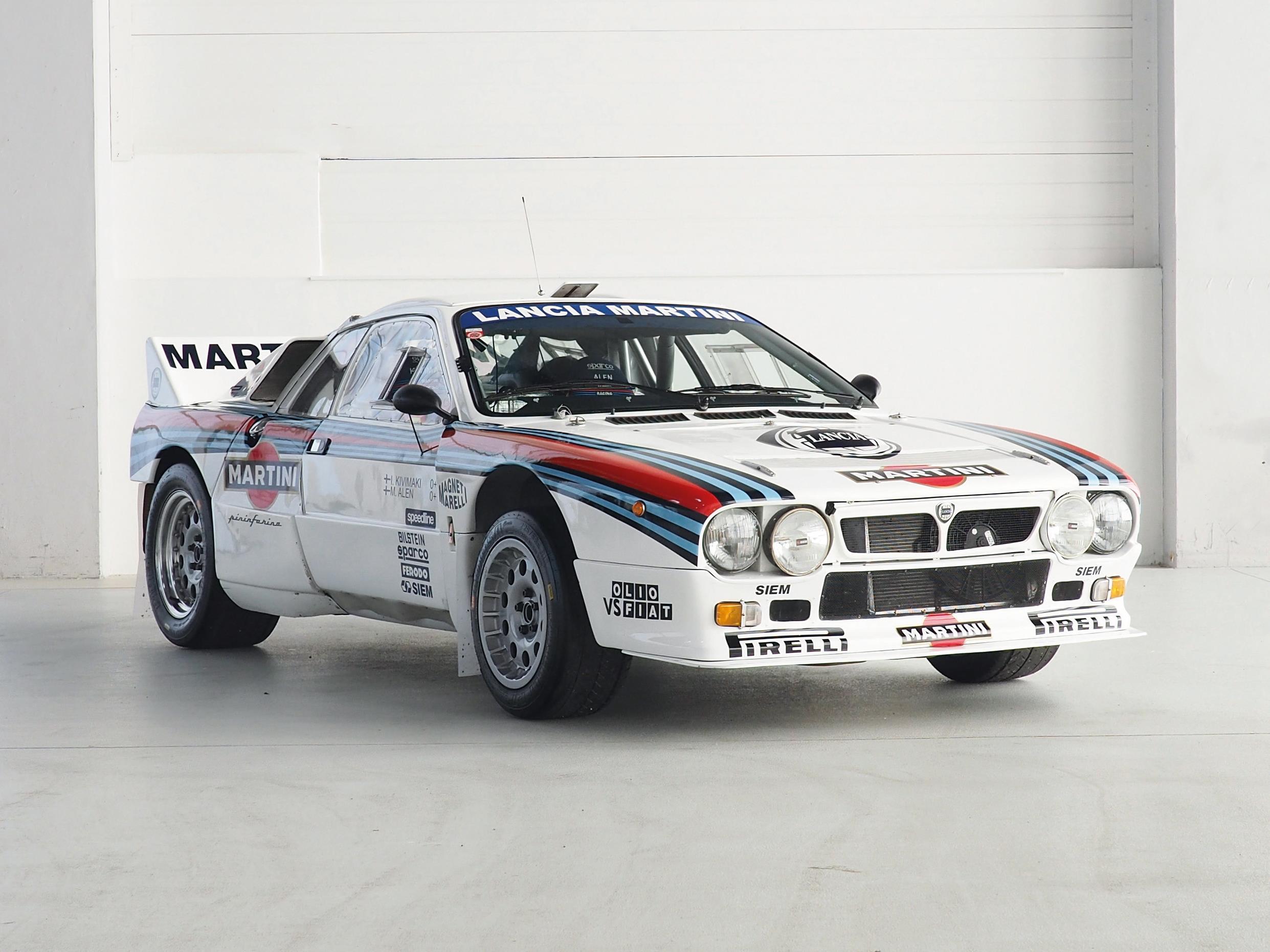 Lancia entered the Group B era with the 037, the mid-engine successor to the successful Stratos. While rather humble by later standards, the 2.0-liter engine pushed out well over 300 horsepower. Combined with lightweight bodywork, this was enough to clinch the manufacturer championship for 1983, the only year Lancia would hold this title during the Group B days.
This 037 started life as a stradale but was promptly upgraded to Evo 2 specifications to compete on a privateer team. The astonishing part of the story is that this car was never crashed and remained in the collection of the original owner for 30 years. Offered earlier this October at Dorotheum's sale in Salzburg, Austria, it brought a very strong €406,200 ($453,897), the most at public auction for a raced 037.
The new Group B regulations specified that 200 examples needed to be built to homologate the model for competition. These cars weren't just mere representations of their rally counterparts either. All the technology had to be there, and while the engines weren't set to "kill," there wasn't much separating them from the race cars.
In September 2019, the first 037 Stradale was offered for sale at BH Auction in Tokyo, Japan. With only 450km on the odometer, this 037, chassis number 00000001, was subject to a no-expense spared restoration to reverse the effects of sitting. The restoration, reported to have taken 18 years, focused on preserving the original parts. The final sale price came to a respectable ¥70.4 million ($724,296), still notably below the example sold by RM Sotheby's in April for €770,000 ($867,117), which is a record price for any 037.
When Lancia introduced the Delta S4 for the 1985 rally season, it embodied everything that was bonkers about Group B. Most notable was the twincharged 1.8-liter engine estimated to make somewhere in the neighborhood of 500 horsepower. The theory behind this was that a supercharger would provide sufficient boost until the massive turbo could spool up and take over, thus eliminating lag. This enormous power, coupled with an all-new AWD system, meant that the Delta S4 could compete with the infamous Audi Quattro. In its first outing, the Delta S4 won the 1985 RAC rally.
It isn't often that an actual rally Delta S4 is offered publicly. Last week, RM Sotheby's sold this gorgeous example at its London sale. This car won the 1985 RAC rally and is one of only four Delta S4s to win a WRC event. It went for an astonishing £764,375 ($989,865).
In 1985, the regulations still stood that a minimum of 200 cars needed to be produced to homologate a model for competition in Group B.  If you had a boat load of cash, you too could purchase your own road-going rally monster. Sadly for Lancia, many sat and took ages to sell. If you elected to purchase one, the urge to drive it in anger must have been overwhelming. That makes this 2200-km example baffling. The car is so good that it sold for €1,040,000 ($1,171,171) at RM Sotheby's Essen sale in April, making it the most expensive Lancia Delta ever sold publicly.