Jaguar XK120 prices may be down, but the car's intrinsic value remains sky-high
The 1948 British International Motor Show, held from late October to early November at Earls Court in London, was a welcome-back party for the UK's postwar car industry. The first London show held since the end of World War II, it saw more than 30 British automakers pack the exhibition center with any cars they had to offer, and many of them were brand new designs. Austin showed off its new A90 Atlantic, Aston Martin brought out the 2-Litre Sports, and Alec Issigonis's Morris Minor burst onto the scene as Britain's next people's car. What really stole the show, however, was the Jaguar XK120.
The impossibly curvy, almost feline-looking alloy bodywork was fresh and exciting for the public, which hadn't seen a new car in years. Equally exciting was what was under the hood. In fact, the XK120 was originally meant as just an attention-grabbing show car to draw attention to the new XK engine, and it was only after the sensational demand for the car following Earls Court that Jaguar put the car into production.
The 3.4-liter XK straight-six that debuted in the XK120 and the Jaguar Mark V featured double overhead camshafts driven by chains, hemispherical combustion chambers, a cast iron crankcase, and an aluminum cylinder head. In its initial form, the XK made 160 horsepower and propelled Jaguar's two-seater to a top speed of over 120 miles per hour, hence the name. It doesn't sound like much today, but that was a blistering pace for the late 1940s. The XK120 was the world's fastest production car when it was launched, and Cadillac's 331 V-8 needed an extra two liters of displacement to make the same amount of power as the Jaguar six.
In various forms, the XK engine went on to win Le Mans five times, powered everything from big saloons to E-Types, and was used in passenger cars all the way up until 1992. There aren't many engines this side of the small-block Chevy with that kind of resume.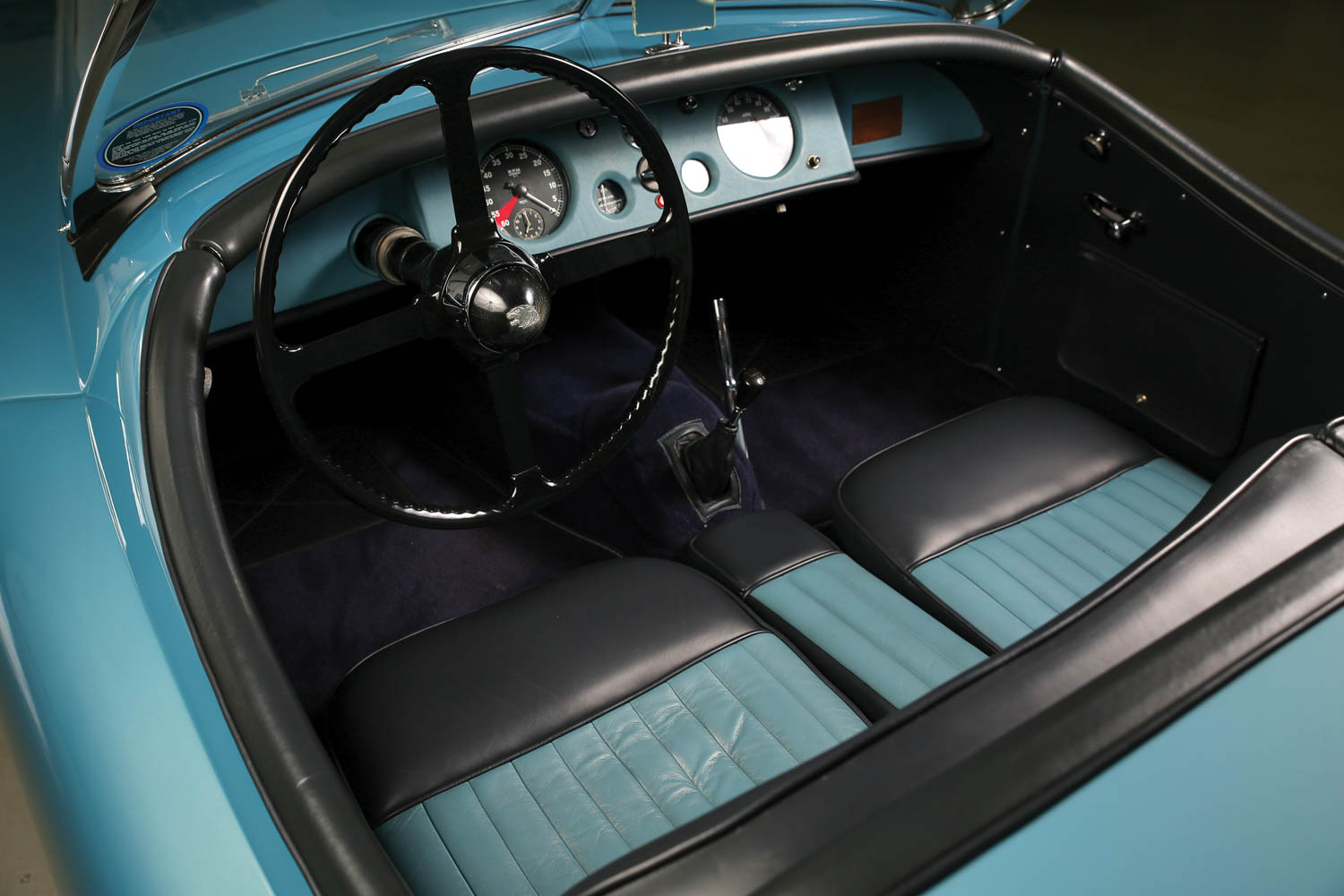 But back to the car itself. After the first 240 cars were built with aluminum body panels over ash wood framing, Jaguar boss William Lyons, who penned the XK120's shape, decided to switch to steel for more large-scale production. A fixed-head coupe joined the lineup in 1951, and a drophead coupe with roll-up windows and a better top than the original roadster arrived in 1953. Jaguar built a little more than 12,000 XK120s before the revised XK140 arrived in 1954.
The XK120 wasn't just a turning point for Jaguar. It was a turning point in the sports car story on both sides of the Atlantic. It was among the first truly new sports cars to hit Europe, and established Jaguar as one of the key players in international sports car racing. In America, where about 60 percent of XK120s wound up, both the Jag and the T-Series MG introduced many people to sports cars and road racing for the very first time, and the market for two-seaters grew as a result. The Chevrolet Corvette and Ford Thunderbird owe a lot to the big cat from across the pond.
For all the beauty, performance, and historical significance packed into the XK120, it is a very collectible car, and it has been for a long time. Generally speaking, however, XK prices have softened somewhat this year, and it doesn't help that British buyers are a bit gun-shy at the moment. Values took a serious dip during the Great Recession, falling more than 18 percent from 2008–10 in some cases, then started rebounding along with most of the rest of the collector car market in the early 2010s. Now, though, most XK120 values are about where they were pre-Recession. For example, the #2 (excellent) value for a 1954 XK120 Roadster in the beginning of 2008 was $134,000, and today it's $138,000.
Different versions are naturally more collectible than others, but any XK120 in at least #2 condition is a six-figure car. Alloy Roadsters are worth two-to-three times as much as steel ones, and early Roadsters are worth a few grand more than later ones. Drophead Coupes are the rarest, with fewer than 1800 built, and Fixed Head Coupes numbered below 2700, but in terms of value Roadsters are the most collectible. In #2 condition, Roadsters carry an average value of $139,000, which puts them ahead of Drophead Coupes at $129,000 and Fixed Head Coupes at $103,000.
Jaguar sold an SE ("Special Equipment") model, also called the M in the States, that added an upgraded 180-hp engine, dual exhaust pipes, and wire wheels. It was available in all three body styles and can add up to 10 grand in price over a base car. Expect to pay a small premium for wire wheels over steel ones on a base car.
Technically, the most expensive XK120 sold at auction was $2,062,500 in Monterey four years ago, but much of that price was for the Ghia Supersonic coupe bodywork. The most expensive XK120 with a Jaguar body was a 1951 Roadster campaigned by legendary Scottish race team Ecurie Ecosse, which sold for £707,100 in 2013 (about $1,156,100 at the time, or $870,400 today). A 1954 Competition Roadster that won its class at the Alpine Rally also sold for £365,500 at Goodwood in 2015 (about $566,500 at the time, or $449,600 today).
More recently, XK120s have had a tougher time selling in 2019 both here and in the UK, and this is true for both stellar examples as well as rougher cars with needs. An alloy-bodied 120, the first one imported into the United States and therefore a highly significant car, sold for $385,000 at Gooding & Company's Amelia Island auction in 2011 and for $451,000 at Pebble Beach in 2013, but brought just $357,000 at the RM Sotheby's Monterey auction this August despite being in the same fantastic condition. An older restored but still gorgeous 1950 Roadster sold in Amelia Island this year for just $95,200, which was #3 money for a #2 car. A driver-quality 1951 Roadster also sold in Monterey this year for $71,500, which was #4 money for a #3 car. On Bring a Trailer, meanwhile, a total of 16 XK120s have popped up in 2019, but none of them have broken six figures.
Given their age and value, XK120s unsurprisingly appeal mainly to older buyers. Looking at buyer interest, which we measure through insurance quoting activity, 86 percent of quotes for XK120s come from buyers in the Baby Boomer generation or older. Younger buyers just aren't wooed enough by the XK's good looks and heritage to overcome the ridiculous steering-wheel-in-the-chest driving position, the drum brakes, or, most importantly, the massive price tag when there are plenty of vintage sports cars that do everything the Jag does for a fraction of the money. But even though prices seem to be weakening for these seminal sports cars, they will always be drop-dead gorgeous, rare, and rewarding, not to mention one of the most important and influential two-seaters of them all. That historical significance should allow XKs to fare better than other, less-influential cars in this price point.