Auction Preview: Mecum Kissimmee 2017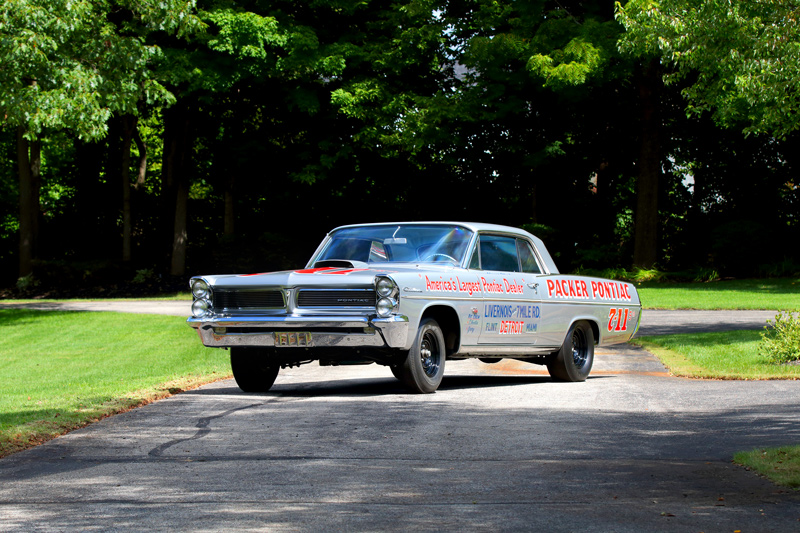 Here we go! The 2017 collector car auction season launches with Mecum's colossal Kissimmee sale from Jan. 6-15. This year, nearly 3,000 vehicles will cross the block over the 10-day auction, and while fans of American muscle will enjoy a huge selection, Kissimmee always brings together an impressive range of sports cars, trucks, hot rods and exotics under Florida's sunshine.
Last year, Kissimmee was heavy with Mopar muscle, including two Hemi Cuda convertibles as well as a Hemi Coronet R/T Convertible and a Dodge Hemi Daytona. This year, it's all about vintage dragsters, with an unparalleled group of drag racing veterans from several large collections.
According to Mecum's consignment director John Kraman, bidder registration for Kissimmee is already at an all-time high and there are over 200 more consignments than last year. While any enthusiast would be spoiled for choice at this sale, we've narrowed it down to 10 cars that we'll be watching closely.
1963 Pontiac Catalina "Swiss Cheese"
Presale estimate: $500,000 – $650,000
Hagerty Price Guide: N/A
In 1963 General Motors quit factory racing activities, but before the ban was enacted Pontiac produced 14 of these specially built Catalinas, nicknamed the "Swiss Cheese" cars due to Pontiac's excessive weight-saving measures, which included large diameter holes drilled into the frame as well as thin gauge aluminum body panels, removal of sound deadening materials and even aluminum exhaust manifolds. With about 3,300 pounds of weight and well over 400 hp from their 421-cid Super Duty V-8s, the Swiss Cheese Catalinas could run a low 12-second quarter-mile. Of the 14 Swiss Cheese cars this one, sponsored by Detroit's Packer Pontiac, is the one to have. It was an NHRA C/Stock record holder and is one of the better preserved examples.
1962 Shelby Cobra Roadster
Presale estimate: $1,100,000 – $1,300,000
Hagerty Price Guide: $645,000 – $1,000,000
Lance Reventlow ordered this Cobra new. He was the Woolworth's heir who built the late '50s Scarab racing cars. It was also in Reventlow's old Scarab shop, located in Venice, Calif., that Carroll Shelby was building his new Cobras. An early 260-cid-powered car, it was unusual in that it was ordered with lots of expensive competition equipment like aluminum rocker covers and intake manifold, racing tires, racing oil pan, competition ignition and sway bars, but also with road car bits like wind wings, bumper guards and sun visors. At almost $7,500, it was apparently the most expensive Cobra ordered for quite some time. While documents show that Reventlow bought the car, no competition records exist showing that he ever owned a Cobra and family members don't remember him owning one, either. It's been speculated that he simply ordered a loaded car to give financial support to Shelby's still new operation. Either way, the car has had several owners since and been changed quite a bit from the white-over-red 260 Cobra ordered by Reventlow in 1962. Today, it has Halibrand wheels, a competition fuel filler, Raydot mirrors, a black and yellow paint scheme and is powered by a 289-cid V-8 fed by Webers. It's still a genuine early Cobra, though, and that's enough to realistically command close to seven figures. The car's last appearance at auction was at RM Monterey in 1998, where it was bid to $210,000 but remained unsold.
1969 Chevrolet Yenko Chevelle
Presale estimate: $275,000 – $375,000
Hagerty Price Guide: $169,000 – $299,000
With just 99 built, genuine Yenko Chevelles are even rarer than the famous Yenko Camaros. Powered by the L72 427-cid V-8, they were born for the drag strip and many were used in competition. This example was further modified with a specially built 427, although the original L72 is included in the sale. The car was capable of an 11-second quarter-mile and remains in unrestored condition with an advertised 1,200 miles. That's 4800 quarter-miles, if you're wondering.
1969 Chevrolet Corvette L88 Coupe
Presale estimate: $400,000 – $500,000
Hagerty Price Guide: $410,000 – $740,000
Just 216 L88 Corvettes were produced over three short years from 1967-69. A thinly disguised competition car laden with heavy duty equipment and stripped of convenience features, the L88 is one of the most valuable classic Corvettes. 1969 cars are the most common with 116 built, but the car on offer in Kissimmee has the distinction of being the very last documented L88 built. It has also had a recent body-off restoration by an L88 specialist.
1963 Chevrolet Impala Z11
Presale estimate: $750,000 – $850,000
Hagerty Price Guide: $252,000 – $403,000
Much like the "Swiss Cheese" Pontiacs, Z11 Impalas were purpose-built drag cars lightened through heavy use of aluminum and removal of sound deadening material, although Chevrolet didn't go quite as far as Pontiac. While the engine for the Z11 was 427 cubic inches in displacement, it was actually a W-series 409-cid that was stroked, given forged internals and cowl induction. Only 57 Z11 Impalas were built, and for Kissimmee 2017 Mecum has consigned four of them. This one, though, is the very first. In addition to being the first, it is also the most successful and capable of low 11-second range quarter-mile times.
1977 Porsche 935
Presale estimate: $750,000 – $1,000,000
Hagerty Price Guide: N/A
Introduced in 1976, the Porsche 935 was the car to beat. The 935 racked up dozens of victories the world over not only due to its speed, thanks to over 800 horsepower from its turbocharged six, but also because Porsche sold the car to privateers and it was not uncommon to see half a dozen 935s on a grid. Originally an earlier 934 model, this car was crashed at Daytona in '78 and combined with a new chassis before being upgraded to full 935 specifications in 1980. While not the most successful 935 of them all, this car nevertheless took fifth overall at Daytona in 1980 and third overall at Sebring in 1981.
1969 Dodge Hemi Charger Daytona
Presale estimate: $900,000 – $1,100,000
Hagerty Price Guide: $330,000 – $790,000
The Charger Daytona is already rare enough with just 503 built, especially compared to the roughly 2,000 Plymouth Superbirds. Just 70 Daytonas, however, were built with the 426 Hemi and just two of those were finished in Spring Green. This car is also largely original other than one repaint, and is represented with just 21,000 actual miles.
1963 Chevrolet Corvette Z06
Presale estimate: $500,000 – $600,000
Hagerty Price Guide: $200,000 – $385,000
Like the later L88, the original Z06 was a competition package, and it included stiffer suspension, metallic brakes and an optional 36.5-gallon fuel tank. The only available engine was the L84 fuelie, and 199 were built. The car offered in Kissimmee is one of the last Z06s produced and is reportedly one of the most original and well-documented examples of them all, with both Bloomington Gold and NCRS awards to show for it. Its last auction appearance was also at Kissimmee, where it sold for $341,000 back in 2013.
1982 March 82G
Presale estimate: $195,000 – $250,000
Hagerty Price Guide: N/A
Campaigned in the 1982 IMSA series, this March 82G finished second overall at Sebring and sat on pole at both that race and the 24 Hours of Daytona with driver Bobby Rahal. It has since been restored and actively vintage raced as well as shown, with a class win at Amelia Island in 2011. This March is also appealing from a usability standpoint, as its small-block Chevrolet engine will be easier to maintain than some of its contemporaries' Porsche turbo engines.
1964 Dodge 330 Hemi Lightweight
Presale estimate: $275,000 – $350,000
Hagerty Price Guide: N/A
Another of the spectacular vintage drag racers on offer in Kissimmee is this Dodge 330 Hemi Lightweight. These special 330s made extensive use of aluminum in the bodywork and came equipped with a 727 pushbutton automatic transmission coupled to the now famous 426 Hemi. This car is even more special as the first of the 330 Hemi Lightweights, making it the first 426 Hemi sold to the public. It was also tuned by the famed Bill "Grumpy" Jenkins and won the NHRA S/SA class record with a quarter-mile time of 11.04 seconds at 125.52 mph.