9 Cobras ready to strike at Monterey Car Week 2019
The Cobra is one of the most famous cars in the world, but fewer than 1000 of these muscular little Anglo-American roadsters ever left Shelby American. That's why it's one of the most valuable cars in the world, too. Glancing at the consignments for the 2019 Monterey Car Week auctions, though, you might not think the Cobra is that rare. There are a whopping nine real-deal cars on offer this year—five 289s and four 427s—and that leaves Shelby fans spoiled for choice. If only I had a spare million in my change drawer.
1965 Shelby Cobra 289 (CSX2328)
Russo and Steele
Restored within the past 10 years in its original colors, this 289 has the later rack-and-pinion steering, plus its original drivetrain and body. Those are big positives. It sold for $1,089,000 at Bonhams' Quail Lodge auction two years ago, when we rated it as in #2 (very Good, but not quite Excellent) condition. It then hammered not-sold for $950,000 at the same auction the year following, and again for $800,000 at Bonhams Amelia Island this year, so the seller is hoping for better luck at Russo and Steele. The cost when this Cobra was brand-spanking new? Back in late 1964, this thing set somebody back $6704.20 (about $55,000 in 2019 dollars).
1965 Shelby Cobra 289 (CSX2588)
Mecum
A mostly original, matching numbers, and original-body car, CSX2588 hasn't been restored because it didn't need to be. It received a repaint in its original shade of Rouge Iris and a benefited from a mechanical sorting. It is represented as the last 289 sold to the public and the last 289 with a four-speed, which adds some cachet.
We've seen it before, several times. Its first noted auction appearance was way back in 1993 at an auction in Las Vegas, where it reportedly sold for $121,000. It popped up again in 2006, selling at the RM Boca Raton auction for $342,400, and in 2017 it hopped on the Mecum train.
It hammered not-sold at Mecum Monterey in 2017 at a $950,000 high bid, at Kissimmee 2018 at a $1M high bid, and at Monterey 2018 at a $1.1M high bid. This year, at Kissimmee, it hammered not-sold at a $1.05M high bid and at Indy a few months ago at an $875,000 high bid. Mecum's estimate this time around is $900,000–$1,200,000. Let's hope it finally finds a new home this time.
1963 Shelby Cobra 289 Dragonsnake (CSX2093)
Mecum
The Cobras weren't just eating the Corvette's lunch and taking the fight to Ferrari in sports car racing; they were also living life a quarter-mile at a time on America's drag strips and doing it quite well, too. The most famous drag racing Cobras are the Dragonsnakes; this is arguably the most famous of them. That's partly because of its outrageous appearance (it reportedly took 31 coats of fuchsia metal-flake paint to get this look), and partly because of the car's record. Mecum touts this Dragonsnake as "the winningest competition Cobra in history."
Regularly raced for years, it set track records in several places and consistently ran mid-11s. That said, it seems to have spent almost as much time on the auction block as it has on the drag strip. Mecum sold it in 2011 in Kissimmee for $927,500, then it hammered not-sold in Monterey the same year at an $825,000 high bid. Mecum sold it again at Kissimmee the following year for $901,000, only for it to hammer not-sold at a $1.1M reported bid at Houston in 2014. RM took a turn in Arizona in 2016 for $990,000 before it hammered not-sold at an $825,000 high bid at Worldwide's Dallas sale in 2017. It was bid to just $550,000 in Scottsdale last year.
1964 Shelby Cobra 289 (CSX2445)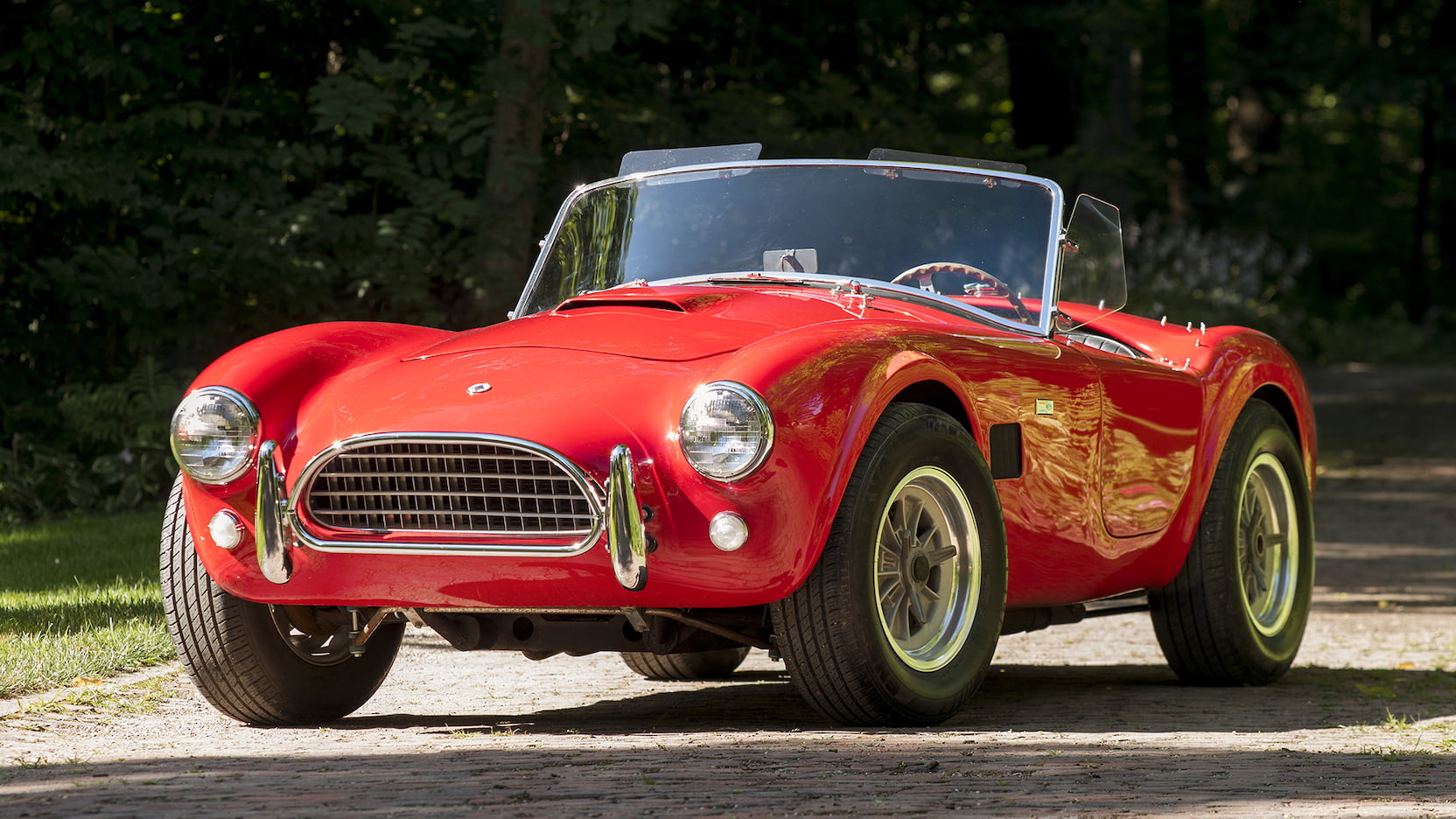 Mecum
This 289 is the real thing, but it doesn't have the best history, due to a string of bad luck early in its life. Originally blue over red, it had paint defects from the factory (Shelby paid for the repairs). It also had a faulty wheel cylinder, radio, starter, speedometer, and thermostat as well as a leaky heater core; but all were repaired under warranty. Then, in 1969, it was involved in a serious accident on the highway with a Dodge pickup driven by, in the words of the World Registry of Cobras & GT40s, "a moron." Repairs added up to over $5300 against a valuation of $5200, so insurance ruled it a total loss. Ouch. Thankfully it has been resurrected, but the accident and the lack of matching numbers explain Mecum's seriously low (in Cobra terms) estimate of $500,000–$700,000.
1964 Shelby Cobra 289 (CSX2216)
RM Sotheby's
Bought new for $6747.50 by architect Henry Hartwell Hester, this car was involved in an accident with a shop employee at the wheel but was quickly repaired. Its next owner used it as a competition car. Unfortunately, the original engine was replaced in 1982 and is no longer with the car, although the original four-speed is.
We saw this car at the Auburn Fall auction in 2016, when it hammered not-sold at a $700,000 high bid. At that time, though, it wore red paint, side pipes, Halibrand wheels, and a roll bar. It has since received a refresh in its original colors and is a more correct car; but still it failed to sell at an $840,000 high bid at the RM Sotheby's Petersen Museum sale last December. The estimate this time around is $825,000–$900,000.
1965 Shelby Cobra 427 (CSX3016)
Mecum
Given their insane speed, lots of big-block Cobras hit the track. And, naturally, lots of them performed well. This one, for example, won its class and finished 10th overall at Sebring in 1966 before setting the track record at Watkins Glen and running the other great tracks of the Northeast like Lime Rock and Bridgehampton. Sadly, a lot of Cobras crashed on the track and, even more sadly, this 427 is one of them. During an outing at Watkins Glen with Bob Grossman at the wheel, it had a serious wreck.
The car doesn't have much history after that incident. It did receive a restoration to its original Sebring appearance in time for the Greenwich Concours in 2005, but it's unclear how much of the car is original. Given Mecum's presale estimate of $800,000–$1,200,000, which is modest for a 427 race car, it's unlikely much original work remains.
1965 Shelby Cobra 427 (CSX3104)
Bonhams
Sold new in Illinois, this car is apparently the fourth street-spec 427 produced. That also means it's a true 427 car from new, rather than one of the milder 428s that made it into later big-block Cobras. Only about 160 genuine factory cars were built, and this is reportedly a very straight, very good example that has received restoration work over the years. Some of that work was done by Tom Kirkham, who reportedly used this car as a reference for his well-respected Kirkham Cobra replicas. We've never seen this car come to auction before, but Bonhams' presale estimate of $1,275,000–$1,475,000 puts it near the top of the value range for 427 Cobras.
1965 Shelby Cobra 427 (CSX3125)
RM Sotheby's
This car left the factory as a street-spec 427 but quickly made the change to an SCCA A-Production race car. Most of its success came in New England, where it won the 1969 Northeast SCCA Division Championship. It raced until 1971 before going to the UK and doing a brief stint as a street car before going to collectors in Switzerland and Germany. It got restoration work in the late 1990s and mid-2000s and, remarkably, never suffered any crash damage during its competition career. With good (but not stellar) race history, its presale estimate of $1,250,000–$1,500,000 isn't anything out of the ordinary for a good, documented 427.
1966 Shelby Cobra 427 (CSX3237)
RM Sotheby's
A later big-block Cobra fitted with the cheaper, less powerful 428, this car sold new in Oklahoma and received a few custom bits in the 1980s. Before going to a collector in Japan in the 1990s, it was restored back to factory specs and original colors. Of the remarkable three Cobras offered by RM Sotheby's in Monterey this year, this one is in the middle, value-wise, and RM's presale estimate is $1,100,000–$1,250,000.
We'll have to wait until the auction to see which Cobra commands the most attention at Monterey this year, but it's safe to say any one of them could be the focal point of a great collection.