9 great bargains at Arizona Auction Week 2020
At Arizona Auction Week 2020, a total of 3867 vehicles crossed an auction block somewhere in the Greater Phoenix area. That's 574 more vehicles than last year, and nearly 3000 are off to a new home this week. Hagerty's valuation team personally inspected nearly all of them to assess their condition, so we know how good they are (or aren't) and can see which ones sold well, which ones were right on the money, and which ones flew under the radar at a bargain price.
In our view, bargain doesn't mean cheap; it means that a nice car  or truck sold for fewer dollars than it should have. There were plenty of such vehicles in Arizona this year, and here are nine of the ones that surprised us the most.
Sold for $10,800
#3+ (Good) condition
Hagerty Price Guide value: N/A
In a time with car names like Roadmaster, Town & Country, New Yorker, and Cosmopolitan, a car called Vagabond just sounds tragic—like the kind of car you'd live in after a nasty divorce. However, the Kaiser Vagabond isn't at all tragic, and the solid example at RM Sotheby's caught our attention right away, thanks to its sheer size and its fetching Blade Green over tan color scheme.
Kaiser-Frazer brought out some of the first new cars after World War II while the Big Three still relied on prewar designs, and Kaiser's Traveler and Vagabond models get the credit for being the first hatchback sedans. The Vagabond has a nifty double-hinged trunk for easy access and storage, and the rear seat folds flat to reveal a handsome set of wooden runners. We were easily charmed by the whole package and were left scratching our heads when the bidders at the Arizona Biltmore weren't as enthusiastic.
Sold for $15,680
#3+ (Good) condition
Hagerty Price Guide value: $20,400
Even though it's a front-wheel-drive, four-cylinder car, the Lancia Fulvia is a gorgeous, quick little coupe that helped make the company's reputation in international rallying. The one that sold at Bonhams isn't perfect, but it's a solid driver that didn't seem to need anything serious. It's hard to think of other rare rally legends selling for so little. 
Sold for $17,920
#3 (Good) condition
Hagerty Price Guide value: N/A
Silver Spurs aren't worth a lot of money and they often turn into a money pit in the long run; but if you've ever wanted to feel like an authoritarian on parade everywhere you go, this seems like a cheap way to do it. Especially since the same car got bid to a $37,500 no-sale at Mecum Monterey last year. A rare long-wheelbase model, Bonhams' Silver Spur was reportedly converted in period somewhere in Italy to this odd landaulette body style. It has a small forest's worth of wood, a full drinks cabinet with glassware, and even a period TV.
Sold for $8,250
#2 (Excellent) condition
Hagerty Price Guide value: $13,000
OK, this car is pink. Very, very pink. So what? The restoration on it is top-notch, with a freshly rebuilt 1275-cc engine and new (or refreshed) parts top to bottom. The interior is excellent and the body is straight and clean. And if it really bothers you, you can argue that the color is more peach than pink. Either way, this kind of money ordinarily buys a more ragged Sprite or MG Midget, and the restoration on this one definitely cost more than it sold for. 
Sold for $8,250
#3+ (Good) Condition
Hagerty Price Guide value: $13,500
Hand-built English luxury with wood, leather, and a 6.75-liter turbo V-8 for a four-figure price sounds too good to be true… and maybe it is, but this 1990 Turbo R sold at Barrett-Jackson does not seem like the typical $8K Bentley in need of $18K of service. It looked very clean to our eyes, and there is fewer than 40,000 miles on the odometer.
Sold for $30,800
#2 (Excellent) condition
Hagerty Price Guide value: $36,000
The C6 Corvette Z06 is still one of the quicker cars on the road, even though the design is nearly 15 years old. When it came out it was a fantastic value, besting six-figure exotics in comparison tests while carrying a base price of $65,800. It's still a great performance value today, but this lightly driven 15,000-mile Velocity Yellow car still looked like a great deal to us at barely 30 grand, which is the kind of price a Z06 with way higher mileage and a less desirable color would ordinarily sell for.
Sold for $23,520
#2- (Excellent) condition
Hagerty Price Guide value: $33,400 (+25 percent for six-speed)
The 2003 model year was the last for the DB7, and the one sold at the Bonhams sale is arguably the best configuration. It's a late car with the V-12, plus it's a coupe and has the relatively rare six-speed manual. The mileage (22,758 represented) is also impressively low but not so low that you'd feel guilty every time you pulled it out of the garage. It had a recent service last summer as well, so for speed and style per dollar, it's hard to beat at this price. The same DB7 was on Bring a Trailer in September last year and bid to $29,500 but didn't sell.
Sold for $19,800
#2- (Excellent) condition
Hagerty Price Guide value: $28,600
The 1966 Eldorado, nearly 5000 pounds of open-top luxury, was the last one with rear-wheel drive. And, like most other cars out of the "RPM Collection" consigned by Barrett-Jackson this year, this one is very clean with only light wear and age. Stylish, comfy, and attractive, it could have brought well over 30 grand without being expensive.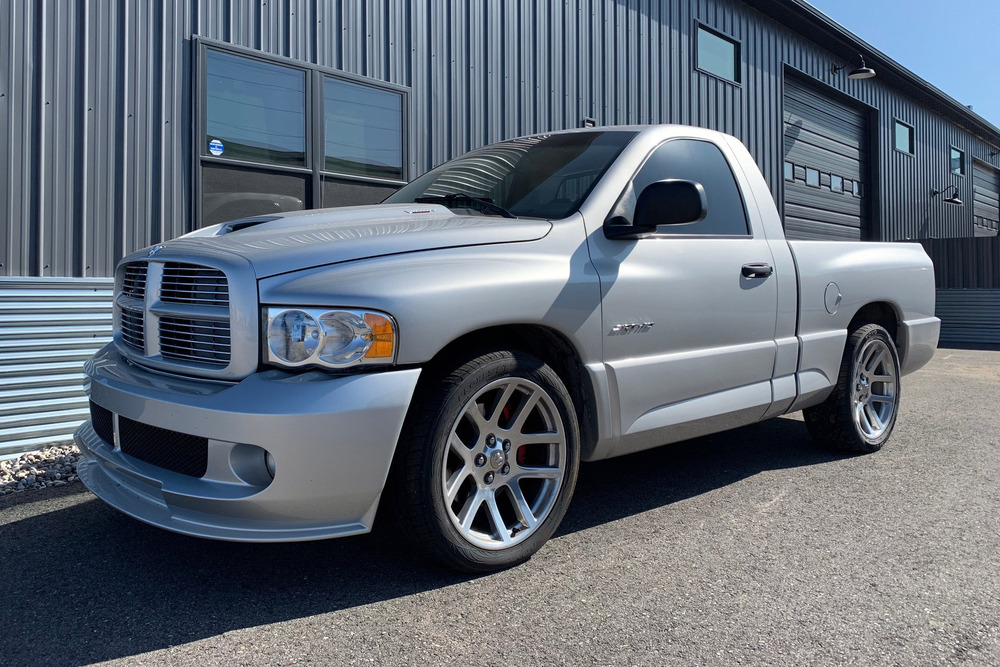 Sold for $21,450
#2 (Excellent) condition
Hagerty Price Guide value: $27,200
We put the outrageous Ram SRT-10, aka the "Viper truck," on our 2019 Bull Market list, and values for these 10-cylinder, six-speed, 12-mpg monsters have indeed been on the rise, with good ones bringing well over $30,000. This one flew under the radar despite its very clean condition and despite just how in your face an SRT-10 pickup is. The new owner now has plenty of money left over to spend on gas and rear tires.
Like this article? Check out Hagerty Insider, our e-magazine devoted to tracking trends in the collector car market.