These 6 "reimaginations" scored big money in 2019
If you build it, someone will reimagine it. And more collector car enthusiasts spent their auction money on reimagined automobiles in 2019 than ever before.
Previously, values of high-end "reimagined" vehicles—we're talking Porsches overhauled by Singer and Emory, ICON Broncos, and the like—were previously known only to those who braved the long waitlists. Last year, however, many made their way to public auction for the first time, and these over-the-top custom cars put their stamp on the enthusiast market with several big sales.
"They're all great examples of what's become the leading edge of personalized enthusiast cars," says Hagerty senior data analyst John Wiley.
Unlike restomods, in which a classic vehicle receives selected modern upgrades, designers of reimagined vehicles leave no stone unturned while creating their vision of what a vehicle should be, from the ground up. The term gained traction about 10 years ago when Singer Vehicle Design began to rethink the 964-generation 1989–94 Porsche 911. The result was the "Porsche 911 Reimagined by Singer." (Singer always refers to its restorations in this way to make it crystal clear that Porsche is the sole manufacturer of the 911.)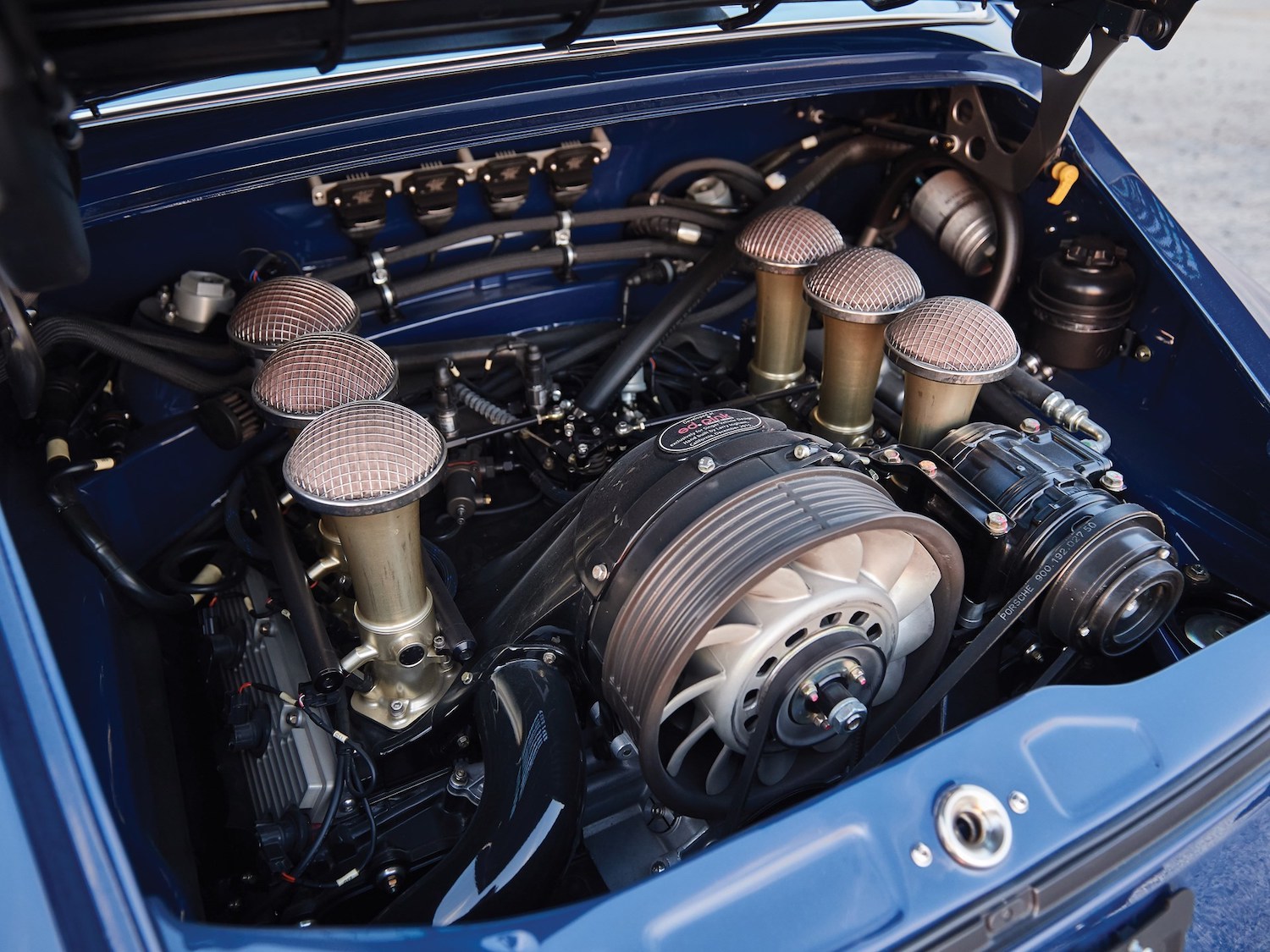 Wiley notes that reimaginations offer a production-line-like list of options so that each customer can personalize their vehicle.
"They all have carefully considered improvements to performance, handling, looks, materials, and usability," he says. "As modern vehicles converge toward similar designs, and vintage ones become harder to run, these reimaginations show a new, albeit very expensive, way forward."
Wiley also says that they're "more valuable and typically have younger owners who are more likely to trade them." Why? "These vehicles often look like distinctive vintage cars and trucks, but they have modern performance and amenities, so if you like the idea of a vintage ride but don't like the driving dynamics or the upkeep, they're good options," Wiley says. "They also have a great—but possibly short-lived—social media presence. If you have a big following, or want one, they're a good way to stand out. However, that novelty fades, which could be why their owners tend not to keep them for a long time. Besides, the ordering process is fun, so they're on to the next."
That may mean plenty more will be heading to auction in 2020. For now, here are six big-money reimaginations that found new homes in 2019.
Sold for $857,500 at Gooding & Company's Pebble Beach auction, August 2019
Presale estimate: $800,000–$1.0M
Hagerty Price Guide #1 value for stock example: $85,500
The first Porsche 911 reimagined by Singer ever offered at auction, the car was completed in 2016 and wears stunning Downton Blue and Singer Racing Orange livery. Known as the "Mountain View Car," it features a 4.0-liter SOHC air-cooled flat-six engine with electronic fuel injection that produces 390 horsepower at 6800 rpm. Other specs include six-speed manual Getrag transaxle, four-wheel Brembo ventilated disc brakes, and four-wheel independent suspension with Öhlins shock absorbers.
At $857,500, it established the market for Singer-reimagined Porsches.
Sold for $825,000 at RM Sotheby's Abu Dhabi auction, November 2019
Presale estimate: $800,000–$1.0M
Hagerty Price Guide #1 value for stock example: $85,500
Three months after the first Singer made a splash at Pebble Beach, another 2016 reimagination brought almost as much when it crossed the block in Dubai. Resplendent in Midnight Blue, "The Fiona Commission" boasts a 4.0-liter flat-six that retains the 964-generation block and utilizes numerous bespoke internal components including pistons, cylinders and cylinder heads, crankshaft, cams, connecting rods, oil pump, throttle bodies, and intake systems. The engine is mated to a G50 five-speed manual transmission.
According to Singer, 911s equipped with the 390-hp 4.0-liter powerplant can sprint from 0–60 mph in less than 3.3 seconds, leading to 100 mph in 8.2 seconds.
The car is also outfitted with A/C, stereo with iPod connect, and subwoofer. At the time of the sale it had only 4500 kilometers (about 2800 miles) on the clock since its transformation.
Sold for $505,000 (incl. premium) on Bring a Trailer, July 2019
Hagerty Price Guide #1 value for stock example: $445,000
This gorgeous 1956 Porsche Speedster was reimagined by Emory Motorsports in 2008, back when the terminology was simply "fully restored and customized." According to BaT, Emory started with a neglected but intact genuine Speedster project car and built this Speedster and a coupe as a matching pair for a client in Oregon.
The body and exterior received minimal modifications; the drivetrain, suspension, and brakes were all substantially modified for improved performance. Emory's annular disc brakes were patterned after those on the Abarth GTL and other factory race cars. The wheels are 16-inch custom alloy. Under the bonnet, the car's 185-hp Polo four-cylinder is essentially a 964 engine with two cylinders lopped off and fed by Weber carbs "for period looks and sound."
The car has a 901 four-speed transmission and Emory's signature 911 trailing-arm rear suspension.
Sold for $505,000 (incl. premium) on Bring a Trailer, October 2019
Hagerty Price Guide #1 value for stock example: $248,000
Reimagined by Emory Motorsports in 2012, the seller of this 1959 Porsche 356A sunroof coupe "asked Emory to design and build a car as though Juan Carlos I of Spain had special ordered a vehicle from Ferry Porsche to rally around the countryside." Emory installed new floors and longitudinals and customized the bodywork with a through-the-hood fuel filler, recessed Marchal fog lights, and louvers on the engine lid.
A 911-style rear suspension was also installed and features narrowed trailing arms. Custom 15-inch wide-five wheels are powder coated in satin black, and disc brakes are fitted at all four corners. The silver finish is a Carrera GT color, and Mobil Pegasus icons have been hand painted on the front fenders. The leather interior is saddle brown.
The car, which was featured on Jay Leno's Garage, has an Emory-Rothsport 2.4-liter flat-four, paired with a Type 901 five-speed transaxle.
Sold for $291,000 on Bring a Trailer, March 2019
Hagerty Price Guide #1 value for stock example: $80,900
According to BaT, ICON's 1966 Ford Bronco, reengineered with modern performance and reliability on a custom Art Morrison chassis, "retains more of the truck's original design character while featuring a new aluminum Ford 5.0-liter V-8 mated to a five-speed manual transmission and an Atlas II transfer case. The Bronco body is finished in glossy orange over beige Carlyle leather upholstery featuring orange houndstooth inserts."
As the winner of this old-school-looking build, the buyer managed to jump the line and avoid a two-year wait to get one. In addition, ICON donated 10 percent of the sale to its Emerging Designer Scholarship Fund, while BaT donated the buyer's fee to the same charity. Sounds like a win-win-win.
Sold for $192,500 at Mecum's Houston auction, April 2019
Hagerty Price Guide #1 value for stock example: $86,000
Sinister in its all-black configuration but exhibiting heavenly performance via its 412-hp 5.0-liter Coyote V-8, this ICON Bronco build went for nearly $100K less than the BaT example above.
Among its many attributes: four-speed automatic transmission, custom paint with Line-X under and inner coating, black powder-coated bumpers, 17×8 Hutchinson Beadlock wheels, LED fog lights, Warn 9.5XP-S winch, sport suspension and brakes, bucket seats, removable tuck and tumble passenger seat, Alpine integrated speakers, and iPod interface. Definitely not your father's Bronco—except maybe in his imagination.
Like this article? Check out Hagerty Insider, our e-magazine devoted to tracking trends in the collector car market.