25 cars sitting pretty at the top of the 2020 collector market
Like a last-minute race entry that goes out and wins, the 1981–90 Toyota Land Cruiser FJ60/FJ62 suddenly finds itself the hottest collector vehicle in the land—or one of the three hottest, anyway—on its first try. The Land Cruiser, a recent addition to the list of vehicles we track, shares the #1 spot with the 1999–2005 MX-5 Miata and 1993–96 Cadillac Fleetwood.
How do we calculate a list of the 25 hottest cars, you ask? Using the Hagerty Vehicle Rating (HVR)—the HVR combines insurance quoting activity, the number of new policies purchased, sales data, auction activity, and other metrics to rank vehicles compared to the overall collector car market. Based on a 100-point scale, a vehicle with a score of 50 is keeping pace with the collector market. Ratings above 50 show above-average interest; vehicles with a sub-50-point rating are lagging. The HVR is not an indicator of future collectibility, but it says a lot about what's trending hot and what's not.
For a more detailed, data-driven analysis of this list, click here. And without further adieu, the 25 hottest collector cars headed into spring 2020:
HVR: 84
Full-sized Big Three '60s cars aren't necessarily sporty, but they make up for it with style. Buick's 1965-70 LeSabre comes in a range of body styles, but the 1967 Sport Coupes, with their swoopy Coke-bottle styling and sub-$10,000 price tags, have fallen into favor recently. It isn't easy to find a car that delivers more eyeball for the money.
HVR: 84
The Chevrolet C/K trucks of the late '60s and '70s blend classic styling and practicality at a more affordable price than the first-generation C/K trucks. In a time when buyers are going crazy for trucks and SUVs but also want collectible classics they can actually drive, trucks from this era have been one of the hottest commodities.
HVR: 84
GMC's Jimmy has always been parked in the shadow of the Ford Bronco and corporate sibling Chevy Blazer. As Bronco and Blazer values keep rising buyers start to play the substitution game, and with similar looks and performance the Jimmy is a logical option.
HVR: 84
The 190 generation represents Mercedes sports luxury and is led by the 2.3- and 2.6-liter Cosworth-engined cars. The 190E is a blast to drive and performance-oriented, but much more affordable than many of its contemporaries. As interest in Mercedes-Benzes from the 1980s and 1990s grows in general, sporty models like this one are gaining more attention.
HVR: 84
The second-generation Lincoln Town Car came with a major redesign, more safety features, and even more luxury appointments than before. Despite being expensive in their day, the values are very low today—below $4,000 for a car in good condition—and it represents one of the cheapest ways into a 1990s luxury car. Buyers are taking note as values have nearly doubled in the last year.
HVR: 84
Subaru's 1990s grand tourer felt ahead of its time when new, but its price has always lagged, in part because its auto-only transmission limited its drivers appeal. Over time interest in the SVX is brightening up, though, as a new generation of buyers aren't necessarily looking to work three pedals.
HVR: 84
The second-generation Ford Taurus is best known as a competent family sedan rather than a collector car, but enthusiasts are keenly aware that a SHO paired with a five-speed manual transmission can deliver a ton of smiles.
HVR: 84
The E36 M3 is often overlooked, slotting between the E30 originator and the E46's revered engine. The second-gen's looks have aged quite well and it's much more affordable than other choices, which have landed it on more enthusiasts' shopping lists.
HVR: 85
A rare BMW in the States, the 1.6-liter 1600 doesn't come up for sale often and values lag its more common 2.0-liter 2002 big brother. The 1600 is arguably a cleaner earlier design, though, with fewer rub strips and an aluminum slat grille rather than plastic. As 2002 values have risen and then leveled off, the 1600 is catching up.
HVR: 85
The CJ-7 is all classic Jeep, just with a bit more practicality. The longer wheelbase gives more interior space, and that enhanced usability speaks directly to modern enthusiasts, who are looking for affordable and distinctive vehicles to just get out and enjoy. How could you go wrong?
HVR: 85
The first RX-7 to make it to the States, the FB has stylish 1980s looks and a raw feel that the later cars lack. It's still very affordable and abundant in a strong Japanese market where buyers are hunting for affordable fun, and while it wasn't the fastest car of its class it was fast enough and well-balanced, too. Its good value keeps it on shoppers' short lists.
HVR: 85
The NSX's reputation has grown significantly over the past decade, boosted by its association to Ayrton Senna, its revival by Acura, and its brilliant driving dynamics. Even as prices have gone up, the car still remains good value when placed alongside contemporary supercars. Case in point, a first-generation NSX costs about as much as a Porsche 996-generation 911 Turbo—which would you rather have?
HVR: 86
The Scirocco is essentially a Volkswagen GTI with sleeker styling, and its purposeful lines make it stand out more in a crowd. Enthusiasts are paying up for the hot 16v versions, which in turn is helping bring some long-overdue attention to these cars.
HVR: 87
As older examples of Ford's original SUV have taken off in price, later models have been caught in the updraft. Call it the "principle of substitution." Two-door full-size SUVs with a removable top are increasingly difficult to find at affordable prices, with the fourth-generation Bronco ticking all those boxes. Buyers have noticed and prices are moving up.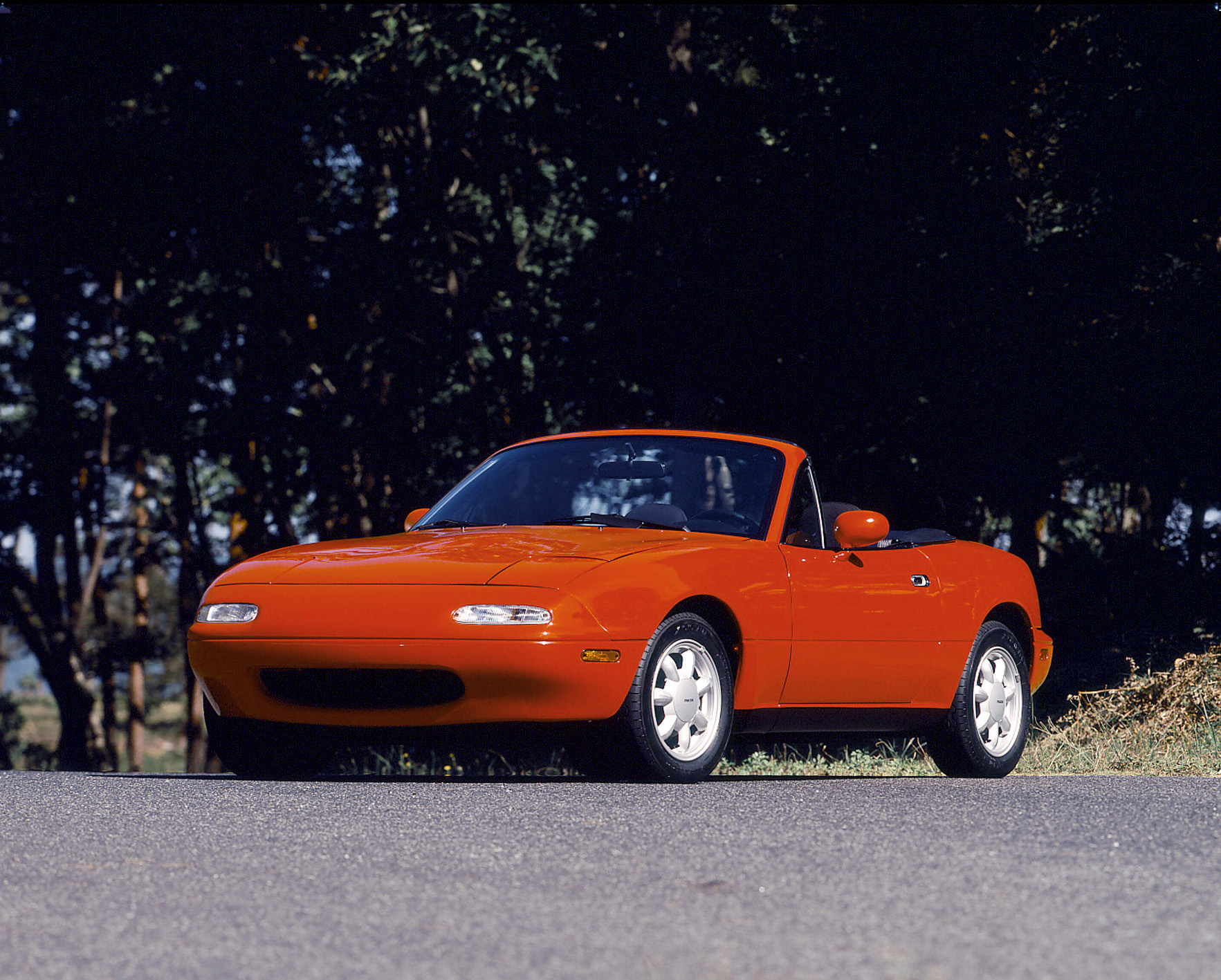 HVR: 87
Old-school collectors once-derided NA-generation Miatas as "soulless," but the cars' low weight, minimalism, reliability, and fun factor have changed all but the most stubborn opinions. Huge production numbers will limit just how expensive average examples will get, which is one of the reasons enthusiast interest in this model continues to increase. How can you go wrong with cheap thrills?
HVR: 87
More often, Baby Boomers are flocking to the newest (for now) Bronco because they offer the best drivability and most modern conveniences while still retaining a "classic" feel. Fifth-gen Broncos now have the third highest average value after the more expensive first- and second-generation Broncos.
HVR: 88
The Mercedes luxury cars of the 1960s were hand-built jewels, and some of the most solid and reliable cars available at the time. Nice early sedans are in the $10,000-$15,000 range with later ones increasing to $20,000-$25,000. Buyers recognize the style and drivability these cars offer relative to the price point and are increasingly adding them to their garages.
HVR: 88
Billed as BMW's competitor to the Porsche 928, the 6 Series and 7 Series are admired by Roundel fans today. The cars represent one of the best values in sports luxury cars, and buyers are finally noticing. The 6 Series coupe is more numerous and far more affordable than the earlier 3.0 CS, almost as good looking, and more reliable. With cars in good condition selling for less than $10,000 it's hard to step away.
HVR: 88
The Ferrari 355 is one of the best driver's cars of its day with good looks, a fantastic five-valve V-8 soundtrack, and a widely available 6-speed manual. At a time when buyers are paying big premiums for manual transmissions on later Ferraris, the 355 presents easy entry into a manual transmission and connected driving experience, something increasingly coveted by Ferrari enthusiasts and collectors. Service costs can be extreme, so documented recent work is essential.
HVR: 88
Mercedes-Benz's mid-level executive car of the day, the E-Class, came in sedan or station wagon form, and a diesel engine was optional on the sedan. It's clear that 1990s performance cars are hot, and the E55 AMG is riding that wave, but the practical station wagons are having their moment as well as buyers start to see the more modern classics as everyday drivers. Values are up 25 percent in the last year alone.
HVR: 88
The Marauder may have looked like a tinted-out version of the stodgier Grand Marquis, but it didn't act like one. With stiffer suspension and a 302-hp 4.6-liter DOHC V-8, the car has become an affordable way to smoke tires. A passionate online community supports and promotes these cars, making the car all the more enjoyable to own.
HVR: 89
The first-gen Bronco continues to have all the right qualities to be popular in today's market: an optional V-8 engine for improved drivability, rugged looks, and strong youth appeal. They are one of the few vehicles for which modifications can add significant value, as nine of the top ten sales at auction of 1966-77 Broncos are modified examples.
HVR: 89
Chevy's third-gen C/K pickups were a long-lived design with squarish looks and rugged usability. They are mechanically straightforward and have tremendous parts support, which has kept supply high and prices low. All of this equates to big appeal, especially for younger enthusiasts who don't have enough scratch to step into a 1960-66 C/K model.
HVR: 89
While Mercedes-Benz's C220, C230, and C280 remain budget sedans, the sporty C36 AMG and C43 AMG with the 3.6-liter and 4.2-liter engines have snuck into the $10,000-$15,000 range. The AMG version has all the right qualities in a market that is only just starting to appreciate 1990s Mercedes sedans: boxy styling, instantly recognizable AMG monoblock wheels, and a reliable performance engine.
HVR: 90
Jeep Grand Wagoneers have shot into the stratosphere over the last several years, but the less luxurious but similarly styled Cherokee has lagged. Most are rusty, modified, or both, but clean ones are bringing big money. Average examples can still be found for $10,000—but probably not for long.
HVR: 90
If you liked Japanese sports cars in the 1990s you either dreamed of owning a Mk IV Toyota Supra or FD Mazda RX-7. With average values almost $10,000 below a Supra of the same generation—largely because of a less rabid following and the undeserved reputation of its Wankel engine—FD RX-7s are one of the most affordable ways into childhood-dream sports car right now.
HVR: 90
The E39 M5 is a sports car hidden beneath a luxury sedan body. Its 4.9-liter naturally aspirated V-8 is a terrific engine that gives the car sub 5-second 0-60 times. Prices have more than doubled in the past six years, but the car's reputation continues to make it attractive to collectors.
HVR: 91
Toyota reliability combined with the Land Cruiser name and a body style that increasingly looks "classic" is what attracts buyers to the FJ60/FJ62 generation. That and the fact that most earlier SUVs have skyrocketed in price. Like most SUVs of the period, these were driven hard and put away wet, so pristine examples are increasingly sought after.
HVR: 91
The Fleetwood is the last of the rear-wheel-drive sedans from Cadillac, and it was a long one—longer than a current GMC Yukon XL. This car has a low cost of entry for a luxury sedan, and the RWD layout when paired with the LT1 engine results in cheap 1990s entertainment.
HVR: 91
While collectors snap up NA Miatas, the NB Miata features most of the good aspects of the earlier model but with more power and a nicer interior. It's also purer than the more modern NC cars. Best of all, it's cheaper than both. Consider this Miata one of the best sports cars for the money.