1950–67 Volkswagen bus values continue to impress
If the Volkswagen Beetle is the quintessential "people's car," does that make the 1950–67 Volkswagen Type 2 Transporter the "people's bus"?
This we know: Although the Beetle may no longer be the best-selling car in history—that honor now belongs to the Toyota Corolla—it is arguably the most recognized car in the world. By extension, when we're talking classic family vans and buses, the first one that comes to mind is the VW Type 2, which is its factory code name, since it followed the Type 1 Beetle.
If you've been to a major car auction, you've likely seen people lose their ever-lovin' minds whenever a high-quality Volkswagen bus crosses the block. And when it comes to bidding and buying, Hagerty valuation editor Andrew Newton says, the rule of thumb is an easy one: "More windows, more money. And the older, the better."
Case in point: A 1951 VW Transporter 23-Window Samba, which cost about $2200 when new ($22K today), has an average #1-condition (Concours) value of… wait for it… $198,000. One in #2 (Excellent) condition is worth $111,000, one in #3 (Good) condition is valued at $60,600, and one in #4 (Fair) is $39,000. Not bad for a vehicle known as a hippie van.
"It's synonymous with '60s culture, road-tripping, and life on the open road," Newton says. "It also has one of the most recognizable shapes of any automobile, and by van standards it's gorgeous. Nothing else before or since looks quite like it."
Type 2 median #2 values are up 9 percent in the past year and 46 percent over the last five years. The 23-window version is king, and it has also seen the largest growth among all varieties—a whopping 73 percent over the past five years.
"Over-restored, better-than-new Sambas have become a regular sight at collector car auctions in recent years as really good models began commanding six-figure prices," Newton says. "Original Westfalia Campers can also bring a ton of money, but we do not currently include them in the Hagerty Price Guide."
Comparing versions, a 21-window Type 2 in #2 condition is worth about 16 percent less than a 23-window, and a 15-window version is worth 42 percent less than a 21-window.
The Transporter, which went into production on March 8, 1950, was reportedly the brainchild of Dutch businessman Ben Pon, who imported Beetles to The Netherlands and shared a sketch of his idea for a larger VW passenger bus with Volkswagen engineers. They took it from there.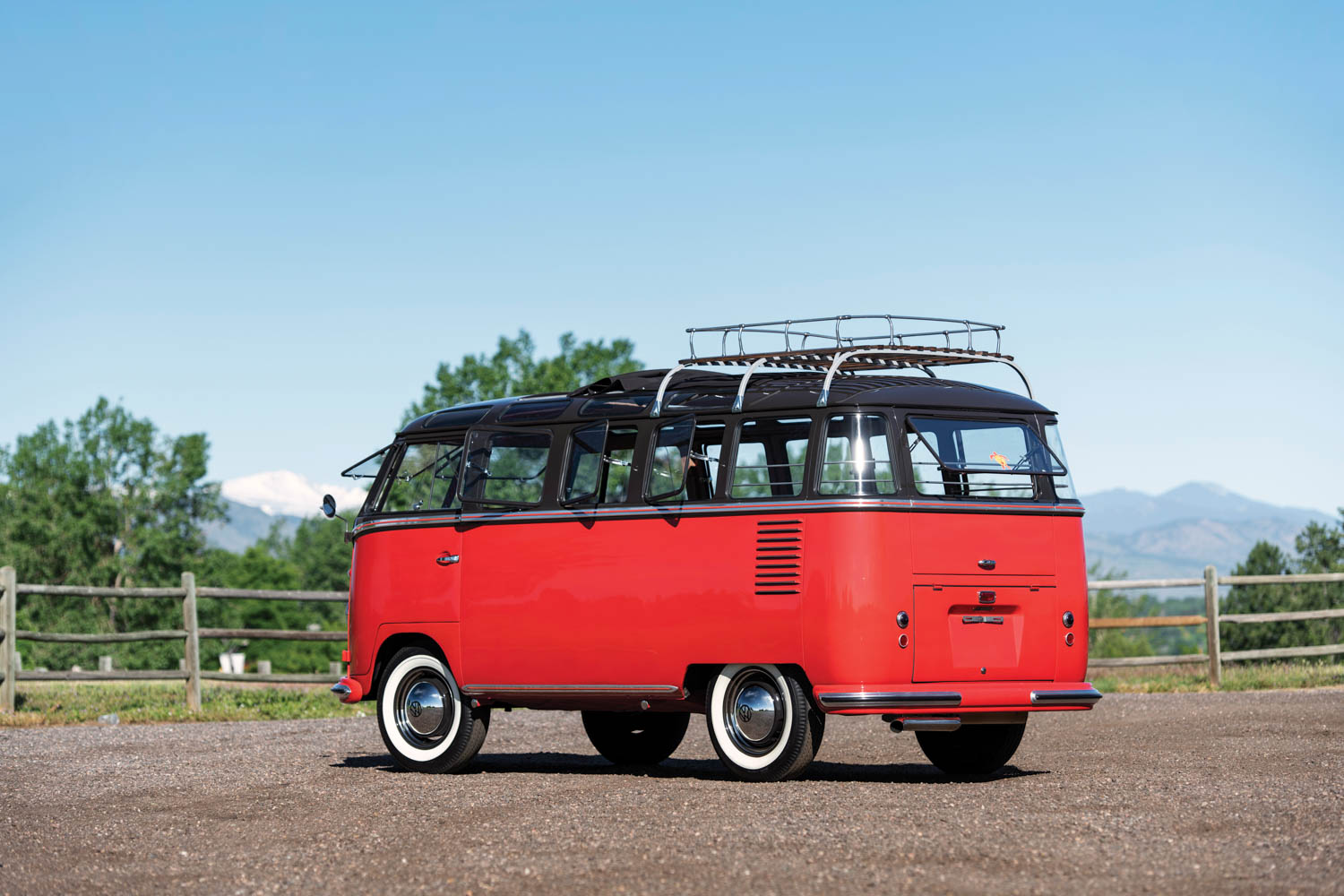 The Transporter shares the Beetle's running gear, which provided it with excellent ground clearance and an ability to run economically and indefinitely. The rear-engine, rear-wheel-drive bus was originally powered by the same 24-horse four-cylinder motor in the Beetle, and although it gained modest power through the years, those increases never seemed enough for most. Regardless, the Type 2's popularity spread worldwide, particularly among the counterculture.
First-generation 1950–67 Transporters—known as "split-window" Type 2s because of their two-piece windshields—served in a variety of utilitarian roles, from passenger vehicles and custom pickups to ambulances and police cars (no high-speed chases, of course). They could be ordered with doors on both sides.
The record price for a Type 2 is $302,500 for a 1965 21-window Deluxe at Barrett-Jackson's 2017 Scottsdale auction. The customized bus was featured on the Velocity Channel's Bitchin' Rides. Top price for a non-modified Type 2 is $291,500 for a restored 1961 23-window Deluxe at Barrett-Jackson's 2017 Palm Beach Auction.
The highest recent price paid for a Type 2 is $161,700 for a 1967 double-cab custom pickup at Barrett-Jackson's 2020 Scottsdale auction.
Interestingly, Newton says, Gen Xers seem to be more into trucks and vans than other generations, and this proves true when it comes to Transporters. Gen Xers comprise 57 percent of insurance quotes for 1950–67 VW buses, even though they make up only 32 percent of the market. Baby Boomers, on the other hand, make up 39 percent of the market but account for only 25 percent of insurance quotes for these vehicles.
Millennials make up only 14 percent of quotes for 1950–67 VW buses, but that figure rises to 20 percent for 1968–79 buses, likely because they cost less.
Regardless of who's doing the buying, the first-gen Volkswagen bus—the people's bus—continues to capture the hearts and wallets of American enthusiasts.