The best and worst trends we saw at SEMA 2018
There are constants at the SEMA show that you can always count on. Ford will be drifting Mustangs out front, Mopar will hold a press conference at 4:26 to announce something absurd and amazing, and no matter how carefully you think you've walked the miles of halls, tents, and outdoor lots, someone will mention a phenomenal build that you somehow missed. What isn't certain is what the new trends will be and what previous hot style will die off.
The SEMA show always brings hundreds of great builds and is an excellent place to notice trends in the automotive aftermarket. Here are four of our favorites and two that we think are ready to be put out to pasture.
THUMBS UP
Flared fenders
Whether on an import or a domestic, fender flares were still popular at SEMA, but we have a love/hate relationship for this one. Well-integrated flares, like the ones on the Roadster Shop's Road Rage Camaro and Riley Stair's phenomenal '70 Trans Am make us want to get behind the wheel and put those wide tires to the test. On the other hand, the bolted-on type flares can ruin the lines of an otherwise great car. On an early Datsun Z they can look amazing, while other times their exposed fasteners and odd lines just stick out like a sore thumb. Now that we think about it, it seems that it's really the late model cars that we have the most trouble with. We're still on board because the results can be extraordinary, but things can go wrong in a hurry.
Upscale Jeep Wranglers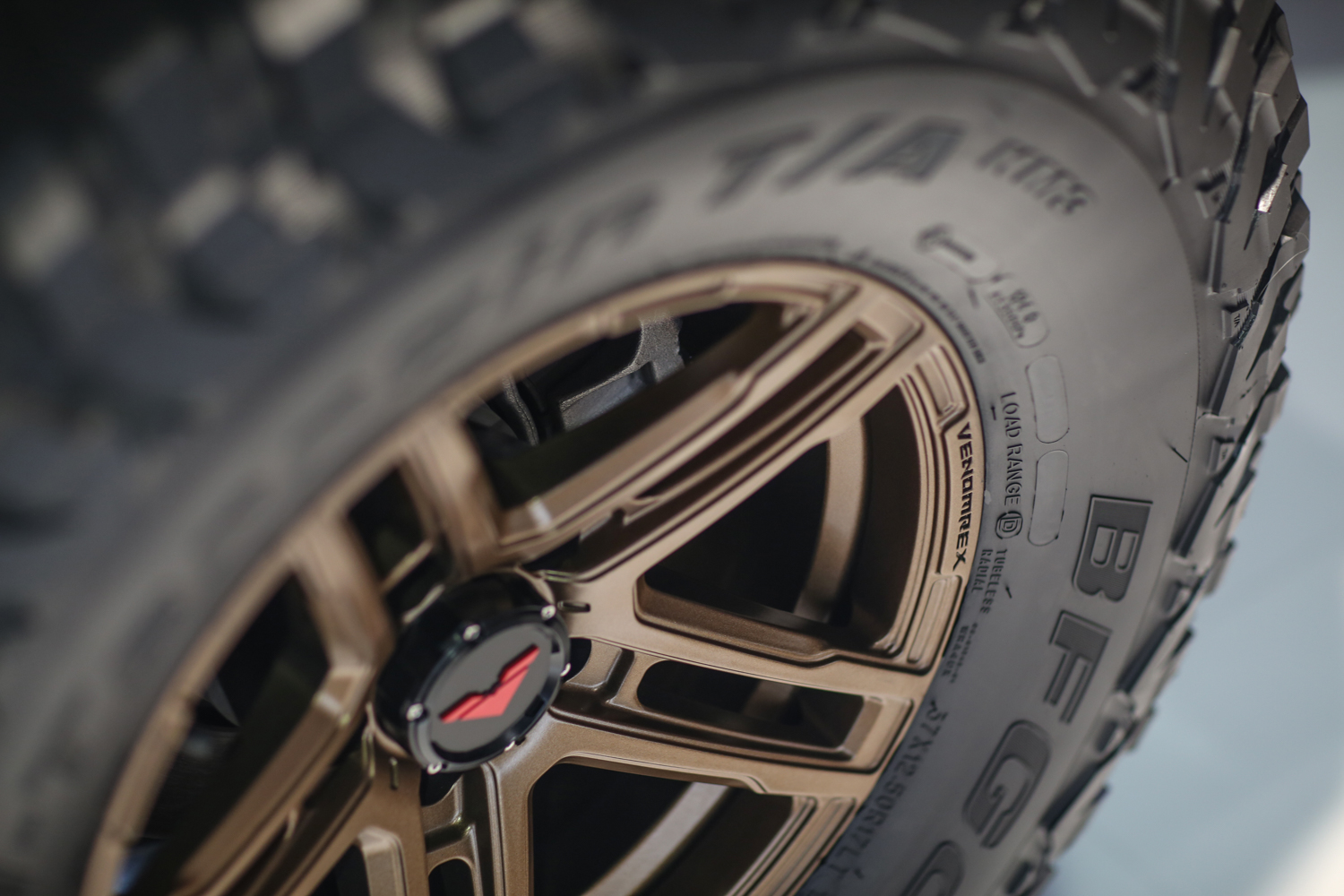 With each new generation of Jeep Wrangler comes more power, more capability, and recently, more luxury. We spoke with Peter Nam from Venomrex, the off-road offshoot of Vorsteiner, who showed us around a JL Wrangler wearing their carbon fiber hood vents, fenders, and exterior trim in addition to its flow forged wheels. At first it looked to be just eye candy, but the carbon fiber fenders are stronger than the factory pieces, and so are the wheels. They're both lighter too. The wheels were made with BF Goodrich tires in mind, to fit the tire's bead seamlessly. "This isn't a mall-crawler wheel," Peter told us, noting that they exceed the load rating of the factory wheels while being lighter than a normal casting and less expensive than a forging. Plenty of other manufacturers were flocking to upfit the new Wrangler with new lighting, wider fenders, and plush interiors while still keeping the built-in ruggedness of the platform to have a Wrangler that's capable and still looks high-end. Mercedes G-Wagens shouldn't be the only brick of a 4×4 that gets to make a transfer case look glamorous.
Individual throttle bodies
If there's one fault of the ubiquitous LS engine swap, other than it being ubiquitous, it's that in its stock, naturally aspirated configuration, it's boring. The factory intake does a great job, it's just not that fun to look at. When you pop your hood, wouldn't you rather show off eight throttle bodies, each poised to open up and allow the engine to chew through the atmosphere? We spotted a bunch of EFI systems, with crossrams, tall stacks, calliopes, the whole gamut, and not just on LS engines, but traditional small-blocks and big-blocks too. Their performance and sound are as good as their looks and we don't think we'll ever get tired of it.
Accessorized truck beds
Truck beds are incredibly versatile and SEMA showed us hundreds of ways to customize them. The upstairs portion of the SEMA show's South Hall is filled with trucks and 4x4s, and just about anything with a bed had some sort of tonneau, rack, or shell. Truck Hero had no fewer than eight different styles of rolling and folding bed covers in its massive booth, and it spilled all over the show. In Central Hall Ford and Chevy had custom-built full-size and mid-size trucks on display with motorcycle racks, TVs, and tool boxes. We'll be honest, it did inspire us to daydream about our ultimate off-road camping vehicle, tailgating rig, and portable fabrication shop, and it reminded us why we love pickups so much.
THUMBS DOWN
Stretched Wranglers
Some Jeep purists don't even like the four-door Wrangler Unlimited. Some even refuse to give them the "Jeep wave," the ultimate shun. To them, Wranglers should only be two doors. Still, the added utility and convenience comes with only a bit of sacrificed maneuverability, leaving a competent trail rig. We spotted a couple of six-door Wranglers that added another two feet or so to the wheelbase, which looks like it would really change the feel of the vehicle. We can still see places where these Jeeps might excel, like businesses that offer sightseeing tours, but the head-turning fabrication might be better suited to a vehicle that's already too wide for a trail or started life as a two-door only. Four-door Scout anyone?
Non-metallic grays
We're not sure whether this started in the aftermarket and made its way into OEM offering or vice versa, but this has been an ongoing trend for several years. Think Dodge Charger's Battleship Gray or the similar but darker shade you can find on Audis. There's nothing wrong with these colors, and some of our favorite builds from this year sported similar hues, but it may date the car in a few years when the next paint fad comes along.
We understand that not all cars have to be flashy, but to be totally selfish, it's more fun to photograph a car when the paint really pops in the right light. And not all colors have to be gaudy. As card-carrying members of the Brown Car Appreciation Society, may we humbly suggest a root beer brown for an understated and underrated color that works on classics and late models alike. Mmmmm… root beer.