These 5 all-time best Porsche seats keep your backside looking stylish
As a celebration of both 70 years in the sports car business and the recent reveal of the new 992-generation 911, Porsche announced its choice of the top five Porsche seat designs of all time. This list was compiled by Porsche's top designers, teaming up with Hollywood stylist Ilaria Urbanati to present the definitive picks. Let's dive into this sartorial bucket list.
Boy, how times have changed. What was once considered water-cooled, front-engined heresy by the Porsche faithful is now on a top five list for Germany's greatest sports car marque. Rightly so, however, as the dark burgundy leather and striped cloth inserts are downright handsome in this '80s classic.
Another entry hailing from the 1980s is this G-series 3.2. Porsche went all-in and sent the second-generation 911 out with a stylistic bang. These maroon cloth buckets with white-pinstriping look equally attractive and supportive. Urbanati mentions how she wouldn't mind crafting a tailored suit out of the material for one of her Hollywood clients. I know I certainly wouldn't object to one stitched in my size.
A special car to Porsche, this 930 turbo breaks into the top three with its awesome interior and fascinating history. One of the earliest turbo cars, it was originally owned by Louise Piëch, daughter of Ferdinand Porsche. As a painter, she was very much attracted to bright colors and wild patterns, hence the fantastic red and blue tartan interior. Look closely and you'll even see the exterior rocker script matches the inside—a fitting detail for a car nicknamed Louise.
The number two spot is certainly the most iconic of the Porsche interiors: Pepita. Often incorrectly referred to as houndstooth (which is an entirely different scheme), the classic black and white cloth seats are pretty much everything you'd wish for in a 911 of this vintage. Speaking of which, the car housing these bucket seats is iconic in its own right. Chassis number 57 is the the earliest 911 owned by the Porsche Museum—so early, in fact, that it predates the switch from 901 to 911.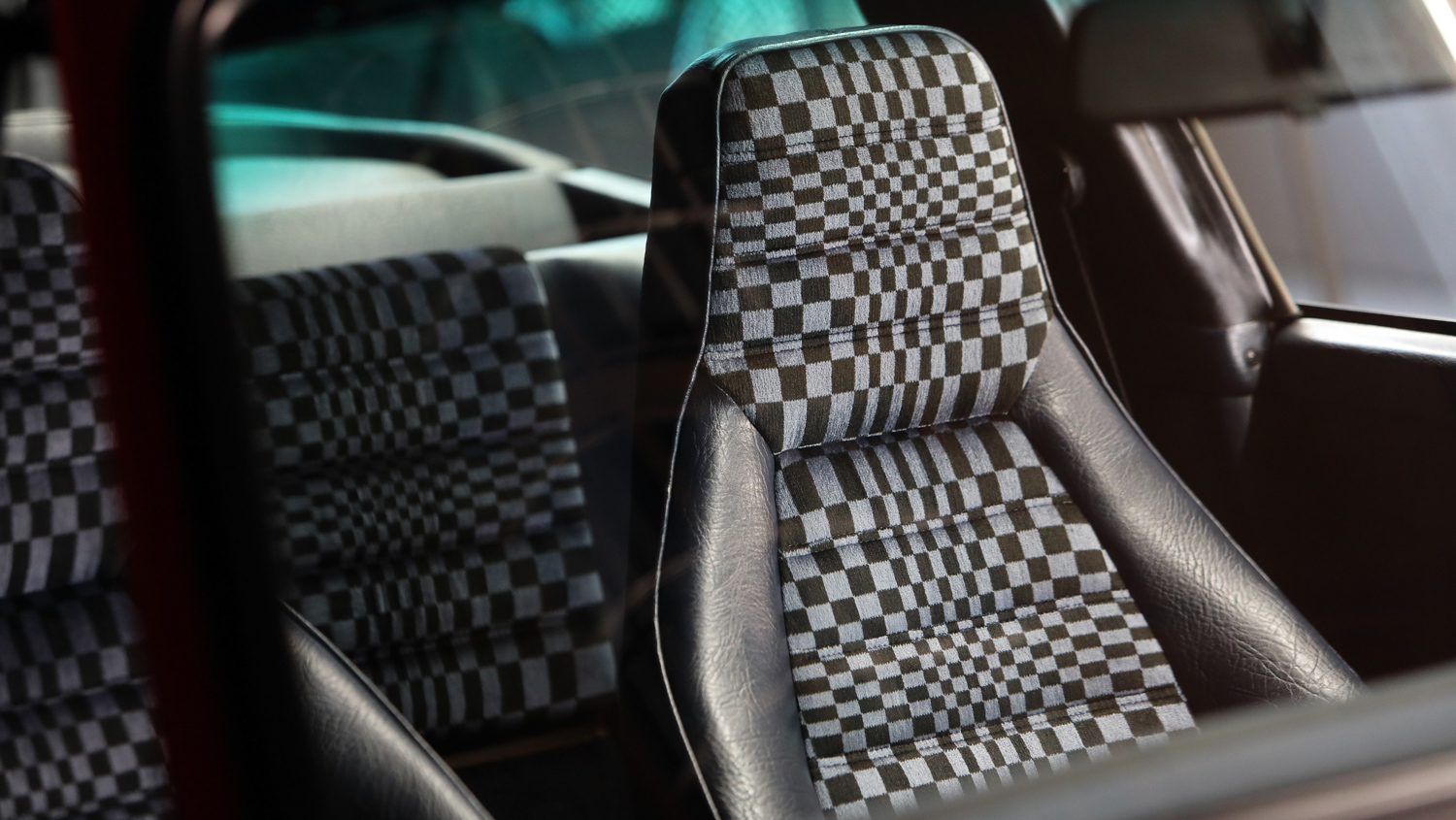 Topping the list is a 1977 911 Targa SC, featuring a pattern best described by Urbanati as "aggressively styled." Not for the faint of heart, the Pasha design adorning all four seats oozes late '70s cool. The oscillating black and white squares do an outstanding job representing a waving checkered flag and would be sure to turn heads when cruising with the targa roof off.
What are your thoughts on Porsche's list? Sound off in the Hagerty Forums on any omissions or recommendations for how you'd arrange this top five.