The 7 best engine swaps from SEMA 2018
The SEMA show brings out the brawniest and boldest new car and truck builds from all over the the world. Much of the show's floor space is dedicated to the aftermarket engine performance parts industry, so it's no surprise that hoods are popped to show off the latest in speed parts.
Spotting a classic with a late model engine is nothing new, as Fords with 5.0-liter Coyote V-8s, Mopars sporting 6.4-liter or Hellcat Hemis, or just about everything else with an LS V-8 is a rather common sight. Sometimes what we see is a bit of a novelty, even if it isn't all that unexpected—no two swaps are exactly the same. Here are some of our favorites, for more SEMA engine swaps, take a look at the Gran Turismo award winners.
American Legends built this 1968 Mustang and decided that Ford's DOHC V-8 wasn't the right fit, instead opting for a 4.3-liter Ferrari V-8 from an F430 topped with a Ferrari California intake. At just under 500 horsepower, the Ferrari V-8's naturally aspirated punch wasn't enough, so a pair of mirror-image turbos from Nelson Racing Engines add about 200 horsepower to the equation. A Coyote engine may have been the easier route, but we can't deny that the Ferrari delivers a unique visual appeal in addition to its characteristic sound.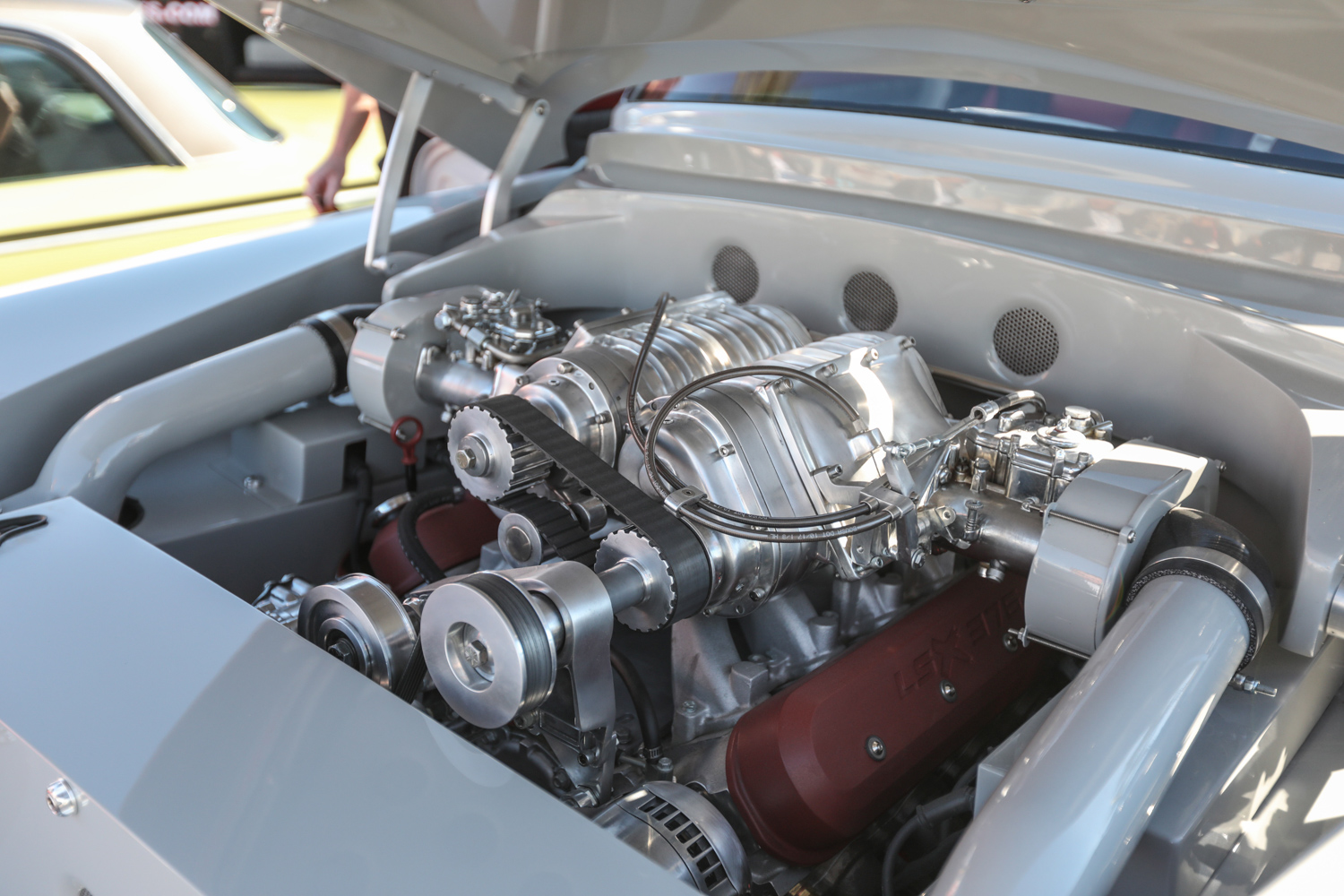 Sydney Weaver, from Weaver Customs, built this 1953 Bel Air to be her personal car. It's powered by an LS3, but it doesn't look like the typical LS thanks to a bizarre supercharger setup that uses a single housing to hold twin rotor sets that draw air and fuel through Weber sidedraft carbs.
After two new COPO Camaros were revealed just before the official start of the SEMA show, it wasn't the snarling 427-powered one that had people talking. The eCOPO concept replaced the gasoline V-8 with twin electric motors mounted in series for about 750 horsepower. It's capable of nine-second elapsed times if the driver can manage to launch it and shift its manual-valvebody Turbo 400 through the traps just right.
Icon was also making waves with its electric Derelict 1949 Mercury. It's powered by 400 horsepower AMRacing motors and a battery salvaged from a wrecked Tesla. Unlike the eCOPO, this one's built for the street, and its battery delivers a 200-mile range.
If you want to build a retro Trans Am with a modern chassis and engine, take notes, because this is how it's done. Riley Stair assembled an LS engine with a Pontiac-appropriate 400-cubic-inch displacement that's built to rev to 10,000 rpm and make more than 900 naturally aspirated horsepower. The shaker scoop is positioned above the monster throttle body to give you some idea of how far the engine is set back. The only thing missing from this car is a screaming chicken.
If you've driven a lifted JK Jeep with big tires, you know that the Pentastar V-6 goes from adequate to sluggish in a hurry. Max-Bilt Offroad made sure that's never the case by jumping straight to Hellcat power for this Wrangler. The Hellcat V-8, its supercharger, and all its cooling is a bit of a tight fit in the Jeep's engine bay. But at double the power, we think the juice was worth the squeeze.
Finally, one last LS swap, this time in an unlikely place: under the hood of a Mercedes 300SL Gullwing. We're not sure how the sculpted intakes were made, but the rough finish mimics an aluminum sand casting, and they, along with the cross-ram intake, draw in eyeballs from all over.