National Corvette Museum is a must-see, especially post-sinkhole
Located about a mile from General Motors' Bowling Green Assembly plant where every Corvette has been built since 1981, the National Corvette Museum honors the history of America's Sports Car and the people behind its design, engineering, and production. I've visited the National Corvette Museum (NCM) on more than one occasion, but this trip marked the first time I've walked through since the museum suffered a catastrophic loss in 2014 when a sinkhole opened under the museum's signature skydome and swallowed eight memorable Corvettes. Since then, several of the cars have been restored, yet some remain in their mangled, sinkhole-induced state of destruction.
The battered remains of the Corvettes and the displays installed to remind visitors of the 2014 incident have brought the NCM plenty of publicity, but of course it's the unique vehicles and the history of the cars and the people behind them that brought people to the museum in the first place. Here are my favorite pieces of Corvette history and, of course, some battered wreckage from the sinkhole.
Zora Arkus-Duntov is the person that is perhaps most engrained with the Corvette's history. A sizable display honors his contributions to Chevrolet performance and includes a copy of the famous "Duntov letter" that he sent to Chevrolet brass calling for increased support for racers, both in more powerful over-the-counter engine parts and race-oriented chassis parts.
While he worked on Corvette for much of his time at Chevrolet, Zora only owned one Corvette in his life, this 1973 model. Naturally, it's equipped with a big-block V-8.
Two Corvettes are parked in a replica gasoline and service station where you can also spot two Ford Flathead V-8s, one with a pair of Ardun heads converting it to overhead-valve. Arkus-Duntov mentioned the success of his Ardun cylinder heads and their record-breaking runs at Bonneville in his letter to Chevrolet urging for the development of high-performance small-block parts.
A scene from an assembly line for the 1974 Corvette recreates to show how the fiberglass body would meet its steel chassis.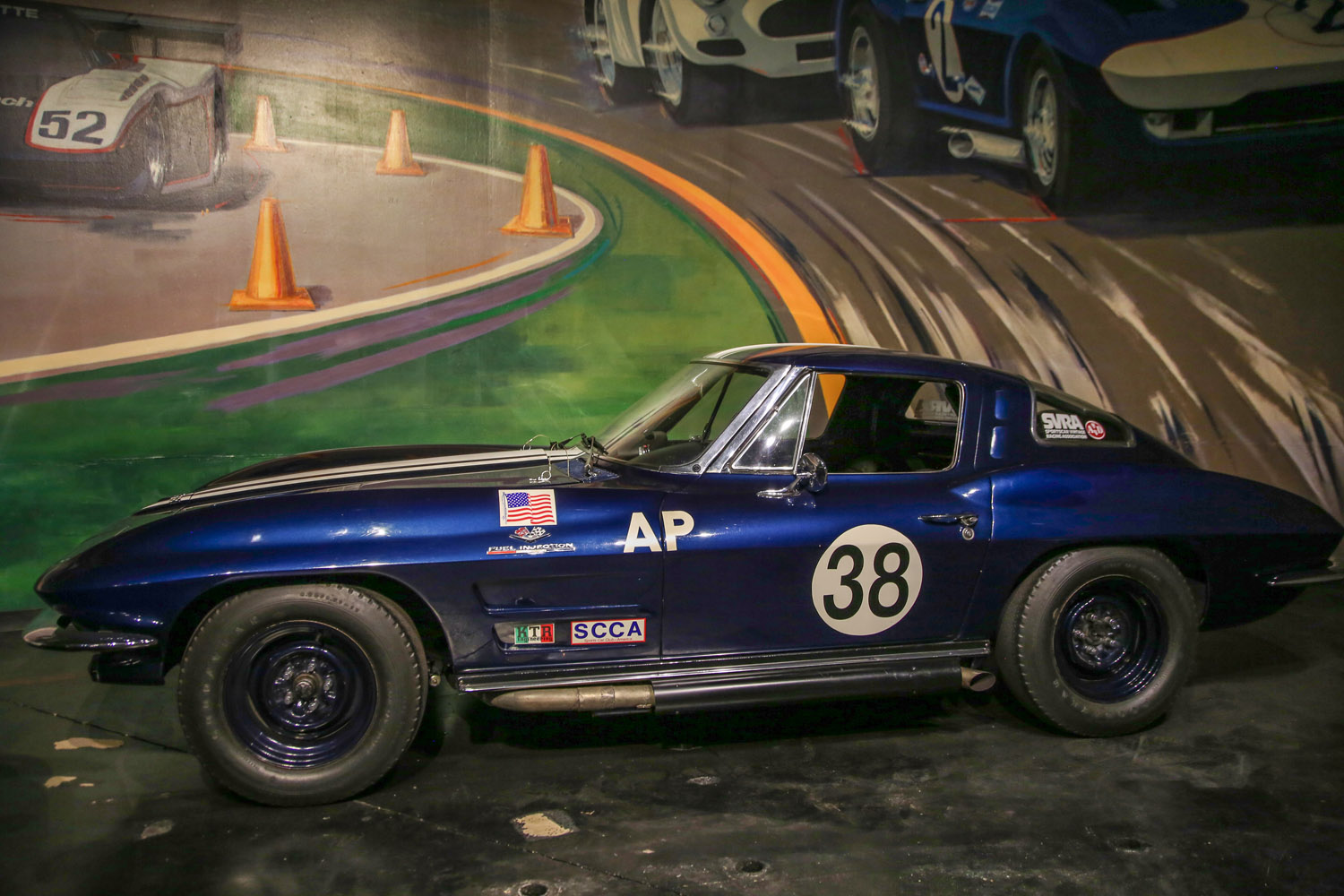 Of the first six 1963 Z06 models built, two went to Roger Penske, two to Mickey Thompson, and two, including this one, went to Gulf Oil's Grady Davis. It's powered by a 360-horsepower 327 and has the Z06's characteristic 36.5-gallon fuel tank.
The 2009 ZR1 that Corvette engineer Jim Mero drove to a 7:19.62 Nurburgring lap is on loan from General Motors in a display that plays a video of the impressive lap.
This transverse-mounted small-block replaced the XP-882's mid-mounted, four-rotor Wankel engine and the concept become the Aerovette.
Yet another mid-engine concept, the Corvette Indy was powered by a turbocharged 2.65-liter V-8 but later versions used a Lotus-built 5.7-liter DOHC V-8 that was a predecessor to the ZR-1 powerplant.
To keep C5 Corvette development under wraps, fourth-generation Camaros were used as development mules. Under the skin was an LS1 engine and Corvette chassis.
Under the skydome, the Corvettes are arranged as they were before they fell into the sinkhole. While the 1962 model in the background has been restored, many were left in their as-recovered condition.
If you'd like to visit the National Corvette Museum, it's open daily from 8 a.m.–5 p.m. Adult tickets are $10.