MTV's Music Video Cars of the 1980s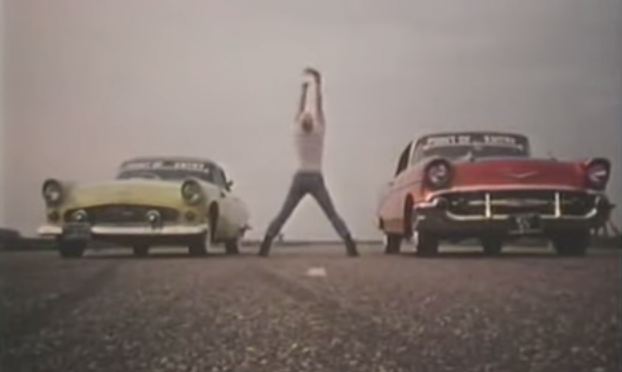 Remember when MTV was a thing? When they weren't sneaking into their parent's HBO and Cinemax channels to watch R-rated movies, millions of bored suburban Gen Xers turned to Music Television to keep them entertained. MTV played its first music videos on Aug. 1, 1981, beginning with "Video Killed the Radio Star" by the Buggles, and the creative arms race of a whole new genre took off. We're still scratching our heads at "Land of Confusion" by Genesis.
But if clay-mation puppets are the extreme, one of the music video's mainstays has always been the automobile. From rock to rap, cars play heavily in some of the 1980s' best videos. Here are our faves.
"Heading out to the Highway" — Judas Priest (1981)
It's nearly a minute and a half before this video actually heads out to the highway, but when it does, we find ourselves in the middle of a showdown between a '57 Chevy Bel Air and a '56 Thunderbird. Sadly, we never learn who wins, but if recent sales are any indication, probably some Honda.
"Gimme All Your Lovin'" — ZZ Top (1983)
You could make the case for several videos from the "Eliminator" album ("Legs," "Sharp Dressed Man" et al) because Billy Gibbons' red '33 Ford features everywhere. But we like this one because it opens with the car and it's got car sounds in it, which ups the watch ability of anything, frankly.
"I Love L.A." — Randy Newman (1983)
L.A. is hit or miss, but who doesn't love Randy Newman? In this one he patrols the City of Angels in a stellar 1955 Buick Super convertible, and the video also has cameos by a Ferrari 328, Rolls-Royce, bouncing low-riders, and smog the color of sunset.
"I Can't Drive 55" — Sammy Hagar (1984)
Who can? Especially in a Ferrari 512 BBi after some dude named Claudio has adjusted the caster and camber and corrected the tire pressure. Lots of pre-GoPro on-car footage make this video a good one for enthusiasts, while Hagar's "racing suit" makes him a suitable stand-in for Ronald McDonald.
"Stay the Night" — Chicago (1984)
The thing you have to understand about Peter Cetera in this video is that he either really loves this girl, or he really wants his Olds 442 back. Because the effort he puts into hanging on to it as she speeds out of the garage is commendable. That said, putting a man's full weight on the driver's door of a GM product does the shutlines no favors. Neither does jumping it through a billboard.
"Smuggler's Blues" — Glenn Frey (1985)
We open on Frey and his compatriot in an undisclosed South American locale, which is really just an alley in Miami with a couple of palm trees for effect. Their "deal" goes south, the chase is on — Frey in a VW Thing and the other guys in a BMW 2002 — and he somehow outruns them. He later appears in a 911SC cabriolet, only to get nabbed by the Feds and then killed by a fake cop, who's really just one of the guys from the 2002 chase. The entire video is a parable of the devastating consequences of drugs and the illusion of being able to outrun a BMW in a Volkswagen.
"Here I Go Again on My Own" — Whitesnake (1987)
The video opens with D-list actress (and former front man David Coverdale's wife) Tawny Kitaen doing cartwheels in lingerie across the hoods of a pair of Jaguar XJs. That's enough to make any paint finish freak cringe. She's later seen riding half outside the passenger side window, clearly violating front seatbelt laws, before deep-throat kissing him while he attempts to drive down the road. We'd rather just see the Jags, thanks.
"Posse on Broadway" — Sir Mix-A-Lot (1988)
Ah yes, the "J.R. Ewing of Seattle" bides his time in the back of a black Mercedes limousine, which, if you believe him, is fitted with an AMG suspension to, you know, keep him closer to the ground. He also gets good grip from the 50-series tires. The whole set-up does him no favors by the end, however, because by that point he's picked up so many freaks that the muffler is dragging and the suspension's getting weak. Next time, try a Towncar.
"Get Outta My Dreams, Get Into My Car" — Billy Ocean (1988)
Confusion reigns in this one, as you clearly see a man's right hand turning the key to start a car. So it can't be a Porsche, right? Except it is a Porsche. It's a right-hand-drive 911 cabriolet. Surely this makes it one of the rarest cars to appear in a 1980s music video. Tragedy strikes shortly after the one-minute-mark when the cabin floods in a car wash and Ocean starts seeing imaginary fish.
"My Hooptie" — Sir Mix-A-Lot (1989)
Mix is back, this time to drop off his custom 560 SEC for service. The loaner? A '69 Buick "deuce and a quarter." The attendant maintains it will get Mix and his boys "all the females, all the females." The reality, of course, is that the girlies try to dis and say his car looks tired.