The 5 most expensive Corvettes ever sold at auction
At one point or another a Corvette is likely going to make your sports car wish list regardless of your budget. Whether you have seven figures to plunk down on a classic or whether you have nine grand burning a hole in your pocket, there is a worthy version of "America's sports car" in every price bracket. For who take Corvette collecting seriously and have the means to buy almost anything, the L88 is pretty much the cream of the crop with few, rare, exceptions.
The L88 was a factory racing option package that was never promoted by GM with an engine horsepower that figure was purposely underrated. The L88 package included a 427 cubic-inch competition engine and numerous competition or heavy-duty parts, while convenience features like radio or air conditioning were left out. Just 216 examples were built over three years, so in addition to being the most potent regular production Corvettes, they are also some of the rarest.
The L88's success on track in both North America and Europe further adds to their collectability. That four out of the five most expensive Corvettes to come to auction as outlined on this list are L88s shouldn't come as much of a surprise.
Sold at Barrett-Jackson Scottsdale in 2014 for $3,850,000
The L88 only lasted three years, and among L88s it's the 1967 models that are the most special. Just 20 L88 Corvettes were built in 1967, and all were built on the arguably more attractive C2 platform. This fully documented car, apparently the only one in these colors, would be the crown jewel of just about any Corvette collection and it was Barrett-Jackson's biggest sale by almost a million dollars at Scottsdale in 2014. The 1967 cars hardly ever come to market, so this one bringing top dollar was no surprise.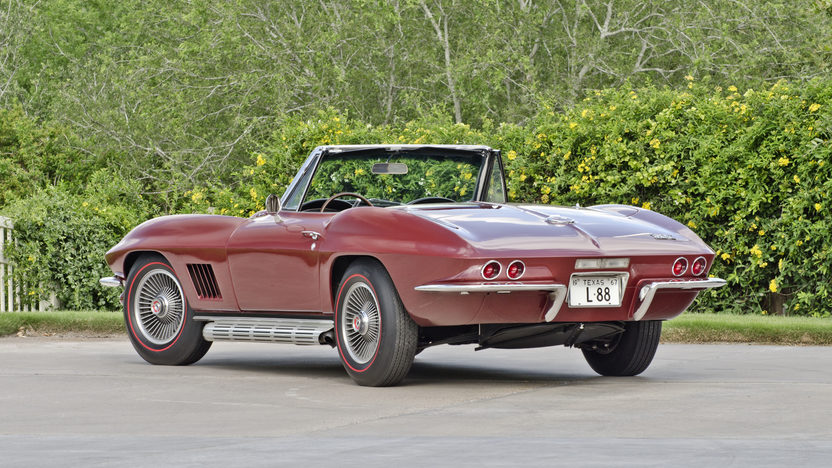 Sold at Mecum Dallas in 2013 for $3,424,000
The L88 was conceived with racing in mind and that's just what the first owner of this car did his car, although the racing was on drag strip rather than on a road course. This L88 had great success in the NHRA A/Sports class during 1967, running a best quarter-mile time of 11.12 before being sold to its second owner for just $5,000. Although it was restored in the 1990s, the 1967 L88s are rare enough that it brought very strong money.
Sold at Barrett-Jackson Scottsdale in 2014 for $2,860,000
While the '67 Corvette L88s are the rarest, the C3-based cars turned the L88 into a legend on the track. Cars like this one wrote that story. The paint job may not be to everyone's political taste, but with wins at both Daytona and Sebring as well as an IMSA championship to its credit, the "Rebel" L88 is one of the most successful and celebrated Corvettes in history. The 1969 L88s are the most common with 116 built, but this car's historical significance justified this price that is several times what we'd expect an "ordinary" 1969 L88 to bring.
Sold at Worldwide Scottsdale in 2017 for $1,980,000
Only half of the 20 L88s built in 1967 were convertibles. This one was represented with a replacement engine block but was otherwise fully documented and in #2 (excellent) condition, so it was a bit of a surprise that it didn't bring at least $2 million when it crossed the block in early 2017. When it's a Corvette this rare and collectible, though, even a relative bargain is enough to make it one of the most expensive Corvettes in the world.
Sold at Barrett-Jackson Scottsdale in 2008 for $1,760,000
The Pininfarina-bodied Corvette Rondine ("swallow" in Italian) isn't the only Italian-bodied 'Vette, and with its body made of heavy steel instead of fiberglass, it's not the fastest Corvette, either. It is, however, undoubtedly gorgeous. Only one was ever built, and it was a star at the Paris Auto Show in 1963. Zora Arkus-Duntov is said to have exclaimed that "for the first time I now have a Corvette I can be proud to drive in Europe." It is an important bit of history for both Corvette as well as Pininfarina, which kept it at its museum until it sold in 2008.