Hagerty's Quirkiest, Coolest and Most Unusual Collector Cars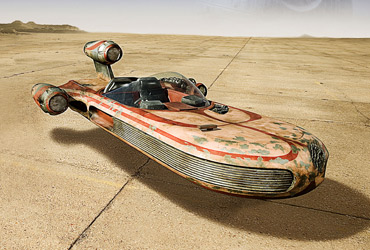 For more than a decade, the nation's largest collector car insurance agency has placed policies on some of the greatest and most valuable cars in the world. But from time to time they also receive a request that may prompt them to say: "You Want To Insure What?"
"When we first set out to provide insurance for collector vehicles, we intentionally didn't want to discriminate and limit ourselves," says McKeel Hagerty, CEO of Hagerty Insurance Agency. "But we never anticipated how broad the collector category really is or how many unique and cool vehicles there really are out there. It's never dull. But we wouldn't have it any other way."
Below please find Hagerty's "Top Ten Quirkiest, Coolest and Most Unusual Collector Cars We've Covered."

1. Ghostbusters car – If there's something strange in your neighborhood who ya gonna call? This '65 Cadillac wagon will surely protect you from ghosts. Of course, we ain't afraid of no ghosts.
(Note: Vehicle pictured is a 1959. The vehicle we've covered is a 1965.)
2. Pumpkin Chucker/Old Fire Truck – This vintage fire truck can shoot pumpkins ¼ mile in any direction you point it. The 25-foot long barrel makes garaging an issue, but it certainly keeps unwanted trespassers at bay.
3. The Big Red Phone car – This 1975 VW Beetle was transformed into exactly what it sounds like – a big, red telephone. Complete with a keypad, receiver and matching owner/mascot, this car is not easy to miss.
4. Star Wars Land Speeder – Used by Lucas Films, the hovering vehicle made its first appearance during Star Wars Episode IV: A New Hope. The dirty, beat up land speeder was Luke Skywalker's alternate mode of transportation when his T-16 skyhopper was in the repair shop.

5. Cinderella's Carriage – This carriage evolved from a mere pumpkin and was hauled by a couple of mice-turned-horses. Pretty unbelievable you say? Well, it happened and it needed insurance, so Hagerty gave it the best coverage a budding princess would ever desire. No word on whether elusive glass slipper coverage is next on their list.
6. Corvette Station Wagon – What do you get when you cross a truly iconic American sports car with a grocery getter? Apparently, you get what is most commonly referred to as a 1954 Commemorative Sport Wagon. Quite the oxymoron, but a conversation starter.

7. German Panzer Tank – Think you feel safe in your big, American SUV? This military vehicle can only hit up to 25 mph even on the flattest surfaces, but you'll never have the problem of getting stuck in traffic.
8. Velorex Oskar 3-wheel car – This 3-wheel, Czechoslovakian, vinyl-covered mini car enjoyed quite a long production run. It was produced from 1953 to 1971 in a town named Hradec Kralove.

9. 1985 Owosso Pulse – This futuristic looking vehicle is one of just 347 Pulses ever built. The "Autocycle," as it's commonly referred to, appeared in the film Back To the Future Part II.
10. 1974 Dodge Clown Car – Want to be the funniest neighbor on the block? Park this in your driveway.
Photo Rights
1. Ghostbusters Car
Photo by Chad Davis
2. Pumpkin Chucker/Old Fire Truck
Photo by Ed Rodgers
3. The Big, Red Phone Car
The Phone Car©Howard Davis and Photo©Harrod Blank
4. Star Wars LandSpeeder
Photo by Douglas Sonders Photography
5. Cinderella's Carriage
Photo by Stacy Rackley
6. Corvette Station Wagon
Photo by Mike Hicks
7. German Panzer Tank
Photo by Simon Quinton
8. Velorex Oskar 3-wheel car
Photo by Layton
9. 1985 Owosso Pulse
Photo by Wells
10. 1974 Dodge Clown Car
Photo by Delaney