What it's like to hit 200 mph (and beyond)
While a dozen new cars on the market today are capable of hurtling you over 200 mph, humans rarely experience that hallowed speed because few tracks offer the necessary combination of corner banking and straightaway length. There are long, lonely stretches of public road suitable for such adventure but the threat to life, limb, and driver's license is usually enough to keep the 200 mph desire buried deep within every car enthusiast's soul.
If you don't have an excuse to get out to Bonneville Speed Week or simply lack the burning itch to exceed 200 mph, I'm here to share what it was like to hear the shriek of the wind and the howl of your engine topping, having done so six times over the past 40 years at the wheel of someone else's speed machine. (What my auto journalism career lacks in salary and benefits, it more than compensates in experiences that never grow old.)
Two hundred mph means traversing one football field per second. Every blink of your eyes you cover 117 feet. Airliners take flight well below 200 mph, so not even peering out the cabin window reveals what similar velocities are like in an automobile. It's a uniquely thrilling—and sometimes terrifying—experience.
Kelmark Kit Kar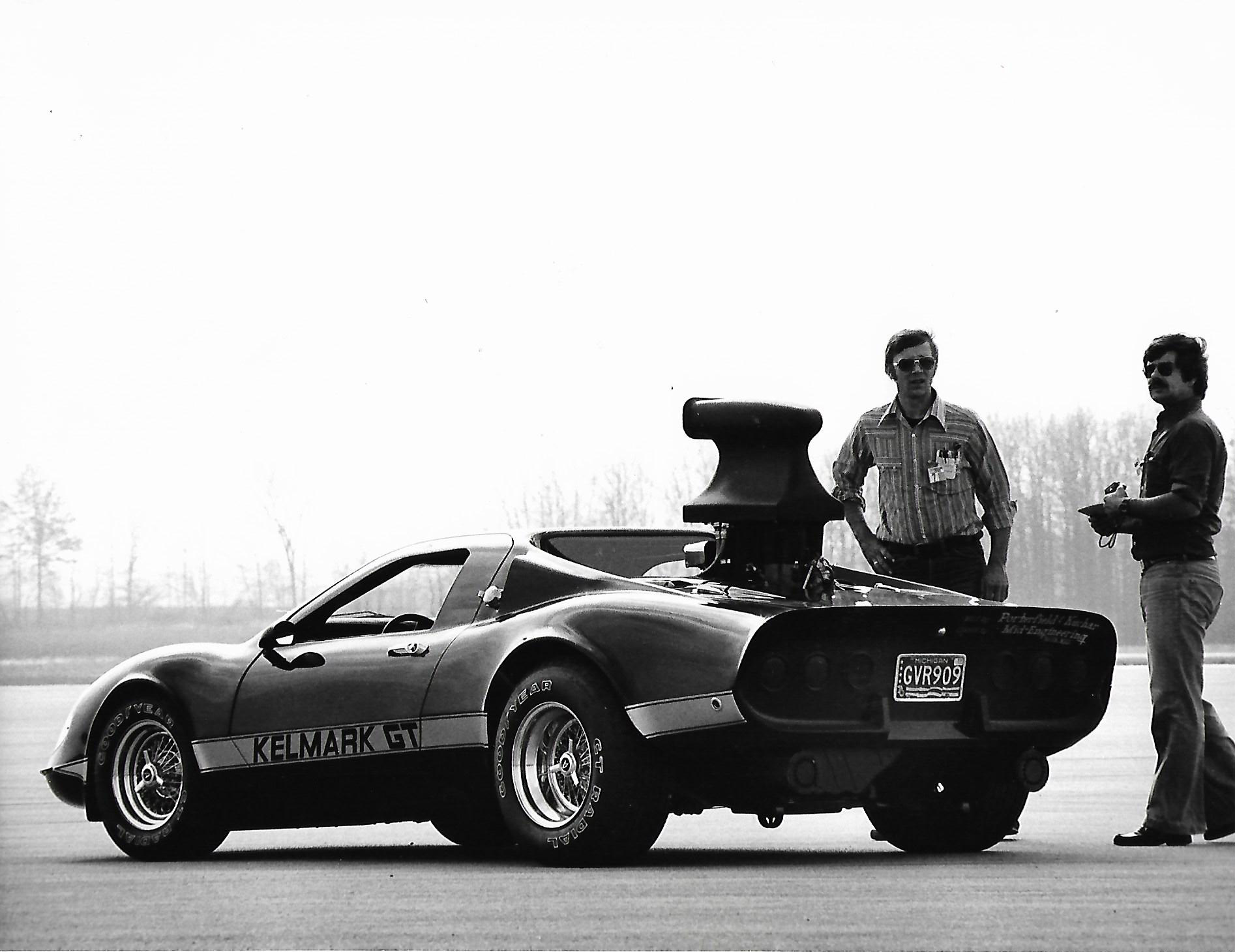 In 1978, GM engineer Bill Porterfield offered me a drive in his home-built Kelmark GT, a fiberglass copy of a Ferrari Dino armed with a thumping 737-horsepower Chevrolet big-block V-8. A giant air scoop loomed over the mostly-aluminum 467-cubic-inch engine fed fuel with a Lucas injection system. A modified three-speed Oldsmobile Toronado Hydramatic transaxle struggled to deliver over 600 lb-ft of torque to the 15-inch Goodyear rear tires.
To prove this ride was streetable, Porterfield met me at the Detroit Metro airport for the 150-mile drive to Ohio's Transportation Research Center (TRC) which offers a 7.5-mile oval track with corners banked at 28 degrees. We logged eight miles per gallon of Sunoco 260 on the ride down cruising at a then-legal 55 mph. Except for the barely muffled din behind us and pain-inducing bucket seats, the trip to TRC was uneventful.
To get a feel for the chassis I lapped a skidpad to measure 0.77g worth of grip on street radials and a more encouraging 0.89g with Goodyear race rubber installed. Given the rudimentary trailing arm suspension hardware—pirated from a VW Beetle in front with Corvette gear in back—those were impressive results in the 1970s.
Initial hot laps were discouraging. There wasn't a hint of road feel through the Beetle steering system. At 150 mph, the chassis began a sickening death wobble and the engine bucked and barked due to fuel starvation. During a pit stop we tightened the shocks and over-inflated the tires to remedy the handling and removed baffles from the exhaust pipes in search of more power. The only feasible fueling fix was for me to hold a toggle switch up to engage an auxiliary fuel pump, necessitating one-handed steering. When the air scoop blew off on the next pass, the Kelmark seemed happier breathing directly through its Lucas velocity stacks.
With eyes locked on the 6500-rpm tach reading, I exited the banking hard enough to register 185 mph on our radar gun positioned at the end of the straightaway. On the next lap, the tach had climbed another 1000 rpm but not until the car was well into the banking, long past the speed gun. That's when I heard what could only be described as the sound of a toilet flushing as every last hint of power funneled down the drain.
Factoring in tire growth, the tachometer's calibration, gearing, and torque converter slippage, our best estimate was a 202.7 mph top speed. Additional runs were out of the question for two reasons: the heavy downpour that followed my best lap and a couple of connecting rods with their big ends burned off.
Porsche 911 Turbo versus Chevrolet Camaro
About a decade later I returned to TRC for a Car and Driver Gathering of Eagles top speed test of six highly-modified ground pounders and one bone-stock Ferrari Testarossa. My piece of the action was driving a Porsche 911 Turbo tuned to 646 horsepower by Motorsport Design of Scottsdale, Arizona, and a Chevy Camaro packing 700-hp worth of Keith Black Engineering heat.
In C/D's pages I described driving the Porsche as comparable to falling off a log given the car's totally calm approach to 202.5 mph. Other than a trunk lid caved in by wind pressure, the 911 was comfortably within its element at entertaining velocities. What it didn't like was trundling below 3500 rpm on the street portion of our evaluation. The racing clutch required a heavy boot to operate and the twin-turbo flat-six refused to run smoothly at part throttle, but otherwise, this Porsche was clam-happy at 200-plus.
While crowding 200 in the 1986 Camaro, my co-driver, the late John Lingenfelter, suddenly reached over to switch the engine off. What he noticed that I had missed while concentrating on avoiding the guard rail was an abrupt loss of oil pressure.
During an overnight thrash at his Decatur, Indiana, shop, Lingenfelter discovered that a cam bearing had drifted awry. With its engine refreshed, the Camaro ran an even 216 mph the following day before tripping on our mandatory road drive. The ride height was so low to trim aero drag that the oil pan scraped pavement hard and often, springing a leak. Nonetheless, I was impressed at how well the third-gen Camaro took speed in stride with accurate steering, impeccable stability, and confidence inspiring deportment. By this juncture, I had enough speed under my belt to relish the 200-mph life.
Mazda RX-7 Turbo blitzes Bonneville
The year before the eagles nested at TRC, I warmed up with an attack on the C/GT record at Bonneville. Until excessive mineral extraction diminished western Utah's salt lake beds, this was the mecca for those with a vital need for speed. I ran 160 mph in a 1974 Mazda RX-3 and 180 in the first-generation RX-7, both of which were record setting velocities. In '86, I graduated to a second-gen RX-7 powered by a 530-horsepower twin-turbo rotary engine painstakingly prepared by Racing Beat of Anaheim, California.
The Mazda's shrill exhaust made dogs two states away paw their ears. The requisite safety suit and head gear made me resemble a Mercury astronaut. I was challenged by no transmission synchros, gearing so tall that clutch slipping was essential to start rolling, and salt so chewed up that each run felt like winter driving in Iowa.
My engine fried on the fourth pass at 177 mph (against a 201-mph record). After our spare engine was installed, I spun at just over 200 when both rear tires broke loose as the boost climbed toward its 15-psi limit. Lifting, frantic steering, praying, and swearing all failed to slow my rotation so I had to pop the chute. Looking back, I realize how fortunate I was not to twirl into the air like an over-revved pinwheel.
Back in the pits, massive salt deposits packed under the car supported my contention that the spin was not my fault. The next pass was an uneventful 205 mph. Then best behavior by me and my ride yielded 8000 rpm in top gear on a record-qualifying pass where I tripped the timing traps at 232.753 mph. Going for broke on the return run, I wound my rotary to 8550 rpm, yielding 244.132 mph. That earned my 200-mph Club cap and record-book entry—still standing—at 238.442 mph.
Don't think for a moment the view goes blurry at such speeds. The trick, like in racing, is focusing on where you want to be. In this case, some distant point on the horizon. That helps your peripheral vision go blank and your steering commands stay laser straight. Concentrating on a far-off destination is the key to going fast at Bonneville and living to brag about it.
GM's Ecotec Lakester
Word gets out regarding 200-plus-mph exploits. Knowing my appetite for salt, GM's Mark Reuss, then head of The General's performance division and now the company's president, invited me to join his 2004 Bonneville team. In collaboration with the SoCal speed shop, GM constructed one Chevy HHR, a Cobalt SS, and an exotic open wheel bullet known quite logically as a lakester in Bonneville vernacular. That beautiful single seater was powered by a supercharged and intercooled Ecotec 2.0-liter four-cylinder. While it ran fast enough to break the existing 177-mph in the G/BGL (2-liter blown gas lakester) class at the fall World Finals event, I was denied the record due to a miscommunication between our team and the officials.
Prep for the following year's runs included testing a 40-percent scale model of the lakester in an Indianapolis wind tunnel and confirming those results with coast-down runs at GM's Arizona proving grounds. Our major finding was that tires an inch narrower and four inches smaller in diameter delivered a higher top speed. For good measure the Ecotec four was tuned to produce 60 more horsepower.
Nestled beneath the GM lakester's F-16 fighter canopy, I felt like Chuck Yeager on a mission to crack the sound barrier on land. On the first pass over salt rough enough to have been groomed with a cheese grater, I easily qualified at 193 mph. Unfortunately, my team found a six-inch split in the coolant tank requiring removal from the impound area for repairs. My next qualifying pass rang up a heartening 203 mph through the traps. But on the following day's return run, my mighty engine refused to rev beyond 6000 rpm, worth only 179 mph. Nonetheless, the two-way average of 189.205 mph was a record speed.
My next pass was an encouraging 193 mph in spite of a 13-mph headwind. Two hours later, the sky turned black, porta potties were flipped by 50-mph winds, and biblical rains fell, abruptly terminating Speed Week. Without pouting, I returned home with the aforementioned record which was several mph below the GM's Ecotec Lakester's ultimate potential. Two years later, Ken Hardman of Hardman Racing boosted the record to an awesome 248 mph, well beyond the Ecotec's reach.
Mastering the Mojave Mile in a Bugatti Veyron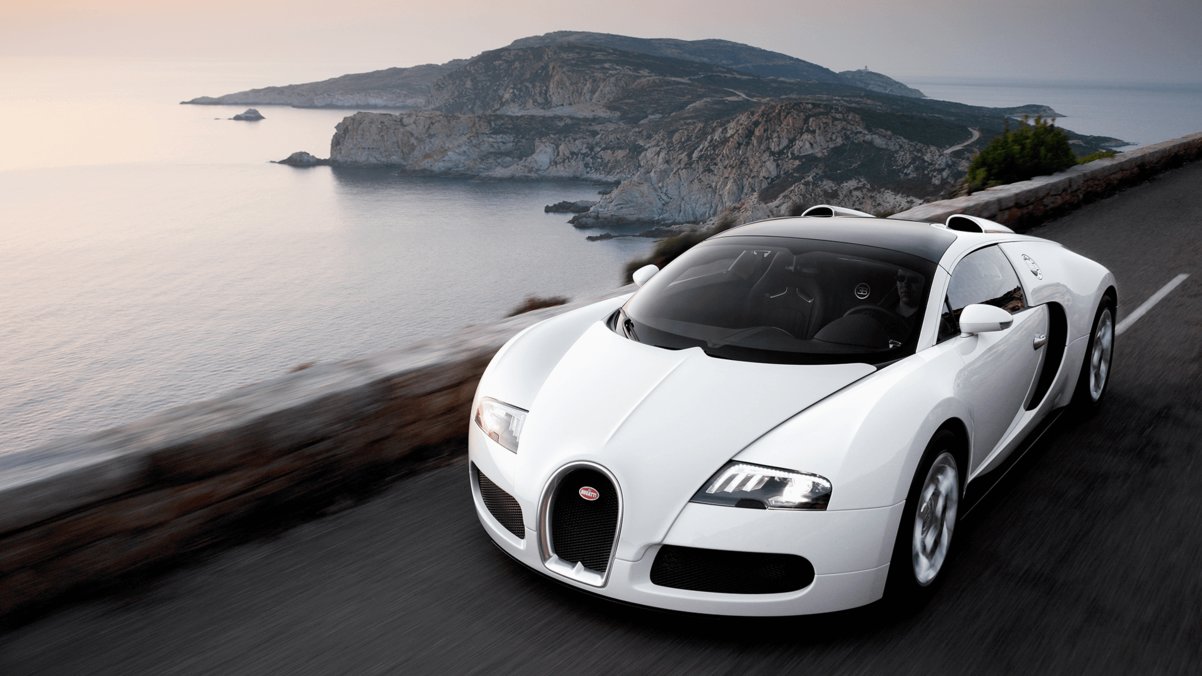 One of the coolest new forms of racing is a standing-start sprint to the finish line one mile (and in rare cases, 1.5 miles) in the distance. Such events have transpired in Texas, Nebraska, North Carolina, Arkansas, Maine, the Kennedy Space Center in Florida, and at California's Mojave airport. Tuned Ford GTs excel at this form of racing and one street-legal 2006 edition built by M2K Motorsports and driven by Patrick O'Gorman topped 300 mph at the Texas Mile this March.
In 2012, I "borrowed" a $1.9-million Bugatti Veyron 16.4 Grand Sport, paid a $199 entry fee, and tried my luck at the Mojave Mile located at the Mojave Air and Space Port in south-central California.
Boasting a top speed of 253 well documented mph, the Veyron is blessed with more than 1000 horsepower, qualifying it as the world's fastest regular-production automobile (since eclipsed by Koenigsegg). My four-person support crew included LeMans 24-hour winner Andy Wallace. My warm up consisted of a 100-mile drive north from Los Angeles during which I fell deeply in love with the Veyron's impeccable acceleration, stability, and body control.
Entered in the showroom stock exotic class, which has a 205-mph speed limit and no roll-cage requirement, I set the car in top speed mode with a $2600 silver key and blasted off on my first pass at 8 AM. The start line official called my launch a disappearing act. Without so much as a tire chirp and little exhaust growl, I became a rapidly diminishing dot while nearly being overwhelmed with rapturous acceleration. After some coasting and light braking, I turned right at the end of the 12,500-foot runway and was presented with a slip of paper reading 201.7 mph.
My onboard data recorder reported over 1g of first-gear acceleration, a run to sixty mph in 2.7 seconds in 125 feet, and the quarter mile at 140 mph in 10.4 seconds. I topped 200 in the first 121 feet of the 132-foot timing trap.
An inexplicable stumble on the second pass dropped my top speed to only 192.6 mph. A light cross wind on my third pass required a few degrees of steering lock to maintain a straight path, enough for the Bugatti's all-knowing control computer to automatically switch from top-speed to handling mode. That means a spoiler and wing in back and under-car air deflectors are deployed, ride height is lifted slightly, and the drag coefficient rises from 0.36 to 0.41. Now my top speed was 192.9 mph; I directed evil thoughts toward the wind deities to no avail.
Regrettably, the Santa Ana breezes never settled. While I know the Veyron is good for more, I was happy with my 201.7 mph achievement sweetened by my entry into the 200 mph Mojave Mile club. My Bugatti benefactors turned down my offer to discreetly autograph the W-16 engine under the hood of their Veyron.
With these successful attempts in the books, let me promise that I am tanned, rested, and ready for any and all opportunities to revisit this highly pleasant corner of the cosmos. Have helmet, will travel.