10 best movie Dodge Chargers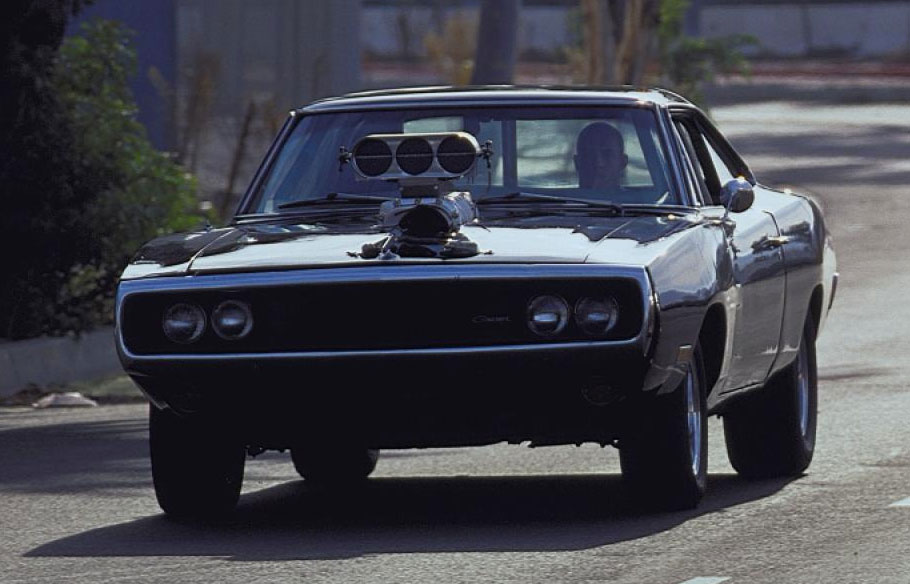 Hollywood loves American muscle cars, and its favorite may be the second-generation Dodge Charger. Built from 1968–70, Dodge's big two-door hardtop, with its covered headlights and Coke bottle shape, appears in a long list of films.
From small independent movies that few of us have ever heard of, to the Fast and Furious franchise, which continues to set box office records around the world, the Dodge Charger is often Hollywood's go-to ride for the heroes we love and villains we love to hate.
Here are our picks for the 10 best movie Dodge Chargers.
Cannonball (1976)
This classic 1976 gearhead film also appears on our 10 best movie Trans Ams list. The main character (Coy "Cannonball" Buckman, played by David Carradine) drives a seemingly stock 1970 T-A, but his foe is behind the wheel of a triple-black 1968 Dodge Charger with a vinyl top. The Charger is an automatic (don't be fooled when they cut to the Pantera shifter), and it's dressed perfectly as a street machine from the time, complete with slot mags, a rear spoiler, a couple of KC driving lights, and a gaggle of speed part decals. Don't confuse this one with Cannonball Run, which was released five years later, although both riff off the famous cross-country race invented by Brock Yates in 1971.
Blade (1998)
In this vampire flick from 1998, our hero, played by Wesley Snipes, fights vampires from behind the wheel of a black-on-black 1968 Dodge Charger. The Mopar sits tall on a set of big tires and Centerline aluminum wheels. It also wears a fiberglass lift-off hood and large 440 Six Pack hood scoop from an A12 1969 Road Runner. There are a couple of extra lights mounted behind its grille, along with a set of old-school traction bars. Basically, it looks like a street machine from 1981.
The Fast and the Furious (2001)
Although a black Dodge Charger appears in most of The Fast and Furious movies, the first iteration of the car from 2001 is still one of the best. It's a black 1970 model with a Pro Street vibe, the personal ride of Vin Diesel's character Dom Toretto. Sticking up through its hood is a supercharged and fuel-injected old school Hemi V-8 that's been chromed out and topped with a massive bug catcher. The car is an automatic. Other mods include a roll cage, which comes in handy in the final scene, and polished Torque Thrust style wheels.
Death Proof (2007)
In this 2007 action movie starring Kurt Russell, writer and director Quentin Tarantino pays homage to previous movie Mopar classics. The big chase scene is between a white 1970 Dodge Challenger, much like the one in Vanishing Point (1971), and a 1969 Dodge Charger that wears American Racing Vector style wheels just like General Lee from The Dukes of Hazzard (2005). Unlike Bo and Luke's Dodge, however, the Death Proof Charger, which is driven by homicidal bad guy Suntman Mike (Russell), is sinister in matte black. Other mods include a roll cage and large hood ornament of a duck smoking a cigar, first made famous in the 1978 trucker movie Convoy.
Drive Angry (2011)
Four years after Death Proof, Nick Cage starred in this action thriller, which also stars a matte black 1969 Dodge Charger wearing American Racing Vector wheels like the General Lee. Homage? Maybe. Blatant rip off of Mr. Tarantino? Probably. The Mopar, which has an automatic transmission, appears early in the film and sticks around for the majority of the show. There's good action, and in some scenes you can see an R/T badge in the grill and an old school wood-rimmed steering wheel, probably from Grant.
Dukes of Hazzard (2005)
Bo and Luke Duke's 1969 Dodge Charger first appeared on television in 1979 and has gone on to become Hollywood's most famous vehicle. In the movie version, which debuted in 2005, there are actually two variations of the General Lee Charger. It first appears as an orange beater with a sloppily painted 01 on its doors and black steel wheels. But after a wreck it's rebuilt into the General Lee we all know, with signature graphics, shiny orange paint, and American Racing Vector wheels. Variations from the Chargers that appeared in the television series included white letter tires and a wood-rimmed aftermarket steering wheel. Driving action includes burnouts, driving on two wheels, drifting, and, of course, jumps.
Vampire in Brooklyn (1995)
Third-generation Dodge Chargers have made numerous appearances in films, including Speedtrap (1977) and Slaughter's Big Rip Off (1993), but the best is undoubtedly the rare 1971 Charger R/T with 440 Six Pack engine that appears in this mid-1990s Eddie Murphy film. Blue with a black vinyl roof, the Charger appears completely stock, down to its rallye wheels, Air Grabber hood, and optional hidden headlights—although it does wear aftermarket mud flaps and modern Goodyear radial tires. Only 178 Charger R/Ts were built in 1971 with that triple-carbureted big block (rated 385 horsepower), 98 of which had a 727 Torqueflite automatic transmission. (The movie trailer doesn't show the car, but this highlight reel is pretty cool, once you get past the "Hey, that's not a Charger" intro.)
Furious 7 (2015)
Although the 1970 Ice Charger in this year's The Fate of the Furious was outrageous, and the shortened 1969 Dodge Charger Daytona in Fast Five (2011) was wicked, and the bare metal twin-turbo 1968 Charger at the end of Furious 7 was drool-worthy, the coolest Charger from the action franchise is Furious 7's off-road 1970 Charger. Built by vehicle coordinator Denis McCarthy and his crew, who were car constructors for six of the movies, this Charger is basically a tube chassis off-road race truck with a Dodge Charger body on it. It's a muscle car ready for the Baja 1000. Eleven were built for filming and all were powered by LS V-8 crate engines from General Motors backed with automatic transmissions.
Dirty Mary Crazy Larry (1974)
This is the only second-generation Dodge Charger on this list that isn't black. The 1969 Charger in the 1974 car chase flick starring Peter Fonda was painted Citron Yella (code GY3), a High Impact Dodge color from 1971. Plymouth called the greenish-yellow hue Curious Yellow. The crew also added a non-factory black stripe that ran the entire length of the muscle car and had 440 callouts on the quarter panels. Deep-dish slot mags and wide blackwall rubber completed the street machine look. Several cars were used for filming. Look closely and you can see the R/T badges come and go, and in some shots the Charger wears a 1968 grille.
Bullitt (1968)
This is the archetype. The black 1968 Dodge Charger driven by the baddies in Bullitt is the reason second-generation Chargers, especially black second-generation Chargers, are Hollywood's favorite muscle car. Fresh off the showroom floor right down to its factory hubcaps and whitewalls, the Charger is driven by stuntman and actor Bill Hickman and is chased by Steve McQueen in his Highland Green Mustang fastback. It's the greatest car chase ever put on film, as the two muscle cars speed through San Francisco catching air off the city's famous inclines. Both the 440-powered Mopar and 390-powered Mustang have become legends, but it's the Charger that has influenced movies for the past 50 years.