8 Beach Boys car songs that actually mention a specific car
When calling out the roll of classic rock and roll car songs, the Beach Boys immediately come to mind as having been at the forefront of the 1960s hot rod ditty craze. Edging out Jan and Dean in crafting some of the most memorable melodies meant to be enjoyed from a single-speaker dashboard AM radio, the Beach Boys built their image around muscle machines and tasty waves, combining surfing and cruising with a consistency no other band was able to match.
A close examination of the Beach Boys catalog reveals a number of interesting truths. The first is that the group's love of car culture peaked with 1963's Little Deuce Coupe, a sun-soaked California take on the concept album that would focus almost exclusively on the automobile. This would be followed closely by Shut Down Volume 2, a confusingly-named record (Volume 1 was actually a compilation put out by the label featuring various artists) that contained a number of the band's other car classics from the era. In fact, All Summer Long, which also came out in 1964, would feature not just the final surf songs ever written by Brian Wilson, but also the Beach Boys' first No. 1 hit, an immortal ode to teenage mobility called I Get Around.
I'm as big a Beach Boys fan as anyone else out there—they were my favorites when I was a kid, and I had the good fortune of meeting the group backstage in my early teenage years—but it wasn't until I started digging into their lyrics as an adult that I realized only a handful of their hits actually called out specific cars by name.
Despite being a gearhead anthem, I Get Around falls into this general cruisin' category, as do nearly half of the songs on Little Deuce Coupe. Custom Machine, No-Go Showboat, Car Crazy Cutie, and Cherry, Cherry Coupe are soaked in high test but don't go into detail about what anyone is driving. A Young Man Is Gone references the accidental death of James Dean, but fails to mention either the Porsche he was driving or the Ford Tudor that did him in. Even the song This Car of Mine from Shut Down Volume 2 never actually lets us know what Brian Wilson's ride is.
It got me thinking: How many Beach Boys songs actually name-drop hot rides of the day? The band has recorded an overwhelming number of tracks over many decades, but I rolled up my sleeves and dug through the lyrics to find these eight Beach Boys songs that actually called out the object of their automotive affection.
You're welcome.
Little Deuce Coupe
By now, most people know that the Beach Boys didn't actually surf, preferring to enjoy waves from the stage rather than hang ten with the locals. Prepare for a second illusion to be shattered: the guys weren't really all that into cars, either.
Fortunately for their in-period authenticity, they had a bunch of friends who were passionate about hot rods, including a DJ named Roger Christian, who had befriended Brian Wilson and convinced him to use his lyrics and tap into the drag racing craze sweeping the West Coast. Christian is responsible for the words to Little Deuce Coupe, a track that would go on to become Wilson's favorite Beach Boys car song. The title, of course, refers to a'32 Ford with its "flathead mill" that will "walk a Thunderbird like she's standing still." A favorite among hot rod builders to this day, it was really saying something in the early '60s to claim that your '32 could do "a hundred and forty with the top end floored."
409
Gary Usher was another car fan whose path crossed with Brian Wilson's early in their respective musical careers. Before working as a popular rock producer, Usher sat down with the creative genius behind the Beach Boys and helped pen a number of hits, including the unforgettable 409, a song which first appeared on Surfin' Safari in 1962 before being added to the auto-focused Little Deuce Coupe the following year.
There's all sorts of car nerd fun to be found in 409, which celebrates a "'four-speed, dual-quad, Posi-Traction 409" kicking ass on the street and the strip. Those three numerals, of course, represented Chevy's big-block 409-cubic-inch V-8, which was available in a number of full-size and intermediate models in 1962, boasting 409 horsepower in top tune and decimating all who lined up beside it. Those revving sounds at the beginning of the song actually came from Usher's own older Chevy V-8, recorded onto tape from the street in front of Wilson's home.
Fun, Fun, Fun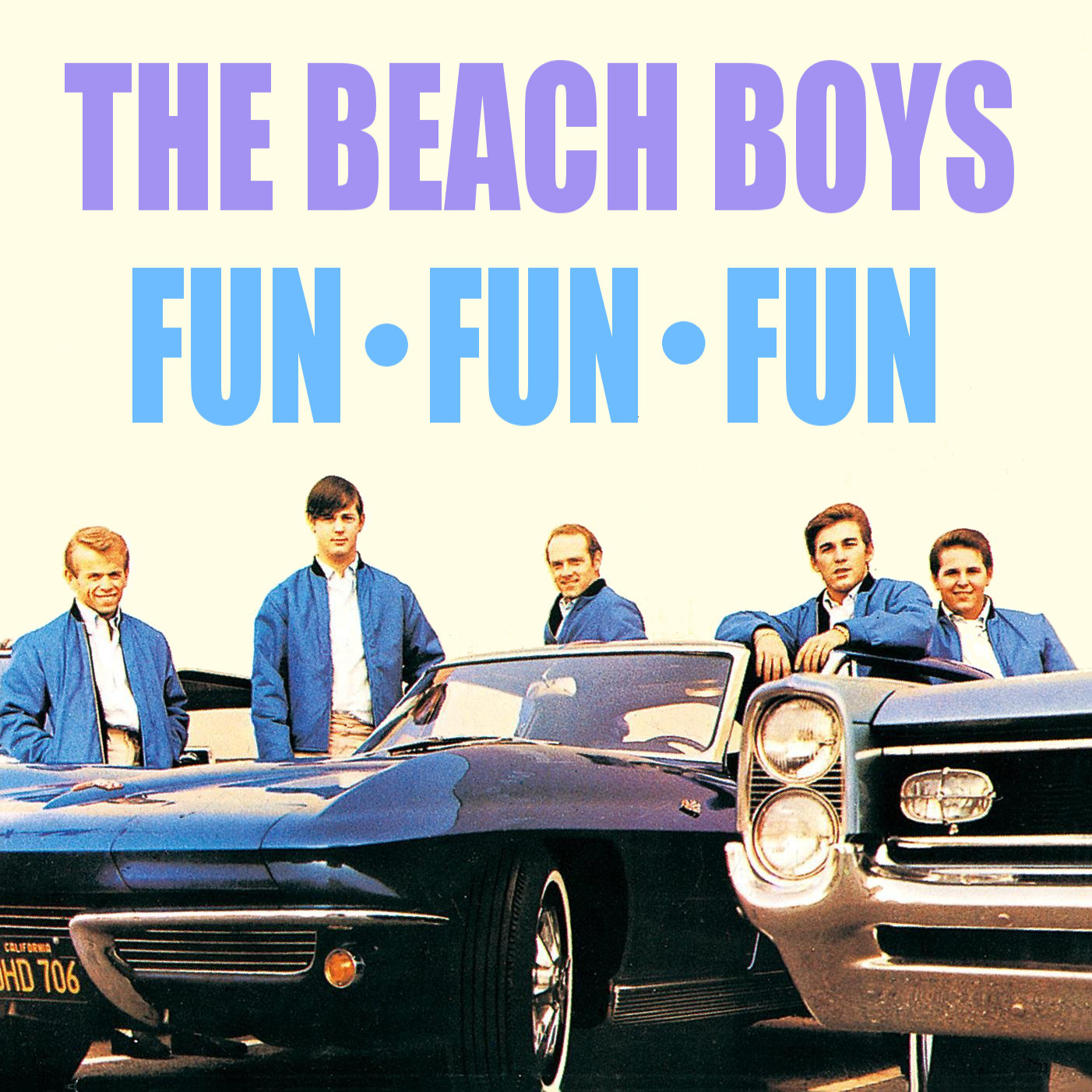 Fun, Fun, Fun is a time capsule of '60s teenage rebellion back before that meant long hair and LSD. Instead, we're treated to a tale of a young girl who lies to her parents about why she wants to borrow the family car, with the chorus explaining that she'll have "fun, fun, fun 'til Daddy takes the T-Bird away." The lead track on Shut Down Volume 2, it would hit No. 5 on the Billboard Hot 100 in 1964, on a week that the Beatles amazingly held down the top three spots.
Shut Down
Shut Down is as close as the Beach Boys ever got to the Jan and Dean-style of play-by-play street racing. It's an orgy of details, with the narrator piloting a fuel-injected Corvette Stingray that's facing off against a Mopar powered by a 413 Max Wedge with Ram Air induction and dual quad carbs. Although the song is about a street battle, the Corvette is on slicks, and we're treated to a description of the driver "riding the clutch" to gain traction while his "pressure plate's burnin'."
This was another Roger Christian composition, which explains the nitty-gritty mechanical language found throughout. Although I've lived my entire life thinking that the Stingray emerged victorious from this particular skirmish, a closer reading of the lyrics proves that the song ends before we find out whether the Chevy actually completely closes the gap or not—unless you want to interpret the final verse's "shut it off, shut it off, buddy now I shut you down" as the words of a winner. Shut Down, Part II unfortunately doesn't offer any clarity either, as it's an instrumental.
Our Car Club
Culled from Little Deuce Coupe, Our Car Club is a snapshot of early '60s innocence: a bunch of dudes are cruising around together in their rides and decide that maybe it's time to form a club with jackets and sponsors and dues and everything. The track name-drops a Deuce Coupe, a Jaguar XKE, a Stingray, and a rail job dragster, brags about cutting "some low ETs," and hints at "the roughest and toughest initiation we can find" that will "really put your through the grind," which seems a little at odds with the feel-good vibes of the rest of the song.
Ballad of Ole' Betsy
Another Little Deuce Coupe entry, Ballad of Ole' Betsy is an homage to—what else?—a second Deuce Coupe, tracing its path from being built in Detroit and shipped out to the California coast to ending up a little worse for wear in Brian Wilson's garage. It's a restrained yet emotional bit of doo-wop, although we never find out why she's called Betsy, only that she's "been more loyal than any friend could be," and that "Betsy's growing old" to the point where it's making the singer cry. We've all been there.
In My Car
In 1989, the Beach Boys were flush with the success of Kokomo, which had been featured in the Tom Cruise bartending movie Cocktail. It was decided that the band would put together an album of songs that had all been in movies, an idea that quickly went off the rails when, according to member Mike Love, Wilson's Svengali-like psychiatrist Eugene Landy forced this particular number onto the record.
In My Car had never been included on a soundtrack, but it's the last car-specific song that the band would ever record, a paean to the Corvette that flashes back to the good old days of cruising while also speaking to the inevitable midlife crisis connotations of 'Vette ownership ("In my car I'm captain of my destiny"). The Still Cruisin' album would go gold and would be the last for the Beach Boys on Capitol Records.
Spirit of America
Spirit of America rounds out our list with its tale of the Bonneville Salt Flats, land speed records, and one of the quickest cars to ever test the salt flats. Wilson and Christian tag-teamed this two-minute tribute to the Spirit of America jet car built and driven by Craig Breedlove in the early '60s. This "jet without wings," as the lyrics describe it, was motivated by a "J-47, a jet for his power," and helped Breedlove average "four-o-seven per hour." No need to crack open a history book, kids, the Beach Boys have your Bonneville records covered.
Did I forget any name-dropping, car-focused Beach Boys songs? Let me know in the comments section below.