Badge engineering: Sometimes it actually works
What tempts a car company to sell another company's car or truck under their own banner? Most of the time it's the need for a quick fix, to quickly fill a hole in the product line. It seems that some buyers don't know the difference, or simply don't mind, and so badge engineering is an expedient tool that's still used by automakers today. The term refers to the fact that two different cars are the same except for their names, thus the only thing engineered were the badges.
Of course, some badge engineering is successful. For decades, the Mitsubishi Mirage was sold as the Dodge and Plymouth Colt. Other times, however, it can be more troublesome.
Here are seven examples of one company pirating another's product for its own line-up. For this story, success and failure was judged strictly on sales, not the opinions of reviewers at the time.
SUCCESSFUL
1990–94 Geo Storm/Isuzu Impulse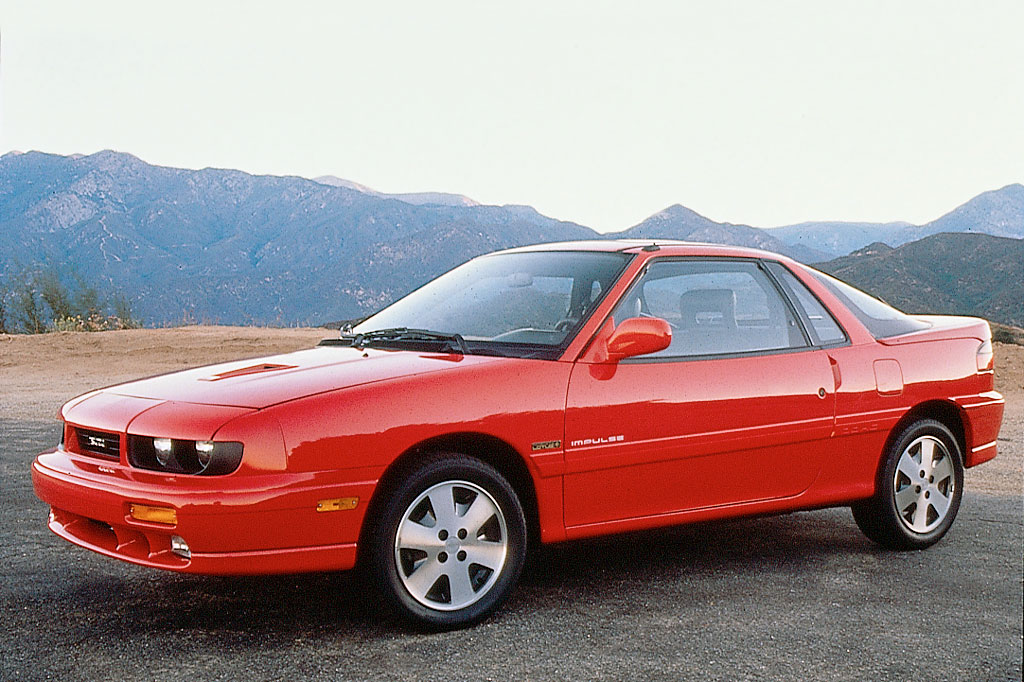 Known as the Isuzu Piazza in other parts of the world, the Impulse had a GM-badged cousin, the Geo Storm. Geo was a line of Japanese-engineered cars sold by Chevrolet dealers from 1989–97. The Impulse was never a huge success for Isuzu, but none of its cars matched the popularity of the brand's SUVs and pickups, which is why the company stopped selling cars in the U.S. in 1994, focusing solely on trucks. The same can't be said of Chevrolet dealers. They sold between 95 and 100 percent of this car's production. The lightweight, front-wheel-drive sport coupe had decent power—95 or 130 horsepower, depending on model—allowing for a zippy driving experience.
1990–96 Dodge Stealth/Mitsubishi 3000GT
Arriving to compete with the Nissan 300ZX and Toyota Supra, the Dodge Stealth significantly outsold the Mitsubishi 3000GT, accounting for nearly 74 percent of sales. However, by 1994, roles reversed with Mitsubishi radically outselling the Dodge. Three years later, the Stealth was dead while the 3000GT would continue through 1999. No doubt the Stealth's affordable base model with front-wheel drive and a 164-hp SOHC 3.0-liter V-6 engine contributed to its popularity. R/T models got a 222-hp DOHC version of the same engine, used in most 3000GTs. But it was the R/T Twin Turbo and 3000GT VR-4 that were the real deal. With 300 hp, this car that was ahead of its time, with an electronically adjustable suspension, all-wheel drive, four-wheel steering, and spoilers that deployed at 50 mph.
1994–2002 Honda Passport/Isuzu Rodeo
Even if Isuzu no longer sells passenger cars in America, it was once a minor player in North America, although its Rodeo SUV was far more popular than its sedans. Honda proudly sold cars, but not trucks—and at the time had no intention of building any. However, the growing popularity of SUVs in the 1990s sent execs scrambling to compete. They turned to Isuzu, although there was little enthusiasm for the SUV, which was powered by a General Motors' 3.2-liter SOHC V-6 engine. Yet it proved the successful placeholder for Honda, and accounted for an impressive 35–44 percent of Rodeo imports during its run. Interestingly, the Rodeo's name came was first used on a Honda sport bike.
2003–10 Pontiac Vibe/Toyota Matrix 
The Pontiac Vibe was a solid—but not overwhelming—success for Pontiac in the marque's final years. This badge-engineered version of the Toyota Matrix accounted for a respectable 14.6 percent of production at GM/Toyota's jointly-owned NUMMI plant, now home to Tesla. Pontiac's marketing magic no longer held the sway that Toyota's did, at least when it came to selling economical five-door, four-cylinder hatchbacks. Pontiacs had unique badges, revised front and rear fascia, and a Delco radio, but otherwise it shared the basic goodness of the Toyota Matrix, including its choice of front-wheel or all-wheel drive. The Vibe died with Pontiac.
FLOPS
1991–94 Mazda Navajo/ Ford Explorer Sport
Replacing the Bronco II, the first-generation Ford Explorer was based on the compact Ford Ranger pickup. Unlike the Bronco II, which came only as a two-door, the Explorer came in two- and four-door models powered by a 4.0-liter OHC V-6, rated 155–160 hp. The Mazda version, based on the Ford Explorer Sport, came about because Ford had held a 24.5 percent stake in Mazda since 1979. The Navajo was initially offered with two doors and four-wheel drive only, although a rear-drive model was introduced in 1992. While the Mazda had unique grille, front bumper, exterior trim, taillights, and wheels, everything else was shared with Ford. But the Navajo's lack of four doors no doubt killed the vehicle's popularity with family-vehicle buyers, as did poor marketing from a company not known for selling trucks.
2005–06 Saab 9-2x/Subaru Impreza
This lightly disguised version of the Subaru Impreza wagon shared its roof, doors, and rear quarter-panels with Subaru; the rest was restyled to resemble a Saab. Nevertheless, it didn't prevent the 9-2x from earning the nickname "Saabaru." Inside, it was purely Japanese; there wasn't even Saab's signature center console-mounted ignition. Drivelines were similarly Subaru derived, with 165 or 230 hp flat-fours and standard all-wheel drive. Sales were fine the first year, accounting for one-fifth of combined Impreza/9-2x production. But when sales plunged 78 percent to 4.3 percent of Impreza production the following year, GM pulled the plug, something it would do to Saab three years later.
2006–09 Mitsubishi Raider/Dodge Dakota
When the Dodge Dakota was redesigned or 2005, its baby Dodge Ram styling had initially found favor with buyers. With the only V-8 in its class and 7000 pounds of towing capability, it proved popular. It was good enough for Mitsubishi to field its own version, its first pickup since the Mighty Max in 1996. Engine choices mirrored those of the Dakota, but the Raider's ungainly nose was surely a turnoff. Sales accounted for roughly 8 percent of production, less than executives had hoped for. However, midsize pickup sales were declining; both the Dakota and Raider fell victim.