10 Affordable Fun Cars from the 1980s and '90s
We're not usually the type to write rebuttals to other collector-car stories. But this recent, rather ill-informed article from The Street generated enough chatter around the Hagerty editorial water cooler that we couldn't leave it alone.
To save you the click, the story lists cars from the 1980s and '90s that are "worthless collectibles" today. The premise is based on several weak arguments: the cars have lost value since new and are worth less than the average price of a new car; they lack modern convenience features; they look uncool and are underpowered.
We, of course, disagree. Cars coming out of the OPEC oil embargoes were certainly underpowered by today's standards, but they still offered enough to have plenty of fun. Few cars of any era appreciate in value in the first two decades. Indeed, most cars aren't considered collectible when new and depreciate until attrition and sentimentality combine to drive value back up. Style is subjective, but with Generation X and early Millennials reaching peak earning years, a wave of 1980s nostalgia is pushing these cars into cool territory. For many of us, of course, they were always cool.
To us, this list is actually a collection of worthwhile, affordable classics. They all offer some kind of appeal in their own right, and some are even rising in value. The rest have stable values or, put another way, they won't depreciate like that new sedan with more power, more features, and bland sheetmetal. These vehicles all have #3 (good) condition prices from around $5,000 to $10,000, so there's a lot of fun here to be had, even on a modest budget.
1984–96 Chevrolet Corvette
The fourth-generation, or C4, Corvette was long-lived, which means you'll find a large supply and a wide variety of conditions and values. A standard Corvette coupe in #3 condition runs around $6,000, with prices creeping up as the production year progresses. In any guise, the Corvette exemplifies '80s sports car style. The LT1 V-8 engine that came in 1992 offered 300 horsepower, a 55-hp jump over its L98 predecessor. Special-edition versions like the 1996 Grand Sport are worth even more than the awesome 1990–95 ZR-1 and '87–91 Callaway models.
1982–92 Chevrolet Camaro
The Camaro, like its Pontiac Firebird sibling and the Ford Mustang, are commodity-grade 1980s sports cars. Churned out by the hundreds of thousands, there are plenty to be found rusting in fields with underpowered engines long since seized up and leaking T-tops watering interior vegetation. But there are also quality survivors out there. Any Camaro from this era with fewer than eight cylinders is probably best avoided, but #3 values for the IROC-Z (which came with both a 305- and 350-cubic-inch V-8) have already risen to around $13,000.
1982–92 Pontiac Firebird
As a near clone of the Camaro (the 1980s were the height of General Motors badge engineering), Pontiac Firebird values are similar to those of Chevy's F-body. But the Firebird has some unique collector appeal, and not just in making a Knight Rider KITT clone. The 1989 Indy 500 Pace Car has a #3 value of $21,900. And then there's the SLP Firehawk built by tuning shop Street Legal Performance. Values of that model jumped in 2016 and have since leveled off, but with only 25 made it's one of the most collectible American cars of the era.
1979–93 Ford Mustang and Mustang GT
Like the Camaro/Firebird twins, there is a beat-up Mustang LX in every corner of every neighborhood in America. One upside is plenty of supply, including replacement parts and huge aftermarket support. The more special performance models, like the turbocharged SVO, are about $10,000 in #3 condition. As the years winnow down the number of really good Mustangs, the potential for collectibility goes up. That's one reason our own Colin Comer is buying every Saleen Fox-body he can find.
1975–91 Jaguar XJ-S
Once unloved as the heavy, less-elegant successor to the legendary E-Type, the XJ-S is primed for a renaissance as its yuppie aesthetic comes back into vogue. There are few ways to get into a V-12 for under $10,000, and the Jaguar XJ-S is an excellent option. As a bonus, you can experience the financial and emotional torment that comes with owning a British car from the 1980s. Wallet-busting repairs are always a threat here, but by the same logic, that should make well-sorted, #1- and #2-condition cars all the more valuable as the years go by. And if you buy that argument, you may be ready for this Jaguar. If not, at least consider the more reliable inline-6 version.
1976–86 Jeep Wrangler CJ-7
The Street's article refers to the model years for the later YJ-generation Wrangler, but as that's not yet in the Hagerty Valuation Tool, we put the classic round-headlight Jeep convertible on this list. With #3-condition values around $8,000, the CJ-7 is a few thousand less than the CJ-5 that sold alongside it for many years. Dollar figures for the Wrangler vary widely, complicated by the frequent customization done by owners. By now you've heard of the collector-market truck and SUV boom, and the end of 2017 saw prices rise for Wranglers in #1 and #2 conditions.
1985–92 Mazda RX-7
In its second generation, the Mazda RX-7 gained more power, a sophisticated multi-link rear suspension, and handsome looks reminiscent of the Porsche 924/944. Turbo models are valued around $7,000 (again, in #3 condition), and base engines are a couple of thousand less. The performance and price are far behind the third-generation (FD) RX-7, one of the biggest value gainers last year. But this RX-7 is small and lithe compared to modern sports car behemoths, with agile and responsive handling that is hard to come by at such a low price. The screaming rotary engine requires some specific care and maintenance, but it also makes the RX-7 a unique mechanical gem.
1990–97 Mazda MX-5 Miata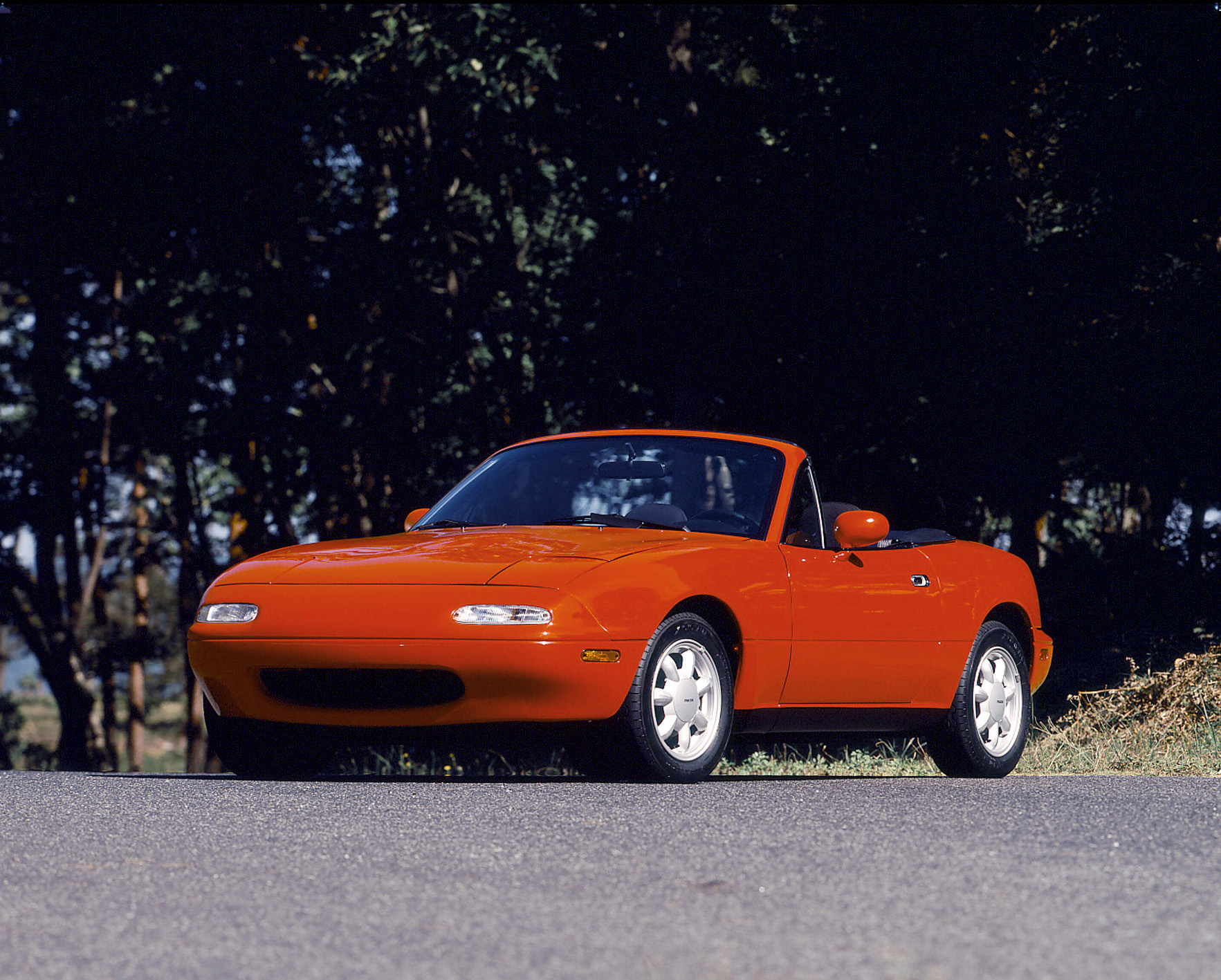 The first-generation Miata brought the British roadster concept back to the American masses and was a huge success. That means there's an ample supply in the market, from super-cheap running examples to perfectly preserved special editions, along with lots of cars prepped to race. Like many automobiles on this list, the range of prices from average to concours condition covers a wide spread—around $4,000 to as much as $17,000, in this case. In any guise, the Miata is one of the most rewarding cars you can buy. And recognizing the car's future collectibility, Mazda has launched an official restoration service in Japan, with recreation parts that will be available to American customers as well.
1990–97 Mercedes-Benz SL
The slab-sided Mercedes-Benz roadster saw prices rise in early 2016 before correcting back down. They then moved up slightly at the end of last year. The model years straddle a change in Mercedes-Benz nomenclature: Early cars have the number first, like 300SL, before switching the order in 1994—the same year that the six-cylinder model bumped up to become the SL320. The smaller engine doesn't offer much in terms of straight-line thrills, however. The added appeal of the V-8 and V-12 models comes with a corresponding increase in value. As a car that was very expensive when new, many SLs have been preserved in good care, which bodes well for long-term values.
1983–92 Volkswagen GTI
This was the quintessential hot hatch in the United States, a compact car with surprising power and handling to match. (In Europe, the Peugeot 205 GTi shares the first-of-its-kind distinction.) Values for #3-condition cars are around $4,000, even for the later 16-valve versions of the GTI, but that may not last. Prices have risen steadily over the last five years, and #1-condition cars shot up in the second half of 2017. No doubt those gains are a recognition of the GTI's combination of historical significance and fun-to-drive qualities.