17 things you may not know about Indianapolis 500
The Greatest Spectacle in Racing will be at its best once again on Sunday when the 102nd running of the Indianapolis 500 is held on the iconic 2.5-mile oval track affectionately known as The Brickyard.
First things first: The May 27 race will be televised on ABC, and according to the Indianapolis Motor Speedway, the green flag is scheduled to drop precisely at 12:19 p.m. (Eastern). For those of you still planning your day, that's 20 minutes after Kelly Clarkson sings The Star Spangled Banner, eight minutes after Jim Cornelison belts out Back Home Again in Indiana, and seven minutes after the 33 qualifiers are told—at 12:12 p.m.—"Drivers, start your engines."
Armed with that vital information, along with the television remote and a beverage, you may think you're good to go. Not so fast. Here are 17 things you may not know about the Indy 500:
6
You may vaguely recall that the first Indy 500 was held in 1911, so after dusting off your elementary school math skills, perhaps you're wondering, how in the world can a race that is celebrating its 107th anniversary have been held only 101 times?
Blame it on the war years. The Greatest Spectacle was canceled in 1917 and '18 because of the Great War, which became World War I when World War II broke out in 1939. The U.S. joined the fray in December 1941, and four additional Indy 500 races were not run, spanning 1942-45.
1911
Ray Harroun won the inaugural race—officially called the 1911 Indianapolis 500-Mile Sweepstakes Race—while driving the only single-seat car among the 40 entered. Every other vehicle carried both a driver and a mechanic, who in addition to performing repairs would keep track of approaching cars. Harroun pulled off the feat by designing and building a rearview mirror for his #32 Marmon Wasp, and the cutting-edge technology proved to be quite advantageous.
$14,250
Harroun was awarded $14,250 for the victory, a princely sum considering that Ty Cobb and Napoleon Lajoie, the highest-paid players in Major League Baseball, each earned $9000 for the 1911 season. Adjusting for inflation, Harroun's $14,250 prize is equal to about $362,000 today.
$2,458,129
Takuma Sato, last year's Indy 500 winner, won $2,458,129.
229.618
Driver/team owner Ed Carpenter will start from the pole position on Sunday after qualifying with a four-lap average of 229.618 mph in his #20 Chevrolet. First-time Indy winner Harroun averaged 74.602 mph in 1911.
5
There was no actual qualifying for the inaugural race in 1911, although cars were required to demonstrate the ability to keep "a sufficiently competitive pace." The grid was arranged in order of when each entry was received, and the cars received numbers that corresponded to their starting position. The pole went to Lewis Strang, who finished 29th. It was Strang's only Indy race; he was killed two months later when he swerved to avoid an approaching farmer during a testing session. He was driving only 5 mph at the time.
80.93
In 1912, the first year of actual qualifying, Norway's Gil Anderson captured the pole with an average speed of 80.93 mph. The first pole sitter to average 100+ mph over four laps was Frenchman René Thomas, who drove 104.78 mph in 1919. More than four decades passed before Parnelli Jones became the first pole sitter to qualify at 150+ mph (150.370 in 1962). But only 16 years later, in 1978, pole winner Tom Sneva broke the 200-mph mark by averaging a 202.156 mph.
237.498
Fastest pole qualifying speed was the 233.100-mph average that Tony Stewart posted in 1996. Arie Luyendyk quickly shattered that record by averaging a 237.498 mph single lap and 236.986 over four laps, but because he was a second-day qualifier he was relegated to the 20th position. Luyendyk turned a lap of 239.260 during practice.
8
Sunday's race will be the eighth—and last—of Danica Patrick's Indy career. She will start inside Row 3 after driving her #13 Chevrolet to an average qualifying speed of 228.090 mph. Patrick finished fourth in her Indy debut in 2005 (after leading 19 laps) and posted her best-ever finish of third in 2009. Patrick's gutsy choice to use #13 in her final race goes against superstition—and, in fact, a now defunct rule that disallowed use of the number from 1926–2002.
1
Janet Guthrie was the first woman to qualify for the 500, earning a place on the grid in 1977 after failing to qualify in her first attempt the previous year. She placed 29th. Guthrie's best finish was ninth in 1978.
9
Guthrie was the first of nine women to compete in the Indianapolis 500. At least one woman has qualified every year since Lyn St. James and Sarah Fisher both started the 2000 race. A record four women were in the 2010 starting grid: Patrick, Fisher, Ana Beatriz, and Simona de Silvestro. A fifth woman, Milka Duno, failed to qualify.
13
Appropriately enough, cars wearing #1 have captured the pole 13 times, more than any other number. Numero uno is followed by #3 (nine times), #5 (eight), #2 (seven), and #4 (seven).
3 for 4
Three drivers have won the Indianapolis 500 four times: A.J. Foyt (1961, 1964, 1967, 1977), Al Unser (1970, 1971, 1978, 1987), and Rick Mears (1979, 1984, 1988, 1991). Three-time winners include Louis Meyer, Wilbur Shaw, Mauri Rose, Johnny Rutherford, Bobby Unser, Hélio Castroneves, and Dario Franchitti. Castroneves will try for #4 on Sunday.
2001–02
Speaking of Castroneves, he was last back-to-back Indy winner in 2001 and 2002. No driver has ever won three in a row.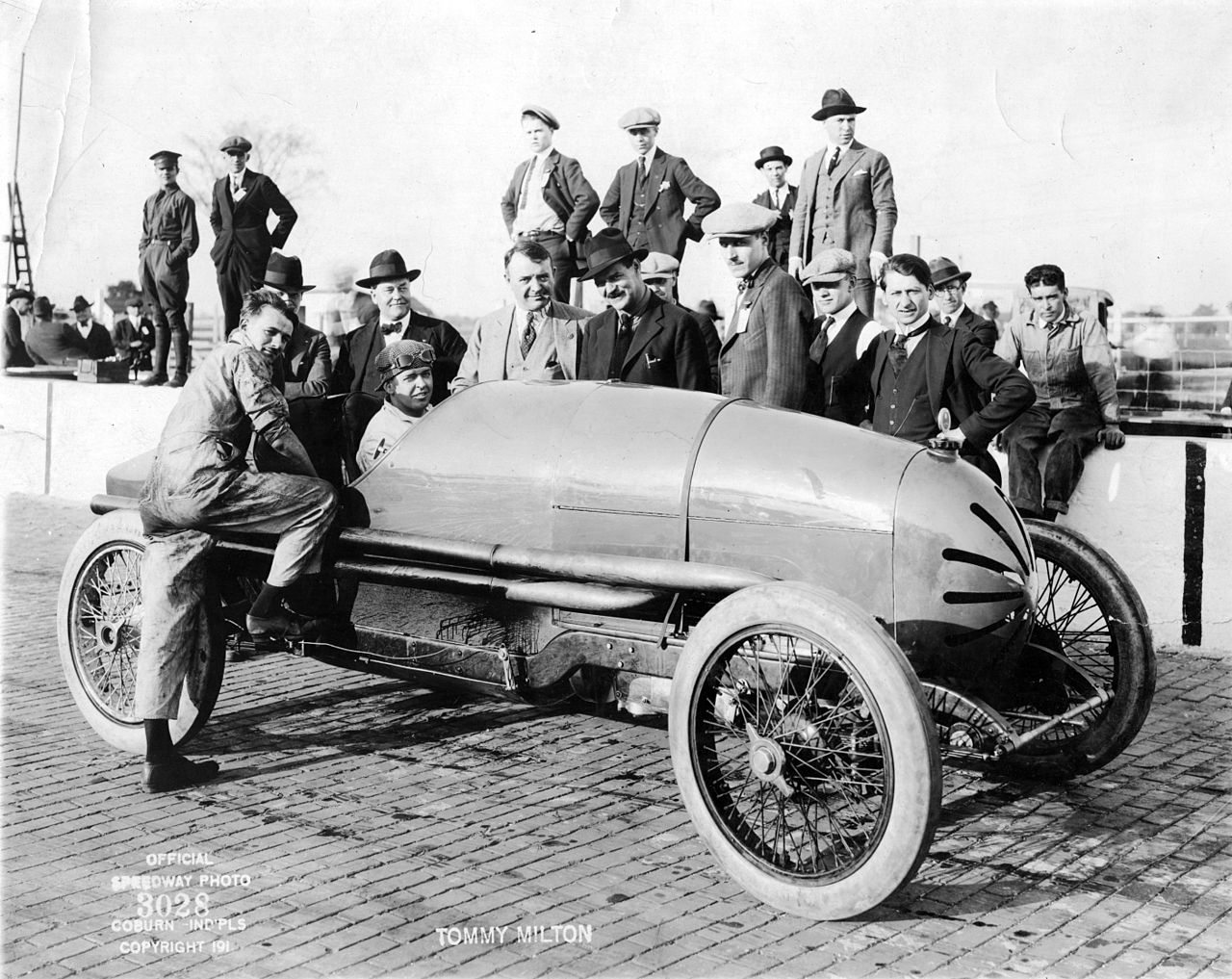 22
The youngest Indianapolis winner was Troy Ruttman, who was 22 years and 80 days when he took the checkered flag in 1952.
10
Ten rookies have won the race, beginning with Harroun in 1911. The last rookie to drive to victory was Alexander Rossi in 2016.
1936
If you've ever wondered why Indy 500 winners drink milk in Victory Lane, blame it on Louis Meyer. The three-time champ regularly drank buttermilk on hot days and was photographed chugging some good ol' moo juice after winning in 1936. A national milk executive was so thrilled upon seeing the photo in the newspaper the following day that he vowed to make it a tradition. The rest is history, right? Not quite. From 1947–55, milk was nowhere to be found in Victory Lane. The ritual returned when Pat Flaherty drank some after winning in 1956, and continues to this day.