Whether it's simple and clean, or mesmerizing in all of its chromed-out glory, the right grille can really tie together a car's look. It's one of the most recognizable visual cues of front-end design, and even if you don't know much about cars, you might be able to recognize the first-gen Mustang's pony grille or BMW's famous kidneys.
Of course, there were too many excellent grilles to include all in this list. I left out the grille of the 1967 Mercury Cougar, which reminds me too much of a Norelco shaver; the front end of a 1951 Studebaker, which looks like an airplane that has lost its propeller; or the iconic face of the 1936–37 Cord 810/812, which to me is the automotive version of Jimmy Durante. Don't know who Jimmy Durante is? Let's just say he earned his nickname, "The Schnoz."
With all of the above in mind, read on for the greatest in automotive grilles, ranked in no particular order. Have one you think got the shaft? Sound off about it in the comments.
With the grille's unique six-vent styling and one-year-only quad headlights, the 1971 Cuda demanded attention, even when the engine wasn't running. It's particularly stunning in Sassy Grass Green.
Buick put out plenty of chromed-out models in the 1950s, but the '58s featured a new Fashion-Aire Dynastar grille that was bedazzled with 160 chrome-plated squares designed to reflect the maximum amount of light. Buick offered a slightly redesigned front end in '59 that was also pretty sweet, but the '58 version was, as the kids say, lit.
This car smiles at you! It is impossible not to smile back.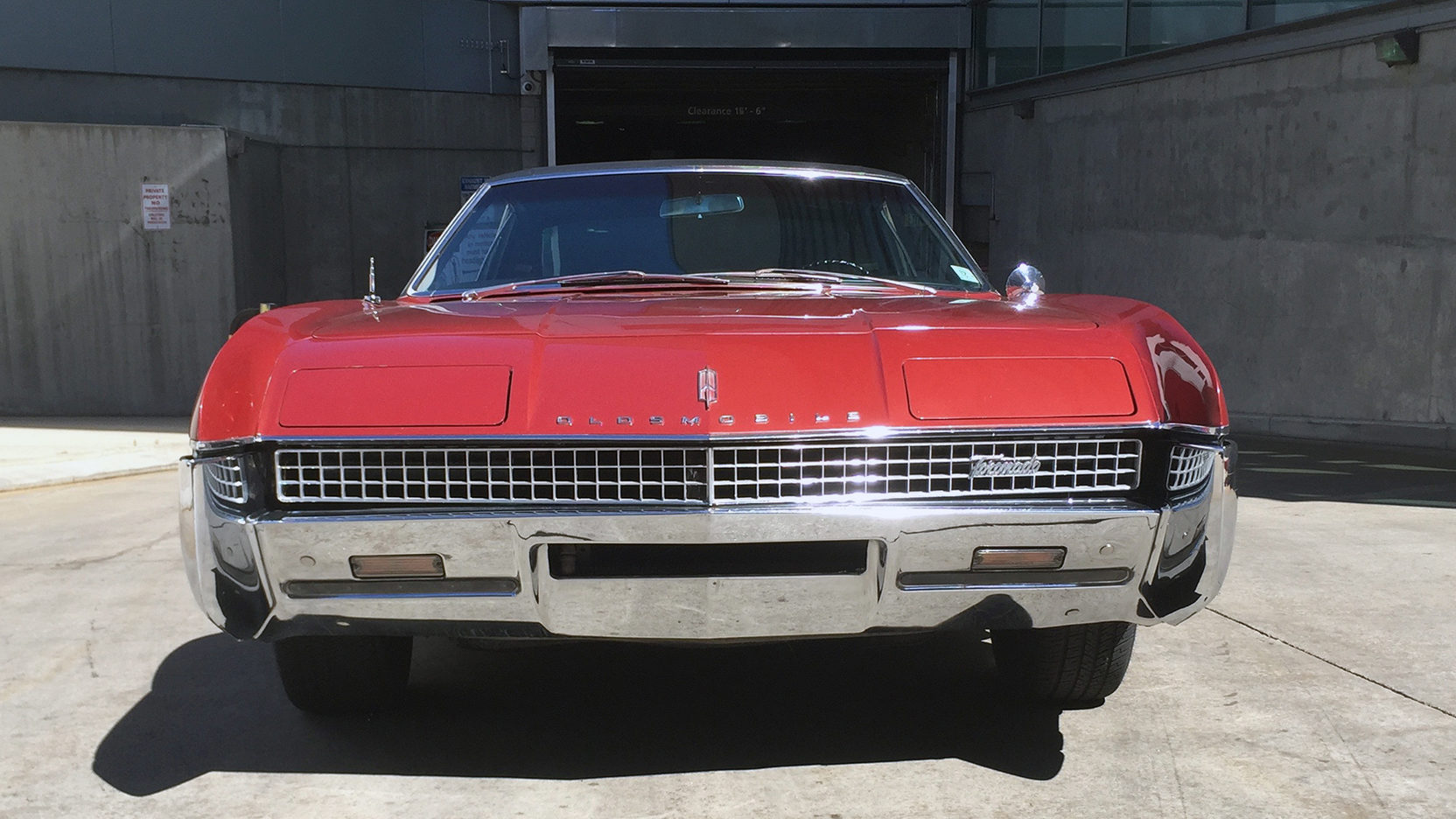 The Toronado's protruding front-fender overriders remind me a bit of the Studebaker Avanti, which I don't like, so I'm not sure why I find the original Toronado's front end so appealing.  Maybe it's the hidden headlights, or the tapered hood, or just the right amount of chrome, or all of the above. Whatever it is, I appreciate the Euro-styled grille on early Toronados much more than the redesigned front end that arrived in '68.
1938–40 Graham
Nicknamed "Sharknose" for obvious reasons, the 1938–40 Graham is not only stylish but was radical for its time. Graham played it up with advertising that trumpeted "Daring new designs" and the "Spirit of Motion." The Graham's aerodynamic styling, particularly its distinctive grille/radiator, was bold and unmistakable. It also turned out to be polarizing, which explains why the design had only a three-year run.
1941 Dodge truck
Plenty of style without going overboard on chrome. Who says trucks can't be stylish?
As long as we're talking trucks… check out those teeth!
1962–65 Alfa Romeo Giulia Spider Veloce
Definitively Italian, the front end of the Giulia Veloce is simply a work of art, penned by none other than Battista Pininfarina. It was one of his last designs.
The grille on the 1969 Camaro Z28 (with Rally Sport option) isn't very flashy, but it's really cool—particularly when the car's headlights aren't needed. They're hidden behind vacuum-actuated doors, each of which features three horizontal slats, and somehow it all comes together brilliantly. (Before you say it, the grille design on the 1970 Chevrolet Camaro is pretty doggone attractive too.)
Jaw-droppingly curvaceous, the XK120 featured a vertical grille, protruding headlights, and a simple, two-piece bumper. It's flat-out seductive.
Often praised for its legendary taillights and fins, the 1959 Caddy also had a lot of flair up front, with headlights galore and more than 100 jewel-like "bullets" on its grille. Cadillac's 1960 models featured a similar grille design, but they lacked the middle chrome bumper that dissected the grille the previous year, making it a little less attractive.
I have great appreciation for the slightly pointed, two-sided symmetry of the grilles on late-1960s Pontiacs (my first car was a '67 Catalina), but my favorite Pontiac front end belongs to the '66 GTO. The two-piece, square-patterned eggcrate grille, stacked headlights, and integrated parking/fog lamps are simply classic. (And kudos to the grille design on 1959 Pontiacs, which is nearly as good.)
With an aggressive front end that features a heavy V-shaped grille and a forward tilt at the top, the front end of the first-gen Riv definitely makes a bold statement.
I've always liked the front-end styling on '58 Plymouths, and fear of Christine has nothing to do with it. The cars were cool long before a certain red Belvedere turned evil in the 1980s teen horror film. Not only are the hooded quad headlights attractive, the grille carries a lot of chrome without being excessive, even though the bright work extends below the bumper to the license plate housing.
1934 Brewster Town Car
If you've ever seen a Brewster in person, you will never ever forget it or mistake it for any other car. Ever. And in the unlikely event that you spy one in your rearview mirror, be prepared for nightmares. That giant, angry bird that's chasing you is one relentless hunter. At least that's what I've heard.