The Sunnyland Festival is a must attend classic boat show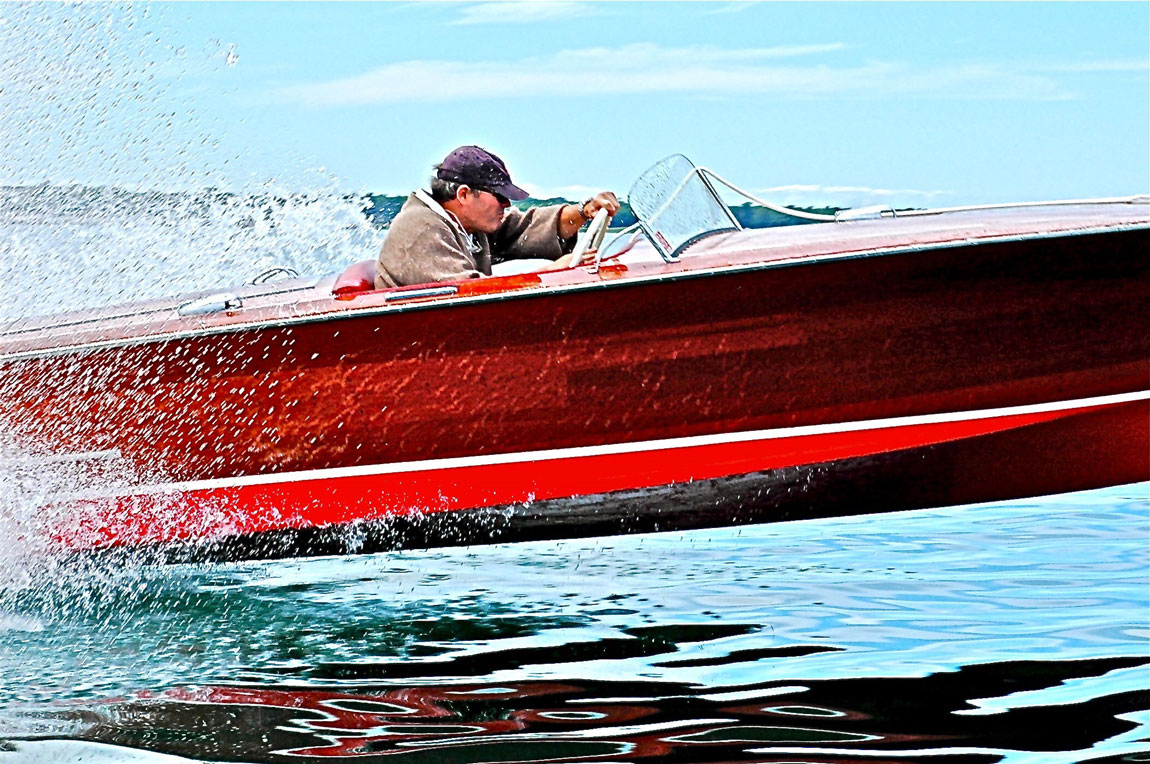 Classic boat enthusiasts are converging with excitement this week along central Florida's Lake Dora to enjoy one of the best events of the year. These enthusiasts can expect more than 200 classic wood and fiberglass boats on display and diverse marine-themed vendors at the Wooton Waterfront Park in downtown Tavares, Fla.
The boats on land (over 100 to drool over) are easy to see and often the people involved with them are right there, answering questions and discussing classic boating. Some of these boats are rare classics and some are brands seldom seen. Typically Chris-Craft, Stan-Craft, Century, Glasspar, Glastron, Donzi, Arena Craft, Fino, Aristocraft, Bertram, Cigarette, Higgins, Correct Craft, Hacker, MFG, Owens, Shepherd, Riva and Dorsett Boats are in attendance.
Also, plenty of boats in-water will be docked along an extensive floating dock system. Some are restored classic boats, some are modern interpretations of old boats and some are re-creations of classics using modern epoxy. During a previous show, I enjoyed seeing a Raveau Woody going out for a ride or for runs (she was very fast) time after time.
If you're planning on bringing the family, there's a lot for everyone to do. In addition to the On-Land and In-Water Boat Displays, there's a Nautical Flea Market and a Field of Dreams (where you'll find boats for sale).
The marine-themed vendors occupy aisle after aisle on the show grounds. Expect to find boat parts, props, screws, windshields and other hardware, benches made from water skis, boat-themed belt buckles, boat art, home décor, paintings, sculpture, jewelry, signs & posters, boat modelers, even a bar for your family room that looks like a Chris-Craft.
Each year there's a featured boat for the show's theme and this year is no exception. 2016's featured boat is the Chris-Craft 19′ Racing Runabout. These classic speedboats are great fun!
As it turns out, more than one boat model has been called a "racing runabout" in the Chris-Craft lineup. Pre-WWII there was a 18′ Special Racing Runabout built in MI to race in Europe (only 14 built) and a 19′ Special Race Boat (51 built). These models were paint-finished boats and were both mid-1930s models. Post-war, there was also a popular 19′ Racing Runabout. Chris-Craft crafted 503 of those hulls during its 1948-1954 production run with both paint and varnish finishes.
Nonetheless, when thinking about a Classic Chris-Craft Racing Runabout, the iconic bright-finished, mahogany-planked runabout built after World War II comes to mind.
Some years ago a friend with an extensive collection of antique and classic boats, arranged a ride for me in his 1949 19' Racing Runabout that he had lovingly restored. I rode in her on Long Level Lake in PA and it was easy to understand why it was his favorite, in spite of the many other boats at his disposal.
What was so special? First, wooden boats ride differently than fiberglass craft. Wood flexes slightly in a light chop where fiberglass is stiff. So simply based on the construction methods and materials alone, wood typically provides a more comfortable ride. Plus, these 1946-1954 models are very narrow (6′ 2") on the beam. Most 19′ boats built today are 8′ 6" wide. At about 72% the width of today's boats, that very narrow hull cuts through the water differently.
That Chris-Craft Racing Runabout I had the privilege of riding in was a light, peppy, and responsive classic wooden inboard. The owner's restoration took care any of the shortcomings inherent in a boat that's more than 60 years old, so it really delivered a great boating experience. It also looked grand and glorious on the water in her cockpit, hull and deck. A two-cockpit runabout, the balance of the deck was brightly finished wood. We were three up on the ride after we boarded from the float.
She started right up, the engine making an authoritative noise, shifted smoothly, steered easily and went where you expected. This classic was quick to plane, rode with a flat enough altitude, and provided a near-thrill ride on that lake.
If you'd like to learn more about Chris-Craft Racing Runabouts, this year's Sunnyland Festival will feature an educational symposium on theses boats, and some of the similarities and differences between early and late models. As you can see, the annual the Festival is quite the experience! If you can, make the trip and discover why so many boating enthusiasts have this event on their "must attend" short list every year.