Offshore and airborne at 70 MPH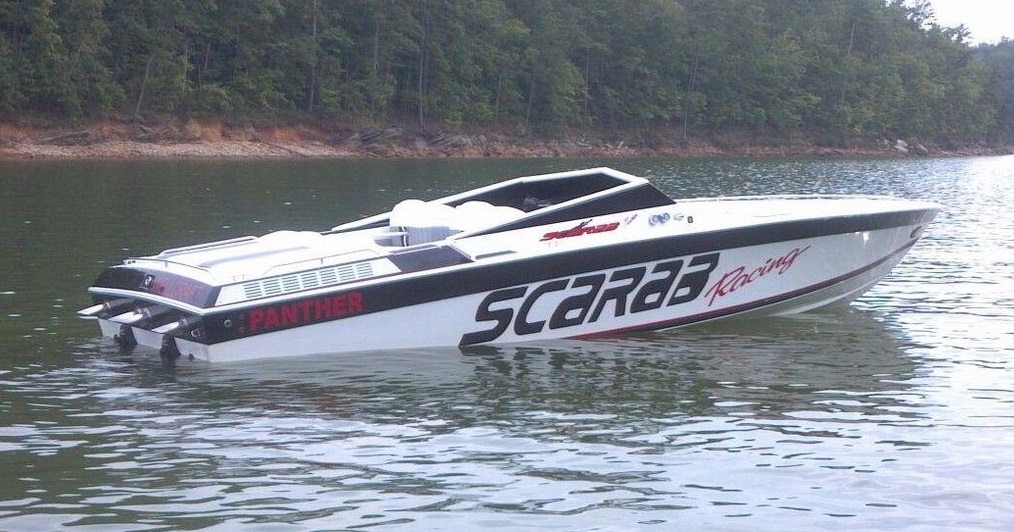 Running at 70 MPH, I was flying the boat just right. She went so high that a man could walk in the space created between the water's surface and the boat's bottom. Wild speedboating!
My fast run in the Pacific Ocean heading to Catalina Island was now half out-of-control. Twin big-block engines, made for a speedster, threatened to shear off of their mounts in the light 30′ boat. The hull had a racer's pedigree and I had plenty of seat time in her already. I was well-practiced in getting the best out of her, either wave-jumping or in top-speed runs.
Behind this steering wheel I was no longer a father of two teenagers. I instantly felt much younger in my mind and reflexes, and in the blood flowing through my body. In fact, I felt like a teenager myself with that steering wheel in my left hand and the twin throttles in my right.
Flying that high broke the props clear out of the water. Now exact timing was required. There couldn't be any power going to the engines, drives, and props when they re-entered the water or some parts would be over-strained, resulting in either immediate damage or shortened service life. As long as I timed it right the parts would survive.
I acquired my skills and knowledge about just how far to push both the boat and the motors through serious time commitments behind the wheel of fast boats. I'd also spent time riding and talking with experts like John Conner (a World Offshore Racing Champion throttle man and the engineer and co-inventor of the Kaama surface drive) as well as Gus Anastasi (who helped Don Johnson win the World's). I count both of them as friends.
This was my boat, and the eighth Scarab between 30′- 40′ ft. that I had piloted during the mid- to late-'80s. Its Kevlar-reinforced hull makes a boat both lighter and stronger than a regular hull resulting in a faster boat. I'd also timed my order to have Bravo I drives that allowed the engines to sit 11-in. closer to the stern. These drives added speed with that weight shift.
Why did I pick the Panther 30′ Scarab? Again, minimum weight. She was a flat-deck, low-profile boat. No amenities, just some cushioned benches and a glued-down carpet in her cabin. Even the Wellcraft Scarab 38′ KV that Sonny Crockett (Don Johnson) drove on "Miami Vice" had more niceties in its cabin down below than my boat. But she was fast, with engines that came with a good warranty. Additionally, any Mercury Marine dealer could service them.
There were two reasons that I didn't invest in the larger 38' Scarab. First, I didn't need the extra length to span the chop and waves of my waters on most days. With her home port near the entrance of Newport Beach, Calif., with offshore running in the Pacific Ocean she was perfect for a meal in Dana Point, or a quick trip up to Long Beach. A 38′ rides better as you're spanning waves and wins far more races, but I didn't need that extra ride quality or race heritage.
Second, although the 38′ is a great race boat, it requires more horsepower to go fast and, accordingly, to give me the thrill I was looking for. The feeling and exhilaration of speed decreases as a boat's length and beam increase. Also, while Mercury makes the engines fitted in a 38' boat, they come with limited warranties since they're built by their racing division. That means short warranties and special dealership servicing. With my optional engines, I still got the steel crank, 4-bolt mains, good heads and the full warranty on the 454s I paid for—all good starting points for hotter engines.
As it proved out, my 30′ was fast and thrilling enough. At least fast enough to get airborne.