Meet Our Crew: Brandi Reid, Licensed Sales Agent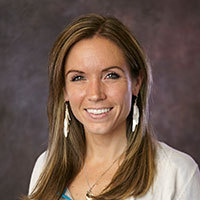 Some of Brandi Reid's fondest boating memories are from her childhood, cruising on Lake Michigan in her grandparents' Chris-Craft. Years later, she and her husband owned a boat of their own, but they decided to sell it after learning that their first child was on the way.
Now a mother of two (a 3½-year-old daughter and 1½-year old son) – as well as playing the role of "Mom" to two golden retrievers – Brandi is thrilled to be "back on the water" as a member of the Hagerty Marine team.
"Hagerty is such a great place to work; I have never actually loved any job until I started working here," Brandi said. "Working with classic boats in the Marine department brings back wonderful memories from my childhood, and I've been reminded of how much I love these boats."
In her spare time, Brandi loves spending time outdoors with her family, and going on hikes or to the beach. She also enjoys running, drawing and painting. And as her children grow older, Brandi promises that she and her husband "plan on getting another boat in the next couple of years."
That doesn't surprise us a bit.
To find out more about Hagerty's Classic Boat Insurance, click here.