Fiberglassics or fibervillains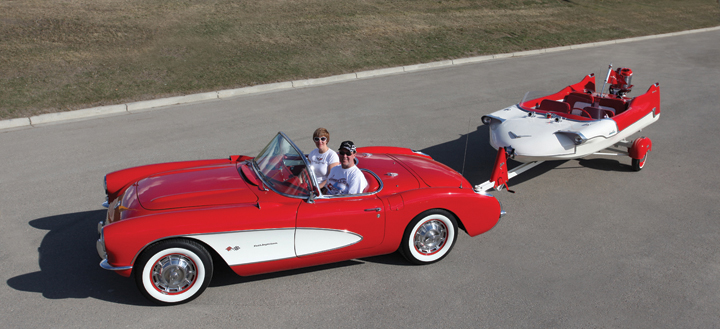 Collectors' appreciation for classic fiberglass boats is on the rise
The correlation is obvious. As the popularity of fiberglass boats rose during the 1950s and '60s, the near-demise of wooden runabouts followed – along with some understandable disdain for the "new kids on the block." But are classic fiberglass boats truly as ugly and unworthy as they've been made out to be? A growing number of collectors say no.
"It's true that the advent of fiberglass meant the end of the wooden boat era. But I don't think we should compare the two," said classic boat collector Corinne Hurst, of Opelika, Ala. "The beauty of wooden boats is incomparable, so of course the majority of people prefer wood over fiberglass. But a case can be made for fiberglass. It allowed the average family an affordable boat and put them into the hands of the common man like never before. And that is still true today. There are a lot of great-looking classic fiberglass boats out there for a lot less money than wood."
Fellow collector and historian Kevin Mueller agrees.
"For a long time fiberglass boats were kind of ignored by the boat-collecting community, but then a bunch of us started restoring them and taking them around to shows, and they get a lot of attention," he said. "This is a young hobby; who knows where it will go. But early glass boats have value and need to be preserved, and we're trying to spread the word."
Mueller estimates 150 people or fewer are serious enthusiasts. But considering the relatively high cost to own and maintain wooden boats, he predicts that more and more "fiberglassics" will find their way into the collections of owners who once ignored them.
"One advantage of fiberglass (boats) is they're durable. They don't deteriorate like wood," Mueller said. "So they're easier to restore, cheaper to restore, and once they're restored, they stay restored. And because there are so many varieties out there (as many as 1,000 different 'garage' manufacturers produced fiberglass boats in the 1950s), you never know when you'll stumble across something unique. That can be pretty appealing. Every collector would love to have something that other people don't."
The fiberglass boats most popular with collectors are those that resemble popular automobiles of the era. In fact, both Hurst and Mueller say their fondness for "fiberglassics" is directly related to their early fascination with cars.
In Hurst's case, she owned classic automobiles and wooden boats before combining the two interests and turning her attention to fiberglass. When her first boat purchase was quickly followed by another, Hurst's husband, Jim, voiced his concern.
"After that second one, he threatened to divorce me if I bought more," she said with a laugh. "That was over 25 years ago. As they say, the rest is history."
Jim weathered the storm – "He actually tolerates it pretty well," Hurst said – but he now shares his wife's attention with a growing number of classic wooden, fiberglass and even a few aluminum boats. At last count, there were 33 in Hurst's collection.
"Whenever I buy one, I just say, 'Look what followed me home,' " she said. "I don't buy and sell; I just buy. I can't let any of them go. It's like asking me to pick my favorite child or grandchild. I can't do that; I love them all."
Hurst admits, however, that those fiberglass auto look-alikes from the '50s are pretty special. "It's the tail fins – that's what gets me. Those tail fins really turn me on."
Mueller knows the feeling. His fascination with fins started with his grandmother's '57 Chevy. He would often ask to visit the car in the garage, where his imagination would run wild.
"I remember as a 6-year-old, I'd just stand there and stare at it," said Mueller, a custom jeweler from Rockton, Ill. "I loved the 'cannons' on the bumper and the 'guided missiles' on the hood. And the fins… I thought they made the car fly. I was entranced."
Mueller eventually received the Chevy as a graduation gift in 1980, and he still owns it. But he didn't earn the nickname "KevFin" because of the car. He gained that moniker about 10 years ago for his knowledge and pursuit of finned fiberglass boats. Much like Hurst, Mueller's hobby began innocently enough with the purchase of a 1958 Glastron Seaflite. But after he painted the boat to match his second '57 Chevy (a red-and-white convertible), he began turning heads.
"That Chevy is far from perfect, but the boat was the perfect accessory to cause a stir," he said.
Mueller owns more than 25 boats and also makes replacement parts by creating the castings himself. He also has an entertaining website devoted to the hobby, BoatsInTheBelfry.com, which includes everything from videos and photos to news and events. Many of the videos chronicle Mueller's adventures in search of unique and unusual boats.
"It's a lot of fun," he said. "I just enjoy learning about these boats and sharing that with other people. The most fun for me is finding something I've never seen or when I come across an old ad for a boat I've never heard of."
One scrap of evidence often leads to a major find, like the time when Mueller found a piece of literature for a boat called the Glass Slipper and began making inquiries. He eventually met the boat's creator, Ervin Kiersey, and was able to purchase the original molds. Using those molds, Mueller has since been part of two "Continuation" Glass Slipper projects. Still, he is drawn to the originals, both for their beauty and scarcity. Of the 20 or so Glass Slipper models constructed in the '50s, Mueller knows of only 10 that survived. He now owns two, one each from the model years 1958 and '59.
"Fiberglass boats from that era are different. To me, they're special," Mueller said. "They're really nothing like anything we've seen before or since."
Corinne Hurst certainly gets it, even if some people don't.
"Beauty is in the eye of the beholder," she said. "And I think there are a lot of beautiful fiberglass boats out there."
To find out more about Hagerty's Classic Boat Insurance, click here.