My unlikely Suburban replacement is a triple-unicorn BMW X5
About two years ago, I wrote a story called "To All The Suburbans I've Loved Before." In it, I detailed my nearly 30-year affair with General Motors' big enclosed truck, the Suburban—the full-sized SUV before SUV was even an accepted industry term.
In the 1990s, the SUV craze exploded and then evolved as people began driving SUVs as if they were sports cars. The physics of a top-heavy car couldn't be denied, rollovers became an issue, and lower, smaller, more-stable crossover vehicles began supplanting the big boxy SUVs. Suburbans changed, too, becoming plusher and more family-friendly haulers than stuff-haulers. But they soldier on in today's marketplace, unrepentant and undiminished—popular because they're just so damned useful.
As I wrote in my ode to Suburban ownership, I primarily used my 'Burbs as vacation haulers. Every year for 30 years, we'd do a big family blowout on Nantucket, and I needed a beach assault vehicle to haul my family of five… and the boogie boards and the beach chairs and the bikes and the barbecue and the guitar and the surfboard and the windsurfer, plus shuttle around my brother-in-law's family, who generally vacationed with us. And, once there, the vehicle's four-wheel drive allowed us to get out onto the remote beaches to fish. I had a succession of beat-up high-mileage Suburbans—six of them. I never wanted something so nice that I'd be afraid to take it home smelling of bluefish.
The Suburbans excelled at all this due to their sheer size. While, with most SUVs, you can't fit much more than a few bags of groceries under the rear hatch if the third row of passenger seats is deployed, on a Suburban that space is massive. And if you fold down both the second and third rows, there's room for 4×8-foot piece of sheetrock or plywood. Or a refrigerator. Except for a brief period from 2000–05, when Ford's Excursion outsized the Suburban in length (and probably girth), the 'Burb remained (and still remains) king of the hill.
But everything has its time, and my family's era of big beach vacations and 'Burbs ended a few years back. My kids and my nieces grew up. My employment became less lucrative, and I could no longer justify the expensive vacation house rental. Four years ago, my wife and I, and my brother-in-law and his wife, did one week during the off-season. My last Suburban, a rusting, lumbering 2000 nearing the end of its useful life, literally drove us off into the sunset one final time. Shortly after we got back to the real world, the 'Burb popped its third brake line (this generation of Chevy truck is notorious for brake-line rust). I replaced them all with a pre-bent stainless-steel brake line kit, a job I wouldn't wish on my worst enemy, and nursed the truck through the winter. I knew that its rust would prevent it from passing another Massachusetts state inspection. I happened into a dirt-cheap 2003 BMW 530i sport package five-speed that I'm still driving, the best daily driver I've ever owned, and sold the tattered but still functional 'Burb for 500 bucks. And so ended the reign of the Suburban at the Siegel homestead.
Thinking that my wife and I would try something new, three years ago I bought a 1996 Winnebago Rialta RV, which is a Volkswagen Eurovan with a Winnebago camper on the back. We both really like the Rialta, but we haven't used it as much as we'd planned. It sees a few long weekends each summer, but it sits the rest of the time, occupying the space at the end of the driveway just like the Suburbans used to do.
One of the surprises about the Rialta is that, although I think of it as a replacement for the Suburban due to its similar physical size, where it sits in the driveway, and the fact that I associate it with vacations, it really has remarkably little in common with a 'Burb. Yes, it's big, but it only has seating for three, and it doesn't have a rear hatch; everything has to go in through the narrow side door. You can use it to move something big and floppy like a mattress, but a refrigerator or a washing machine, forget it. I had forgotten how much I relied on the big old 'Burbs for trips to the Sears Outlet to drag home scratch-and-dent appliances.
And—and this is a major distinction—unlike the Suburbans, it doesn't tow. The trailer hitch on the back won't host more than a bike rack. In September, I detailed the insane machinations I went through to borrow a truck and a trailer to go down to Long Island and drag back a low-mileage vintage BMW. It really made me miss having a tow vehicle in my own driveway. The fact that I saw an assembled but non-running TVR 2500M with a Ford 289 engine in it just 50 miles from my home added to my sense that, if I had another tow-capable rig, I could get myself into some serious trouble (and I mean that in a positive way).
But it wasn't lusting after questionable boutique British cars with 300-hp American engines in them that set the ball in motion. Small and sometimes strange events can cause you to act. A few weeks ago, my wife found a free screen door on Craigslist she wanted to grab, but when she stopped by in her little Honda Fit, the door, uh, didn't. When she came home, she said about the last thing I ever expected to hear from her: "I kind of miss having a Suburban. It was great to simply be able to haul stuff home in it."
You don't have to say more than that to green-light a car person.
I began looking at cheap Suburbans (and they had to be cheap to justify owning a 13th car). To no one's surprise, nearly every $1000 'Burb I saw needed the brake lines replaced. As much as I longed to have another one, I welcomed that repair as much as revisiting my own adolescence. With leprosy added.
I thought, well, it doesn't have to be a Suburban. I don't need that much capacity. It can be pretty much anything big that tows.
Then I had a funny epiphany: I'm a BMW guy. BMW has vehicles that tow, and they've been out long enough that well-used high-mileage ones are now cheap. I've generally ridiculed BMW's line of so-called "Sports Activity Vehicles" (SAVs), but I thought I'd give them a look.
The first generation of the BMW X5, body code E53, debuted for model year 2000. It's considered a midsize SUV, I mean SAV—about 15.3 feet long and weighing 4600–5000 pounds, depending on configuration. The X5 was designed when BMW owned Rover (better known by its sub-brands, Land Rover and Range Rover), so BMW had a view into these vehicles' off-road capabilities. However, the "SAV" thing was reportedly an attempt to discriminate between Land Rover's safari-capable image and BMW's image as an on-road driver's car. The early X5s had a full-time 62-percent rear/38-percent front power split, but as part of a facelift for model year 2004, BMW's new xDrive system was adopted that allowed for a computer-controlled split depending on traction conditions at any wheel.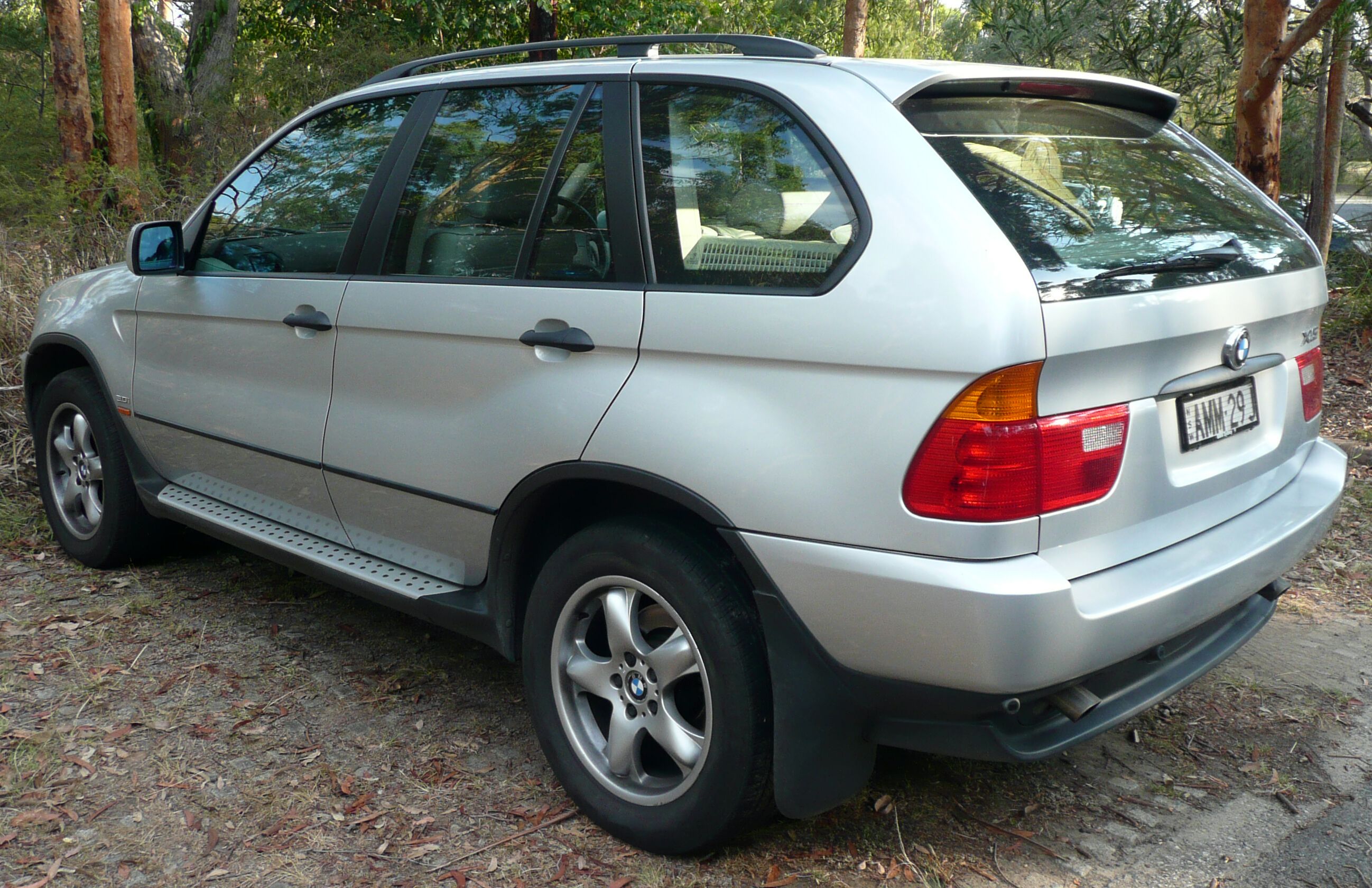 I discovered that, like my 2003 E39 BMW 530i sedan, 15-year-old X5s can be found dirt cheap. Also like the E39 sedan, X5s are high-maintenance vehicles that can cause you to cry if you take them into the dealer every time they hiccup, but it's manageable if you do the repair work yourself. And they are available with a Class III towing package with a two-inch hitch receiver that's rated up to 6000 pounds and includes a trailer ECU that disables the automatic parking distance sensor while towing.
I began to think a heretical thought: Maybe, if I bought an X5, it would be not just a lightly-used tow vehicle and stuff-getter, but also a daily driver. After all, before I had the 530i, I had a succession of BMW wagons. As a crossover, the X5 was sort of a pumped-up tow-capable wagon. I thought that maybe I should get off my high horse about ridiculing crossovers and just go with the flow.
But there was a problem. I am not—repeat, not—going to daily-drive a slushbox. It's one thing to have an automatic in a big truck. That makes sense. But in a daily-driven road car? Absolutely not. It would be soul and self-image killing, at least for me. A little research showed that pre-2004 X5s were available with a five-speed, but they're rare. There was also an available sport package that had, as was the case with many other BMWs, a sport suspension, 18-inch alloy wheels, sport seats, and black shadow-line trim. An X5 with both the manual transmission and the sport package would be rare as hen's teeth.
And there was another problem—power and tow capability. I floated the idea to my BMW friends of using an X5 as a tow vehicle, and opinions were split. If you do a lot of towing, some folks said, the X5 is a little small, it doesn't have an integrated brake controller, and the 230-56ruyhorsepower 3.0-liter straight-six engine is underpowered. It might be fine for hauling a U-Haul auto transporter with self-contained surge brakes, loading it with a small car the size of my 1970s-era BMW 2002s, and towing a hundred miles, but an X5 with a V-8 would be much better. However, the V-8 was only available with an automatic.
The take-away message was, buying a used X5 to tow was a forced fit. I put the whole X5 thing down for a while and made a brief excursion into looking at high-mileage V-8-powered Japanese SUVs (Nissan Armada and Toyota Sequoia), then discovered that these vehicles and their pickup truck counterparts had serious frame and control arm rust issues. The Toyota Sequoia/Tundra had a recall, but the Nissan Armada/Titan did not. Sure enough, I looked at a too-cheap-to-be-true Armada, and it had an upper rear control arm that had literally broken off at the ball joint.
But the universe sometimes drops odd things into your lap. I was searching on Facebook Marketplace and saw an ad for a 2004 BMW X5 AWD 3.0i, six-speed manual with Sport & Tow Package. The three-owner car had no rust, a clean title, and showed 269,200 miles, although it had been parked in a garage most of the time. The seller also wrote, "Starts and runs excellent. Spark plug and direct coil replacement ($800), water pump replacement ($700), belt/pulley replacement ($300), new Autoguard Gold Battery (2/19), Six-Speed Manual Transmission replaced by BMW at 216K, and all services are up to date. The engine is strong and transmission shifts smoothly. The car come with one set of rubber floor mats and two sets of carpet floor mats, roof racks with genuine BMW Crossbars, and a bag of hardware. Original owner's manual with two original keys. Non-smoking, no pets, never towed anything, no check engine/warning lights. Rear door and pass window regulators need replacement (currently not working). The car is a gem and you will enjoy driving it!" The asking price was $4000.
I didn't know that six-speed manual versions of the X5 existed, but I learned that the six-speed replaced the optional five-speed as part of the model's 2004 facelift. An X5 with a six-speed was a unicorn. One with that and the sport package was a double unicorn. Having the factory tow package made it a triple unicorn.
The ad showed a beautiful sport package interior. I loved the fact that the dashboard lacked the shiny wood trim that nearly all 5 Series and X5s have, instead wearing simple black trim. Incredibly, the vehicle was maybe 15 miles from my house. I messaged the seller, learned that the car was off the road (no plates or insurance) and that he was selling it due to a back injury that made it difficult for him to continue driving a stick. I scheduled an appointment the next day.
In the meantime, I used an online BMW VIN decoder and verified the presence of the standard transmission and the sport package. However, the tow package mentioned in the ad wasn't listed. The seller emailed me photos of the hitch with a BMW cover on the receiver opening, and documentation that was inserted into the owner's manual. A little sleuthing unearthed the tidbit that, apparently, the tow package was installed at dealerships, not at the factory. (Of course, the pieces could be ordered for DIY installation.)
I also ordered the CarFax. These things aren't perfect, but they do provide a snapshot of where the car has lived and how many people have owned it. It basically backed up the seller's ad, except that the location after California was North Carolina, not Florida. The CarFax did show an accident in 2011. I asked the seller about this, and he immediately e-mailed me copies of the repair documentation. Apparently a low-speed collision damaged the rear bumper and hatch.
The next day, I drove up to Woburn, Massachusetts, to look at the car. I liked it immediately. Exterior and interior-wise, you'd never know the car had 270K on it. I donned a Tyvek suit and crawled under it. The underside was nearly clean enough to eat off. The appearance backed up the CarFax's electronic trail that this was not a car that had spent its years in New England.
And that interior! Not only did it have the black leather sport seats and black trim, it had a black Alcantara headliner, giving the interior the feeling like you were sitting in a sensory isolation booth (except, of course, for the windows and gauges).
I jacked up the front wheels and grabbed each one at 3 and 9 o'clock and rocked them. The right front wheel had a lot of play, which I isolated to the ball joint at the lower control arm. I asked the seller about this, and he said that, yes, when you brake at highway speed, there's a lot of shuddering, and that he'd misdiagnosed it as needing brake rotors (my E39 5 Series sedan had this same issue). He showed me a set of brand-new front and rear rotors he'd bought before realizing he'd gotten it wrong.
The car started and ran fine. The Check Engine light wasn't lit. I connected an OBDII code reader and found it free of codes. All interior systems appeared to work except the two rear window regulators mentioned in the ad. I noted that the driver's side power window was a little noisy. The seller agreed, telling me not to roll it all the way down or it might get stuck.
I slapped on a license plate and drove the car along local roads. It ran absolutely fine. I took it up on the highway until the next exit. At speed, you could definitely feel the immediate need for a right front control arm. There also appeared to possibly be a braking issue, with the car pulling toward the right. Whether this was related to the bad right front control arm or an independent issue I didn't yet know. But other than that, no drama—smooth shifting, no overheating, no visible oil smoke. When I got back, I plugged the OBDII code reader back in. It still came up clean; no codes had been thrown.
It was time to talk. The seller, a man in his early 30s, was not a dyed-in-the-wool BMW owner. He'd bought the car from its previous longtime owner, loved the fact that it had a stick. He was generally aware of its unusual option package, although not to the degree of a triple unicorn. I explained that the option package and the car's extraordinary condition certainly added to its value (he said folks from as far away as Minnesota had shown interest), but that its 270K miles and the need for immediate work certainly capped its value. A New England E53 X5 non-sport-package automatic with that kind of mileage was probably worth $1500–$2000. His asking price would buy a traditionally-equipped X5 with more like 120K miles.
I had 12 cars and didn't need this one, but I did like it. So it was a question of how badly I wanted the bragging rights to an X5 triple unicorn, and how badly he wanted to sell a car he'd already cancelled the plates and insurance on. After a brief and respectful negotiation, we settled on $3300, which struck us both as a fair price.
I ran to the bank to take out the cash, and as I left, I saw the first snow flurries of the season. I totally regarded it as an omen.
The next day, I drove back with my wife and picked up the car. On the highway drive home, I got a sense for how bad the control arm issue really was at speed. I ordered the part as soon as I arrived home.
So, the Siegel X5 era has begun. Unfortunately, that TVR 2500M with the Ford 289 has been sold, so I'm sure I'll press it into towing service at some point soon.
My three immediate questions are:
1) Will I sell the E39 530i, a.k.a. the best daily driver I've ever owned? Too early to tell. For now, I've pulled it off the road to save on insurance.
2) Can the X5 really hold a refrigerator, or even a screen door? Well, no. It's 32 inches to the back of the rear seats, and if you fold those down, 64 inches to the back of the front seats. Maybe a washing machine. I'd need to measure.
And 3) Could it be that, now that I have another beach-capable vehicle, another trip to Nantucket is in order? I don't know. I'm not sure I want this vehicle to come home smelling like bluefish.
***
Rob Siegel has been writing the column The Hack Mechanic™ for BMW CCA Roundel magazine for 33 years and is the author of five automotive books. His new book, Resurrecting Bertha: Buying back our wedding car after 26 years in storage, is available on Amazon, as are his other books, like Ran When Parked. You can order personally inscribed copies here.
Hagerty protects all kinds of collector cars, trucks, and modified vehicles. Let's talk about your special ride.
Get an insurance quote