Save that Stuff, Part II: Sparing spare parts and manuals impacted by salt water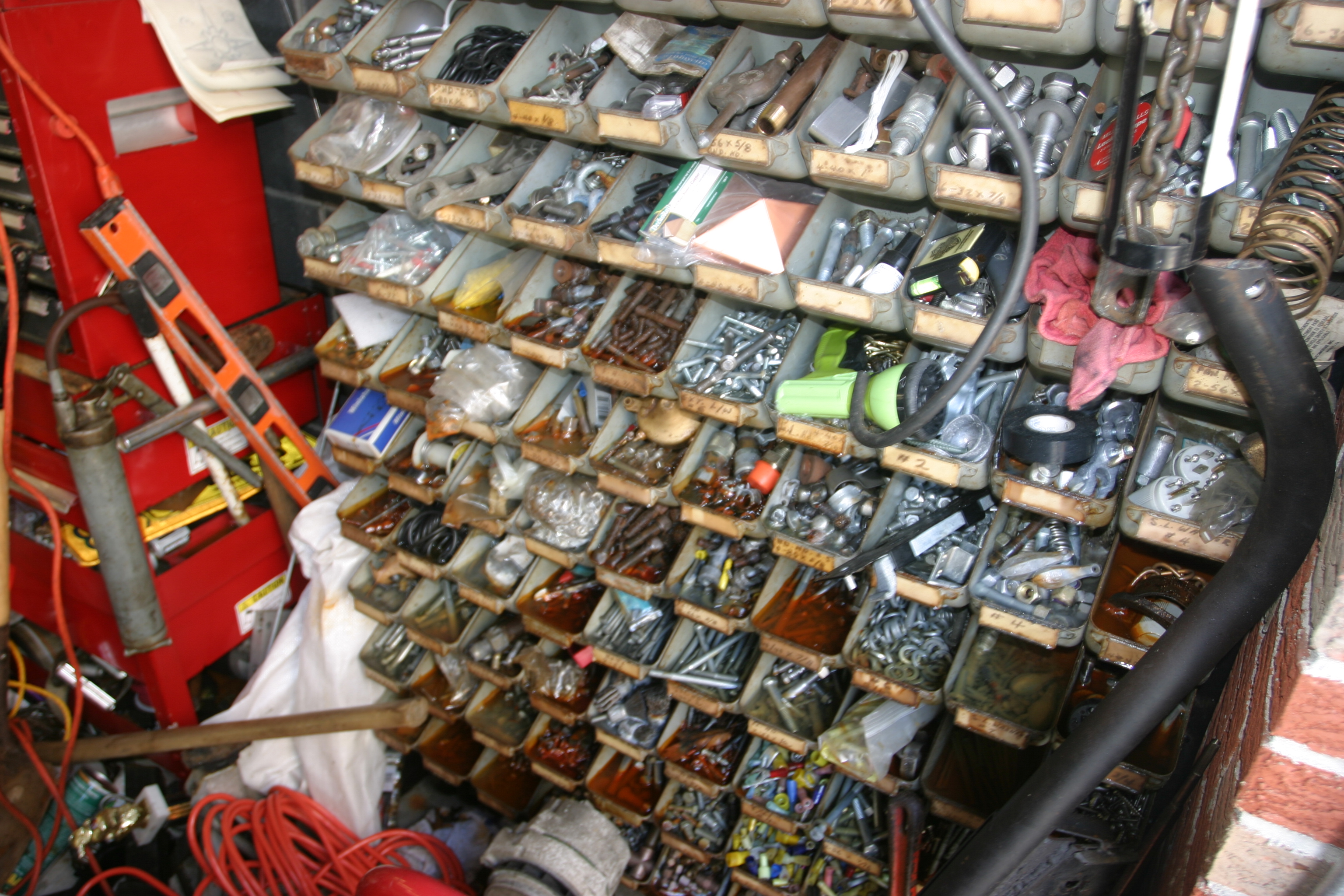 While most of us keep tools in our garage or shop, that's where we also store many of our workshop and parts manuals as well as our spare parts. In the event of an influx of salt water caused by a hurricane, quick action will be required to save these items, though some likely won't be spared. Unlike tools, the survival rate of soaked spares and manuals is quite a bit lower.
If a spare part was just sitting there on the shelf and it's made of metal, treat it like a tool. Wash it with a mild detergent with baking soda, rinse it carefully and then either oil it lightly or spray a silicone lubricant on it. If rust has started, very fine steel wool coated with oil or silicone will help you to clean it up. In the case of plated or stainless trim, use a little automotive wax for protection. If a part is plastic, again, wash and dry it, before applying a little wax. 
Anything in a box or wrapped in paper or plastic should be taken out and cleaned and treated with either a lubricant or a wax. The chances are that the original packing material will need to be thrown out to ensure that your newly cleaned part isn't exposed to salt again. It's heartbreaking in the case of new old stock parts still in their boxes, but there is little to be done.
Electrical parts are the real problem. Electronic ignition or solid state radios probably can't be saved. Spark plugs can be cleaned and oiled and should work. Anything with an electric motor, such as an alternator, generator, starter or windshield wiper motor, will need to be disassembled and cleaned before being rebuilt. An Internet search or a look through a phone book should help you locate an auto electric shop where your part can be rebuilt. Again, it's critical to clean and, possibly, refinish the motor's casing before it is reassembled.
Manuals
There's not a lot you can do when paper gets wet. If it's one or two pieces of paper, such as a single service bulleting or the build sheet for your car, you can lay it out to dry in the sun or on a baking sheet or flat on a counter. Covered by an old sheet or pillow case, you can also iron it using low heat. However, if a book or pile of papers has become sodden, you really have to toss it out and look for a replacement. Photos, however, can often be saved. It's important to separate them as quickly as possible. You can rinse them in clear, cool water and lay them flat to dry. If you have a photo lab nearby you can ask that your prints be rewashed. In many case that will save them. In other cases, the damaged has been slowed so that you can have them scanned and saved electronically.
Hardware
The sad truth is that nuts, bolts and washers rust and they rust quickly, especially if they're original equipment hardware from a car you've stripped. If the hardware is difficult to find, this is the perfect time to rinse it off, dry it and take it to a plating shop for a new cadmium or chrome finish, depending on what it came with originally. If the pieces are ordinary fasteners from a hardware store or other supplier, you'll have to decide if they're worth cleaning and coating with oil or whether you want to recycle them and go for new hardware. Most people simply don't have the time or energy to sort and clean the contents of every cubby and bin holding those fasteners.
Everything Else
It's likely that lots of odds and ends didn't survive the flood. Concours posters, a hat from a meet, cheap tools and directions for assembling some part or tool are all going to be casualties. Just bag them up and toss them without a thought.
Whatever you do, don't forget the benches and shelves. Wood shelves and work surfaces should be cleaned with Murphy® Oil Soap or something similar. Metal shelves should be washed with a mild detergent and rinsed. Don't forget the supports or the uprights as all salt residue needs to be removed.
Almost every garage has a variety of containers holding oil, gasoline, antifreeze and more. If floodwater came into contact with any container, at the very least, rinse it off to get rid of as much salt as possible.
Now it's time to reshelf those items that you've managed to save and conserve. The bright side is that when you get the wallboard replaced and painted, clean and paint the shelves and wash and  paint the floor, your garage will look better than ever.