Replace those rotten rubber parts to avoid a bigger headache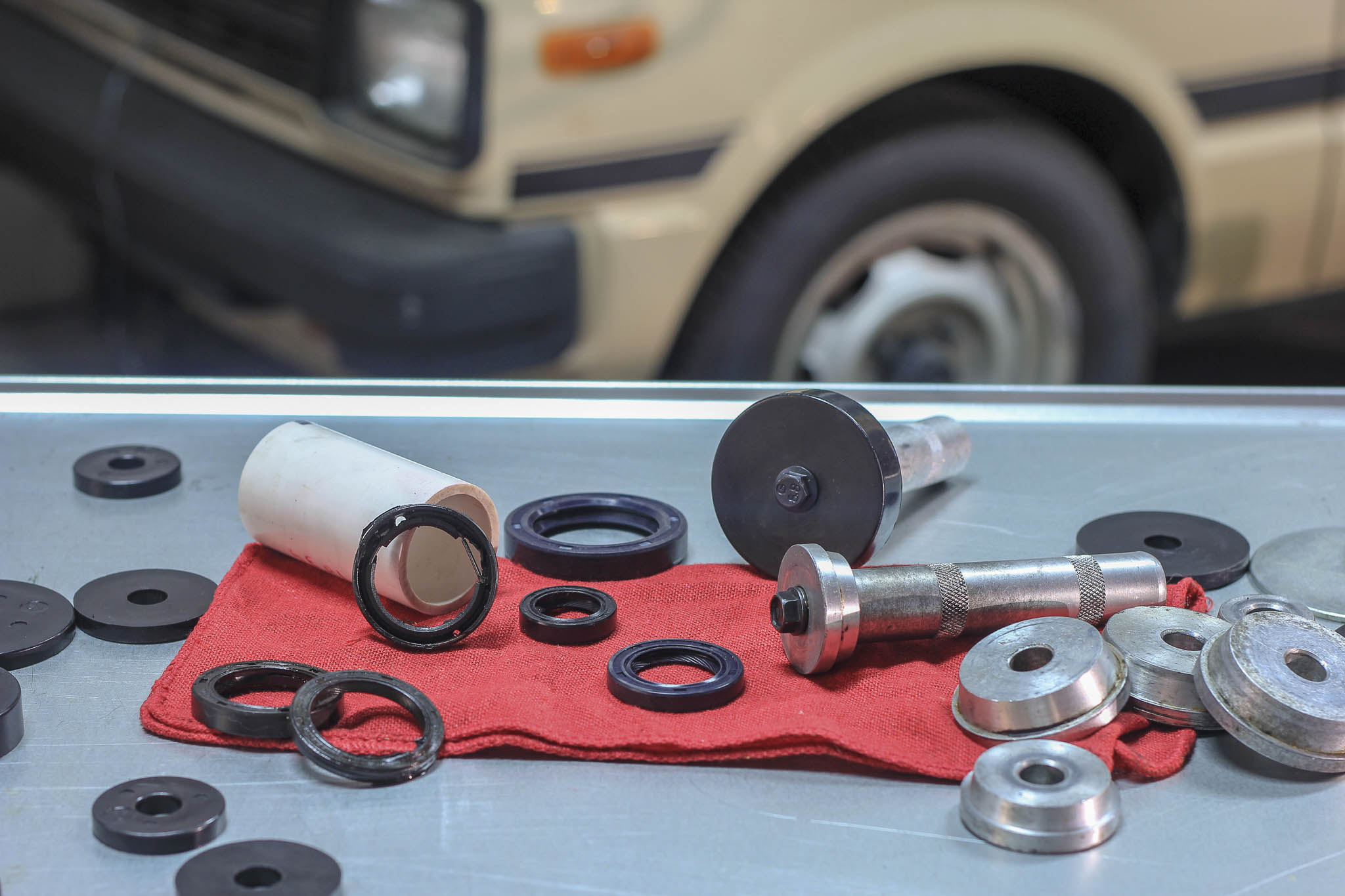 Equating motor mounts and O-rings with Star Trek and Roman fire gods might be a bit of a stretch, and yet without the chemical miracle of Vulcanized rubber the automobile as we know it might not exist in this timeline. In reality, 25-plus years behind the wheel of 25-plus-year-old cars has taught us that replacing old rubber parts with new ones makes the difference between driving a creaky museum piece and enjoying a factory authentic classic motoring experience.
Low mileage does not mean time is on your side, either. Chances are good those old rubber parts have had it. The good news is that new rubber parts are inexpensive. The bad news is getting a hold of them might take some effort. Originality counts, but NOS rubber parts are best left in the box, as rubber parts have a three- to 20-year shelf life, depending on compound and storage.
Suspended animation
Suspension bushings, grommets, and biscuits bring the rubberized triumvirate of tires, brakes, and shocks together for refined road handling and ride. Worn out upper or lower control-arm bushings telescope deflection into unwanted wandering. Ovaled or disintegrated shock absorber grommets can make for a classic motoring clunk fest. Swapping out flattened stabilizer bar rubber bushings or upgrading to urethane versions takes just a few minutes and can bring noticeable improvements in cornering ability. And while rowing the steering wheel back and forth might provide dramatic driving effect while filming a front windshield shot for television and movie production, a new rubberized rag joint or steering coupler can make a old steering feel like new. (See also: subframe bushings.)
Blowout prices
An easy underhood inspection can reveal a rubber Gorgon of spent belts and hoses. Spongey radiator and heater hoses need to be swapped. Glazed over and cracked V-belts need to go. Vacuum lines can only stand so many heat cycles. Replacing serpentine belts is a snap. Power steering pressure hose failures can be fiery. Rubber brake lines might look OK at first glance, but give them a flex when swapping out pads, shoes, rotors, or drums; a few bucks spent on some fresh brake hoses can literally save your life.
"When in doubt, throw it out," is an outstanding brake work maxim—and don't forget what you can't see. That shadowy gunk floating around in the brake fluid is more or less comprised of disintegrated rubber from the hoses, brake master, and wheel-cylinder piston seals. (See also: clutch master and slave cylinders, hoses, and seals.)
Isolated motoring
In the '30s, Chrysler drove headlong into the future with its Floating Ride. Engine and transmission mounts made of bonded rubber and steel kept powertrain deflection at bay and unwanted vibrations out of the cabin. Similar bonded rubber mounts have since been installed into millions and millions of cars and trucks.
Time, oil, and coolant leaks make for spongy or outright broken mounts. Lead-foot driving and clutch dump launches can unhinge even new mounts. Hitting the road with an unmoored powertrain is like driving around with a car full of loose bowling balls. New mounts also locate the powertrain for exhaust and accessory clearance, so swap in a fresh set before getting that custom exhaust bent up. And unless you really and truly live your life a quarter mile at a time, steer clear of solid engine mounts. (See also: torque tube bushings.)
Oh noes
The ubiquitous O-ring is a near perfect example of how a few cents worth of rubber can cause thousands of dollars worth of mechanical mayhem. A tiny failed O-ring at the back of a water pump can lead to coolant loss, overheating, popped head gaskets, and cracked or warped cylinder heads. That rotten fuel system O-ring can result in unwanted fuel pressure variations or a fuel leak and roadside conflagration.
Upgrading an old R-12 Air Conditioning system to use more modern refrigerants involves swapping out a jumble of O-rings molded in a compound designed to withstand modern refrigerant and compressor oil. Not all O-rings are created equal, so make sure to use the right rubber compound for fuels, oils, air, or coolant. (See also: fuel injector seals.)
Full circle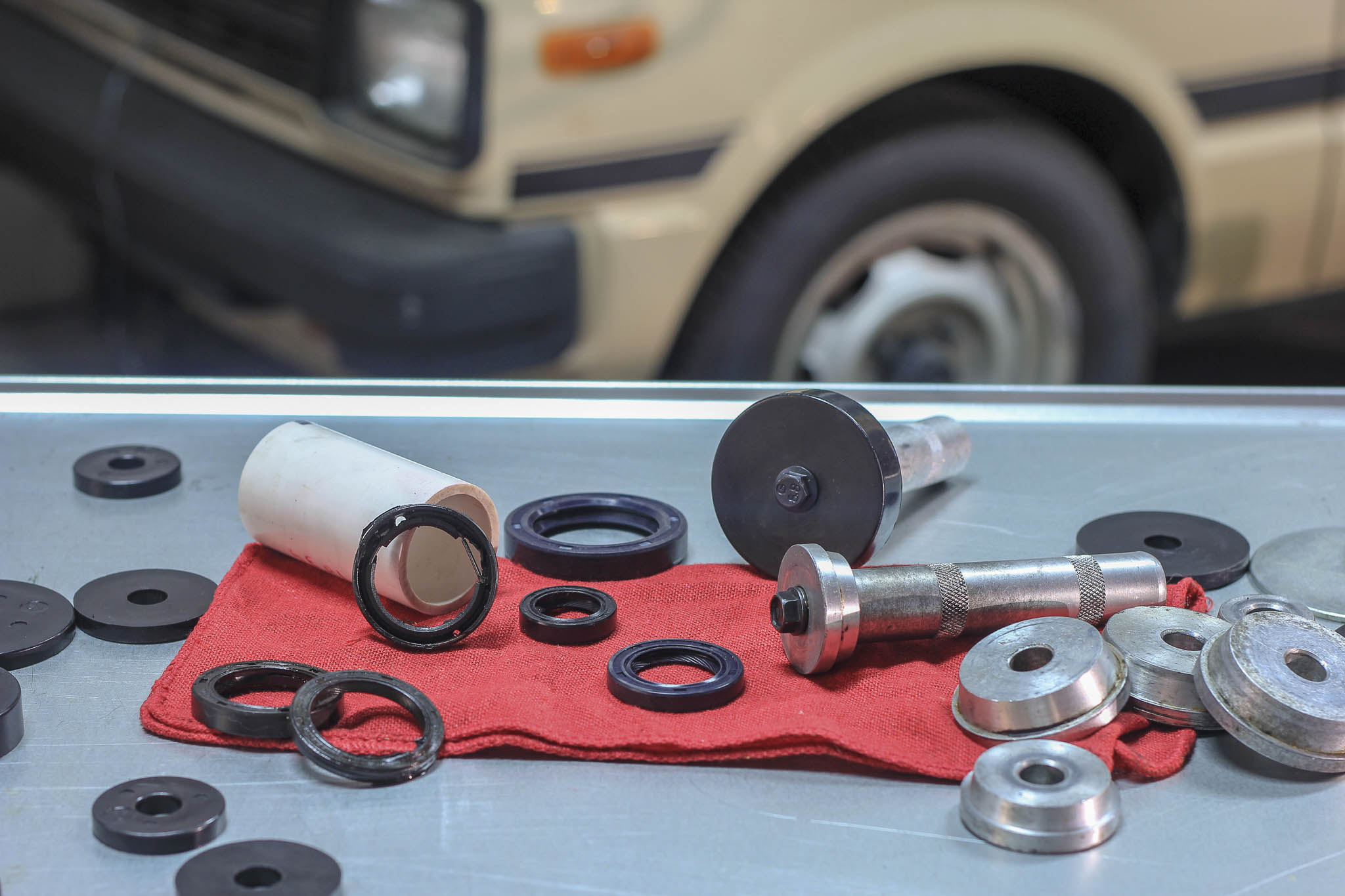 Rubber and steel join forces yet again in a vast array of circular press-in shaft seals designed to keep oil where it can do its best work. A circular rubber lip and thin film of oil makes the seal around crankshafts, axles, camshafts, or similar. A worn out shaft seal can result in anything from weeping gear oil to a torrent of motor oil, as rear main, front crankshaft, camshaft, and axle seals usually sit behind multiple hours worth of removing accessory drives, harmonic balancers, timing covers, hubs, water pumps, and so on. Replace them while you're in there. Fork seals cross over from the two-wheel and custom trike universe and are and another prime example of how a few bucks worth of rubber can restore factory-issue performance. (See also: Pinion seal.)
Quiet comfort
Moving up from the underbody into the cabin brings weather stripping, windlace, and windshield rubber into the rubber parts replacement regimen. Installing a new windshield and fresh rubber seal can make a night-and-day difference in the classic car driving experience. Seeing through non-pocked glass is a revelation and keeping water out of the cabin helps carpets and feet stay dry to keep musty odors away. Reproduction weatherstrip kits are a wind, noise, and water leak reduction in-a-box, although you might be able to hear that howling bearing or sticky lifter in the newfound quiet.
Windshield wipers are an easy one. Go for the monochrome Euro-look and '90s-perfect aftermarket glory with a set of body color-keyed double or triple blades. (See also: pedal covers and shift linkage grommets.)
It might not be carburetors or valve adjustments, but take care of all that rubber, people!