Carving horsepower out of cylinder heads at SoCal's Valley Head Service
Step through the front door at Valley Head Service, and you'll see dusty racing trophies and photos of drag cars mid-wheelie, but you won't see owner Larry Ofria. In the little office where Larry's wife works, Kim Ofria will smile patiently and suggest you go around the back. Only on the way out do you notice the sign taped to the front glass: "Please Use Rear Entrance."
Around back and up the alley, beneath the shop's hand-painted sign, there's a '56 Chevy wagon nosed up against the overhead door. When that car was new, Larry Ofria was still teaching himself to port heads in a chicken coop off what would become Ventura Boulevard. He opened VHS in 1965, and it's been piling up metal chips in this location since 1978.
Inside, 81-year-old Ofria is deep in negotiations with a customer named Leon. And by negotiations, I mean they are talking about cars they had and do have and wish to have, none of which relates to the 383-stroker engine that Leon is there to put a deposit on. You can't just get right to the invoicing in this kind of place. It's a slow process made slower by regular intercom interruptions from Mrs. Ofria: Beep-beep—"The Nunez brothers called. They want to know if they can pick up the Ford on Saturday."
When he was a young man growing up in California's San Fernando Valley, Ofria sat down one day to take stock of his skills. "I said to myself, 'You got good hands, good eyes, and a lot of patience. You should be a porter.'" He taught himself the art of smoothing the rough-cast runners of manifolds and cylinder heads and ended up doing work in the 1960s for big names like Jim Hall (of Chaparral fame) and Carroll Shelby.
"I remember Valley Head Service," says Peter Brock, auto journalist and designer of the Shelby Daytona Cobra coupe. "Before Ford took over in '65, each of our three main engine builders had their own suppliers for cams and springs, plus specialists to do work like head porting. They would compete against one another to determine who had the best combination. Those who did best were used as the basis for further development."
"It was [Cobra engine builder] Jack Hoare who liked my work," Larry Ofria says. "Told me they got 15 more horsepower out of that first set!" When asked if his heads won Le Mans, Ofria simply grins and says, "I can't prove they did, but I won't say they didn't."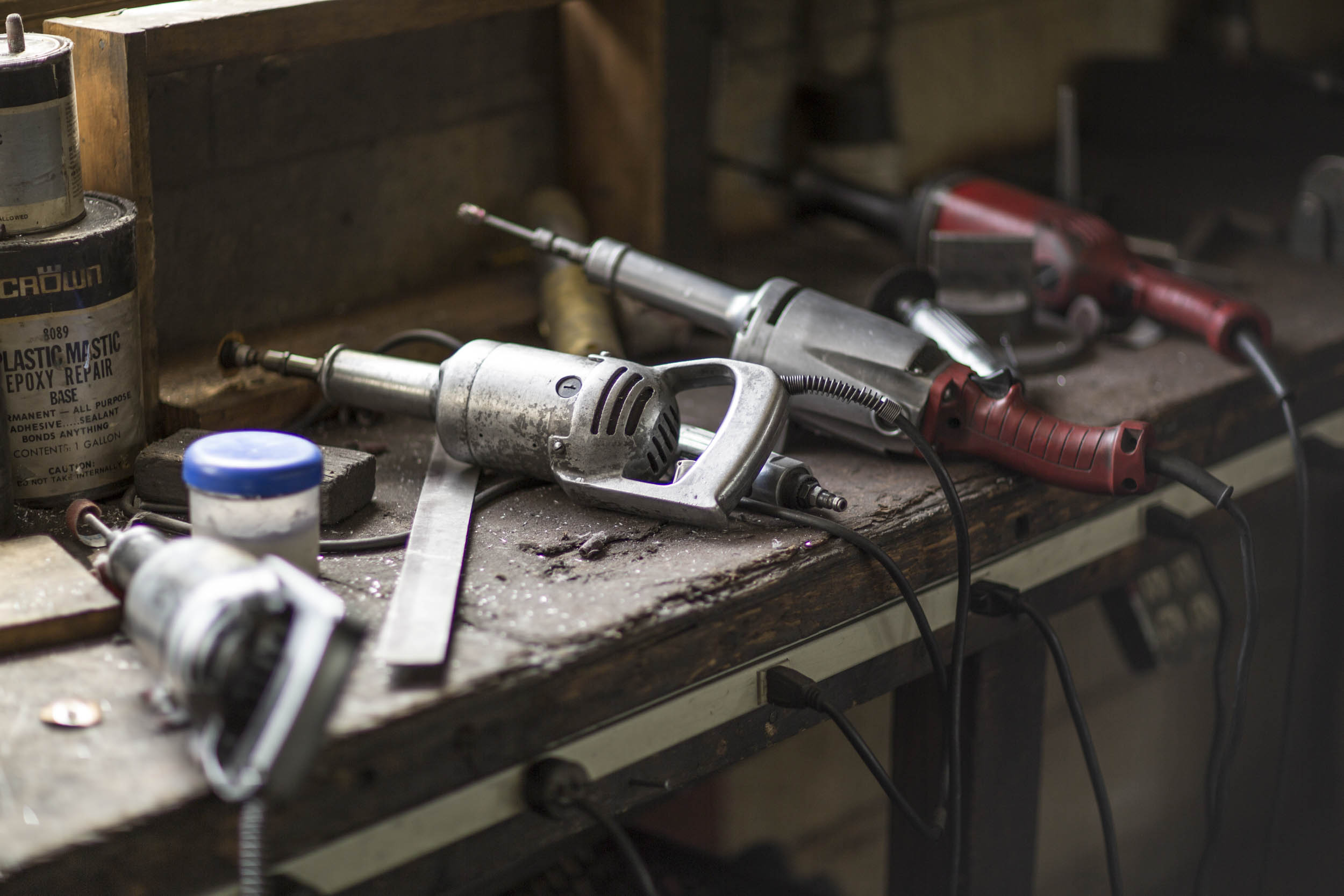 Throughout the shop, underpinning the intercom beeps, are the bass rumble of slow-cutting machinery and the high zing of a carbide burr. There is actual work happening here, in between the bench racing. Ofria has four techs on staff, each with a specialty. Ruben Pulido runs the valve department and has for 30 years; his brother, Alex, handles machining. Joe Amorelli—"He's new, only been here six years"—captains the clean room where engines are assembled, and 19-year-old Keatin Ellis, defying the stereotype that kids don't like cars, is in disassembly. Ofria still does the flow bench and porting, although he admits it takes longer than it used to.
Valley Head Service is one of the few throwback machine shops in Southern California to survive into the 21st century. If you need a porting job on the head of a 1957 Gullwing Mercedes or a cylinder sleeve in a 426 Hemi block, Ofria and his crew can do the job. Chances are it won't be the first time they've done it, either. When a 1948 Buick owner expresses concern about dropping a valve seat if he upgrades to hardened seats in his straight-eight, Ofria glances up at him, raises one eyebrow, and deadpans, "Well, we are new at this." The work order goes through with a check mark for hardened seats.
I ask Larry if anything ever comes in that surprises him, and I also get the raised eyebrow, along with a sweeping gesture around the shop that invites me to take in the warren of exotic, ancient, and high-performance engines surrounding us. "An engine is nothing but nuts and bolts and a little common sense," he says. "They're all the same."
Still, Ofria has his favorites. "My love is the antique engines. The older it is, the more I like it," he says. He likes them for the challenge. With great excitement, he then proceeds to tell me about a recent job on a turn-of-the-century Oldsmobile. "It had a roller cam—in 1908! We had to make bearings out of aluminum." I ask if it worked, and he laughs. "As far as I know, it's still running." He leans forward and says in his most serious voice, "We don't like to do the same project twice."