How to keep project momentum going
When I speak at events, I show a few fun-and-games slides of rock stars that I'm sometimes mistaken for at airports (seriously) and the ridiculous car deals I've scored for four grand or less. Then I show a slide titled "Hack Mechanic Tips for Sane Living," and share this hard-earned automotive wisdom:
Be faithful and attentive to your spouse or partner. You should, obviously, do this anyway, but if you're going to vanish for days at the drop of a hat on some gonzo road trip to pick up a car and then spend the next month of evenings and weekends sorting it out in the garage, it really helps if, when you're around, you're really there.
Have a clear separation between project cars and daily drivers. I love working on cars, and daily drivers sometimes need a little love, but if you're doing the brake pads on your DD on Sunday evening and find that you have a seized caliper, or if you're replacing a ball joint and shear off a bolt, Monday morning comes up like thunder. And if you've got nothing else to drive, that's the opposite of the Zen-like feeling we want from working on our cars. I've sold cars that I was using as DDs because I had to admit that they had strayed across the line and become needy enthusiast cars when I needed them to function as point-and-squirt appliances.

At long last, reassembly of my Lotus engine can begin.

Rob Siegel

Accept less than perfection. This is tough for many people, but when you polish that last blemish out of the paint or find that unobtainium mint piece of interior trim—spoiler alert!—you won't actually be any happier. I am particularly good at this, and I take great pride in maintaining and driving B-grade cars that I can actually afford.
On a big project, in order to keep momentum going, take 15 minutes a night and do one thing.
Let's focus on tip number four: It can be anything, but take a moment each day (or more likely, evening) and apply it to your project in some way. Go into the garage and install one bolt. Or clean one part. Or organize the boxes. Or don't go into the garage at all and instead sit at your computer and order one item. Or read one post on an enthusiast forum about the repair you're mid-way through.
Project momentum is a funny thing. A relatively small repair, say a brake job, may just be basic maintenance. At best, you usually return the car to the functional state it had been in. It's only non-operational for a very short amount of time, so momentum isn't an issue. On something larger, say a four-speed to five-speed conversion, the car may be laid up for a week or two, but again, it had been a running car, it will be a running car again soon, and the knowledge that it will be a better running car carries you through the X number of hours a night you spend to get it there.
But on a bigger job, like rebuilding an engine, you have the evil troika of a large heavy assembly having been removed and disassembled, the money required for machine work and parts, and the time and physical effort required to put it all back together. It's no surprise that work often grinds to a halt and cars show up on Craigslist as "rollers" with the engine out.
To counteract the literal inertia of large heavy physical objects like a motor that's been removed, and the figurative inertia of a motor that's been disassembled, you need to apply energy—yours—in order to get things moving. (You can tell that I was a physics major in college, can't you?) Note that I know myself well enough that I simply don't attempt what most people would call "restoration." It's too much for me, too long to wait for the payoff.
Of course, like the cobbler's children having no shoes, I, who has had a dead 1974 Lotus Europa Twin Cam Special in his garage for nearly five years, did the exact opposite of take 15 minutes and do one thing a night. Last week I summarized how I'd bought the car in June 2013, yanked its drivetrain, tore down its seized motor, took the disassembled pieces to a Lotus specialty shop, gagged at the projected cost, pulled it out, went to a more conventional machine shop, and then allowed the project to run into molasses for four and a half years. Until I recently got the machined engine block back, I intentionally took a wrench to the cost spigot and did not spend a dime on the car. I succeeded in stopping project spending, but I also completely killed any momentum the project had. So as the old adage goes, do what I say, not what I do.
What's more, the Lotus is an utter anomaly in my little automotive solar system. I'm mainly a vintage BMW guy. If I buy a dead BMW 2002tii or other model, I know pretty much what it's going to be like when I resurrect it because I've had other ones. In contrast, I'll admit that I'd never driven any Europa when I bought the car (I have since), so I didn't have any had-one-back-in-the-day memories to carry momentum along.
It made me wonder if the car's lightness itself (the Europa, with its fiberglass body and metal backbone, weighs only 1500 pounds) contributed in a literal sense to the project's momentum slowing to zero so quickly. I took solace in the idea that, if that was true, it should also allow the project to be restarted quickly.
Fortunately, I appeared to be right, because suddenly last week, I had the machined lower end parts back from the machine shop. It was time to follow my own advice: On a big project, to keep momentum going, take 15 minutes and do one thing a night.
The first night, I resolved to get the block up on the engine stand on which I'd disassembled it nearly five years ago. This wasn't installing just one bolt; there are four long bolts that attach the stand's rotating flange to the engine block. It seemed perfect for the first night's 15 minutes (a friend joked, "Does that mean you can do nothing for the next three nights?"). I dug the stand out from where I'd stashed it beneath the car but could not find the four long bolts. You know how this stuff goes; what seemed like a 15-minute task stretched on and on as I searched for where I'd put the bolts. Finally I just drove to Home Depot and bought new ones, then bolted the flange to the back of the block. If memory serves me correctly, there's just enough room between the flange and the block to be able to get the flywheel on.
Although the twin-cam engine's 1.6-liter block is small and light compared with many larger engine blocks, the combined weight of it and the flange are certainly more than my nearly 60-year-old upper body can lift, so I roped my son Ethan into helping me. In a few seconds, the block was on the engine stand. This may seem largely symbolic, but it felt to me like a major project milestone, as having the block on the stand allows the assembly to begin in earnest.
The second night, I began reading the assembly chapter of Miles Wilkins' Lotus Twin Cam Engine book and learned that the recommended assembly lube is a colloidal graphite paste called Graphogen, and the recommended gasket adhesive is Stag Wellseal. It appeared that neither of these products were click-and-order-available from any retail store I could find in the United States. Fortunately, I found a fellow in Wisconsin selling an unopened new old stock tube of Graphogen on eBay. I verified that the product had no specific shelf life, and ordered it.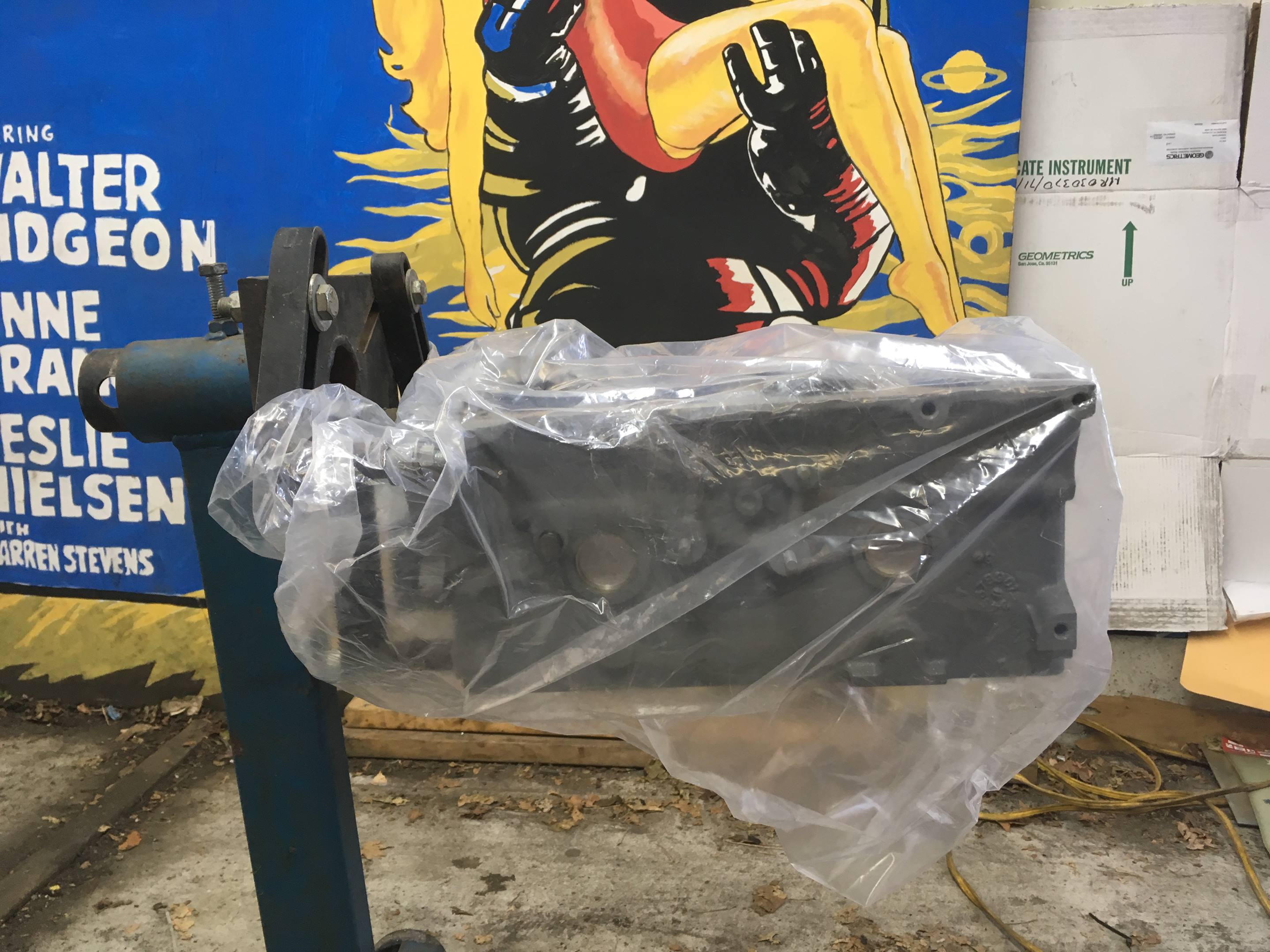 (To digress for a moment, part of the dynamic of resurrecting the Lotus is going to be that virtually none of the parts are click-and-order-available anywhere in the U.S. The two domestic Lotus parts houses, Dave Bean in California and RD Enterprises in Pennsylvania, are throwbacks, having print and/or online catalogs from which you can pull part numbers and request a quote by email or phone. Burton Power and QED Motorsport in England do have click-and-order websites, but shipping from overseas isn't cheap. Thus, the whole rhythm of this project will be very different from my BMW projects, where, if I'm in the garage and find that I need a part, I simply walk over to the laptop in the corner, compare prices between a couple of vendors, and get it on order without even leaving the garage.)
I learned in the Wilkens book that the assembly order has the jackshaft going in the block first, followed by the main bearings, thrust washers, and crankshaft. All of these require the Graphogen assembly lube. So while waiting for the Graphogen to arrive, the third night I embarked on a step that was genuinely frightening—locating the other engine parts, the ones that hadn't gone to the machine shop with the block. Five years is a long time for a major portion of a car to be disassembled. While there's little chance of me accidentally throwing something out (I am a notorious pack rat), the chance of parts getting misplaced is very high. So I breathed a sigh of relief when, tucked in the corner of the garage nearest the Lotus, I located several cardboard boxes of Lotus engine parts, and patted myself on the back when I found that most of the small parts were in neatly-labeled plastic bags.
On the fourth night, I took the gear, bolts, plate, and locking tab for the jackshaft out of the plastic bags and cleaned them in preparation for installation.
On the fifth night, I started to accumulate a list of parts for the first order. The gasket set, main bearings, rod bearings, and bearing cap nuts had been ordered before the project stalled; they'd been with the block at the machine shop. I verified that I still had them and began looking at the part numbers of the pilot bearing, timing chain, tensioner, and other items I'd surely need.
After nearly five years of inaction, that was not a trivial amount of forward motion. If I can keep the momentum going, doing one thing each night for 15 minutes, I figure I'll have the car running by, oh, 2024 at the latest. And while I'm awaiting arrival of the Graphogen, I can take more than 15 minutes a night and be faithful and attentive to my spouse.
***
Rob Siegel has been writing the column The Hack Mechanic™ for BMW CCA Roundel Magazine for 30 years. His new book, Ran When Parked: How I Road-Tripped a Decade-Dead BMW 2002tii a Thousand Miles Back Home, and How You Can, Too, is available here on Amazon. In addition, he is the author of Memoirs of a Hack Mechanic and The Hack Mechanic™ Guide to European Automotive Electrical Systems. Both are available from Bentley Publishers and Amazon. Or you can order personally inscribed copies through Rob's website: www.robsiegel.com.