Here's how Hedman Hedders makes a high-performance exhaust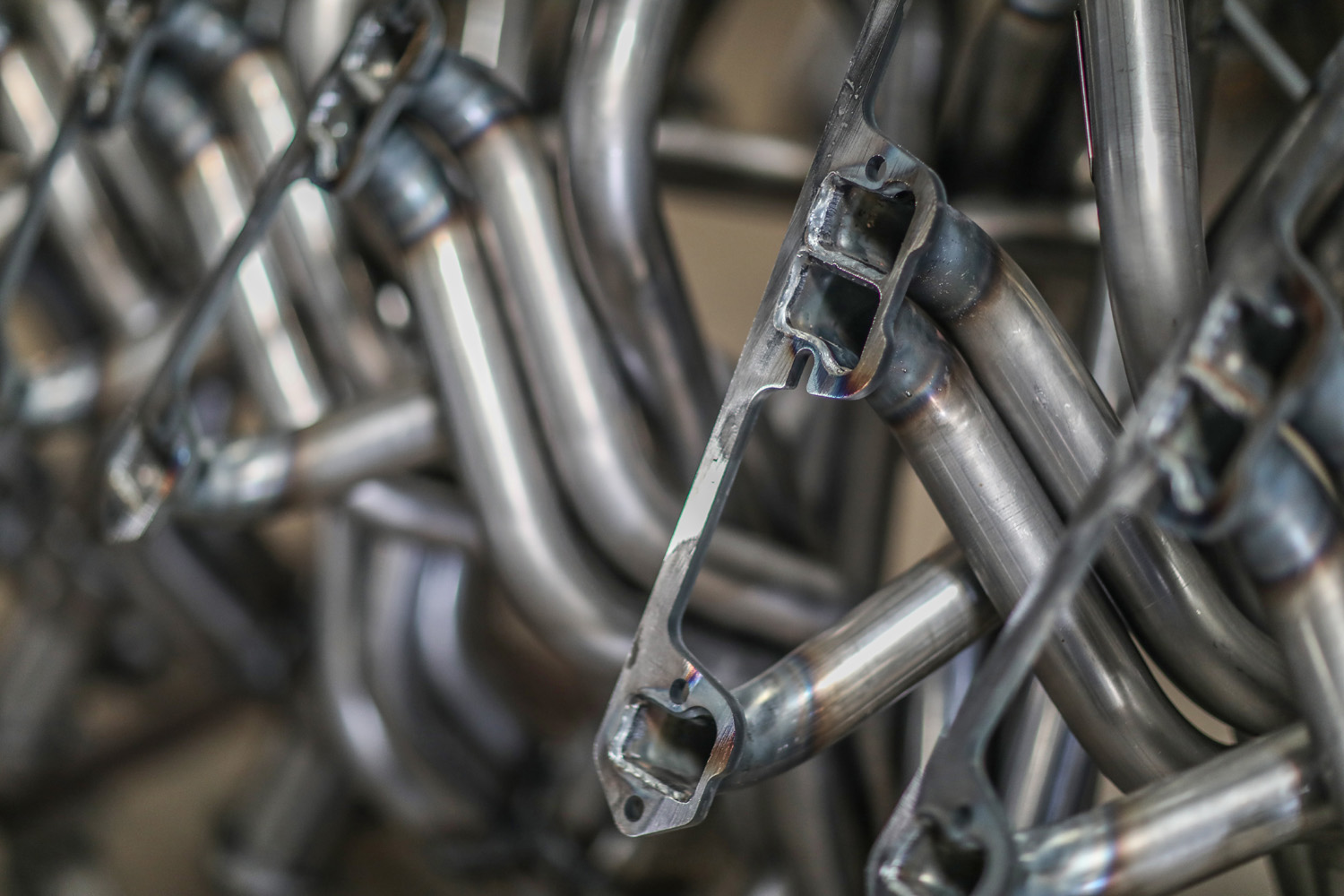 Hedman Hedders has been building headers for trucks and muscle car applications in the same Whittier, California, manufacturing facility for more than 20 years. From raw material to packaging, Hedman completes almost every process under one roof. We recently received an invite to see the steps that go into making a set of headers in this 100,000 square-foot facility, and we watched as applications for V-6, classic muscle car V-8, and LS swaps were built by their team of fabricators. Ready to get your gearhead geek on? Let's dive in.
Mild steel and 304 stainless tube arrive in 20-foot lengths. Diameters vary and include the 1¾-inch often used for primary tubes, as well as the 3-inch and larger pieces used for collectors, where the tubes merge.
A tubing cutter, like a larger version of the kind you'd use when making fuel lines, makes cuts without any waste. It does, however, leave rolled-in ends. A worker must reshape the ends of each tube to restore its original diameter.
Each header begins with a custom-made design from Hedman's in-house R&D department. Once they assemble a prototype that fits the application, it's scanned to a 3D file that analyzes the bends used to create each primary tube. An automatic CNC mandrel bender will feed a tube through to the proper location, clamp down, and make a bend. It will then rotate the tube to the right orientation, make the next bend, and continue until the primary tube is complete.
Each header design uses several welding jigs, including heavy, sturdy jigs that hold all the tubes together for perfect positioning. Hedman has racks of them.
Cutting jigs position the primary tubes for trimming. Hedman does its best to minimize waste, but the bender always leaves a bit of straight tube that ends up getting cut. Remnants are sold to be recycled.
Hedman outsources some of its flanges; these Pontiac V-8 header flanges were purchased from a company that is no longer in the header business.
Primary tubes and flanges are joined in sturdy jigs that position the tubes in their proper orientation.
Some exhaust ports have odd shapes. This worker has heated the tube with a torch before inserting it into a machine that will form it into an oval. Once it's back in the jig, she gives it a few raps with a hammer so it better conforms with the flange.
AMC V-8 dog-leg exhaust ports require a lot of finessing. This worker is marking the primary tubes for trimming after they've been formed to their complex shape.
This 3-into-1 collector is for a V-6 application. The first press gives it a triangular shape.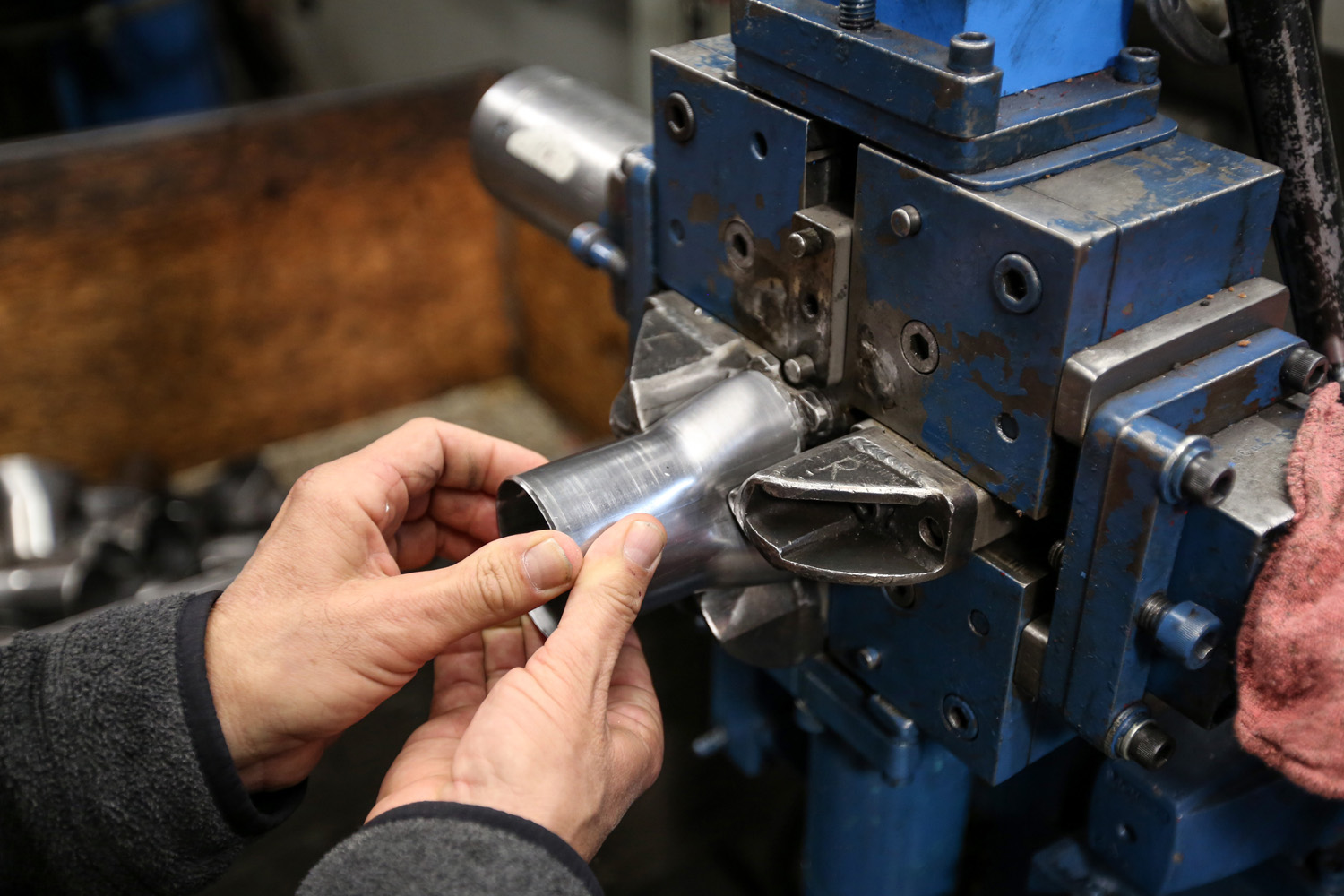 The next step presses in along the flat sides of the triangular shape to give it a more clover-leaf look.
Then the round end is trued, a flange is slides on, and a final hydraulic tool flares the end into a ball, capturing the flange.
With the primary tubes shaped to perfection, they're placed in a jig and a star-shaped plug is welded in where all four tubes meet.
The collector is tacked on and the flange is welded to the primary tubes.
Another welder places the collector on a stand that he spins with his foot as he fully welds the collector to the primary tubes.
When the flange is done, it is fully welded to the primary tubes, but a bead remains.
Workers use belt sanders to true the face of the header flange and flatten the weld bead.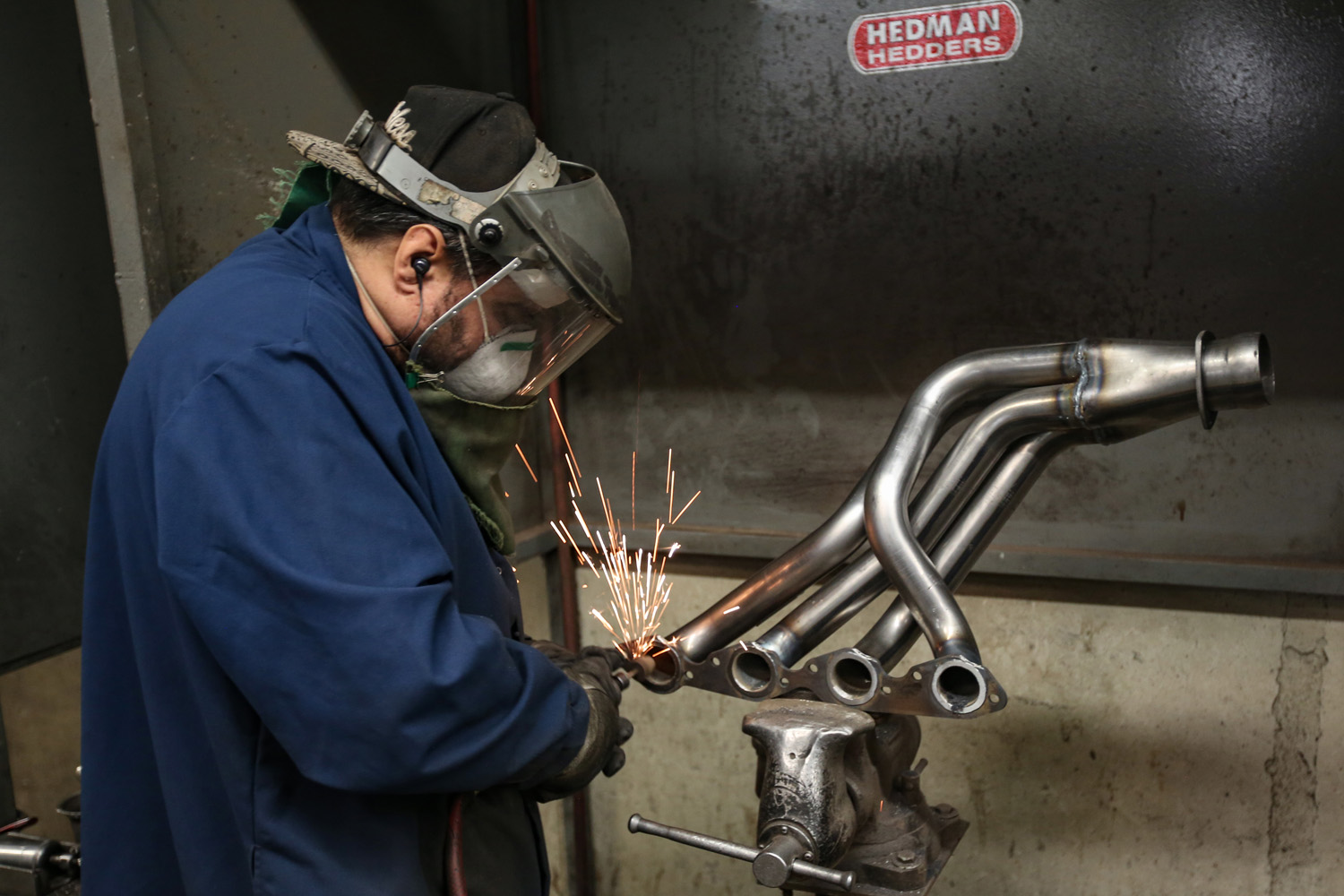 The interior of the primary is dressed as well.
These AMC headers require dimples in the primary tubes to ensure bolts can be inserted. The tubes are heated and dented with a punch. This worker is checking with a sample bolt.
A cylinder head with studs serves as a check to make sure the bolt holes are in the proper location.
Workers use a torch to inspect the flanges and collector. Any pinhole or gap in the weld would show light.
Uncoated headers are then given a coat of water-based paint to protect from rust during transit. Stainless headers are left uncoated, while others are sent for ceramic coating.
With fabrication complete, headers are off to packaging, pallating, and shipping. These headers are off to Jegs.