Why these four passionate kids love old-school automobiles
In the latest issue of Hagerty magazine, we checked in on the state of the classic-car hobby through the lens of young enthusiasts.
Our feature story took a deep dive into the cars and trends influencing the next generation of collectors, and the Member Stories below highlight four amazing kids, ranging in age from 5 to 18, who are just as passionate about the fun old cars in their lives as the adults around them have been.
Cole Kleis
Next gen Hagerty member, age 18
My great-grandparents on my dad's side lived on Long Island, and the family owned Hicks Nurseries in Westbury. On November 19, 1938, they bought this Packard Six at nearby Packard Hempstead Company. It's a four-door sedan, just a basic family car from that time, with a couple options like a heater underneath the dash and a clock. They eventually passed the car down to my grandmother, who drove it in the summer during college. It still has her Cornell sticker in the window. In 1963, she and my grandfather used the Packard to drive from the church to their wedding reception. Shortly after that, it was parked in the barn and never driven again.
Cars are in my blood. My family here in Napa, California, owns a couple car dealerships, and my uncle Jimmy Vasser and my grandpa Jim, Sr., have always had a big collection of classics. Camaros, a 409 Impala, a '32 Ford, stuff like that, so I grew up with old cars and love just about every type. I was 12 when I started working at the dealerships, which is about the same time my dad first told me about the Packard. On a trip to New York a few years later, I saw it for the first time, and I wanted to bring it home. I didn't then, but my family back east knew I wanted it, and when they cleaned out the barn in 2017, they said the nursery would ship it to me, if I were still interested.
There's some shop space with a lift at one of the dealerships, so I moved all my tools over there to work on the Packard. Overall, it was in great shape. The frame was super solid, and the body was straight, with only a couple dings. The barn wasn't weather tight, so there was some surface rust on the roof and doors, but I sanded that down after school and on weekends. A few small holes need patching, but that's it. The interior was nice, a couple small tears here and there in the brittle fabric, and the shift knob—it's a three on the tree—is dry-rotted and falling apart. The windows rolled down, and everything worked. Mostly, the Packard just needed to be cleaned.
The engine, a 245-cubic-inch inline-six, didn't run but wasn't seized, so I disassembled it and had it cleaned and bored at a local place. A technician at our Chevy dealership helped me put the engine back together, and my grandpa found me a can of Packard Green engine paint, so it's the correct color. The engine is back in the car, and that's about where things stand. I'd hoped to have it running for my senior prom, but you know how car projects go.
Right now, I want to keep the patina and get it running and drivable. Then I'll slowly start bringing it back. My ultimate goal is to return it to the way it looked when my family first saw it on the lot.
In August, I went off to college at Colorado State University in Pueblo to study automotive industry management. It's a four-year degree that includes business and financials and how to run a dealership but also technical automotive courses for hands-on work. I'm really excited about it, but it means I can't work on the Packard. I'm hoping to speak with my teachers about potentially bringing the Packard to Colorado. If I can find a place to store it, I could probably get it driving by the end of my first year. Otherwise, I'll have to work on it during summers and other breaks, and it could be a year and a half or two before it's roadworthy. I'd love to have my classmates help out and learn with it. I think that would only add to how cool it is.
This car has been so educational for me because I've done almost everything on my own, with help from a couple people when I've run into obstacles. Beyond that, I love that it's a family heirloom. It's so cool to have a project car that has this kind of meaning for my family, and I'm excited to get it done. I think my grandparents would have really enjoyed seeing the Packard back in the condition it was for their wedding.
Olive (and Grandpa David) Lau
Next gen Hagerty member, age 5
We've all talked about how important it is to encourage young people to share our passion for the old-car hobby. So practicing what we preach, I've been filling one of those little sponges with my old-car knowledge and passion.
Olive started coming over to visit Grandma and Grandpa about once a week when she was two years old. She and I would head down to the shop and poke around my three old cars—a 1960 Ford Thunderbird convertible I've owned for 52 years, a '64 Ford Ranchero named Truclet, which Olive pronounced as chocolate, and a '73 Volvo 1800ES.
Once I figured out safe ways to buckle her seat into the cars, I started bringing her to shows and cruise-ins. We'd set up our chairs, including her own little one, and then get to work on whichever car we'd brought. Olive had her own towel and a little bottle of detailer. I can't say she was thorough or efficient, and she scratched some paint here and there. But the smiles from people seeing her total focus started some fun conversations.
Her favorite event is Depot Town Cruise Night every Thursday in Ypsilanti, Michigan. There's a Hula Hoop contest, and everyone wins a ticket to the ice cream shop. The DJ knows her by name, and as soon as he spots her, he plays her favorite song, Blue Moon, by the Marcels. Planning ahead for a fashion emergency, she brings along a Hagerty bag with her teal poodle skirt, horn-rimmed glasses, teal scarf, and shiny shoes, because sometimes the Motor City Belles show up and she likes to pose with them.
Around age four, she had to know how things worked. If something didn't work, she wanted to fix it. She was always asking questions. "Why does the engine get so hot, Grandpa?" "What do these hoses do?" "Why do the front wheels turn when I move the steering wheel?" I did my best to keep up with her questions and give her complete engineering-based answers, which were often followed with, "Buh, why?" But she got it and was fascinated by it. As her motor skills improved, she started to accomplish tasks with a wrench or screwdriver.
Truclet has a built 302 with headers, a Lunati cam, a way-too-big Holley 670 double pumper, Flowmasters, and a Tremec five-speed, and one of my guilty pleasures is taking it to pick up Olive from preschool alongside all the soccer moms and dads in their silver minivans and SUVs. More than once, as we leave the parking lot, Olive has said, "I want to hear those mufflers, Grandpa!"
Kids' interests can change so quickly, so I'm not taking anything for granted. This summer, I took her along on some old-car tours, starting with Back to the Bricks based in Flint. It left the day after school let out and covered four cities in five days, going all the way north to Sault Ste. Marie, Michigan. In August, we did the national convention of the International Thunderbird Club in Cleveland, where she served as a Hagerty Youth Judge. She loved it.
Sharing my passion with Olive, having fun together with these old cars, and giving her these experiences warms my heart. She makes me feel like a kid again!
Jaffer Malik
Next gen Hagerty member, age 15
I fell in love with cars 10 years ago, when I helped my dad rebuild the engine of a 1988 BMW 325iX in our garage. Shortly after I turned 13, I bought a 1964 Chevrolet C15 Fleetside long-bed pickup that had been sitting out in the woods for several years. My dad and I dragged it out and started working on it immediately. I put so many hours into that truck and got its 283 V-8 running. My goal was to take my driving test in it, but it needed so much love, especially body work, so I sold it to a friend who could give it the care it needs.
It looks like I'll be taking the driving test in Rhonda, my new 1987 Buick Regal Turbo T, instead!
I've always liked the '80s G-body cars. Then my dad told me he used to drag-race Grand Nationals as a young man, and I had to have one. This car, which is basically a Grand National without the Darth Vader paint, had been sitting in a garage for 20 years. The seller—the original owner—loved his Turbo T and wanted it to go to someone who would take care of it.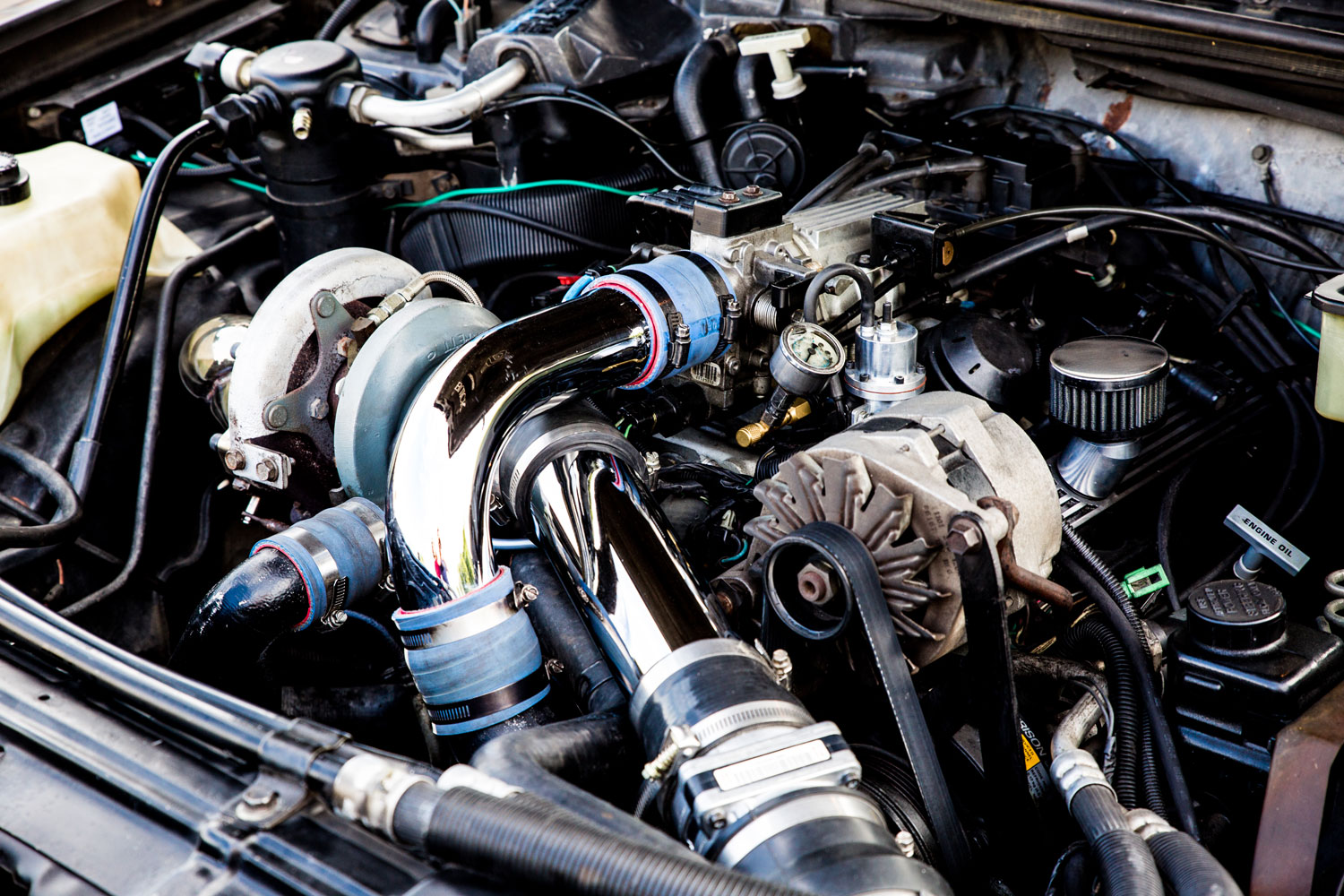 The Buick has 144,000 miles, but the 3.8-liter V-6 and 200-4R transmission were rebuilt and upgraded and only have 18,000 on them. It has a choppy idle, and I love that in third gear I can whack it, feel the boost come on, and roast the tires.
In the months since I bought the Regal, my dad and I have cleaned the turbo, intercooler, and throttle body; upgraded the wiring harness and injectors; and installed a big exhaust with headers plus 15-inch SSR wheels and new tires. I've got a bunch of performance parts in the garage that I'm eager to install. All of it should make my Buick a 10-second car.
I can't wait to turn 16 so I can take that driving test.
Kinzie Wilson
Next gen Hagerty member, age 18
I've loved cars for as long as I can remember. As a little kid, my dad would carry me around at local drag races, and we would guess which car would win. He'd quiz me, too, asking whether the cars at shows had big or "little" blocks. Nine times out of 10, I knew the answer.
I never really thought about being in the driver's seat of a race car until I was 13. My dad's friend brought over a gorgeous 1996 Collector Edition Corvette, and I fell in love with it. The NHRA had just introduced a new class of drag racing that allowed 13-to-16-year-olds to bracket-race street cars. So I bought the 'Vette, named her Lucy (because everybody loves Lucy), and immediately took her to the track.
One time down the strip is all it took. I knew this was what I wanted to do. Fast forward five years, and Lucy and I have added a new sport: autocross, which the C4 Corvette was built for.
I love the world of racing, but I kept my feminine side active as captain of the varsity cheerleading squad at my high school. With racing and cheerleading, I got the best of both worlds, and that's something I plan to carry over past my graduation next May. I've applied to Belmont Abbey College in North Carolina, where I hope to study motorsports management. I'd have the opportunity to cheer there as well. Best of all, there's a four-lane drag strip, zMAX Dragway, right down the street from the college.
For now, I'll continue to race with the Texas Muscle Car Club Challenge and the Lone Star Corvette Club. I have a big support base through my family, as well as 13 sponsors who keep me going. What more could I ask for? Well, nitrous?
We hope you enjoyed these Member Stories. Mentoring any young gearheads yourself? Let us know below.
The article first appeared in Hagerty Drivers Club magazine. Click here to subscribe to our magazine and join the club.