Long Read Rewind: Summer 2017
Got some time on your hands? If you're one of the over one million readers who have discovered us in the past year—or if you're a long-time member who might have been working in your garage while we were driving some of the world's most interesting vehicles—then chances are you'll enjoy this Long Read Rewind from a previous Hagerty Drivers Club Magazine issue.
Two decades ago, the ultimate Corvette died in GM's boardroom. One man and his patron finally brought it back to life.
On a spring day in 1998, an unmarked crate arrived at a house in Decatur, Indiana. Most people would have dismissed the contents as random engine parts, but this house belonged to Graham Behan, an engineer at Lingenfelter Performance Engineering (LPE) and previously a project manager at Lotus Engineering. Behan recognized the parts instantly, because at Lotus, he'd been heavily involved in development of the LT5—the engine that powered the ZR-1 Corvette more than 25 years ago.
The "King of the Hill" Corvette was GM's effort to stem the tide of high-powered foreign cars that were making the Corvette look weak. GM enlisted Lotus to engineer a state-of-the-art DOHC V-8, a dramatic departure from the small-block V-8. That darling of hot-rodders had been around since 1955.
The Lotus V-8 was a high-tech wonder, with an aluminum block and heads and four valves per cylinder. To ensure tractability and efficient low-rpm performance, each cylinder's pair of intake valves was fed by its own intake port and fuel injector. One port, feeding a valve with slightly milder cam timing, was always in operation. The other port, with hotter valve timing, was controlled by a secondary throttle and only opened at high rpm and large throttle openings. For smooth and progressive throttle response, the intake manifold was fed by a tiny primary throttle plate and two large secondary throttles.
When the Corvette ZR-1 debuted, it had not only the 385-horsepower LT5 V-8, but also a six-speed manual transmission, massive tires and other performance upgrades to place it in the same league as the Porsche 911 Turbo. Unfortunately, this big speed came with a huge surcharge. With the ZR-1 option, the price of a 1990 Corvette surged from $31,979 to $58,995. A near price doubling was pretty hard to swallow when a 911 Turbo only cost about 50 percent more than a base 911. But the excitement created by this startling Corvette motivated 3,049 buyers to plunk down their cash for first-year ZR-1s.
The excitement was short-lived, despite a 1993 upgrade to 405 horsepower for the second-generation Lotus V-8. The base Corvette adopted many of the ZR-1's mechanical components and styling cues. What's more, the Corvette's pushrod V-8 had closed the performance gap considerably [see companion feature]. Sales sank, and the ZR-1 was gone after 1995.
That scuttled Lotus' ambitions for a significant LT5 upgrade that would have secured the ZR-1's performance dominance for years. Lotus engineers were already working on a third- generation LT5 engine with about 475 horsepower, developed at 7,000 rpm or more. Behan, the Lotus engineer most closely identified with the LT5 engine, worked on its design, manufacturing and ongoing development—including the stillborn third-generation version. Those were the parts that ended up on his Indiana doorstep.
"The plan for the new engine included a completely redesigned combustion chamber, without the original squish areas. This would not only unshroud the valves for better breathing but also reduce hydrocarbon emissions," explains Behan. "A new intake manifold was planned with one large, oval port for each cylinder rather than the twin progressive ports. This manifold would draw air though a single 98-mm-diameter throttle plate rather than the two 58-mm and single 22-mm plates of the originals—increasing the throttle opening by about a third. Finally, the third-gen engine was slated for hotter cams with lift increases from 9.9 to 11.5 mm and more duration—on both intake valves. The idea was improved airflow at high rpm."
Behan acknowledges that the LT5 was criticized for its soft low-rpm torque, but Lotus had a plan to address that as well. "To boost torque below 3,000 rpm, we invented a variable valve timing and lift system incorporated in the engine's bucket tappets. We never finished developing this technology, but an evolution of this concentric tappet design eventually made it into production at Porsche as the VarioCam system."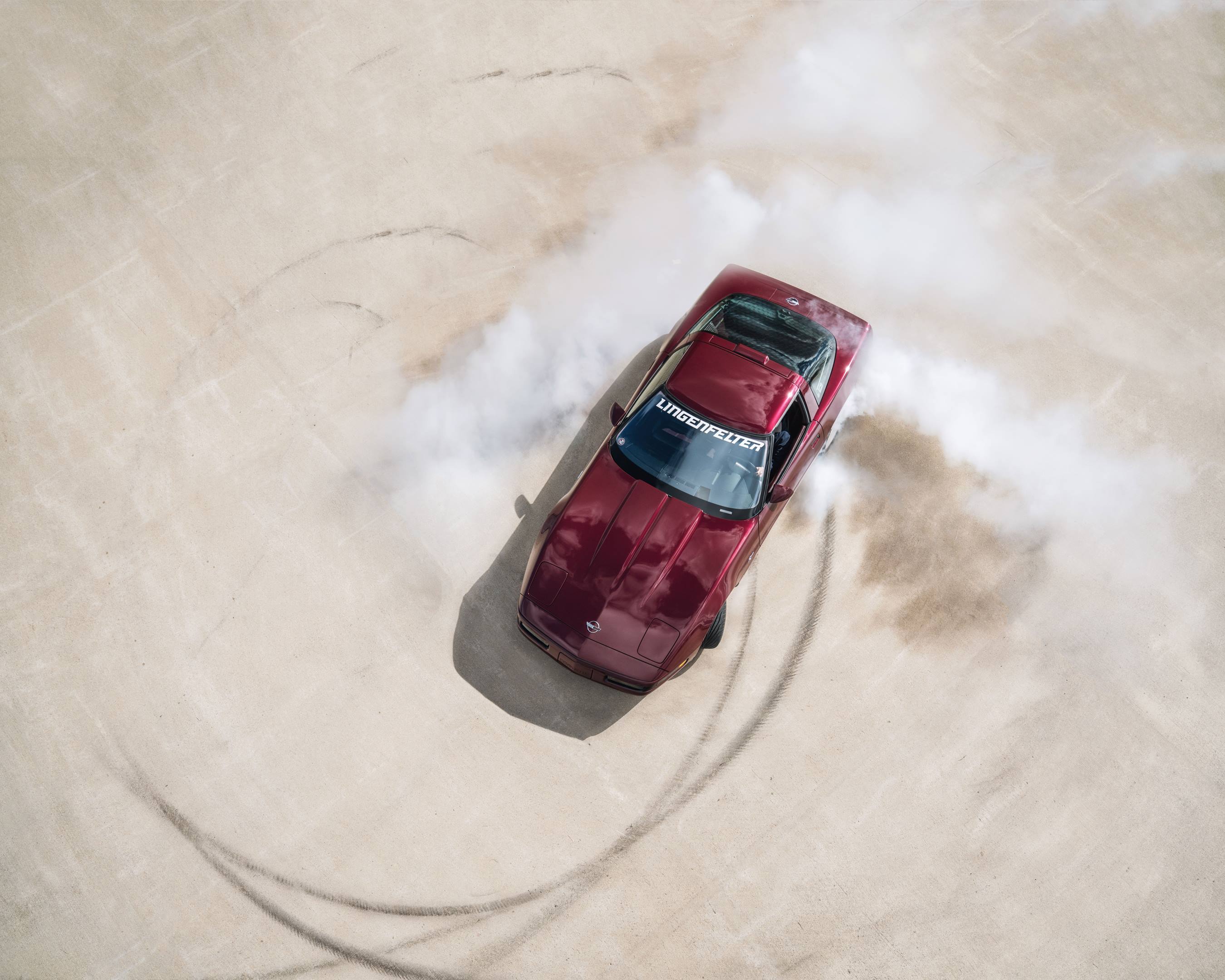 A bit more torque would also come from the third-gen engine's slight compression ratio jump, from 11.0 to 11.4 to 1. This was achieved by the redesigned combustion chamber coupled with the elimination of the slight depressions in the piston crowns.
Once the ZR-1 program was terminated, all of the prototype parts were shipped to GM and presumably destroyed. But a few years later, that mysterious crate, containing the key third-gen LT5 prototype components, was sent to Behan. If he knows who sent it, he isn't saying, but the parts included a set of pistons, a pair of machined cylinder heads, a complete set of valves with matching springs and retainers, and an unfinished intake manifold. The parts collected dust for 17 years, until 2015, when Hagerty member Ken Lingenfelter, owner of LPE and noted Corvette collector, decided to re-create a third-gen engine.
"I could see how much Graham wanted to finish what he had started at Lotus," says Lingenfelter. "It was eating away at him. I felt that building a ZR-1 with this engine was an important thing to do."
So Lingenfelter purchased a 1993 40th Anniversary Corvette ZR-1 for this express purpose. Using the stock engine in the car as a foundation, Behan jumped on the project and adapted the critical bits he had received. He improvised other parts such as the camshafts and the throttle linkage. The variable-lift tappets were simply unavailable; however, the cylinder heads, valves, intake manifold, large throttle plate and flattop pistons are true to the third-gen V-8's intent.
Behan ran the engine on the Lingenfelter dyno, and it delivered 528 horsepower at nearly 7,500 rpm and 430 pound-feet of torque at 5,600 rpm with an open exhaust and no accessories. "Set up for the dyno, the 405-horsepower second-gen LT5 made 445 horsepower, so we figure that installed in a car, this third-gen re-creation would exceed its 475-horsepower goal," says Behan.
Even though he's never driven his unique ZR-1, Lingenfelter allowed me to drive it around the taxiways and runways of Detroit City Airport.
It's been a while since I've been in a C4 Corvette, and sliding behind the wheel is a step back in time. The instrument cluster, dashboard and console are plastered with garish orange lettering and markings, and I am reminded that 25 years ago, a premium interior finish meant covering as many surfaces as possible with carpeting. On the plus side, the lean windshield pillars are delightful compared with the massive structures blocking the front quarter views in modern cars.
On the other hand, the sounds this engine makes transcend time. The car idles with a slight quiver that telegraphs the hot cam timing, and as you accelerate, the Corsa exhaust plays an addictive V-8 soundtrack culminating in a glorious syncopated rap at 7,000 rpm.
Despite nearly 500 ponies on hand, controlled by a giant throttle plate, this ZR-1 is very tractable. Behan's modified throttle linkage opens the throttle progressively, and you can unleash the power in precise increments, just as you could in the production ZR-1. Such controllable power delivery is particularly appreciated, because this ZR-1 corners with initial understeer, transitioning rapidly to oversteer as power is fed to the rear tires.
As you accelerate through the rpm range, the engine displays no camminess or power surges, but rather feels ever stronger as the revs climb, all the way to the 7,000-rpm maximum that Behan asked me to respect.
Even by modern standards, this ZR-1 feels very quick, but there was no opportunity to measure its performance objectively. However, in 1993, Car and Driver tested a Lingenfelter-modified, second-generation ZR-1 with a claimed 455 horsepower. It hit 60 mph in 4.1 seconds and blitzed the quarter-mile in 12.3 seconds at 118 mph. That's half a second and 5 mph faster than the original ZR-1. The Lingenfelter version also topped out at 191 mph—12 mph faster than the stock second-gen ZR-1 the magazine had tested.
Fast forward some 20 years, and the Corvette C7's LT1 engine—with pushrods—can match the output of this proposed third-gen ZR-1. But nothing says that further development of the ZR-1 beyond the proposed third-gen wouldn't have yielded even higher output.
Chevrolet took a different path, however, and revived the ZR-1 designation for the top-of-the-line Corvette C6 in 2009, powered by a supercharged version of the small-block V-8. Currently in hibernation after introduction of the 2014 C7, the ZR-1 name will likely be revived yet again for a premium mid-engine Corvette in the next year or two.
It's hard to argue with the base and high-performance engines offered in the C6 and C7 models. After the original LT5 engine kicked the sleepy L98 small-block V-8 in the pants, the small-block's output, with and without the help of forced induction, has been taken further than any of us could have imagined. And that engine's compact size, light weight and cost-effectiveness have been instrumental in keeping the Corvette a bargain among high-performance sports cars.
But it still seems a shame that the LT5 expired so quickly. Had the engine's obvious power potential been coupled to some efforts at cost reduction and more distinctive bodywork, a ZR-1 Corvette might well have become one of the great automotive icons rather than a fascinating historical footnote.
The article first appeared in Hagerty Drivers Club magazine. Click here to subscribe to our magazine and join the club.