European design made them pretty, Detroit V-8s made them fast
Youtube provides plenty of evidence that anyone with a napkin sketch, a TIG welder, and some 4130 chrome-moly tubing can make a car chassis. Building an engine to power that chassis is another matter. Napkin sketches don't cut it when tolerances are measured to the zillionth. You also need a rail line to bring you a steady supply of iron ore, plus a blast furnace, a foundry, and heaps of casting sand. And a whole wardrobe of fireproof clothing. Overhead, in other words. What's a low-volume car manufacturer to do?
Leave the powerplant business to the big guys, of course, the companies with decades of experience building V-8 engines. Traditionally, those companies all reside in Detroit. No place on earth has more experience churning out cheap, reliable power than the Motor City.
Carmakers from other countries have been tapping this experience for years, and some truly cool foreign machinery owes its existence to Detroit V-8s. Sydney Allard's J- and K-series and their Ford, Cadillac, and Chrysler engines in the 1950s. Alejandro de Tomaso's wild Pantera, with a Ford 351 mounted in the middle. Frank Reisner's Intermeccanica. No fewer than 25 small foreign manufacturers have shoved American V-8s into dozens of models for the benefit of power-crazy folks everywhere. Heck, without those Ford 260s, 289s, and 427s, the most famous Anglo/American hybrid of all, the Shelby Cobra, would still be just a six-cylinder AC Ace.
Except for the Cobra, with its racing heritage, many of these transatlantic amalgams were long snubbed by purists. Fans of European sports cars couldn't get past the crude heart, and muscle disciples had no need for the sleek styling and sharp handling. Attitudes in the Euro camp have softened in recent years, however, as many buyers have been priced out of red cars with V-12s that rev to 7500 rpm and breathe through multiple Webers. Muscle folks, it seems, still don't care.
But I do, so I gathered three examples of this odd subset—a 1974 Jensen Interceptor with a Chrysler 440, a 1965 AC 428 powered by a Ford 390, and a 1970 Iso Grifo with a Chevy 350—for a romp through the hills above Malibu, California.
1965 AC 428
After Cobra production wrapped up in 1965, AC Cars of Thames Ditton, England, hoped to leverage that monstrous little car's success. AC had supplied the diminutive Ace roadster platform for Shelby's shoehorned V-8s, so it sensed an opportunity to move upmarket with a luxury convertible and GT built on the Cobra's large-diameter tube-frame chassis—stretched six inches—and coil-spring suspension. Italian coachbuilder Frua styled the beautiful open body and handsome fastback coupe, which followed in 1967. AC turned to Ford for its new-for-1966 428-cubic-inch V-8s—the same FE-series engines making 345 horsepower and 462 pound-feet of torque in contemporary Galaxies, Thunderbirds, and maybe even a school bus or two.
The resulting AC 428 cost roughly $15,000 at a time when a new T-Bird cost $4400. Only 80 (51 convertibles, 29 coupes) were built through 1973, which speaks to the difficulties of marketing hand-built, boutique GTs when sports-car buyers have lots of choices from more established brands. It's no surprise that almost no one today has heard of the AC 428. If you took a poll, most people would assume it's a local bond measure. Even car people tend to reply with some variation of, "Do you mean Cobra?"
This right-hand-drive roadster belonging to Ailene Chambers is the AC 428 prototype, serial number CF1. It was AC's Earls Court (London) show car and the car used by magazines for initial road tests. Then it starred in the TV show The Avengers, where it was driven by Linda Thorson's character, Tara King. It's the only AC 428 clad in aluminum rather than steel, and, because it predates the 428 engine's debut by several months, it is the only AC 428 that did not actually have a 428 under its hood. Still, the 390 that powers it is no slouch.
Aside from a long-ago repaint in the original red, which is now faded and cracked, and the Girling disc brakes and vintage-look tires, which Chambers has just replaced, this AC is completely original, down to its pitted chrome, hazed glass, cracked rubber, and worn interior. My colleagues voice concern over the AC's readiness for our day of driving and photography, but Chambers assures me it is up for anything.
"How often do you drive it?" I ask her.
"Twenty-four years ago," she says.
Getting into the AC is akin to sitting down in an ill-designed restaurant booth. The car is low, the original seat now devoid of stuffing, and the steering wheel is fixed, so I have to shimmy in and slide my legs beneath its rough wood. The thumb button on the automatic transmission's T-handle shifter is on the wrong side—the side for the thumb of someone driving from the left-hand seat. I try contorting my left pinky to press it, but that doesn't work, so I awkwardly reach across with my right hand to engage it. Ah, yes, the unfinished details of a prototype. All is forgotten, however, once I twist the key and the big 390 comes to life with a familiar Detroit rumble.
As we head up Highway 1 with the softtop down, wind is minimal. The needle on the ambitious 8000-rpm Smiths tach (redline is likely south of 5000) reads a lazy 1800, and what I hear is the growl of this unstressed V-8. The car feels as though it could sprint to the 160-mph mark on the speedometer, but I'm happy to cruise at 50 mph. The AC is in its element; it is a car to be seen in: Cue the queen's wave. It's easy to imagine how, properly refined through production, the 428 could have stolen discerning customers from Aston Martin and Ferrari.
In the moment, I'm reminded of Chambers's confidence in her car. This torquey old 390, running its 427 pound-feet to skinny rear Avons through a heavy-duty three-speed automatic, is alive and kicking and reveling through its lumpy twin exhaust pipes. Until I step on it to squirt past some traffic, anyway. That's when the Holley four-barrel's secondaries open up, the engine begins to cough and backfire, and power simply falls away. If I'd been asleep for 24 years, I'd be grumpy higher in the rev range, too.
When we turn off Pacific Coast Highway and head up into the hills, twisty Piuma Road demands agility from this boulevardier that it isn't able to provide. The engine's placement aft of the front axle—space allowed by those extra six inches of wheelbase—makes for favorable weight distribution, and the 428 rides on a four-wheel control-arm suspension. So chalk up its reluctance to boogie to the unboosted, ponderous steering or the Avon tires on 6.5-inch wheels, but this is not a car that laps up decreasing-radius turns. Not nearly as sporty as its nimbler Cobra sibling, the AC is much happier in straighter, faster lines, and I can't fault it for that.
1974 JENSEN INTERCEPTOR
Lori Rodefer's Series III 1974 Jensen Interceptor, by contrast, can do it all. In 1986, she purchased it as a college graduation gift to herself from a couple of guys who'd won it in a raffle with the 50-cent ticket they'd gone halvesies on. (They were hoping to win a Suzuki Samurai.) The Interceptor is an immensely quirky car, long and tall and gangly beneath an expansive greenhouse with a veritable sunroom at the back. But don't confuse it with some tinny little postwar British runabout. It's a 4300-pound leviathan, hand-constructed to a standard on par with that of the Concorde, or at least a contemporary Rolls-Royce. At a cost of $15,500, which is $84,000 in today's money, it'd better have been. By 1976, more than 6400 fastbacks had been produced, plus 456 convertibles and about 50 coupes. Rodefer's example, fresh from restoration, is immaculate, with flawless paint, brightwork, rubber, and glass.
By the time this car came off the line in West Bromwich, England, Jensen had come a long way since the 1935 Jensen S, the first car created by Alan and Richard Jensen under their own brand. It was also the brothers' first transatlantic collaboration, with a 3.6-liter Ford V-8 providing power. The first model to carry the Interceptor name appeared in 1950, although just 88 were built—a good thing, because they were ungainly. The company had more success with several fiberglass-bodied cars and then began producing the second-generation Interceptor in 1966. Its steel body, designed by Vignale, was welded to a tubular chassis fitted with a big Chrysler V-8 driving the rear wheels. (Spotters' note: The Interceptor is quite similar to, although slightly shorter than, the Jensen FF, the world's first production car with four-wheel drive and four-wheel anti-lock disc brakes.) Early Interceptors carried a high-compression 383, but, in late 1972, Jensen switched to the low-compression, 220-hp 440 to meet America's new emissions standards. Performance fell off as a result, but the 350 pound-feet of torque helped make up for it.
The shut-lines on Rodefer's Jensen are perfect, as they reportedly were on every Interceptor that left the factory during the production run. The heavy driver's door closes with a satisfying kerchunk. Headroom is plentiful, and the seats invite you to spend long hours in them. Although they lack bolsters, you're kept in place by the proximity of the door on your left and the tall tunnel housing the TorqueFlite three-speed on the right. The engine sits way back in the chassis, so the cabin is condensed, and the deeply bucketed rear seats are practical only for people with two-dimensional legs, which seems odd in a car that feels so large.
Twist the key, engage the starter, and the 440 whinnies and neighs for a few seconds before it catches with the deep, snorty trumpet of a draft horse. Moments later, it settles to idle around 900 rpm and resonates with a low snarl you don't hear so much as feel in your skull. It's unnerving. There's a big tachometer front and center with a 5200-rpm redline, and angled auxiliary gauges stretch for miles across the dash.
Acceleration is linear and lazy and not at all explosive in the way a 440 from, say, 1971 would have been. This is not stoplight-to-stoplight Mopar. My first glimpse of the Jensen's true calling is on an open stretch of Mulholland Highway west of Malibu Creek State Park. Quite simply, the Interceptor is a continent crosser, stable and fast and quiet at an easygoing 2200 rpm. It is a car that makes you want to be a traveling salesman—of anything—as long as the western U.S. is your territory.
Even as the road climbs and the turns get tighter, the big Jensen is easy to hustle. Its 50/50 weight balance and precise, boosted steering make for fast directional changes. Despite its simple live rear axle and leaf springs, handling is neutral, with superb body control. Mashing the throttle out of turns kicks down the transmission, which gets you closer to the kind of propulsion an engine this size should deliver.
There is nothing disappointing about the Interceptor, which represents some of the best British automotive engineering of its era. The A/C blows cold, and even the power antenna pops to life when you turn on the stereo. Its only knock is that it lacks the raw edge that could only come from an earlier engine unchecked by smog plumbing.
1970 ISO GRIFO
It's late afternoon when I join owner Michael Eckstein in his Iso Grifo (pronounced "ee-so gree-fo"). Iso is one of those curious European marques best categorized as etceterini, with its Italian roots in company founder Renzo Rivolta's refrigerator manufacturing business, Isothermos. In the immediate post-WWII years, Rivolta, recognizing the need for cheap transportation, started building scooters, then motorcycles, and, finally, a tiny egg of a car called the Isetta. Five of them raced to great success (meaning, they finished) in the 1954 Mille Miglia, and the car soon attracted the attention of BMW, which purchased the rights, plans, and tooling and moved production to Germany, where the Isetta sold on a scale Rivolta was never able to achieve. The lump payment plus royalties made Renzo Rivolta rich, and like many rich, car-loving industrialists in the era of Italy's miracolo economico, Rivolta decided to make his own Italian-designed-and-built GT, without, as he saw it, the hassle and unending expense of an Italian-designed-and-built engine.
With the 1962 Iso Rivolta, a four-place GT styled by Giorgetto Giugiaro at Bertone, he certainly succeeded. Riding on an advanced pressed-steel platform chassis drawn up by former Ferrari engineer Giotto Bizzarrini, it was as well appointed as any contemporary luxury car of the era and powered by an Iso-tuned Corvette 327 small-block. A year later, Rivolta unveiled the $15,000 Grifo, a two-seater riding on slightly modified architecture. By the end of Grifo production in 1974, after 402 cars had been built, power would also come from Chevrolet 350s, 427s, and 454s, as well as from the Ford Cleveland 351. Imagine working the production line at the Iso factory and stuffing the Grifo's front end with an engine as big as the Isetta you'd built a decade before.
Eckstein's Grifo is one of about a dozen targas built. The interior is finished in white leather and perfect black stitching, with lovely quilted door panels and a lacquered walnut dash that warms the space. It is also full of pieces—window cranks, heater controls, Veglia gauges, and other bits and bobs—familiar to any Alfa, Fiat, or Lancia owner. Parts-bin usage aside, there's an elegance to the Grifo that is characteristic of cars from the golden era of Italian automotive design. The small-block Grifos also trump their later big-block brothers, which out of necessity have an awkward, taller hood that looks like someone set an extra-large pizza box on it. Even at a standstill, the low, flowing Grifo appears to be going 150 mph.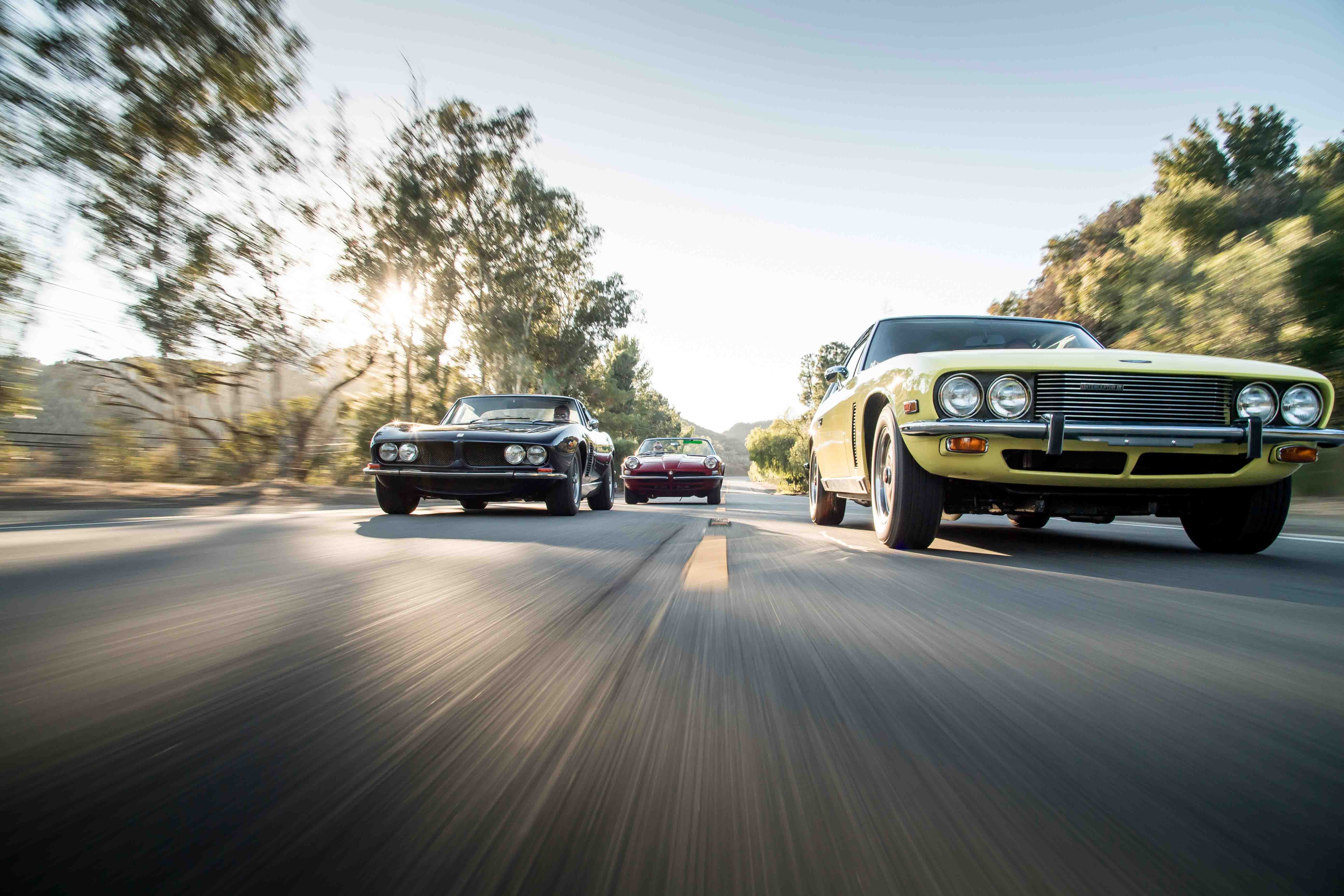 I won't be going anywhere close to that, because the ZF five-speed's first-gear synchros are crunchy. The Grifo is easy to launch in second, but by the end of the day, that gear is wonky, too. The 350-cubic-inch V-8, on the other hand, shrugs. It's happy to climb toward its 350-hp peak output at 5800 rpm, singing through a power band that begins at 2500 rpm. Once you step through the resistance of the throttle to open the secondaries, the engine pulls hard to at least 6000. The Grifo's frantic obedience is far different from the dopey tractability of the Jensen or the AC's torquey push.
The Iso handles well, particularly in fast turns, where it stays flat with no hint of understeer. The fat BFGoodrich T/As are far more tire than was originally fitted, and coupled with the unboosted steering, the Iso feels overburdened by grip through tight switchbacks.
At day's end, Ailene Chambers's old AC is still purring. It was indeed up for anything. Later, she would tell me she spent about $5000 to get it ready for our photo shoot, half of that to replace the original tires, another chunk on new brakes. The engine, well, it's an old Ford. She oiled the cylinders, tuned the carb, put in fresh gas, and replaced the plugs and hoses. Therein lies the beauty of not only the AC but also the Jensen, the Iso, and every other Anglo/Euro/American mashup of the past six decades. The sheetmetal may be exotic, but the workaday iron lumps beneath the sleek surfaces are anything but.
America has always loved its V-8s—in our family sedans and pickup trucks, in our muscle cars and vans and boats. Pushrods, hydraulic lifters, and gobs of torque for all. And even though none of these three cars rolled out of a Detroit factory, this story is an ode to the engines that made them possible. The AC, the Jensen, and the Iso remind us that, like Hollywood movies, the V-8 is among our best exports.
The article first appeared in Hagerty Drivers Club magazine. Click here to subscribe to our magazine and join the club.