Why did the dirt bikes cross the lake? To get to the other ride
Faded and forlorn, The 1970 Chrysler Sport Fury in the Craigslist ad lazed in a dirt lot, its dramatic Pirates Gold 16-foot hull chalky and dull, its white vinyl interior moldy, and its energetic 85-hp Magnapower outboard entangled in creeping vines. Once a catalyst for family fun, it was now neglected and needy, like a swaybacked nag. Its time, quite sadly, had passed. Or had it? I'm a total softy for neglected machinery, so I quickly fell in love, opened my wallet, and bought it.
I loved that the boat, the motor, and the trailer were all produced by mighty Chrysler Corporation during its 1965–84 dalliance with America's recreational boom. More important, I liked its shape. Chrysler's "cathedral hull" runabouts debuted for 1969, promising superb stability, an affable ride, and roomy interiors. And it was the generous floor area that really hooked me, because the Sport Fury's six-by-five-foot cockpit looked similar to a pickup bed in size, which, as every hillbilly knows, is just right for carrying dirt bikes.
"Huh," I thought, "dirt bikes in a boat…"
If an asteroid can hurtle through space for 4.6 billion years before igniting in Earth's atmosphere, why can't an idea do the same in our brain pans? Ten years ago, I stood on the northern shore of a pretty lake in California's Sierra Nevada. On the far side, amid a backdrop of craggy hills, I saw faint off-road tracks. The sight excited my prefrontal cortex with the idea to go ride them. But how? The discovery of the Chrysler boat online and the 1969 Honda Motosport 90 moldering in my garage made the answer abundantly clear.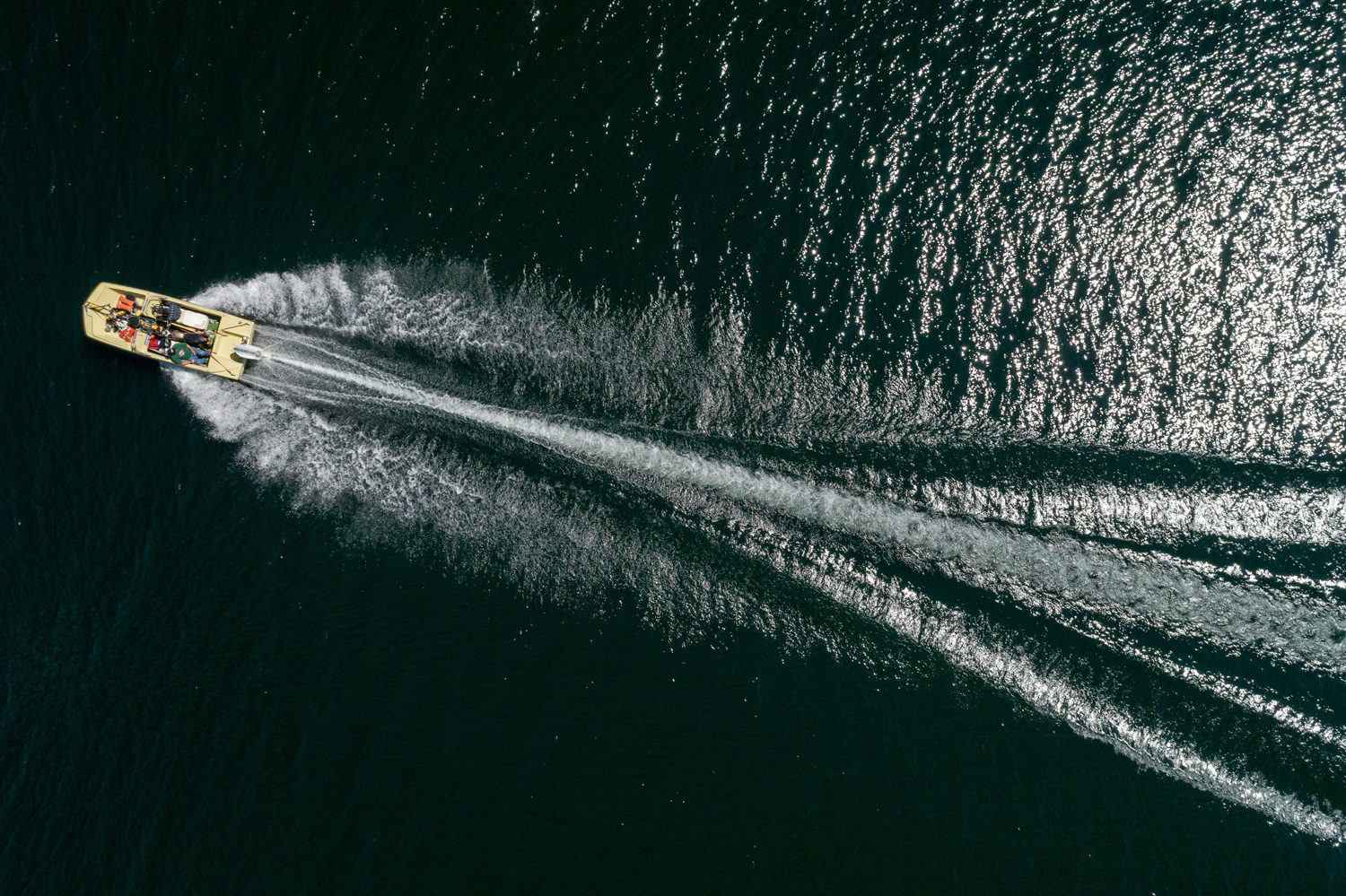 After dozing for decades, the little Honda wouldn't run. A sulfated battery, a dodgy-looking carburetor, gooey oil in the crankcase, and jammed controls all emerged as I began its resurrection. A new battery delivered spark, but deeper problems lurked within the Keihin carb. Every passageway was choked with gas residue or aluminum oxide. The throttle slide was frozen, too. A long soak in carb cleaner followed by dental-hygienist-caliber handiwork got it done.
Swapping rubber seals between various Honda petcocks produced a working fuel system, but for one critical component: sunken, gasoline-filled floats. Unable to do their job, namely, float, they let the engine flood continually, leading to hard starting and an awful overall state of tune. Repetitive searches produced just one NOS float in the U.S. I bought it, and the Honda was reborn.
I'd convinced my travel buddy J.G. to come with me on this adventure, so a mutual friend lent him a 1970 Honda Trail 90, and like that we were bike-ready.
Until removing the Chrysler's engine cover, I thought I knew two-strokes. But under the cowling was a rat's nest of wiring, hoses, rods, bell cranks, and belts. Worse still, the mechanical maze wouldn't run when I hooked up a fuel tank and car battery and turned the key.
Unlike a classic bike motor, which uses gravity to feed the carburetor(s), the Chrysler outboard has a vacuum-operated pump to deliver premix from a six-gallon tank to its carbs. Primitively, the starting process requires squeezing a rubber priming bulb to lift fuel from the low-lying tank to the fuel pump. That wasn't working, due to an air leak at the quick disconnect.
I found a new coupler, and after I cleaned the carbs, the bowls filled easily. Still, the engine refused to start and instead backfired dramatically. After much trial and error, I discovered the engine liked lots of throttle to start. With that critical intel, it caught and idled fine in a tub of water.
After weeks of fussing, it was finally go time. The boat and the trailer towed flawlessly en route to the Sierras, while the bikes sat tight in the bed of our Ford F-150. Once at the launch ramp, I lowered the truck's tailgate and angled a plank from the bed onto the boat's wide bow. J.G. and I rolled the Motosport 90 into the boat and repeated the process with the Trail 90. Launching the Chrysler and its moto cargo into the lake was easy, and suddenly there was nothing left to do but do it. On this quiet morning in late summer, the lake was nearly deserted, save for us odd ducks and our old rattrap speedboat doing duty as an aquatic pickup. Despite the 7650-foot elevation, the wizened old motor started instantly—snorting, shaking, and smoking like Churchill on a whiskey bender.
Advancing the throttle for the first time, however, was terrifying. Would the motor stumble and die? Shake itself off the transom and sink? Would the strangely loaded hull nose underwater or capsize? No, no, and no, it turns out. Instead of disaster, boat and motor worked together like a diazepam dream as the revs and speed built. Once above 3000 rpm, the three-cylinder mill smoothed out, and the cathedral hull rode and handled great. Eyeing the lake's far shore, I felt a surge of adrenaline.
Soon we navigated around a point to find a deserted cove offering a broad, hardpacked beach, a protective rock formation to windward, lovely shimmering aspens, and beyond them, the two-tracks that had ignited my imagination a decade ago.
Unloading the bikes went quickly, and after some beach riding and hill climbing, I broke away to explore a mystery. Years earlier, in talking with an old-timer about this spot, he'd described a narrow single-track path that wound toward the distant Sierra peaks. Lord knows I tried to find it, riding to the bitter end of every two-track I encountered, scanning the surroundings, and even scaling a rocky escarpment for perspective. But the reputed single-track wasn't there—just miles of forbidding rock.
They say we're empowered by victory but learn more from defeat, so I regard this trip as a blend of both. It proved that using a castoff boat to haul vintage bikes is not only possible but doable. It also reminded me that not reaching your absolute goal—in my case, finding that mythical path into the towering Sierras—is no cause to quit.
It just made me hungry to try again.
The article first appeared in Hagerty Drivers Club magazine. Click here to subscribe to our magazine and join the club.