2020 Bull Market List: 10 collector cars (and one bike) on the rise this year
For the past two years, Hagerty has been foolhardy enough to share our list of the cars, trucks, SUVs, and motorcycles we believe will gain the most value over the next year. We say "foolhardy enough" because the only thing crystal balls do reliably well is fail to predict the future. "Foolhardy enough," too, since placing the emphasis on a car's monetary value over its other virtues is, as every gearhead knows, a total inversion of priorities.
We're well aware of these limitations, but we also believe the list is worth compiling to highlight growing trends and changing tastes among fellow car faithful. And although our advice is to place investment potential a distant second or third in your priorities as you seek out the car you love, fans of any of this year's honorees might want to buy soon before they miss their chance.
The themes for 2020 are an extension of those of previous years, with the models looking less like traditional classics and more like the wish list of the high school Class of 1999. Which makes perfect sense given that the Class of 1999 is now 39 and splashing out on the cars of their youth (like every generation before them). The models here are more modern and more affordable than a conventional classic, but their unifying trait is that they're all fun. That's true for a chuckable CRX, a screaming Ducati sports bike, or a burly Scout SUV. When they're running right—Range Rover, we're looking at you—they can each make you forget about everything but the experience, no matter what flavor that experience takes.
Back in 1988, in the deep K-car days at Chrysler, then president Bob Lutz, the owner of a real AC Cobra, dreamed of building a modern Cobra to give Dodge's sleepy dealers a showroom magnet. But Lutz first had to sell it to chairman Lee Iacocca. He wisely enlisted Carroll Shelby, who was on Chrysler's payroll as a "performance consultant," to help seal the deal. Shelby reportedly did so by shouting at Iacocca, "You have got to do this. Trust me, it will be great!" And the Viper was born.
The RT/10 roadster came first, arriving in 1992 with a 488-cubic-inch V-10 making 400 horsepower. Loud, lewd, and more intoxicating than anything else out of Detroit in decades, it was just what Lutz wanted. Every new model year brought more refinement, and in 1996, the second-generation Viper arrived with the option of the GTS coupe. Now belting out 450 horsepower, the coupe and its styling paid fitting tribute to the Daytona Cobra coupes of 1965. The GTS was vastly different from the RT/10, with luxuries such as power windows, air conditioning, and doors that really locked. It was a real car rather than a novelty. Sure, the side windows would pop out at high speeds, and the car was far from perfect in many other ways, but owners loved every minute of it.
Hitting the track in Hagerty members Jamie and Paula Fillow's pristine 1997 brings back a flood of great memories. With steamroller tires and boundless torque, a Viper is quite easy to hustle around, especially on a smooth surface. It's part Batmobile and part NASCAR road-course car, and simply a riot. The car's looks have proven timeless, which is how Jamie ended up with this GTS nine years ago. "I was looking for a Corvette but stumbled on this Viper and loved the way it looked. And I still do!" Just one of the reasons we, too, think now is the time to buy. Vipers are fast, easy to live with, their looks still stop folks in their tracks, and let's not forget the bonus Shelby connection. That's a lot of boxes checked for not a lot of money. For now.
[+] Instantly recognizable concept-car look; huge performance; great club support; a supercar with pickup-truck durability.
[–] Ergonomics only slightly worse than those of a 1940s Coney Island bumper car; body and trim parts becoming hard to find; many have been modified or wrecked.
1997 DODGE VIPER GTS
Engine: V-10, 7990 cc
Transmission: 6-speed manual
Power: 450 hp @ 5200 rpm
Torque: 490 lb-ft @ 3700 rpm
Weight: 3400 lb
Power-to-weight: 7.6 lb/hp
Brakes F/R: disc/disc
Price when new: $66,000
Hagerty value: $47,800–$55,900
THE HAGERTY VALUATION TEAM SAYS:
Generation Xers and millennials are now 64 percent of the quotes on this car. The Viper has a reputation for being crude and uncompromising, but it's a driver's car and a visceral experience. The outlandish design has aged well, and attrition has worked in the Viper's favor, meaning there aren't a lot of good ones left. The early cars are now seen as desirable.
The "people's car company" threw us a curve with the expensive and ambitious Corrado. Volkswagen advertised the chunky and distinctive coupe, actually built by VW's longtime partner Karmann, as the VW of sports cars, meaning fun but practical, beautiful yet functional, and powerful yet responsive. However, unlike VW's other sporty coupe, the Scirocco, the Corrado was not simply a rebodied Golf. It had its own chassis—still front-wheel drive—and a blown version of VW's eight-valve four-cylinder engine, called the "G60" because of it's unusual G-Lader scroll-type supercharger.
With 158 horsepower, VW—trying to be Porsche—said the Corrado accelerated quicker than a Porsche 944 and was good for 140 mph, heady numbers back in that decade of peak Springsteen. The feature most remembered is the rear spoiler, which rose on motorized struts at speed to increase high-speed stability. The Corrado also carried VW's steepest price, at $17,900.
For the 1992 model year, VW swapped the supercharged engine for its VR6 motor, a novel and compact V-6 with a single cylinder head and a narrow 15-degree V-angle between the cylinder banks. Despite that addition, the Corrado didn't exactly fly from showrooms, and it was gone from the U.S. after the 1995 model year. Just under 100,000 were made.
The car pictured here is a 1990 model, and it still has the supercharged engine, which is becoming rare. Many of the original G60 motors were later replaced with VR6s. Hagerty member Jonathan Goncalves provides this reason: "The G stands for 'grenade,' and the 60 represents the 60,000-mile mark when the superchargers go boom." The base engine is reportedly robust, but the blowers require a preventive rebuild to avoid meltdown, and a new supercharger runs $2500, more than the cost of a junkyard VR6.
Back in the day, writers praised the G60 for its prompt throttle response but derided its coarseness. Time hasn't smoothed it, but there's a charm to the deep-throated, rumbly powerplant with ample grunt. Corrados are roomy for passengers and luggage, frisky on curvy roads, and capable highway cruisers, and you'll likely have the only one at the local cars-and-coffee. Perhaps VW's first swing at Porsche just needed 30 years of depreciation to make sense.
[+] Robust community support; fun to drive; VW's first attempt at building a Porsche competitor; more rare than a Scirocco, and those aren't exactly common.
[–] Hard to find Corrado-specific parts; the G-Lader supercharger is a grenade waiting to go off; somewhat unknown except at VW events.
1990 VW CORRADO G60
Engine: inline-4, 1781 cc
Transmission: 5-speed manual
Power: 158 hp @ 5600 rpm
Torque: 166 lb-ft @ 4000 rpm
Weight: 2600 lb
Power-to-weight: 16.5 lb/hp
Brakes F/R: disc/disc
Price when new: $17,900
Hagerty value: $5700–$8000
THE HAGERTY VALUATION TEAM SAYS:
This car appeals equally to all age groups. With #2 cars going for $6500, it's a cheaper entry point than a GTI of the same vintage but more rare. Our insurance quotes are up 25 percent on this car from 2018, so the interest is burgeoning.
The tattered reputation of Ferrari was just making a comeback with the F355 in the late 1990s when the company's then chairman, Luca Cordero di Montezemolo, divulged his next trick to modernize the house of Enzo: aluminum. Partnering with—some said arm-twisting—U.S. supplier Alcoa to develop the 355's replacement, Ferrari unleashed the 360 in 1999 as its first aluminum opus in what would become a company-wide switch to the lightweight alloy.
The graceful Pininfarina lines harnessed existing Ferrari iconography such as the quad round taillights while ushering in new ones like the hedonistically transparent engine cover, which left no doubt as to the star of this show. Underneath red intake plenums that looked like a pair of nice gams in red spandex, the 40-valve 3.6-liter Tipo F131 V-8 was a characteristically Italian short-stroke screamer, wailing to 8500 rpm in frenzied pursuit of its 400 horsepower (although only 275 pound-feet of torque, about the same as the 2020 Honda Accord Turbo). Gated shifters were still available on Ferraris back then, as was an F1 paddle-shift transmission.
The 360 Spider appeared a year later and was notable for looking gorgeous regardless of whether the top was up or down. The engineers produced a folding roof that didn't hide the engine when stowed, and extensive wind-tunnel work produced an open cabin remarkably isolated from wind noise. More than 17,000 copies of the 360 emerged from Maranello, and for many of the model years, spiders represented over half the production.
Hagerty member Jay Stolfi of West Hartford, Connecticut, started his Ferrari journey with a 308GTS Quattrovalvole in the unusual shade of Prugna, or plum. He switched to this 2002 360 when he found a perfectly unmolested example in Florida. "I like them to be totally original. Yes, the radio is godawful, but it's original." And, obviously, he's open to non-red Ferraris.
The 360's stock exhaust is remarkably quiet considering the latter-day reputation of V-8 Ferraris as wailing wonders—at least until you stick your foot in it. Once the revs are up, it's a furious passion play of rip and snarl, with intensely focused steering and brakes. "You don't take a seat in this machine," wrote Car and Driver's Patrick Bedard at the time. "You snap into its socket, and the juice zaps through your body."
[+] The thrill of a Ducati with much less danger of death or maiming; an affordable entry into one of the world's most exclusive clubs; relatively reliable for a Ferrari.
[–] Cam belts need periodic (and expensive) changing; brutal parts costs; early cars have more issues; many have been beat on.
2002 FERRARI 360 SPIDER
Engine: V-8, 3586 cc
Transmission: 6-speed dual-clutch
Power: 400 hp @ 5500 rpm
Torque: 275 lb-ft @ 4500 rpm
Weight: 3100 lb
Power-to-weight: 7.8 lb/hp
Brakes F/R: disc/disc
Price when new: $170,779
Hagerty value: $82,200–$89,600
THE HAGERTY VALUATION TEAM SAYS:
More of these cars are coming off normal insurance policies and onto Hagerty policies, the number rising 211 percent in the past three years. Which means they're gaining more of a reputation as an enthusiast or collectible car rather than a used exotic. The design has aged well and looks elegant in a way a lot of cars from that era don't. The F1 transmissions were more common, but the gated shifter is what collectors want.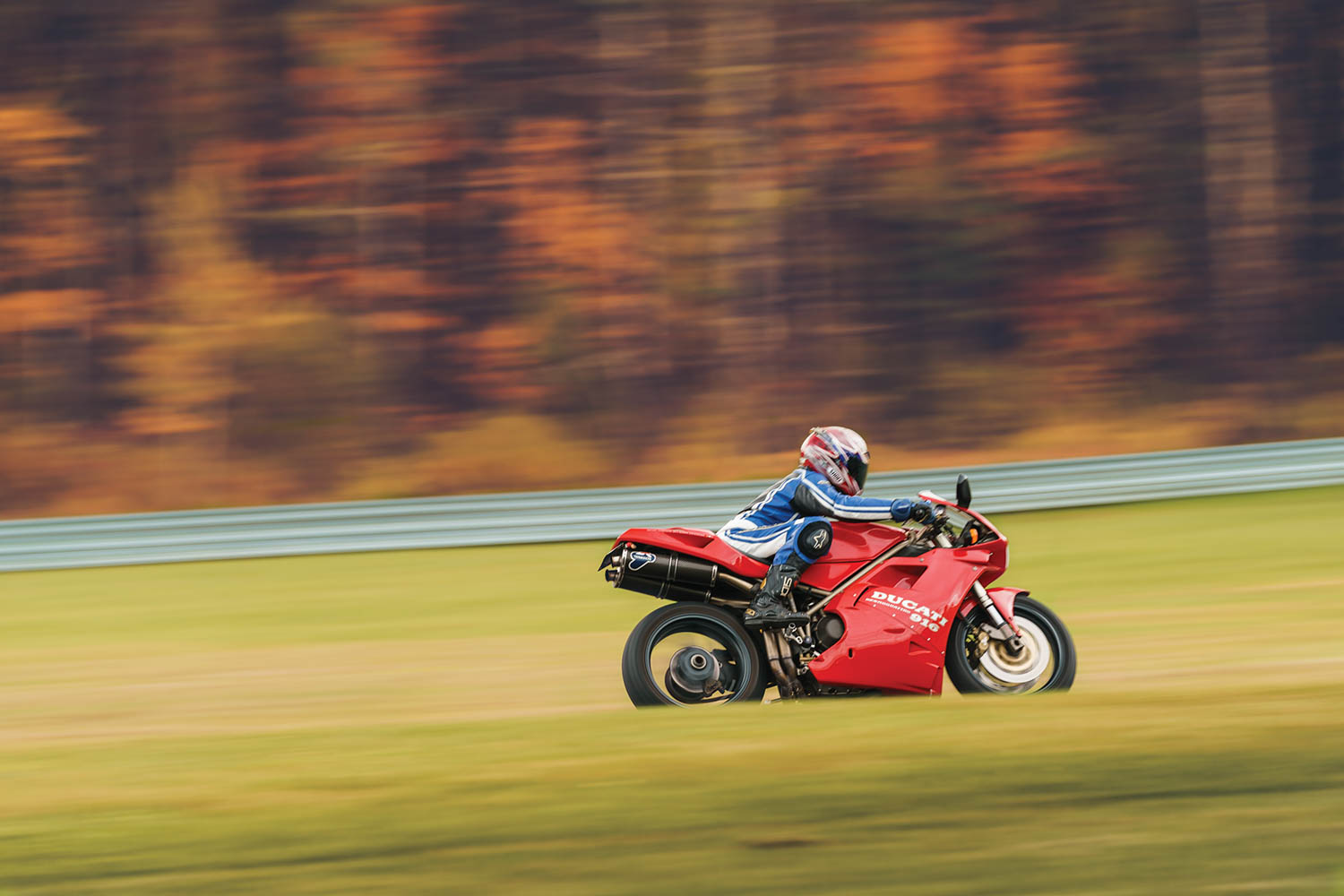 Hagerty's first ever Bull Market motorcycle is an undisputed Italian icon. It reversed the fortunes of a floundering company and set motorcycle design—indeed, to some extent, all industrial design—on its ear when it wheelied onto the scene in 1994.
Penned by the "Michelangelo of motorcycling," Massimo Tamburini, a one-time air-conditioning-duct maker who never went to college, the 916 ended the era of the plastic bullet by granting slit-skirt glimpses of the machinery within. It launched the modern trend of seminaked superbikes as cyberskeletal thrust rockets, the 916's sassy underslung tailpipes a brazen feature now relentlessly copied. The New York Times described Tamburini's curvaceous creation as "a winged Mercury crossed with a Gibson Girl," and the prestigious Solomon R. Guggenheim Museum made the 916 a centerpiece of its Frank Gehry–designed Art of the Motorcycle exhibit in 1998.
More important for struggling Ducati, the 916 attracted rich throttle jocks like flies to a watermelon and sold like mad despite its lofty price. It also brought Ducati four World Superbike titles, one for every year the bike was in production, and elevated the brand's stock so high that VW Group chairman Ferdinand Piëch ordered Audi to buy Ducati for the staggering sum of $1.12 billion in 2012.
Within its light and compact tubular-truss frame is suspended a 90-degree fuel-injected and water-cooled 916-cc V-twin featuring a "quattro desmodromic" valvetrain in which cam-driven rocker arms open and close the engine's eight valves, dispensing with traditional valve springs. Ah, the Italians, always doing something different. The flatter torque curve of the V-twin sets it apart from its four-cylinder Japanese rivals as much as its clattering dry clutch. Hagerty member Paul Montrone of Glen Rock, New Jersey, said of his '95 916, "It's loud, it's hot, it's uncomfortable, but it's great. You can't not have a smile on your face." Mostly a track rider before he had kids, Montrone let us saddle it for a few laps after repeatedly warning us of his bike's switch to a racing-style shifter, which reverses the street-shift pattern from one-down, four-up to one-up, four-down. As loud, hot, and uncomfortable as advertised, the 916 is also swift, supple, and ridiculously sexy. If you try it and don't want more, you might not have a pulse.
[+] A voluptuous Italian icon at an affordable price; props from the biker crowd wherever you go; the thrill of a Ferrari with none of the stultifying safety.
[–] Effectively a racing machine with heavy maintenance needs; very unhappy in the city; the spindly, spring-loaded side stand has caused a lot of tears.
1995 DUCATI 916
Engine: V-twin, 916 cc
Transmission: 6-speed manual
Power: 109 hp @ 9000 rpm
Torque: 67 lb-ft @ 6900 rpm
Weight: 429 lb
Power-to-weight: 3.9 lb/hp
Brakes F/R: disc/disc
Price when new: $14,495
Hagerty value: $10,700–$13,300
THE HAGERTY VALUATION TEAM SAYS:
Plastic fairings are becoming accepted in the collectible-motorcycle world, and which fairing would buyers want more than the red one gracing the Ducati 916? Motorcycle rider or not, buyers are moving on these for both aesthetics and pleasure.
International Harvester's light-truck division was all but dead by 1979. The company known for providing tractor and fleet vehicles was feeling the pinch of the energy crisis, and the Metro and the Travelall got the ax, leaving the Scout to carry on as the company's sole consumer offering.
Desperate to keep their beloved truck relevant in a sea of Jeeps, Blazers, and Broncos, International continued to gussy up the last child in the house with a panoply of options. The result: a choose-your-own-adventure sport-utility vehicle available in four body styles—a softtop, a hardtop, a removable steel top, and a pickup. The Scout also offered four engines, numerous fabrics, different bumpers, different tires, various wheels, and an array of decal packages.
Despite the long menu, more than 90 percent of Scouts sold had four-wheel-drive running gear and a V-8. Hagerty member and valuation editor Colin Comer supplied our Scout II Traveltop, having found the one-owner truck in Arizona last year and brought it back to his stable of vintage off-roaders in Milwaukee. Outside, optional wood-grain "shadow stripes" adorn a glossy white top coat. Inside, original Russet Orange plaid cloth and vinyl upholstery tightly hug the springy bucket seats and matching bench in the back. Familiar General Motors bits, such as the steering column, are scattered throughout. The interior feels like the inside of a log cabin in aesthetic and space. However, measuring about a foot shorter than a Blazer, and possessing a two-foot-tighter turning radius than a CJ-7 from the same year, the Scout is relatively compact and nimble, capable of thrashing a tight trail or nuzzling into any mall parking spot without worry.
The Scout is the last of the affordable classic sport-utes. American rivals such as the Ford Bronco and Chevy Blazer have out-appreciated the Scout, but its values are on a steady climb, the result of enthusiasts realizing they can have the same amount of fun and curb appeal for a fraction of the Bronco price. Low buy-in, high ceiling. To steal from a slogan from an old Scout advertisement: "There are times you just don't compromise." This could be one of them.
[+] Like a Bronco but cheaper; tough enough to survive a zombie apocalypse, with enough graphics and paint to match your favorite sweater.
[–] Parts can be difficult to find; frat-bro thirst for fuel.
1979 INTERNATIONAL HARVESTER SCOUT II
Engine: V-8, 5654 cc
Transmission: 3-speed auto
Power: 168 hp @ 3800 rpm
Torque: 288 lb-ft @ 2000 rpm
Weight: 3800 lb
Power-to-weight: 22.6 lb/hp
Brakes F/R: disc/drum
Price when new: $7212
Hagerty value: $25,500–$32,500
THE HAGERTY VALUATION TEAM SAYS:
The vintage-SUV craze has been going strong for eight years, but Scouts haven't really popped yet like FJ40s, Broncos, and Blazers have. Most Scouts rotted away, but you're starting to see them being restored. Gen X is 56 percent of the quotes, and if Gen X likes it, the values are going to go up.
The first-generation Honda Civic CRX was in U.S. dealerships from 1984 through 1987 and was never intended to be a performance car. Quite the opposite, in fact. Honda intended the CRX to be a sporty commuter car that was fuel efficient and practical. Although its two-seater configuration might have hinted at "sports car," Honda's jettisoning of additional seats was simply a weight-saving move. And it worked. These diminutive commuters, with their 86-inch wheelbase and 1900-pound curb weight, could easily achieve 40-plus mpg from their miserly 1.3-liter engines. People loved the CRX, including Motor Trend, which named the CRX its Import Car of the Year in 1984.
But then Honda did a very Honda thing. It introduced a performance version of this perfectly fine commuter for the 1985 model year. It was the CRX Si, featuring a 1.5-liter engine with EFI and 91 horsepower, as well as a host of improvements throughout. It quickly became a motorsports phenomenon by dominating the SCCA GT4 class in 1985 and 1986. For 1988, an all-new, second-generation CRX arrived, again available in Si trim. Gone were the front torsion bars and rear beam axle of the first gen, replaced by an advanced unequal-length control-arm suspension at all four corners, which greatly improved ride and handling.
The Si now had 105 horses from a 1.6-liter, but its magic was still in its curb weight of 2100 pounds. The CRX's low hoodline, tremendous greenhouse, thin A-pillars, wonderful ergonomics, and surprisingly spacious cabin represent an enjoyable place to be; they also show us how much crash standards and airbags, among other "advancements," have truly cost us in the years since. But merely sitting in Hagerty member Rich Carruba's one-owner second-gen CRX Si hardly tells the story—you need to drive one. Tight, torquey, eminently tossable, and with a feeling of quality that oozes from every piece, from the switchgear to the seat fabric, it is amazing to think these were $10,000 cars when new.
[+] Grassroots motorsports legend; came before the depths of crash and emissions standards' weight and complexity made "lightweight" a thing of the past; good ones still available for about their original price.
[–] Si spec doesn't completely disguise economy-car roots; many modified or driven to death; tendency to rust in the Rust Belt.
1989 HONDA CRX Si
Engine: inline-4, 1590 cc
Transmission: 5-speed manual
Power: 105 hp @ 6000 rpm
Torque: 98 lb-ft @ 5000 rpm
Weight: 2100 lb
Power-to-weight: 19.0 lb/hp
Brakes F/R: disc/drum
Price when new: $10,195
Hagerty value: $11,200–$15,300
THE HAGERTY VALUATION TEAM SAYS:
These filled every high-school parking lot in the 1990s, and millennials are now 60 percent of the quotes. One of the first front-wheel-drive sporting Japanese cars to get widespread recognition from enthusiasts, it is symbolic of the golden age of Honda, quick and go-kart-like and able to make any drive fun.
The Integra Type R, introduced for 1997, has front-wheel drive, a wispy 130 pound-feet of torque, and looks like what it is: a two-door compact from the 1990s. These days, a really clean one might cost you $50,000 or more. On paper, that doesn't quite make sense.
Inside the tight cabin of this yellow 2000 Type R, though, it suddenly all makes sense. The handling through Lime Rock's Big Bend sweepers is neutral, not like a front-driver at all. The five-speed manual is Santana smooth. Most of all, it's loud. So, so loud. A good loud. By the end of the track's front stretch, the once tame Integra is shrieking. In the interest of weight saving, barely any sound deadening separates the engine from the driver's ears.
The R stands for "racing," and the 1.8-liter four-cylinder that comes with it, code-named B18C5 in Honda-speak, redlines at 8400 rpm. We're talking the highest piston speed of any production-car engine in the world at the time, yielding more horsepower per liter than a Ferrari F355. Shigeru Uehara, the veteran Honda engineer responsible for the S2000 and NSX (and a personal friend of Ayrton Senna's) served as chief engineer for the Type R. He can be credited with the incredible chassis tuning. To say the Type R handles better than other front-drivers is to miss the point, which is that it handles better than just about anything. Boy racers swooned. Acura left the Type R recipe alone for four years of production, only introducing yellow and black as new colors halfway through the run.
Hagerty member Joe Stubenrauch, 56, is hardly a boy racer, which partly explains why the Type R he bought new in 2000 is still showroom fresh, despite 93,500 miles on the clock. (Not quite as nice as the 1191-mile example that brought $63,800 at Barrett-Jackson Vegas, but damn close.) Stubenrauch spends nearly four hours per day commuting via train to and from his publishing office in New York City. There is likely no better escape from public transit than wringing every last decibel out of this wolf in commuter-car clothing.
[+] "Young timer" vehicles are a thing now; immediate respect at any cars-and-coffee.
[–] Don't expect to get one off the line quickly; absent the "R" on the side, it looks like just another Integra.
2000 ACURA INTEGRA TYPE R
Engine: inline-4, 1797 cc
Transmission: 5-speed manual
Power: 195 hp @ 8000 rpm
Torque: 130 lb-ft @ 7500 rpm
Weight: 2600 lb
Power-to-weight: 13.3 lb/hp
Brakes F/R: disc/disc
Price when new: $24,830
Hagerty value: $40,700–$51,200
THE HAGERTY VALUATION TEAM SAYS:
Although front drive is generally shunned, the Type R is widely considered the best-handling front-driver of all time. Huge with millennials; half the quotes are from them. Type Rs are super rare and hard to find in good shape and only newly added to our price guide because three years ago sales were scant.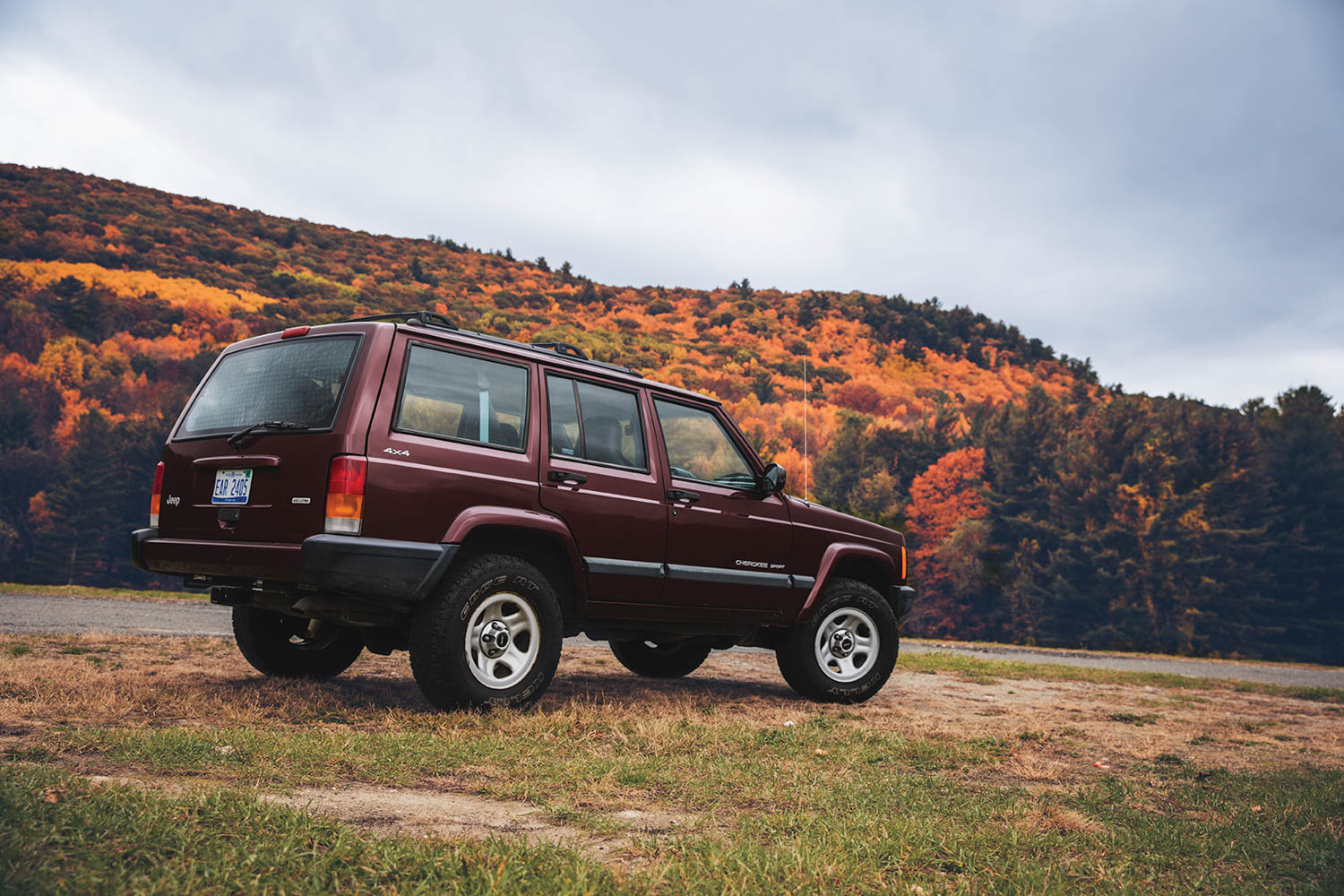 The Cherokee was the last vehicle produced under the direction of longtime American Motors design chief Dick Teague, a former Packard designer who was responsible for the Pacer, among many other AMC cars. What a crowning achievement this Jeep was. Its shape could be described as gracefully boxy, with an upright seven-slat grille and square headlamps. No wonder AMC, then Chrysler, and then DaimlerChrysler sold 2.5 million of them from 1984 through 2001. And no wonder millennials are now rediscovering them.
Although Jeep first put the Cherokee badge on a two-door version of its Wagoneer in 1974, most people associate the name with the much smaller, lighter vehicle that arrived a decade later. This Cherokee was built on a unibody platform, and its four-wheel-drive system, called Command-Trac, could be engaged on the fly. Today's go-to family vehicles—the Ford Explorer, Honda CR-V, and the rest—are its descendants.
Initially, power came from AMC's 2.5-liter four or a GM-derived 2.8-liter V-6 (and, briefly, by a Renault-sourced turbo-diesel four), but its hallmark engine was a torquey 4.0-liter inline-six developed by AMC and put into production in 1987, the year Chrysler Corporation took over American Motors. A more advanced four-wheel-drive system called Selec-Trac, which would become another Jeep staple, was also introduced that year.
The Cherokee was an immediate hit with critics and buyers across all socioeconomic strata. It was (and still is) as welcome in Beverly Hills as it was in a back-country bayou. Its appeal proved incredibly long-lived. The new-for-1993 Grand Cherokee was originally supposed to replace the Cherokee, but the Cherokee was so popular, Chrysler wisely kept it in the lineup for another eight model years. Jeep enthusiasts did not take kindly to its eventual replacement, the Liberty, which didn't look the part.
Hagerty member Rusty Blackwell got his 2000 stick-shift Cherokee for $2800 and uses it as a daily driver. Pristine examples have been trading of late in the mid and high teens and above. Compared with the modern SUVs it effectively paved the way for, the Cherokee is spare, creaky, and noisy. But the 4.0-liter engine still runs strong, and the clean, simple lines are as appealing as they were the day Teague's team penned them.
[+] All-American, ageless styling; stout inline-six; tons of aftermarket parts and supplies.
[–] Lots of beat-up examples out there; hardly built like a Toyota.
2000 JEEP CHEROKEE
Engine: inline-6, 3962 cc
Transmission: 5-speed manual
Power: 190 hp @ 4600 rpm
Torque: 225 lb-ft @ 3000 rpm
Weight: 3360 lb
Power-to-weight: 17.7 lb/hp
Brakes F/R: disc/drum
Price when new: $21,665
Hagerty value: $7600–$10,400
THE HAGERTY VALUATION TEAM SAYS:
A relative bargain compared with other legit SUVs of its era such as the FJ60 Land Cruiser. Everyone loves a Jeep, and this one has classically rugged good looks in a reasonably sized package with tons of aftermarket support. Definitely appeals more to younger buyers than the same-vintage Ford Explorer.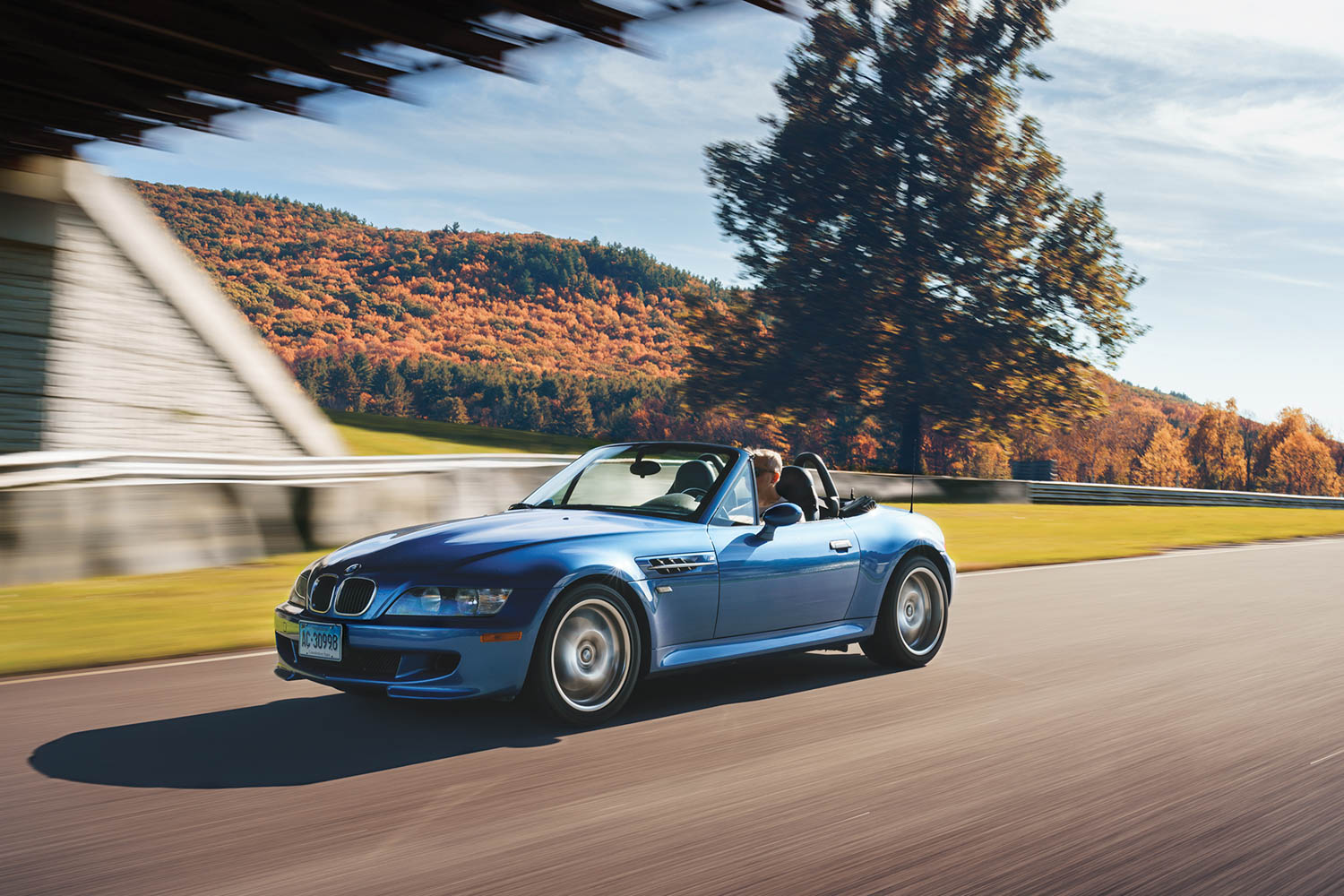 The Z3 roadster was a rush job. BMW developed it in just over three years in an effort to capitalize on the market created by the 1990 Mazda MX-5 Miata. Fortunately in those wonderful years, BMW had lots of great pieces to pull from the shelf. It created the droptop out of E36-generation components from the contemporary 3-series and wrapped it in voluptuous sheetmetal. The Z3 started rolling out of BMW's then-new factory in Greer, South Carolina, in 1995 and was marketed, quite brilliantly, with an appearance in the latest James Bond movie, GoldenEye.
Initially offered with a four-cylinder engine, the company's M division got ahold of it and installed first a 240-hp inline-six, the same engine in the E36 M3, and then a 315-hp six for its last two years on the market. With that much power, the M coupe is the first choice, since that funky-looking fixed roof makes the whole car much stiffer. But BMW imported only a few thousand coupes to the United States, and 678 with the more powerful engine. The marketplace has responded accordingly, and the M coupe has skyrocketed in value in recent years, with an average #2 Hagerty value of $52,325.
Which leaves us with the M roadster. It shares the coupe's muscular haunches as well as its mechanicals and is the next best thing at roughly half the price. Cars with the 240-hp engine (code name S52) have an average Hagerty #2 value of $20,000, whereas those with the 315-hp (S54) six are valued at $28,000.
Hagerty member Mark Victor bought this pristine 1999 M roadster five years ago with 17,000 miles on it and has driven 10,000 since. "I used to be a Porsche guy," he chuckles, "but then I had to send my kids to college." His car looks amazing. The styling, which seemed overwrought all those years ago, has aged surprisingly well. The divinely fluid clutch-pedal movement; the pure, linear throttle response; and the familiar "valvey" hum of the BMW inline-six are all reminders of that period in the 1990s and early 2000s when seemingly everything BMW M touched was pure gold.
[+] BMW M performance at an affordable price; the styling is still fresh.
[–] Chassis not as fluid as a mid-engined Porsche Boxster's of the same era; S54 maintenance can be expensive.
1999 BMW M ROADSTER
Engine: inline-6, 3152 cc
Transmission: 5-speed manual
Power: 240 hp @ 6000 rpm
Torque: 236 lb-ft @ 3800 rpm
Weight: 3100 lb
Power-to-weight: 12.9 lb/hp
Brakes F/R: disc/disc
Price when new: $42,770
Hagerty value: $21,000–$27,200
THE HAGERTY VALUATION TEAM SAYS:
M cars are way up, but the M roadster was overlooked for a long time because it looks so much like a regular Z3. They are getting their due now. The coupe has already popped, and the roadster values are up 22 percent on the later 315-hp cars and 31 percent (starting from a lower value) on the earlier 240-hp cars. Yet good M roadsters are still half the price of good M coupes.
Once upon a time, Volkswagen wanted a sports car and Porsche wanted an entry-level model to slot in below the 911. The two companies, both of which owed their existence to genius engineer Ferdinand Porsche, came together in 1969 like peanut butter and chocolate and produced the 914. The initial plan was to sell the car as a VW with an air-cooled Type IV four-cylinder and as a Porsche with a 911 engine. That strategy, however, blew up at the last hour for complex reasons, and anyway, the Porsche badge has a certain honesty to it because the 914 was designed and engineered by the company. The front suspension belongs to the 911, but in the rear, the engine sits between the two seats and rear axle, a move to avoid the back-end pendulum tendency of the rear-engined 911.
As the Porsche starter car, base versions used a 1.7-liter flat-four sourced from Volkswagen, with 85 horsepower, a paltry figure but enough for a car that weighed about 2000 pounds and cost $3595. The 914/6 had a 125-hp six-cylinder. That car's $5999 price was a few payments shy of a 911's, and it consequently gathered showroom dust until it bit the dust in 1971 after 3332 were made. Meanwhile, the 914/4 comparatively flew, and more than 100,000 were made. By the end of the run in 1976, the hottest engine was a 2.0-liter with 84 horsepower, which is what's in the engine bay of Hagerty member David Macintyre's Sunflower Yellow 914 pictured here.
Macintyre's car is a rare unmolested survivor with 58,000 miles on the odo. "You couldn't show up to a Porsche event in a 914," he said, "but in the past three years, guys now respect the car because they got priced out of 911s." This recognition is overdue. The 914 is a supremely agile and surprisingly usable little car. That engine mounts deep in the chassis, and occupants practically sit on the floor. The suspension is compliant, and with little weight on the front tires, the communicative steering is light, even without power assist. There are two trunks, or one for each person, and a five-speed manual transmission with a tall enough top gear to comfortably keep up with modern traffic.
A 914 won't make you rich, but you can likely buy one, drive it for a few years, and then sell it for enough to cover the running costs. That's like free fun, and rest assured, this Porsche/VW mashup is indeed fun.
[+] Practical and fun; VW engine parts are cheap and plentiful; a way to get your Luftgekühlt fix without breaking the bank.
[–] The design is an acquired taste; the 914 is so low that SUV lug nuts will be at eye level; you might search awhile before finding the perfect one.
1976 PORSCHE 914
Engine: flat-4, 1971 cc
Transmission: 5-speed manual
Power: 84 hp @ 4900 rpm
Torque: 97 lb-ft @ 4000 rpm
Weight: 2100 lb
Power-to-weight: 25.0 lb/hp
Brakes F/R disc/disc
Price when new: $7250
Hagerty value: $32,900–$50,500
THE HAGERTY VALUATION TEAM SAYS:
Only the third street car Porsche ever designed is still the cheapest way to get into a vintage Porsche, and the 914 is being reevaluated for its great handling and affordability. The VW association that once tarnished it carries less of a knock now among younger buyers.
With hindsight, we know the original 1970 British Leyland Range Rover invented the luxury-truck genre, paving the way for today's mall-crawling land yachts laminated with leather and walnut. It's fun to go back and see how prescient that original two-door aluminum-bodied Range Rover was. The ads advertised "four cars in one"—a wagon, a sports car, a mud lark, and a luxury liner—and the first Rovers didn't even have carpeting. With supple coil springs, wide seats, power four-wheel disc brakes, a split liftgate seemingly designed by the Hurlingham Polo Association, and full-time four-wheel drive for all-weather highway work, the Range Rover was unlike anything else in the world. "Bigfoot in a tux," they called it, and "the Rolls-Royce of off-roaders" (never imagining in a billion years that Rolls would one day have its own).
By the time that first-gen Range Rover officially hit U.S. shores in 1987, it was 17 years old, and it would stay in production for another eight years. A four-door had arrived in 1981, and thanks to our 25-percent tariff on two-door utility vehicles, it was the only version the U.S. ever got, priced at $31,000 initially.
Climbing into Hagerty member Tim Smith's last-of-the-line 1995 Range Rover takes you back to the era of Wilton deep-pile rugs and omni-button dashboards. As befitting a company with a Royal Warrant of Appointment to Her Majesty Queen Elizabeth, you sit as if on a throne, the lofty chair and ample yardage of glass affording you a commanding view of your baronial estate. The 181-hp, 3.9-liter fuel-injected V-8, one of the many derivatives of the original aluminum Buick 215 V-8 that Britain embraced so emphatically, strains to move this 4600-pound corgi hauler. But once in motion, the ride is surprisingly coddling, considering the truck has two solid axles. It's easy to see why the first Range Rover created this genre and why its modern descendant, which 50 years later maintains such iconic styling cues as the "flying roof" and square face, continues to be the poster boy for it.
[+] Started a genre that is very much in vogue today; really does waft along with royal confidence; a timeless design that is only getting more handsome.
[–] The parts falling off are of the finest British craftsmanship; rust is a problem; goes slowly and sucks gas doing it.
1995 LAND ROVER RANGE ROVER
Engine: V-8, 3946 cc
Transmission: 4-speed auto
Power: 181 hp @ 4750 rpm
Torque: 227 lb-ft @ 3250 rpm
Weight: 4600 lb
Power-to-weight: 25.4 lb/hp
Brakes F/R: disc/disc
Price when new: $45,000
Hagerty value: $20,500–$30,300
THE HAGERTY VALUATION TEAM SAYS:
This is a vehicle that appeals to millennials and Gen Xers, and it's affordable because it's known to be troublesome. The brand's current success gets people to look back at the catalog of past vehicles, and this one established a lot of the design cues that guide Land Rover now and have been copied by other manufacturers.
The article first appeared in Hagerty Drivers Club magazine. Click here to subscribe to our magazine and join the club.