The Audi King of Ohio keeps a low profile among fast company
It's early morning when Brad Kettler steps out of his sky-blue 1977 Porsche 911 Carrera RS and shakes my hand. He hunches forward a bit as he walks me over the railroad tracks that separate Ohio from Indiana so he can open up the crusty former paint store that he owns. Inside is an Audi R8, not an ordinary production R8, the slinky aluminum mid-engine wedge built by Audi over the past 12 years, but an R8 LMP, a fully jacked Le Mans Prototype. Its hulking shoulders, fish-scale fender fins, and buffet-table rear wing stand out among the other race cars crammed into the space. I ask, half joking, if we can take it out on the street and give it some fresh air. Kettler sticks out his lower lip, considers it for a moment, and nods at me. "Yeah, we can do that."
The race car is so wide it barely fits through the double doors of the building. It would take a team of engineers wielding laptops to start the thing, so we push. Fortunately, ultralight carbon-fiber and aluminum-honeycomb construction make the R8 fairly easy to maneuver. I brace myself against a carbon truss beneath the rear wing and help push 2000 pounds of German-engineered, twin-turbo V-8–powered racing magnificence down Union Street and straight through the morning commute. Along the way, the car's fat slicks crunch an empty Pall Mall pack and a discarded losing lotto ticket. Nobody driving by slows down or even bats an eye at the race car rolling through town on this weekday morning. It seems the locals are used to seeing Kettler and his weird cars.
Kettler Motor Werks, the de facto U.S. headquarters for Audi's customer racing operation and caretaker of prized vehicles from the brand's heritage collection, is an unassuming array of buildings both modern and rustic that dot both sides of the border-straddling town of College Corner. Well, it was all those things for Audi, but we'll get to that in a minute.
Most of Kettler's employees were born and raised in the area. "He could have founded the shop anywhere and hired anyone," says Dan Wendt, who has been friends with Kettler since high school and handles logistics for the company's race cars and trucks. Wendt and Kettler used to team up to buy Ford trucks to wrench on after school, and in the 1990s, the two worked on a Porsche 911 race team. "I've been riding on Brad's coattails for a while now," Wendt jokes as we push the R8.
But Kettler didn't settle on College Corner because it's near where he grew up or to give his buddies jobs. "Indiana is actually a hotbed of skilled workers," Kettler says. "There's talent here like you wouldn't believe. A few miles up the road is a guy who can make you a special part for an exhaust before sundown. Around here we have some of the best machinists I've ever seen."
Decades removed from the industrial hum that has gradually disappeared across the rural Midwest, College Corner is quiet. Outside the town center, where there's nary a stoplight, you hit grain silos and cornfields. In the early 1900s, the town had two mills, three blacksmiths, a marble works, several general stores, and various banks and hotels. Ten passenger trains came through daily en route to Cincinnati and Indianapolis. Today, Main Street is lined with aging storefronts for the post office, a funeral home, a shoe store, and a fireworks emporium—all serving barely 1000 residents.
Why would Audi, in far-off Ingolstadt, Germany, leave such valuable assets as an R8 Le Mans car, plus several other vehicles important to its history, in a rural Ohio town named for its proximity to Miami University—even if the school does have what poet Robert Frost called "the most beautiful campus that ever there was"? Because of Brad Kettler.
Kettler is a veteran, one of those guys who has done just about every job in racing, from truck driver to pit engineer to technical director for race teams running in the top-shelf prototype classes at Le Mans. He grew up in nearby Oxford, and when Audi wanted him to lead its customer racing program, it wanted him badly enough that it was willing to bring the mountain to Muhammad. Sadly, the arrangement wasn't destined to last forever. Within months of our visit to Kettler's operation, Audi pulled the plug on his stewardship as the face of its operation. Racing is a business, and even one of the most respected race engineers in the world is at the mercy of changing winds.
A one-time hockey player for Miami University, Kettler has the sturdy build of a former athlete now in middle age. He is constantly alert, scanning every room he enters and quickly assigning small tasks to nearby employees. Most striking is that when Kettler looks at you through the frameless glasses perched on the bridge of his nose, he speaks with the measured focus of someone who knows what it means to sweat every detail in pursuit of perfection.
When an Audi R8 LMP won the 24 Hours of Le Mans in 2005—Audi's fifth win in six years—Kettler was running around in the pits as a crew chief working for Americans on a Yankee-run privateer squad, Champion Racing, which became the first American team to win the famous race since A.J. Foyt and Dan Gurney took the checkered flag with the Ford GT40 Mark IV in 1967. Another Champion R8 LMP placed third at the 2005 race, with drivers Allan McNish and Emanuele Pirro at the wheel, and for years it lived not in some spotless, climate-controlled vault, but in a dusty old room where nobody would bother to look.
Because his shop is off the radar, Kettler has never had a reason to worry about the costly parts and equipment that are occasionally left behind an unlocked door. His administrative assistant's stepfather is the mayor, and when some kids once flooded the engine of a Porsche 911 parked in front of the shop, Kettler simply called their parents. "They owned up to it, and that was the last time that ever happened." It follows, then, that a Le Mans race car in the street doesn't scramble the sheriff into action. "Still, it doesn't hurt to sponsor the Little League team jerseys," he says.
Back in the building where we found the R8, there's a small and stubby yet elegantly shaped cabriolet that looks completely primitive in a room of race cars and their scattered parts. Kettler tells me it's a two-stroke, two-cylinder family car from one of Audi's early sister brands, DKW, which merged with Audi and two other companies to form Auto Union in 1932 and spawn the company's four-ring logo. The "F" in the name of the 1937 DKW F7 Meisterklasse stands for front-wheel drive, a layout that wasn't the norm at the time. Other innovative technology, such as Dynastart, a combined self-starter and generator mounted onto the crankshaft, helped make the F7 popular among middle-class Germans.
Despite the nearly 70 years and quantum leaps in technology between them, Kettler affords the racy R8 LMP and the DKW the same attention and respect. There's a puddle of oil under the DKW, and the little engine won't start, but he vows to get it going. "It's pissed off. Has anyone tried hitting it with a hammer? I'll go speak to it, maybe take the float bowl off and tickle it." He'll make it happen, Wendt assures me. Kettler has a certain way with machines.
Kettler tops off the four-ring-stamped fuel tank mounted above the engine with a 20:1 mix of gas and oil. There's no fuel pump, so the F7 relies on gravity to move the blend from the tank into the little 20-hp two-stroke. Sure enough, the DKW sputters to life with a puff of smoke from the exhaust. I ride shotgun as the car chugs along through College Corner's residential streets, my eyes glued to the DKW's bizarre shifter and gear pattern. The lever protrudes from the center of the dashboard, and apparently you shift by swinging it left and right like the handle for an old jeweler's safe. For a regular German living in an industrializing world in the 1930s, this car must have been mind-blowing.
Kettler grew up on the campus of Miami University, where his father was an English professor and his mother worked as an administrator at an art museum. Although his parents were scholarly types, Kettler spent much of his childhood tinkering with cars. He received a degree in engineering at Miami and soon after started living the greasy dream as a Mercedes and Porsche technician at a local specialty shop. When he befriended a customer who lured the hungry Kettler into helping him pursue his dream of racing, it set him on the course to a stunning career that would take him far from College Corner.
His early competitions weren't major successes, but the right people noticed his skill and potential. Kettler was eventually sponsored by Porsche to train in Germany, and by 1998, he was at Champion Racing in Pompano Beach, Florida, serving as a race engineer and developer. Audi entered the picture a few years later when Champion got a customer version of the Le Mans–winning R8 LMP. "My decision to throw in with Audi was based purely on the advanced engineering and brilliant design of the R8 LMP," Kettler recalls. "They started with a clean sheet, and the potential of that car to succeed in competition made us all take notice."
While he was in Germany, Kettler won the respect of his colleagues, who noticed his diligent work ethic and focus on doing the job the right way instead of the easy way. "I fit in with the Germans, not just because I have some German heritage. I think and act like them, and I know enough of the language to be dangerous," says Kettler with a wink.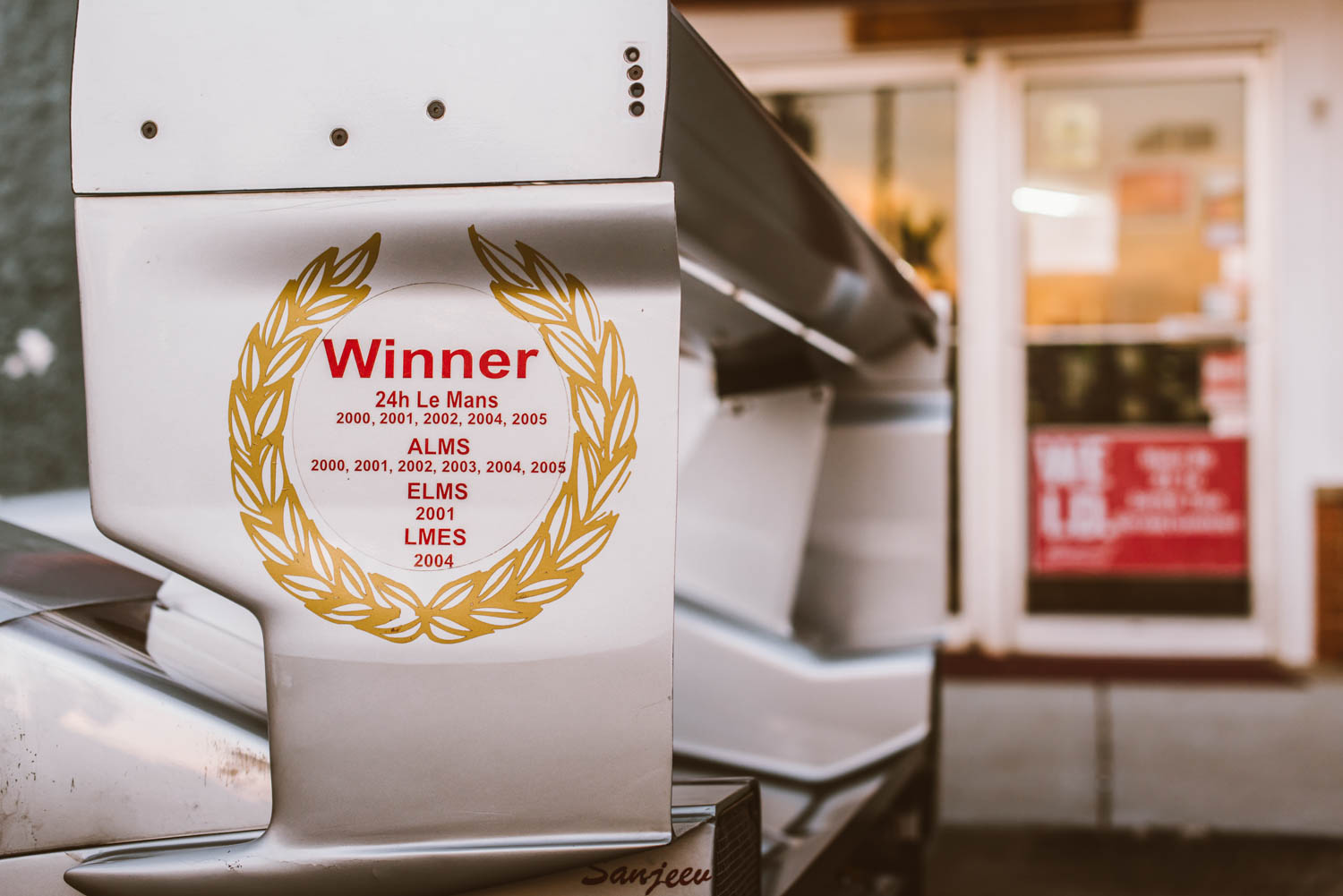 Allan McNish, the Scotsman who helmed Audi's LMP cars for 14 seasons, recalls a guy who could command the innumerable details required to run a pro racing pit. "The man you know today—the guy who runs a successful business and race shop—is just what's on the surface. You can't take the pit lane out of Brad Kettler."
Kettler and Champion did great things with the R8 LMP while competing in the American Le Mans Series and at Le Mans. Audi designed the car for extremely easy parts changes, including a rear subframe—the suspension, the six-speed sequential gearbox, and the transaxle—that could be removed and replaced in three-and-a-half minutes. When it hit the scene in 2000, the R8 immediately won the 12 Hours of Sebring. It won Le Mans that year, and again in 2001, 2002, 2004, and 2005, before it was replaced by the diesel-powered R10 TDI. In that period, the R8 won the American Le Mans Series championship six times in a row, and the car's gasoline direct-injection technology would trickle down to production vehicles across the Volkswagen Group's global lineup.
Champion Racing folded in 2008. Kettler left Florida and returned to his hometown. In 2012, Audi offered Kettler a chance to head up its new North American customer racing program for the R8 LMS, a turnkey race car available straight from Audi to major outfits and rich-guy amateurs alike. Kettler agreed, provided he could work out of College Corner. He supported race programs all over the country and developed small improvements to the R8 LMS GT4 and RS3 LMS, some of which resulted in new parts getting serialized and approved by Audi.
Kettler takes me next to the "Brickshop," another anonymous building where we fast-forward 36 years in Audi history from the DKW. The 1973 Audi 100 was another front-wheel-drive family sedan and the first Audi launched in the U.S. Inside the cozy garage is a handsome ocher-colored example. The air is thick with the scent of oil, and the space is littered with vintage mechanical ephemera, stacks of tools, old-school rigs, and framed snapshots of racing memories. The Audi 100 is amazingly clean, the chrome still shining along its exterior.
When Volkswagen acquired Audi in 1965, it explicitly instructed the Ingolstadt staff not to build its own car, but Audi went ahead anyway and even had the gall to drop the engine—gasp!—out front to increase interior space. In the end, VW rather liked Audi's mid-size-car proposal and saw it as a next step for Beetle owners. When I open the door and climb inside, I see immediately why the 100 was so successful in establishing Audi in the U.S.
The interior is tidy and well designed, with dabs of wood trim and attractive illuminated gauges in the dash. But it's the amount of space that surprises me most. Buyers, too, liked the Audi's practical interior and smooth lines, and the 96-hp 100 enjoyed a surprising welcome here for an upstart mid-level luxury car hoping to take on Mercedes. The 100 might have put Audi on its feet in America, but the cars were not known for their supreme quality or longevity, and few examples survive today.
I fire the ignition, and the 100's four-cylinder spins to life. I don't have to go far to appreciate that, even though this car is historically significant, it's hardly fantastic to drive. It's slow, the automatic transmission is always a step behind, and the thin steering wheel has a vagueness that inspires little appetite to seek out corners. Audi wouldn't attract true devotees until the 1980s, the era when the brand became synonymous with performance and Quattro all-wheel drive.
For a window into that era, we walk a quarter-mile down the road to a barn with a big set of white doors and a dinky padlock. We slide open the old wooden door to reveal the undisputed star of Audi's rally heritage, a 1984 Sport Quattro S1, peering out with its big round rally lights. Kettler probably sees this car every day, but he stands there for a second with hands on hips and grins. Considering the small package, the Sport Quattro reeks of a bad attitude, with its slotted hood, chunky fenders, and fastback roofline. It personifies the peak of international rallying, the so-called Killer B era from 1982 to 1986, when high-horsepower factory Group B prototypes were thrilling yet murderous to drivers and spectators alike.
Audi built 224 examples of this highly modified homologation special to be eligible for Group B competition in the '84 World Rally Championship. Utterly ferocious compared with the Quattro road car, the Sport Quattro is a lot more than motor, although it is definitely a lot of motor. A 302-hp, massively boosted, aluminum-block, 20-valve, inline five-cylinder is at the heart of this nimble savage that boasts a shortened wheelbase and gobs of bespoke parts, from Kevlar-reinforced fiberglass body panels to a carbon-fiber air inlet, wider fenders, and wider wheels. The Sport Quattro won the 1985 Pikes Peak Hill Climb, and driver Michèle Mouton set a course record doing so.
For Kettler, this is the car that best represents Audi's relentless pursuit of performance. "The Sport Quattro is fantastic because of how edgy it is," he says, resting his hand on the carbon-Kevlar hood like a proud but protective dad, "but the functionality and the driving can be tricky because of how far Audi was pushing the limits of its technology. This car is cursed. Seems like every time we lend it out, it gets away from somebody, and they put it into a wall."
Kettler has pieced this rare icon back together more times than he'd like to remember. Nevertheless, he tosses me the key. Redolent of aged leather and unburnt hydrocarbons, the Sport Quattro's interior is all business. Nothing ornamental or fancy to see, with chunky Recaro seats, a trio of center-mounted pressure and temperature gauges, and several other serious-looking controls. One switch deactivates the ABS for snow- or gravel-covered roads, and another knob operates the locking center and rear differentials. The Atari-like graphics surrounding the diff controller have a delightful eau-de-'80s feel.
I'm reluctant to give the Sport Quattro the beans, but I want to hear more of that howling, high-strung five-cylinder. The car is actually tricky to drive slowly because it wants to take off. Once out of town, I'm hustling along, hyperconscious of the super-quick steering and prepared for the punchy 17 psi of turbocharged boost that threatens to betray Kettler's trust in me. I breathe a sigh of relief as the Sport Quattro's four wheels claw at the long gravel two-track drive that leads toward the safety of Kettler's farmhouse. He pops the hood to point out his favorite details, as excited as a kid at his first car show.
Soon, the Quattro and other cars would be gone. When Audi pulled Kettler off the customer racing project, it packed up the Sport Quattro and the other heritage cars, bound for a storage facility closer to VW's U.S. headquarters in Virginia. "They loaded 'em onto common car carriers like they were cattle," Kettler later told me. "After giving 21 years to Audi, the whole thing is gutting."
Audi says the decision to leave College Corner was about better positioning the customer racing program with an outfit that's more focused on parts management. Kettler will still tackle engineering issues like rebuilding engines and fixing gearboxes, but it's clear the relationship won't be what it was. "Brad is and will forever be a part of the Audi family," says Mark Dahncke, director of motorsports communications. "He is, without question, one of the best engineers and race technicians ever."
Talent like Kettler's is always in demand, and he quickly landed a gig as a consultant for Mazda Team Joest, which fields a couple of sleek prototypes in the IMSA Weather-Tech SportsCar Championship. In addition, Kettler is crafting a program to restore and hot-rod a 1980s Audi Quattro with a turbo five-cylinder from the current Audi TT RS—a kind of parallel to Singer's work with Porsche 911s. Just because Audi is gone doesn't mean the quiet town of College Corner will go totally silent. Not with Brad Kettler around.
[This article originally ran in Hagerty magazine, the exclusive publication of the Hagerty Drivers Club. For the full, in-the-flesh experience of our world-class magazine—as well other great benefits like roadside assistance and automotive discounts—join HDC today.]