Florida's epic festival of dirt and horsepower goes down at Redneck Mud Park
A shirtless senior with red-leather skin tugged at my sleeve to get my attention. He was sitting backward on his ATV. The old man wrapped his bony hands around the handlebars and kicked his feet up as his head swung down. Completely inverted, head to seat, feet to sky, he twisted the throttle and rode away. Someone shouted from behind me, "Oh, he's been doing that here for years."
"Here" was Redneck Mud Park, an 880-acre patch of mud bowls, Porta Pottys, and buffalo grass about a half hour outside of Fort Myers, Florida. Twice a year, once in spring and once in fall, Redneck Mud Park opens its gates to all-terrain enthusiasts for mudding and trail riding; by my rough estimate, we're talking five-figure attendance here. We were tipped off by YouTube highlight reels about the tough trucking that happens here. Trucks jumping. Trucks splashing. Trucks crashing. Crowds that go wild. There were pages and pages of videos. And those who crashed were not dejected. They stood on the roof of their wrecked rides and cheered with the masses. So I was sent to be an eyewitness, because if it's not in Hagerty, it didn't really happen.
At the end of the ticketing line on a Thursday night in November, I met Danny Kelly, owner of Redneck Mud Park. Thursday evening is when everyone arrives at the three-day Fall Classic, the biggest event of the year. Well, check that, Thursday evening is when the diehard mudders roll in, three rows wide on a runway of white gravel, to enter the park.
Kelly created Redneck Mud Park back in 2008 when he saw the need for a place for like-minded Floridians to off-road. He bought a swath of forests and fields just east of Fort Myers, established campsites, groomed trails, and built concert stages and grandstands. His right-hand man is Dave Kelly, no relation. Don't let the rubber waders and mud-crusted shorts fool you—Dave is a businessman first. He went to business school and his email signature reads, "Director of Sales and Marketing." So far, his main claim to Florida fame is the mud park. "We built this place to be the premier destination for anyone who likes to play in the mud," he told me as entrants were being scanned for weapons and patted down by security before being handed wristbands to enter.
The entire property is divided into three recreational fields, four campgrounds with about a thousand sites, an outdoor concert venue, an off-road truck racetrack, and a perimeter of twisting trails around the rectangular plot. Tents were unpacked, stakes planted, and bonfires lit. After they established home base, off-roaders rushed over to the mud pits and trails for their first taste. The sun set and drivers pulled their dirt-christened trucks into a semicircle around the outdoor concert stage, revving loudly. Nearly every lifted truck was loaded with partiers howling and singing along to country-rap songs, the bass yoinked beyond the capabilities of each truck's speakers, resulting in a lot of static distortion. The country-rap hybrid genre is a staple at this fest. Trucks were still rolling into the concert area, revelers hanging out of the windows, or, more concisely, where the doors had once been. Gents wore flannel, sleeveless T-shirts, or denim, with at least a few Mardi Gras beads draped around their necks. The women sported a lot of the same, in addition to Daisy Dukes. Some came in bathing suits, even though there isn't a place to swim on the entire property.
There was so much beer, cans upon cans. This is the world's largest frat-house rager, stuck in the middle of a Florida swamp. Six- and 12-packs were carried around like briefcases from parked truck to parked truck, their owners chatting and chugging. The sound of a cracking can, pssssttt-k, drowned out the crickets and bullfrogs until the band started to play. Guitar chords and punchy drums carved out a 4/4 rhythm into the night.
Friday morning, I was back at the entrance to the park accompanied by a splitting headache. Everyone was up in arms. "A bunch of folks with vans and cameras came in here last night," one of the campers told me. "They ran a segment on the morning news about underage drinking and underage driving. It's just bunch of people having fun on private property." The previous evening, the local news had sent two undercover reporters into the park, and an exposé had aired that morning. Festival-goers are naturally leery of outsiders and always ready to defend their oozy brown patch of nirvana, and they considered the intrusion to be ill-conceived and unfair. Anyone who doesn't understand the passion poses a threat.
I met up with Danny Kelly. He had some other business to tend to, so he loaned me a vehicle to roam around in. "You can drive a five-speed, right?" he asked, tossing me the keys to something that looked like a Jeep, but at about 7/8 scale. "It's a Mahindra Roxor," he said. The Indian automaker had a booth set up on the park's midway and loaned the Roxor to Kelly for the weekend. I loaded my camera gear into the faux-Jeep and wheeled off to an adjacent campground. Campers were tripping out of tents and stumbling out of trailers, bleary-eyed and awkward like newborn puppies. Truck doors opened to showcase makeshift beds from folded-down seats. A hellish-looking '78 El Camino on a Chevy Blazer chassis stopped me dead. Before I could interview the owner, he asked me, "Is that one of those Jeeps from India?" The driver and two other middle-age men hopped out of the El Camino and began probing the Roxor. "Can we open the hood?" they asked as they opened the hood.
Wade Slater, Wade's brother, and Wade's friends—or at least that's how they introduced themselves—finished inspecting my ride, then showed me around the El Camino, along with the rest of their fleet. Wade owns a modded Suzuki Samurai, while his brother has a lifted Jeep CJ-5 with a 350-cubic-inch Chevy small-block. The brothers built both. A 198-cubic-inch Olds Fireball V-6 barely fits in the Samurai's noise hole, the steering shaft rubbing hard against the exhaust manifold. The radiator was mounted on the rear roll bar to save space. A liberal lift and 52-inch tractor tires completed the ride.
"It'll be brown by the afternoon," Wade said. I commented about the level of opulence in some of the side-by-sides and big-money trucks. "Some of these guys got six figures in their truck. We've got three figures. And three fingers." The brothers held up their greasy, gnarled hands which, sure enough, were missing some digits. We chatted a little longer. I got existential and asked, "What brings you back year after year?"
"Mudding," said Wade. There's no reason to be existential out here.
Back out on the recreational fields, the action picked up. A sunburned teenager careened into the mud pit on his ATV, full send. He didn't make it out the other side. Instead, his ATV was buried to the axles in thick Florida clay. From the side of the pit, another teen walked into the hole to talk to the boy. She slipped. Feet forward, shoulders aft, she landed on her back in the mud. Her stomach heaved, eyes squinted, and she screamed. She wasn't crying. She was laughing. Bellowing, really, looking up at the sky. The red-necked boy stood up on the seat of his shanghaied ATV, pulled a beer from the cupholder, and chugged while his supine blonde friend made mud angels.
I watched this interaction from the turret of an armored personnel carrier. Yes, a full-track, Vietnam-era APC wading through swampland at over 50 miles per hour. Hagerty Drivers Club member Sean Deren was at the helm of his 1968 FV432, named Tiny 2, one arm and one eye out of the driver's hatch, the other arm and eye on the machine's controls, his bucket hat flopping in the wind. When Deren found out I worked for his insurance company, he clamped a massive left hand on my shoulder and nearly shoved me into the APC for a joyride. Side-by-sides and ATVs cut broad circles around us while larger 4×4 mud trucks ran alongside like a herd of water buffalo. A deep ditch loomed large in front of our convoy. Surely, we would go around or stop. From my perch atop the APC, I couldn't see the bottom of the pit. Deren hit the trench at full speed.
A sudden drop, a deluge of mud, and then a rapid, steep ascent as the old British warrior clawed its way out. My camera was covered in brown slurry. I used the underside of my shirt to wipe away the muck before it seeped into the camera's internals, still bracing my body with my left hand on the hatch cover. The other five passengers in the APC's cabin were thrown to opposite ends. Deren laughed wildly at the flailing arms and legs behind him. I looked up to see if there were any more pits in our path while tucking my camera under my shirt. None. I took a moment to soak in my surroundings. We were somewhere between Mad Max, spring break, and the front lines of a war.
The main marshy field we were cruising across was about a half-mile long and several hundred yards wide. Smack dab in the center lay the biggest pit on the property. Beyond it were numerous auxiliary holes of varying depths connected by grassy swells. Mudders parked their vehicles along the side of the main hole. The perimeter was solid, vehicles tire-to-tire, like a Big Boy cruise night—in the middle of the woods. More trucks took turns testing the hole. They rolled back from their perches along the bank a couple hundred feet and then charged front-diff-first into the pit, sending up brown tidal waves. Most made it about halfway across before they got stuck. Mud, steam, and exhaust spewed out of every steel seam. It's part of the festivities. Treading the mud is celebrated, but getting stuck (and then unstuck) is half the fun. People cheered when a truck got stuck, and cheered louder when it was pulled out.
Vehicles came, vehicles went, action ebbed and flowed, and spectators hovered around the pits like migratory birds. The park provides a place to get primal in the dirt, to go fast, show off, get loud, and meditate. Thoreau had Walden Pond. Dave Kelly and his fellow mudders have Redneck Mud Park.
Across the field from where I met Wade and his entourage sat a pink Jeep CJ-7. It belonged to Pablo and Sandy Davila, a mud-devoted couple who run the Facebook group America's Mud Family, which exists to "bring us all together by our common bond that is Mud." Pablo and Sandy were just married at another mud park, the Iron Horse Mud Ranch, in October. "That park's not as wild," said Pablo. "Redneck is all titties and booze." It's not, from what I can see, but Pablo's convinced otherwise. "Every park has its own vibe. This is the party park. Raunchy, but so much fun."
It's still dawn, but Pablo already has his sunglasses and beads on. Pablo's a Romeo. Last fall, he built the CJ-7 just for Sandy. They call it the Barbie Jeep. The colors are identical to the Barbie Power Wheels Wrangler; pink body, yellow seats, and teal roll bar. Pablo also draped beads on the mirrors and zip-tied naked plastic Barbies to the grille and roll bar tubes.
I wanted to find a festival first-timer. The point of view from someone less desensitized to this muddy behavior would be valuable. No luck. Every camper was a veteran, attending since their teens. Everyone answered my questions as if I had asked them, "Why are you breathing?" Take Anthony Smith, for example. He knew he wanted to mud before he was in high school, building his own rig, a pontoon truck, at 14. The pontoon truck is a native to Florida and they were in abundance at the park for the weekend. Picture the deck of a pontoon boat affixed to eight-foot-tall scaffolding welded to a Blazer chassis. The rigs were originally clapped together for hunting pigs, the large decks allowing you and your buddies to ride with an arsenal of ammo. You ram the truck into low Florida palm bushes and rustle the pigs out. They run and you shoot them. Anthony confessed to me that it took a visit to Virginia to realize pontoon trucks were a local thing.
"It blew my mind that nobody knew what this was," he said, patting the sidewall to one of the rig's tractor tires.
It was Saturday morning and everyone was hung over from the night before, including Mother Nature. The warm Southern night had given way to torrential showers in the early hours. Rain plopped on campers' tents and extinguished yesterday's bonfires. A thick blanket of fog covered the entire park. Off in the distance something rumbled. It was not from the sky.
The racers had arrived. Mud racers. One by one, trailer after trailer, they rolled into the park, cutting through the thick mist. Ford Super Duty and Chevrolet HD pickups squished the sopping clay below their BFGoodriches and carved deep ruts in a plowed field serving as a makeshift parking lot. Hitched to each truck were double and, sometimes, triple-axle tilt-deck trailers carrying at least one off-road racer. This wasn't like the line of rigs entering last night. No, this was professional. Corporate sponsorships festooned fiberglass truck bodies. Beneath those, polished chassis, bent and welded with supreme accuracy. Large painted wheels wrapped in waxed tractor tires jutting out port and starboard far beyond the body. These were the "Trucks Gone Wild."
Back in the early aughts, disc jockey Matt Steele partnered with Orlando-based custom truck builder Chuck Davis and recording studio owner Chris Ledford to create an off-road truck show for a local club. The tough truck show was a hit and attendance soared, eventually outgrowing the outdoor club venue. So they took their spectacle to the mud pits of central Florida. To showcase the insanity, the group made a highlight reel on DVD titled Trucks Gone Wild. It was a regional hit and helped draw throngs of off-roaders to Southern mud pits. More videos were produced. Sanctioned racing with a rulebook (albeit only a few lines long) was introduced to the show. A producer from New York flipped it into the Discovery Channel series Dirty Mudder Truckers, and now, in 2020, Steele, his constituents, and the series drivers are household names. In the South, anyhow.
The vehicles raced on the show are the same ones pulling into the park. They're called Mega Trucks, and for sleepy campers stirred by the commotion, these might as well be celebrities on parade floats. Mega Trucks are built for the purpose of racing in mud. That's it. With a loose rulebook, there's no limit to what a fabricator can build. Under the custom fiberglass body is a tube-frame chassis and roll cage. To save weight, some run a small-block V-8 rather than a big-block. Some run on alcohol. Some have nitrous. Some have four-wheel steering. All look like they were dreamed up by a NASA engineer who fell asleep reading Four Wheeler magazine.
Their course is a relief carving in the Florida marsh and looks like a wide motocross track: a giant rectangular bog with several small jumps and a one-story-high pile of mud at the end. The grand finale. "This is one of the original tracks. She is fast and has a big ol' jump at the end," explained Rudy Crews, a crew member for one of the teams.
The first truck slow-rolled into the staging area behind an unlit green light. Revs picked up, the light turned green, and the driver (practically straddling the bell housing of the set-back engine) dropped it into gear. The truck launched from the mud, rising as if to walk on top of the mire in the first 200 yards, then jump, turn, jump, turn, and jump. The truck vaulted into the air as it hit the final jump. Truck and driver were suspended in the air for what felt like the entire afternoon, before landing squarely in a bed of soft dirt, the massive Fox shocks fully compressing under the force of the truck and its fall. Twenty-one seconds total. The driver parked his truck.
Every driver made two passes. The amount of prep time versus track time rivals NHRA drag racing, and in less than two hours the show was over. Chris Libak, a local racer, won the big check. Libak drove overnight from the Specialty Equipment Market Association (SEMA) Show in Las Vegas, where he was promoting the Discovery Channel show, to attend his home park's mud meet. The races were over and the thousands of spectators lining the banks of the mud pit turned back into participants, dispersing into the acres of mud with their own rigs. Back to the brush-covered bogs on the west side of the property. Back to the main mud pit where I rode in the APC. Back to the mile-long row of food vendors for dinner.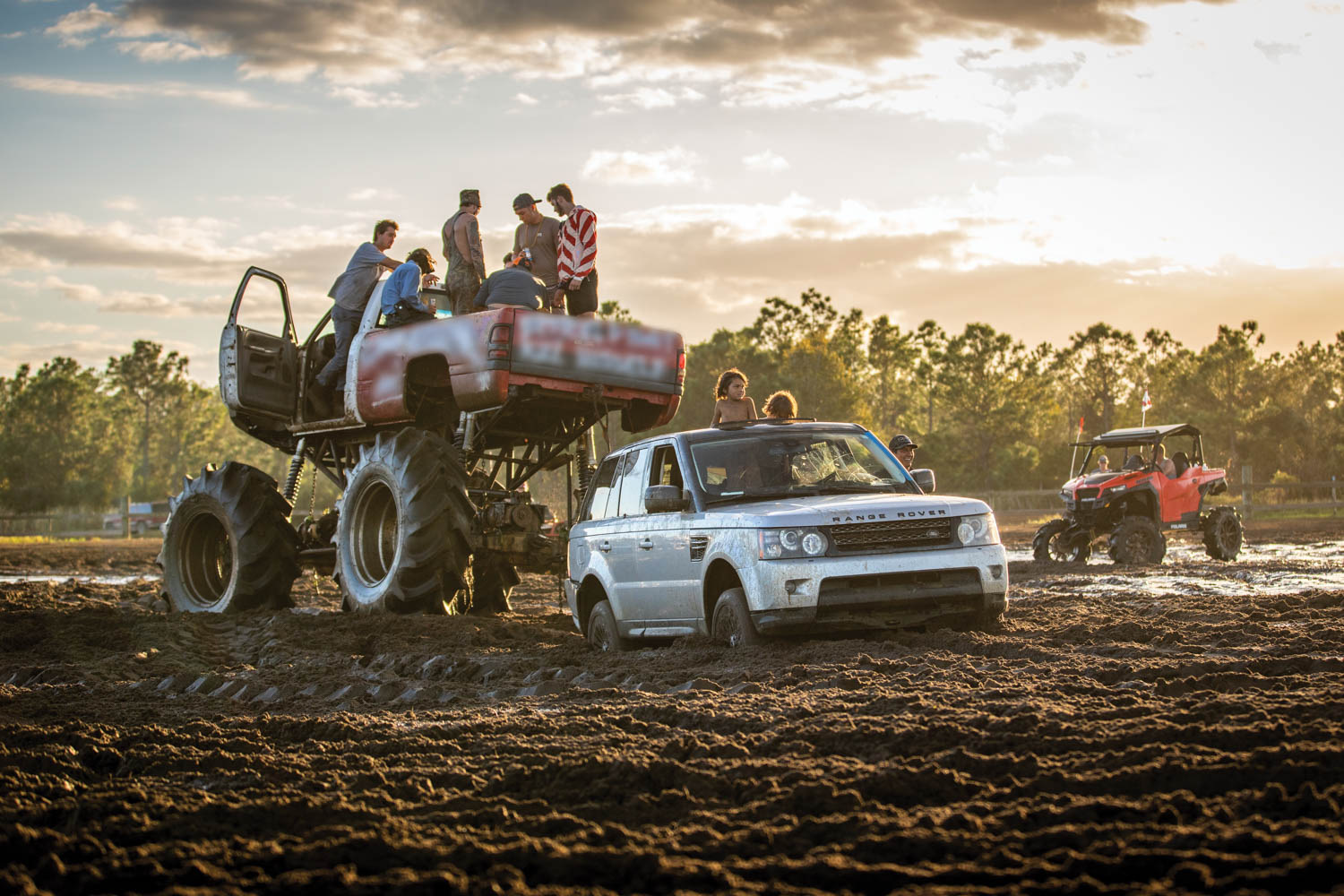 This being the South, most of the vendors hocked barbecue. But there were burgers, funnel cakes, and fresh-squeezed lemonade, too. One food truck advertised that they'd wrap anything in bacon upon request. From my seat at a picnic table, gorging on maroon hunks of brisket, I was able to see the majority of an auxiliary mud pit.
An almost-new and totally stock Range Rover sat sunk to its hubs in mud, two shirtless children springing from the open sunroof. Their father was already out of the submerged Rover, tying on a pull-strap thrown from a lifted Dodge Ram. Mud rocketed from the grooves of the Ram's tractor tires, showering the Rover and the kids in the open sunroof. Everyone laughed. The sun was setting. This time tomorrow, Redneck Mud Park would be empty and campers would have to wait until next spring to come back. In the meantime, a Ford F-250 raised to the sky drove by, spitting black soot, music blaring. The lyrics: "Some folks call me a redneck, I smile and take it as a compliment." Mud Nation has its anthem.