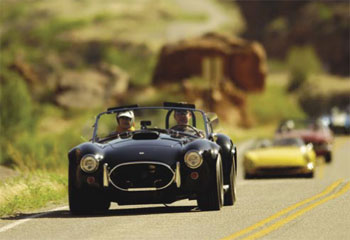 Like many participants, I approached the 16th Annual Copperstate1000 Road Rally with a certain degree of trepidation. For weeks prior, the organizers had sent strongly worded warnings about long days and challenging roads and offered full refunds to those worried about their car's or their own ability to finish the route. This marked my third Copperstate journey, and I had never before received these kind warnings. However, my significant other and fearless co-driver Jennifer and I somehow concluded that we were prepared. So we packed up the 427 Cobra, sans top but equipped with marginally efficient side curtains, and headed west to Arizona for the rally, which took place April 22–26.
This year's route took us north from Phoenix, through Page, continued north to Utah through Bryce Canyon, on to the red rocks of Moab, south through Monument Valley, back into Arizona through Flagstaff, Sedona and Saguaro Lake, and ended up in Scottsdale. All told, a little over 1,200 miles. The route was spectacular, with challenging roads and breathtaking scenery nearly every step of the way.
Co-chairman and SCMer John Leshinski III is credited with creating the challenging route and reportedly drove it four times in the scouting and planning stages. The pre-rally warnings were based on three of the four days being well over 300 miles each. In spite of stern warnings about proper vehicle preparation, our AAA tow trucks and intrepid rally mechanics were kept busy with numerous vehicles that either failed to proceed or, in some cases, failed to stop proceeding. I am happy to report that our car finished the route without mechanical disappointment of any sort. The only real hitch of the event was a good number of drivers getting "driving awards" from some less-than-happy members of the Utah State Patrol.
Grand Marshal for this year's event was finish-protectant mogul and SCMer Barry Meguiar, who not only kept us entertained but finished the route in style in his 1932 Duesenberg Judkins coupe. And, I might add, did a fine job of detailing it at every single stop.
Along with the stunning landscape came 77 stunning cars entered in the event, and an eclectic group at that. Ranging from the obscure such as SCMer Scott McPherson's 1954 Kaiser Darrin to ultra exotics such as SCMer Jim Spiro's magnificent Ferrari 330TR/LM S/N 0808, it was truly a car show on wheels. Fellow SCM scribe Carl Bomstead somehow convinced wife Christine to travel with him in his 1968 Italia roadster, even during a loosely arranged Ford-powered-only high-speed segment, which I will claim no knowledge of.
There is something very satisfying about seeing prime machinery being driven as intended. It is also interesting to see that people's idea of the ultimate rally car is often the same. As evidence, this year's event had no less than five 356 Porsches, three 275/GTB Ferraris, four M-B 300 SLs, five 365 GTB/4 Ferrari Daytonas and eight 1965–67 Corvettes.
The Copperstate 1000 folks are to be commended for putting on this event, with first-class accommodations, meals, and the camaraderie of some enthusiastic car owners, including the unprecedented 48 SCMers who participated this year. I look forward to running it for the fourth time in 2007, and highly recommend it to anybody looking for a long-distance rally through the best roads the Southwest has to offer.
DETAILS
Plan ahead: April 2007
Location: Arizona and Utah
Eligibility: pre-1973 sports, racing and GT cars
More: www.mensartscouncil.com/
– Colin Comer, Sports Car Market magazine, www.sportscarmarket.com
Photos: www.willbrewster.com