The Settrington Cup is the most entertaining 1:09 in racing
The kids-only Settrington Cup is all fun and games until someone gets hurt. Or until someone slaps down $7000 for a freaking peddle car. Which is everybody. And that makes it as serious as brake failure on the Autobahn. Even the announcers are serious, which makes the whole thing wildly entertaining.
Held annually at the Goodwood Revival since 2012, the Settrington Cup race is for children age 6–9. If you think that means every kid with a pedal car can join the fun, you'd be wrong. In addition to the drivers' age restriction, the only pedal cars allowed are Austin J40 models built by disabled coal miners beginning in 1949 (true story). If you happen to find one, expect to pay $6500 or more for it, plus hundreds more to get it race ready.
According to Jalopnik and Petrolicious, families modify the cars so the cockpit can be expanded as the young drivers grow, install new low-friction bearings, swap heavier components with lighter materials, and tinker for hours to get the balance and setup correct. The pedal cars also have working lights, horn, and pneumatic tires.
If that isn't serious enough, the race features a Le Mans-style start in which the drivers sprint to their cars and start pedaling as quickly as possible. The length of the race is only about 100 meters, but it is a long and grueling test of endurance for the young drivers. And the British announcers describe the action as if the pedal cars were actual race cars.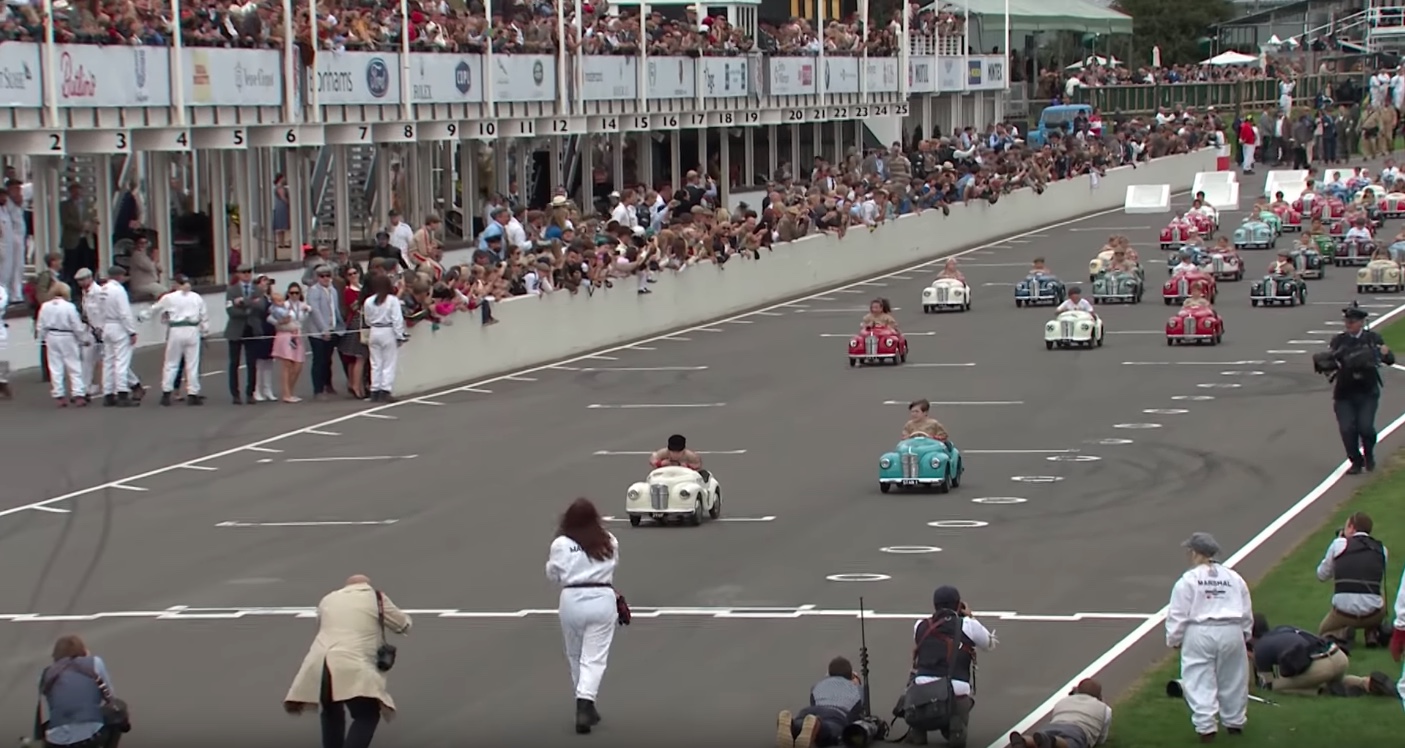 "The No. 12 car got the quick go-away! … This is a distinct advantage for Joe Stanley in the No. 12 car. He is head and shoulders [ahead]… his little legs going underneath. The shadows of the tarmac reflecting the effort they're putting in here. Smoke coming off the tires as Joe Stanley pedals!
"And coming up behind is a white car… it's Callum McWhirter, No. 8! Callum McWhirter in the white car! Heading toward the line… pedaling, pedaling, pedaling … neck and neck! Joe Stanley knows he's being beaten here. The blue car's got nothing left! … The checkered flag is ready, and it's Callum McWhirter [who] brings it home!"
Interviewed at the finish, a gassed McWhirter accepted the championship trophy and a large bar of chocolate. He attributed his victory to "strong legs." Stanley, despite fading a bit down the stretch, appeared to be pleased with his performance. "Good to get second, definitely," he said. Harry Dark in the No. 19 car edged Katherine Taylor for third.
A treat to watch, the competitive but fun Settrington Cup might be the most entertaining 1 minute, 9 seconds in racing. As the announcer so aptly put it: "Brilliant, brilliant!" Seriously.