Radwood Philly: Celebrating boxy '80s and '90s beauties
Car shows these days are nearly certain to tick a number of boxes. They'll feature metal flake-painted muscle cars and finned cruisers with trophies perched on their front seats. Fuzzy dice hanging from mirrors. Small model cars sitting on the dashboards of the cars upon which they were modeled. White-haired men clad in Hawaiian shirts and sensible shoes. Oh, and there will probably be Corvettes.
There was none of that at Radwood Philly—the latest iteration in a series of car shows celebrating '80s and '90s-vintage cars and trucks, along with period costumery and an assortment of BMX bicycles, ghetto blasters, and cassette tapes. At the Philadelphia Navy Yard the fins were gone, drag slicks, and surfboard-patterned button-downs rejected in favor of thin, hard-edged Japanese, European—and yes, some American—sheet metal, presented by people in popped collars, dayglo pants, and linen Miami Vice suits. It was part car show, part pageant, and all fun.
Radwood events have been held on both coasts since last year. The Philadelphia gathering was number six. Art Cervantes, the power behind the celebration of image-focused period culture, said the idea came out of a podcast he's been hosting for the past three years, "Driving While Awesome."
"The car hobby is alive and well," Cervantes says. "There is a generational shift happening and there is a renewed appreciation for cars of this era, as they are relevant to '80s and '90s kids, making these the new classics. These are the cars we lusted after, and were part of our milieu growing up."
On the vehicular end of things, there were naturally a boatload of Toyota Supras, BMW 3 Series, General Motors G-body cars, Fox-body Ford Mustangs, and boxy Camaros to ogle. But there were also Volvos, Kei cars, a terrifying number of Chrysler K cars, a Dodge minivan, a Lancia, and at least two Yugos.
"As cars become less analog and begin to drive themselves, there is a growing appreciation for simpler machines—ones we not only relate to, but that are engaging cars with an excellent balance of modernity and vintage feel," Cervantes says.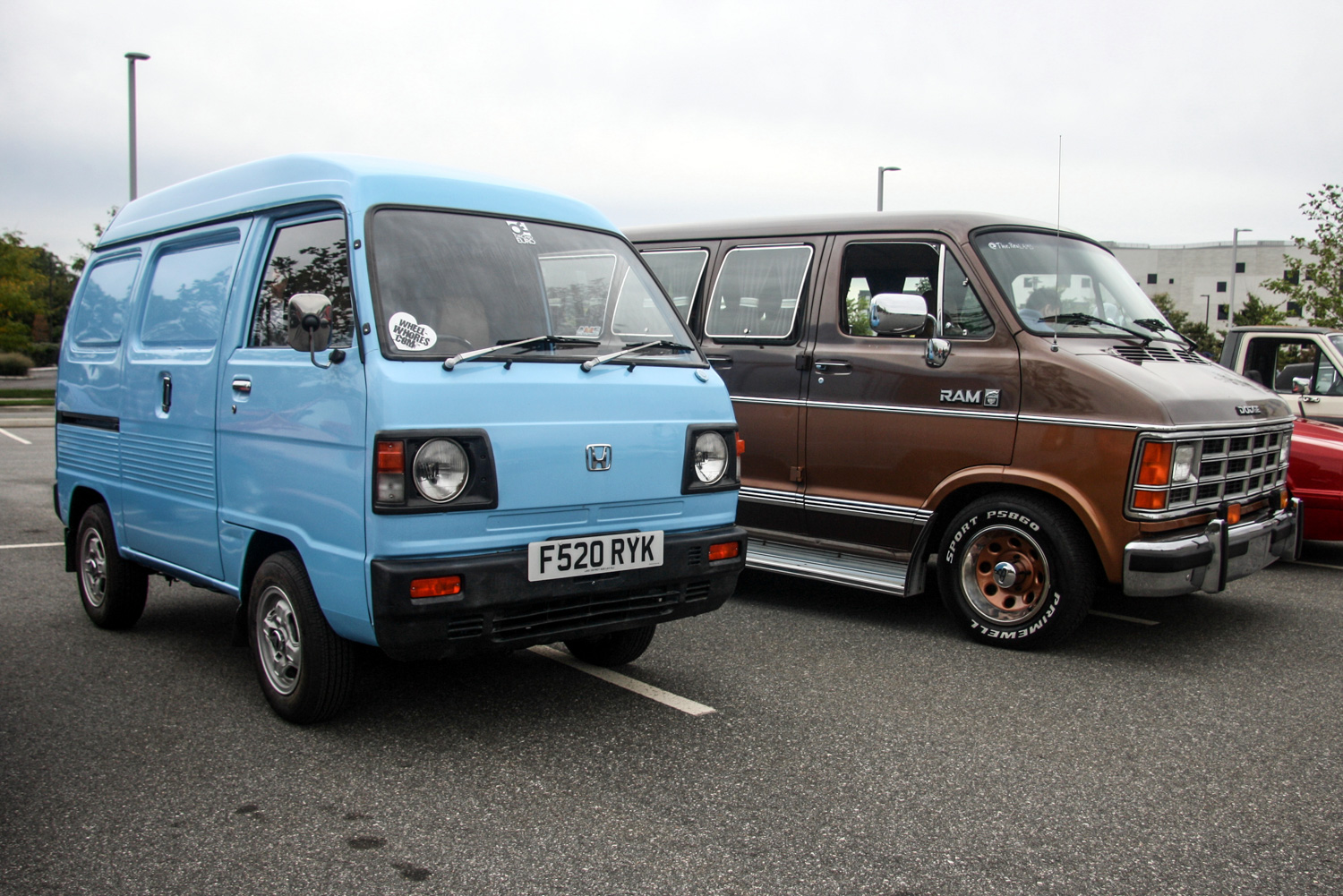 Nate and Matt Flamini, 34-year-old twin brothers from Douglassville, Pennsylvania, brought a mint green '85 Plymouth Reliant and a silver '86 Dodge Daytona, respectively. Both cars were well-preserved examples of Chrysler's modestly-priced 1980s offerings.
The Flaminis' parents and grandparents had owned K cars over the years, and the brothers remembered them fondly from their youth. That's what had prompted them to buy the cars, Nate Flamini says. However, their parents (the ones who had suffered through years of K car ownership) weren't so sure about their sons' hobby.
"They don't get it," Matt Flamini says. "Our dad had a Daytona, and when I got this one, he said, "Those were junk!"
Wesley Duckett drove up from Marietta, Georgia, in a tattered, but functional front wheel-drive 1984 Subaru GL hatchback. A tree had fallen on it at some point and the back seats were stained and torn. The smell of Lysol and long ago-extinguished Dorals wafted from its well-used interior.
"I wanted a Yugo, but couldn't find one," he says, explaining that a friend told him about a prosthetic-leg-brown-colored Subaru that a mechanic was selling for the price of the repair job someone had asked him to do before abandoning the vehicle. Duckett bought the car for $271.85. "I like cars that other people hate, the ones that are simple and are either known for being horrible or are very good at what they do."
This one, apparently, satisfied both conditions.
There were more than a few higher-end cars, too, including a handful of Ferrari 308s and a pre-production DeLorean some guy had owned for years without realizing what he had. Kevin Graziani, 25, who drove it down from Brooklyn, New York, says his father picked it up decades ago at an auction in New Jersey. One day, when father and son went to change the car's clutch, they found that the parts they'd ordered didn't fit.
"The parts guy said they were the right parts, but when I told him they physically wouldn't fit, he said, 'What's the VIN?'" Graziani explains. "That's when we knew we had, like, the eighth car."
Mark Skinner, a 57-year-old Brooklyn resident who daily drives an '86 Toyota Tercel 4WD wagon (the back of which resembles an ATM machine) and owns a handful of old Saabs, brought a couple of cars to Radwood, including a clean, all-original '82 Lancia Delta LX. The car featured wool-upholstered seats—in the same color brown as the paint, of course—and a high-revving 1.5-liter four-cylinder engine.
"I think the '80s and '90s were the pinnacle of automotive design," he says. "The new cars have no soul. You drive a new car and think you're something, and it looks like you're driving an angry vacuum cleaner."
Whether you love or hate cars bookended by the Reagan and Clinton administrations, the next generation of car aficionados seems to have embraced yesterday's throwaways as its crop of affordable classics. One thing the rad crowd shares with the fuzzy dice set is a rose-tinted glasses-view chorus you'll hear again and again at car shows: "My parents had one of these, and we all loved it."
The next Radwood will be held December 2 in the Los Angeles Arts District.