Putting on the Ritz at Amelia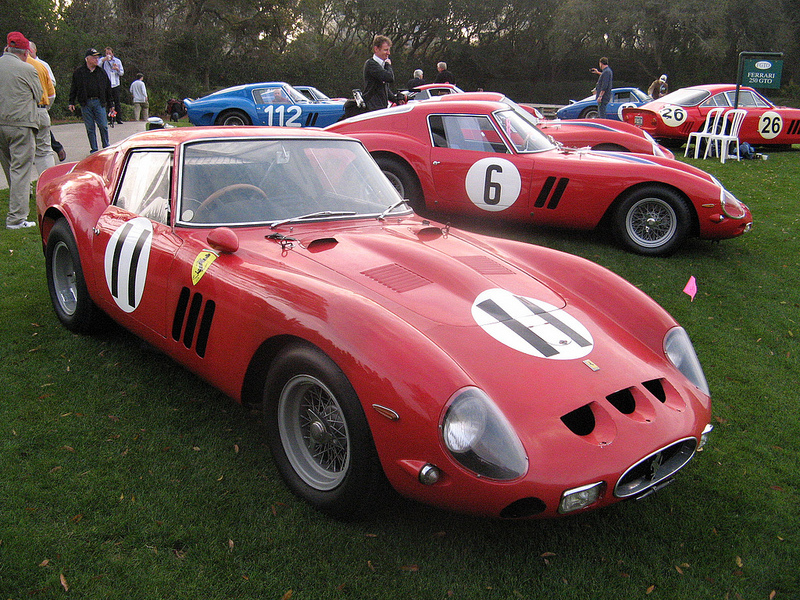 The shiny season continues with the Amelia Island Concours d'Elegance
Don't start reading the 172-page program for the Amelia Island Concours d'Elegance over your $30 breakfast at the Ritz-Carlton Hotel, or you'll be late for the show. Save it for the plane home.
Every March, Amelia Island Concours kicks off the shiny season. Thirty miles from Jacksonville, Fla., Bill Warner's event is like Pebble Beach in California, without the fog, on 26 acres around the 444-room, beachfront hotel.
"Here people walk around and laugh; at Pebble they just look distinguished," said Tom Cotter, a former co-chairman.
This year, the event drew 293 classic cars and 11 motorcycles to the hotel's golf course on Sunday, March 11. Ninety judges picked winners in 39 classes and 42 categories, such as advanced styling and historical significance. The odds of winning were one in 2.44.
The Concours d'Elegance award went to a 1938 Bugatti Type 57C Aravis Drop Head Coupe by Gangloff, owned by Bill Johnston and Ron Ellenbaas, of Richland, Mich. It's one of three survivors and was restored in 2009.
The Concours de Sport went to a rare 1962 Ferrari 330LM – the V-12, 4-liter version of the prized 3-liter 250 GTO. The 39 built sell for $30M apiece, but there were only four 330LMs. Jim Jaeger's car was driven by Mike Parkes and Lorenzo Bandini in the 1962 24 Hours of Le Mans, but crashed on lap 56. The concours celebrated the 50th anniversary of the GTO, so 12 attendees took a noisy tour, led by a Florida State Police car, with flashing lights.
By Sunday's end 23,000 people had paid $60 apiece to see the show, raising about $1.38 million. The event has donated $1.7 million to Community Hospice of North Florida and other charities since 1996.
The value of those 293 entries could be measured in two auctions during the weekend. ("Come on, Sir, what's a million between friends?" asked auctioneer Max Girado at RM Auctions). RM sold 92 of 106 cars for $23 million, while Gooding & Co sold 70 of 77 for $36 million, thanks to an 18-strong Porsche collection. Sales averaged $361,963 per car.
Warner brings top race drivers for seminars every year, such as Sir Stirling Moss, Carroll Shelby, Derek Bell, Dan Gurney, Bobby Rahal, Mario Andretti, Brian Redman, David Hobbs, David Piper, Jim Hall and Sam Posey. "Quick Vic" Elford was the keynote speaker at Saturday's dinner.
Elford recalled his extraordinary 1968 season, when he won the Monte Carlo Rally, Daytona 24 Hours, Targa Florio and Nurburgring 1000km. He was 2nd at Sebring and 4th in the French Grand Prix, in an also-ran Cooper. In 1970 Elford won the Nurburgring 1000/500km races, Hockenheim and Watkins Glen. He won both Nurburgring races again in 1971 and the Sebring 12 hours. Elford is the only driver to have raced every version of Porsche's legendary 917. Elford's career highlight video showed him stopping on the Mulsanne straight in the 1972 Le Mans 24 Hours to rescue the driver of a blazing Ferrari. (Click here to watch.) In that same crash, his friend Jo Bonnier was killed, and Elford gave up racing.
Friday's seminar revisited the intense 1963-65 Cobra-Ferrari Wars, with Carroll Shelby, Peter Brock, Bob Bondurant, David Piper and Mauro Forghieri, and it drew about 1,700 people. A Saturday seminar on Great Endurance Drivers featured Elford, Joe Bazzetta, Derek Bell, Hurley Hayward, Sam Posey and Brian Redman and about 500 fans.
Sunday threatened rain at first, and as the cars murmured onto the field, they passed Jim Taylor's menacingly original 1937 Horch 853 A Cabriolet, wearing a 1953 U.S. Forces in Germany license plate. It was traded on a Buick in New York, after the war, and the dealer kept it until his death.
At the opposite end of the spectrum, Don and Darby Wathne's 1933 Rolls-Royce Phantom II dual cowl phaeton was imagined from a limousine by an English eccentric. Darby Wathne completed the picture in period dress.
The concours drew 23 Ferraris and seven of Vic Elford's race cars – six Porsches including a 911, two 907s and two 908s – and a Chapparal 2J "sucker" car. Race winners marked the 60th anniversary of Sebring and the 50th Daytona. Andreas Mohringer thrilled spectators in the ex-Bill Spear/Phil Hill Sebring Ferrari 375MM Spyder. "I flew in from Austria," he said. "I keep the car in this country. It's where its history is."
Star cars included Natalie Wood's 1957 Mercedes-Benz 300SL roadster, Rita Hayworth's Ghia-bodied 1953 Cadillac, Ginger Rogers' 1929 Duesenberg from "The Gay Divorcee," Tom Mix's 1937 Cord 812 SC Phaeton "death car," and Fatty Arbuckle's 1923 McFarlan limousine.
Corvettes filled a Styling Studio class of evolutionary designs and dead-ends, including the stunning 1957 SS racer, 1959 Scaglietti coupe, Larry Shinoda's 1961 Mako Shark concept, which foreshadowed the 1963 Stingray, the 1964 World's Fair and XP819 concepts, and the 1990 CERV III.
Great names on show included Auburn, Bentley, Cord, Duesenberg, Ferrari, Hispano-Suiza, Packard, Pierce-Arrow, Roll-Royce and Stutz. Lesser-known marques were Connaught, Hotchkiss-Gregoire, HRG, Hupmobile, Kissel, Marmon, Pope-Hartford, Siata and Tracta, with oddballs like the Byers SR100, LaDawri Conquest and Paxton Phoenix.
Custom constructor Steve Moal brought six Ford roadsters, including one with a Ferrari V-12 and an ostrich skin interior, and a 1936 silver aero coupe, with an aircraft-style dash and a supercharged Ford Thunderbird V-8.
Many cars had great histories, like the 1925 Hispano-Suiza landaulet built for financier Andrew Mellon's daughter, Alisa. Owner Don Nichols, from Lompoc, Calif., outfitted in a chauffeur's wool uniform. "I retired in 2001 and the kids said, 'Dad, fix it or sell it.'"
Terence Adderly of Bloomfield Hills, Mich., has owned his 1935 Auburn 851 Speedster for 50 years. "It won best Auburn at the Auburn-Cord-Duesenberg meet last year," he said, alongside model Taylor Wray, who rode with him on the fashion parade.
At day's end Bill Warner proudly announced: "We aimed to be finished by 4 p.m. and it's now 4.03. We sold out of tickets, and that's 20 percent more people than last year."
Next year's concours is set for March 8-10, 2013.