The public parking lot at Goodwood Revival will shame your Cars and Coffee
If there's a single event that should be at the top of every gearhead's bucket list, it's the Goodwood Revival. The sprawling vintage-themed event takes over a huge swath of beautiful Sussex, England, sending the entire area back in time to pre-1966—right down to the outfits of each attendee (that means you).
All around it's a vintage car (and plane) lover's dream, with every childhood lust you've known battling it out on the race track over three days, with incredible access to those and many more in the pits. But while you may already be aware of the comprehensive vintage insanity inside the show's confines, a boon awaits in the parking lots.
Even here, any one of the hundreds of hastily grass-parked cars would make your local Cars and Coffee seem laughable. It's a sensory overload that can drive you insane, or at least leave you feeling frustrated that this event only happens once a year. Short-wheelbase Ferrari 250s are shoehorned next to Lamborghini Miuras, flanked by Pagani Zondas and overland Mercedes-Benz Unimogs. To avoid mental breakdown, we focused our lens on the things you just don't see much on our side of the pond, regardless of value, so some are worth a few thousand dollars and others a few million. After all, the parking lot does a brilliant job of capturing a key idea of revival—equality for all.
Dozens of vintage Land Rovers, in any trim you seek—from early Series I examples and IIs to early war trucks to lifted and supercharged modern(ish) Defenders. We found ourselves drawn to a couple of early rust-infested specials and a well-touched recent Defender.
More Aston Martin DB4s, DB5s, and DB6s than you can count, whose Milanese Superleggera bodies draw the eye now more than ever. Featuring a trusty inline-six engine that grew from 1958 to 1970, the cars produced from 240 horsepower (3.7-liter, DB4) to more than 280 hp (4.0-liter, DB6).
A Reliant Scimitar… when was the last time you saw one? Built for more than 20 years, these cars were offered in coupe, cabriolet, and shooting brake form—this one's a shooting brake SE6a V-6. Only 543 were built. Oh, and it happens to be parked next to a Triumph Stag.
A Porsche 911 reimagined by Singer that would be the star of just about any other show. Here, it's relegated to one of the outer lots, gathering dust behind a plain old Land Rover Discovery.
A few Caterhams, including this Seven 310 R, which makes 152 horsepower and weighs just 1190 pounds. While not the most powerful Caterham offered, it comes with things like a limited-slip differential and a roll bar. And it just might strike the right power-to-weight balance.
Scads of vintage, beautifully restored Alfa GTA and GTVs, which, despite rocketing values, their sheer numbers here remind one of just how many were made. We loved seeing so many present that were expertly restored. The step-nose draws a premium, but we'd take the clean lines of a later car any day.
Many Jensen Interceptors, which is absurd enough a statement in and of itself. Here, though, the rarest of the rare can barely fit in each giant lot—there are perfect stock examples and modified FF variants—but the one that caught our eye was this Interceptor S, which was restored with modern parts by V-Eight LTD, including an LS2, independent rear suspension, AP Racing brakes, and 17-inch wheels.
Bentley 4 ½ Litres, plural. Built in the late 1920s and early '30s, they're not quite as common here as Corvettes are at your Cars and Coffee, but it's close. This one stood out surrounded by newer BMWs.
A Citroën BX Break brought a sort of Brooklyn hipster irony to the star-studded lot, so we had to throw it in the list for posterity. It's turbo diesel four-cylinder was praised for helping to debunk the idea of diesels as noisy and dirty. It's as weird as it is ungainly, and that doesn't make us like it any less.
Renault Alpine A110s, new and old, both in light blue metallic (naturally). The old car could be had with a diminutive 1.1-liter engine cranking out 95 horsepower and was a gem to drive. The new one manages to capture a lot of that charm without the over-automation that plagues so many modern cars today, while cranking out 250 horsepower from its 1.8-liter turbocharged engine.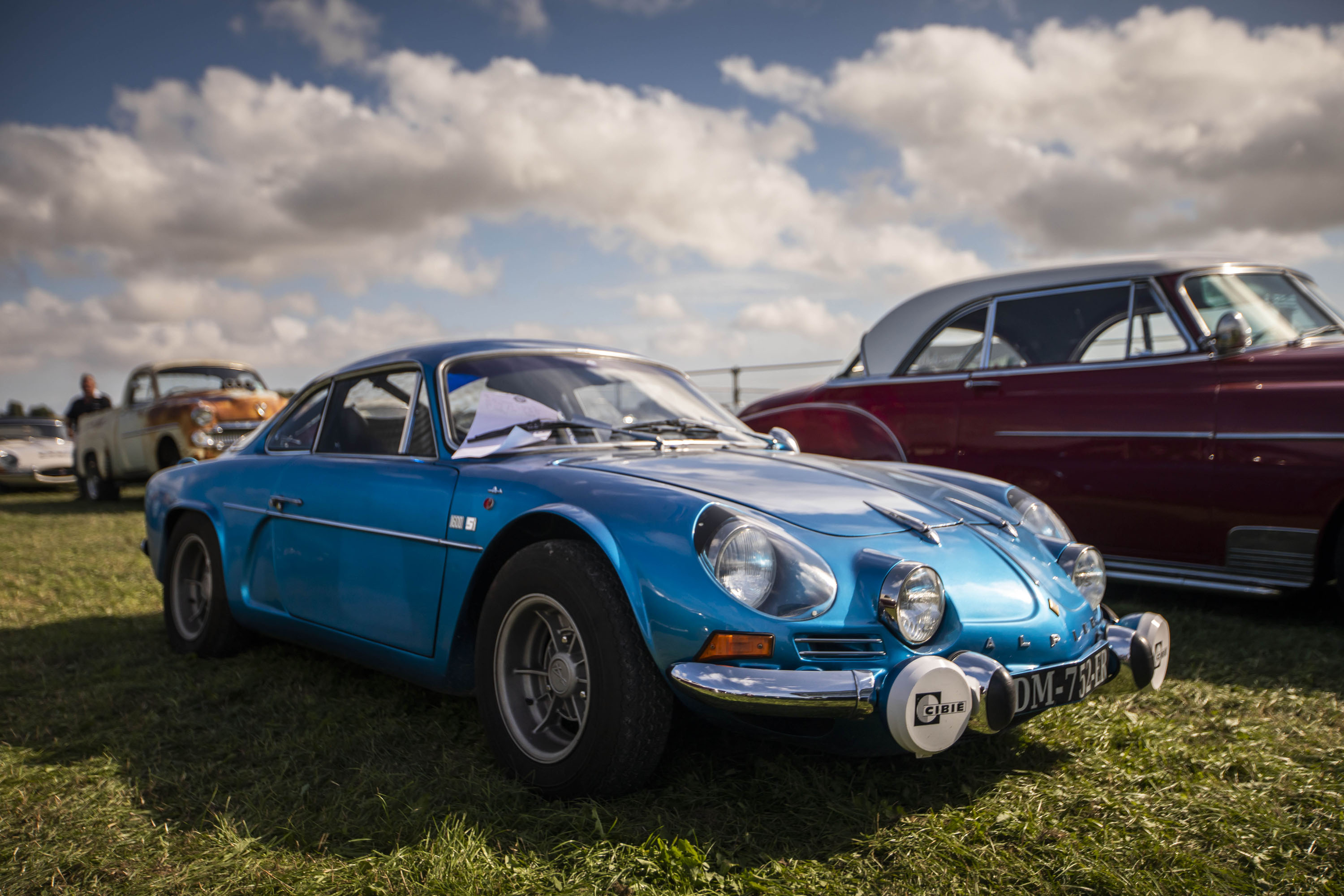 A Lancia Integrale and a lone Mitsubishi Evolution V were sights for sore eyes amongst rows and rows of exotics. The Lancias are soaring in price. Don't be shocked when brilliant-to-drive unmolested early Lancer Evolutions start doing the same.
A Morgan Plus 8 can't be skipped over, despite the opinions it elicits from lovers and haters alike. Built on and off since 1968 but sadly ending production this year, the modern variants (like the one pictured) is powered by a 4.8-liter BMW engine, which puts 367 horsepower to the crank.
Jaguar XK 120, XK 140, and XK 150s in numbers too big to count. Our favorite was this super cool Carrera Panamericana edition, complete with roof-mount tire storage and blacked out wheels.
A few ridiculously clean BMW 2002 Turbos that make more sense now than they ever have—small as a button and packing a punch, with 170 horsepower and 180 lb-ft of torque. Just 1672 were built, thanks to the gas crisis.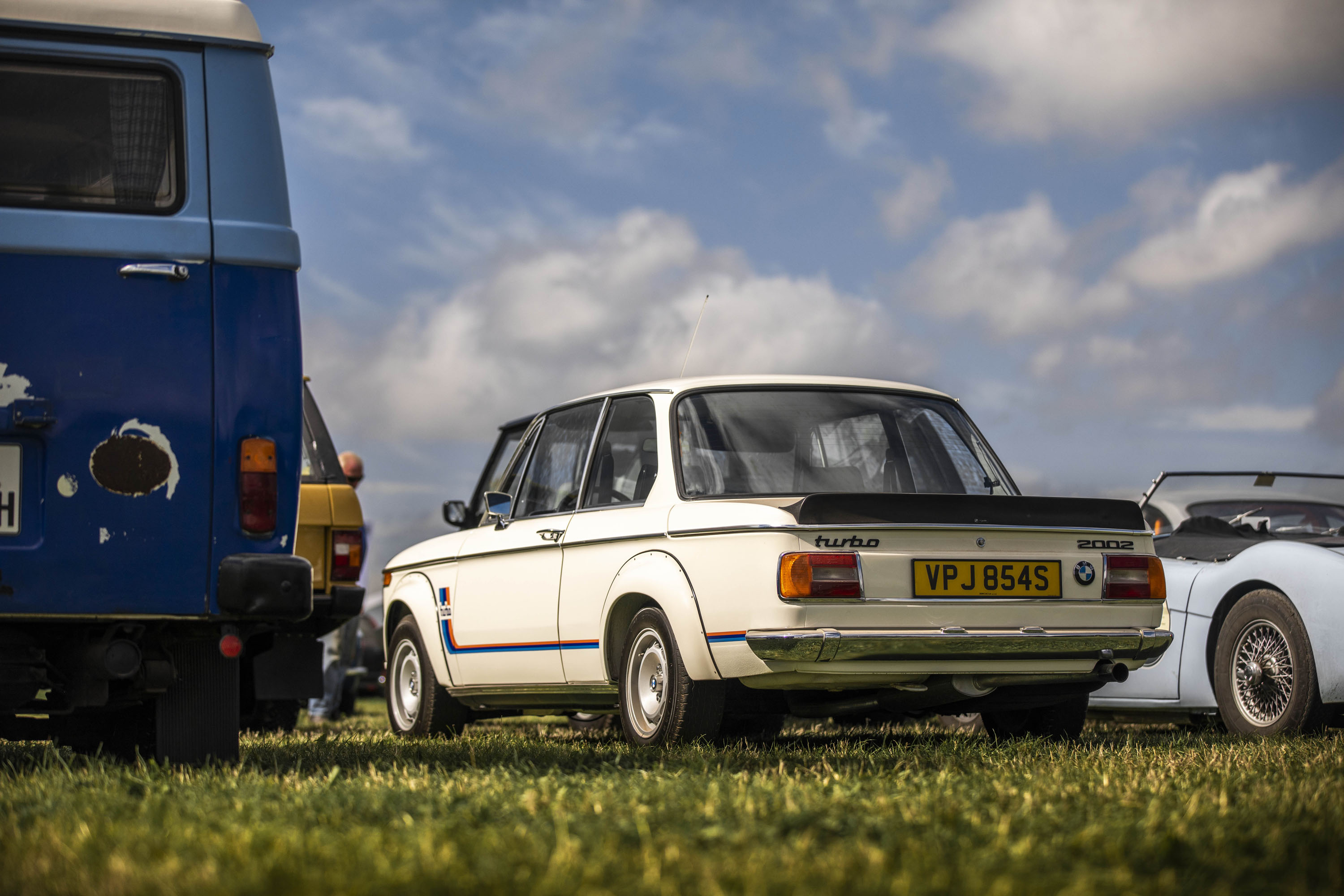 Untouched BMW 3.0 CSL AND CSIs. Hotter than ever, and for good reason. The beautiful coupes were a win for BMW, and these were the two variants you wanted. The "I" stood for "injection," of course, and it made for a more drivable car, producing 200 horsepower. The CSL was the homologation model of that car, and offered an increase in displacement to 3.2 liters and significant lightweighting. Rare as they may be, there was an almost identical CSL parked just two cars behind this one.
The Classic Range Rover might just be leading the recent vintage SUV craze, and this one, parked next to a pristine four-door, is restored and spotless, in a color that just screams 1970s: Bahama Gold.
This "shooting brake" version of a 1960s Ford Mustang might not be the lone prototype Ford is said to have made, but the execution is flawless, making instantly for something you haven't seen before.
No telling whether this E-type Lightweight is the real deal or not, but it owned its spot on the lawn with enough authority that it was getting pictured anyway. The real-deal cars had big 3.8-liter engines that produced around 300 horsepower and were offered with fuel injection or carburetors.
The Maserati Khamsin is the one you might not be aware of, featuring a 4.9-liter V-8 with quad double-barrel Weber carbs that made around 320 horsepower. The car was made from 1974 to '82, but just 435 cars were produced.
It's a bizarre world where a Ferrari 330 GTC is a common sight. Still, they're pretty enough to include at least one. This car, in Rosso Corsa, caught our eye. Presumably, we don't have to tell you about the Colombo V-12 underhood.
A rest-of-world E30 BMW M3 Convertible looks strange enough to our American eyes that a photo had to be taken. It's a counterintuitive car, because the M3 was a serious performance car back then, built for road use only to meet racing homologation requirements, so it's odd there was demand for one with the roof lopped off. We're not saying you should try to find one; we're just saying it's a rare sight.
The uncommon MG GT V8 featured Rover's 3.5-liter V-8, which weighed around 40 pounds less than the inline-4 fitted standard, and could shoot the cool little hatchback to 60 mph in 7.7 seconds, despite making just 137 horsepower.
No less beautiful in the UK than anywhere else, the Ferrari 250 Berlinetta SWB stops any onlooker dead in their tracks. Engines made from 237 to 280 horsepower while producing one of the most iconic and wonderful sounds in automotive history.
This Jaguar C-type couldn't be bothered to have a bath before its arrival at Goodwood and that just made it better. Often overshadowed by the D-type, the C-type offered very similar running gear compared to early D-types, but lacked the modern body and frame construction.
The Facel Vega Facel II is one of the strangest French cars built, and that's saying something. With only 180 made, you've seen a dodo bird if you've seen one. Designed to break the company out of bankruptcy, it was powered by a 355-horsepower Chrysler Typhoon V-8 and had a little bit of everything in the design.
There's something undeniably cool about the Messerschmitt KR200 when seen in person. It's everything you need and nothing you don't. With just one door and glass everywhere, the visibility was unmatched. These little guys managed just under 10 horsepower, but sold in droves to a total production of 40,000.
This Aston Martin DB4 Superleggera in robin's egg blue gets credit as the first time we've seen the color on a DB. Not bad.