Making Lemonade: Concours d'LeMons is Monterey's most refreshing event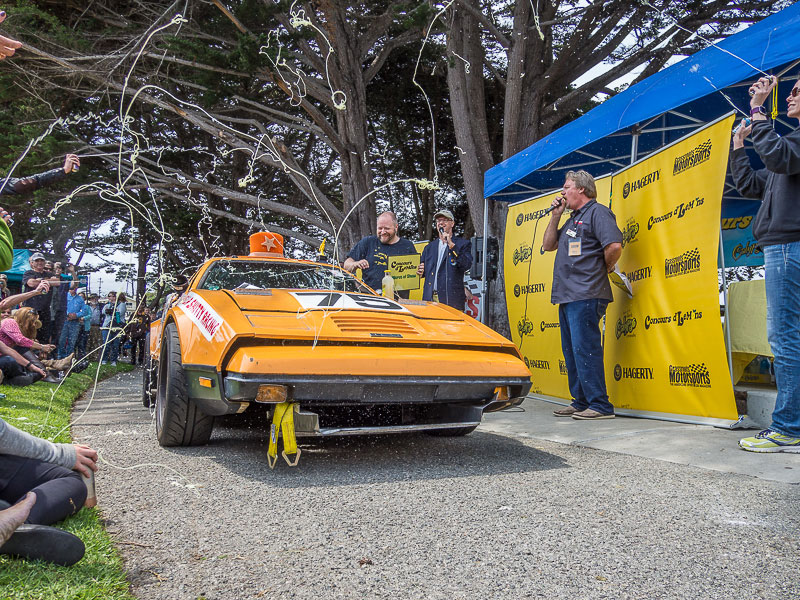 Concours d'LeMons takes place on the heavily goose-pooped grass at Laguna Grande Park in Monterey, fitting for an event honoring so many turds. The free show is a celebration of "the oddball, mundane and truly awful of the automotive world," is the perfect lighthearted complement to a weekend full of all-too-serious car business.
From Yugos to Panhards, DKWs to Mercury Lynx LN7s, fire-damaged Lincoln limos to swiss cheese Karmann Ghias, you're guaranteed to come away with a smile and a headache when all is said and done. Alan Galbraith, who delivers the perfect blend of snark and sarcasm in his presentation, emcees the Concours along with Tim Suddard of Grassroots Motorsports, the perfect baritone color man.
The winner of this year's highly coveted Worst in Show was a 1974 Bricklin, fully prepped for competition in the 24 Hours of LeMons series under the "Hella Shitty Racing" livery. On the dais, Galbraith asked the owner of the gullwing car what would happen in the event of a rollover on the track. "You'd die," he said.
"What a way to cap this all off," Galbraith said. "And what a letdown. Thanks for bringing it out. Now get it out of here."
Other winners included an MG Midget limousine with no powertrain (Most Unsafe) and a 1972 Ford Country Squire wagon on a '60s F250 dually pickup chassis — perhaps too cool for LeMons but a sight nonetheless (Rustbelt American Junk). A Volvo Amazon wagon took home the Swedish Meatball award, with lingonberries, Swedish Fish and pickled herring as the prize. "This is the result of bad credit," Suddard said.
Claiming one of the "corporate awards" was a Peugeot 505 racecar towing a Peugeot 304. Galbraith presented the owner with the Double Turd Award, a poop emoji plush toy and a large metal sign with the word TURD in brown script.
If there were any complaints about this year's event, they revolved around the quality of certain cars. Why anyone would think a clean, shiny C2 Corvette convertible is a lemon is beyond comprehension, but there were actually two of them. It is this writer's opinion that next year's entrants should be scrutinized more closely before admission to the concours. We can't have people classing up the joint.
Learn more about the event at concoursdlemons.com, and find Hagerty's video walkaround at hagerty.com/youtube.