Hershey or Bust Road Trip: The Camaro cruises through Ohio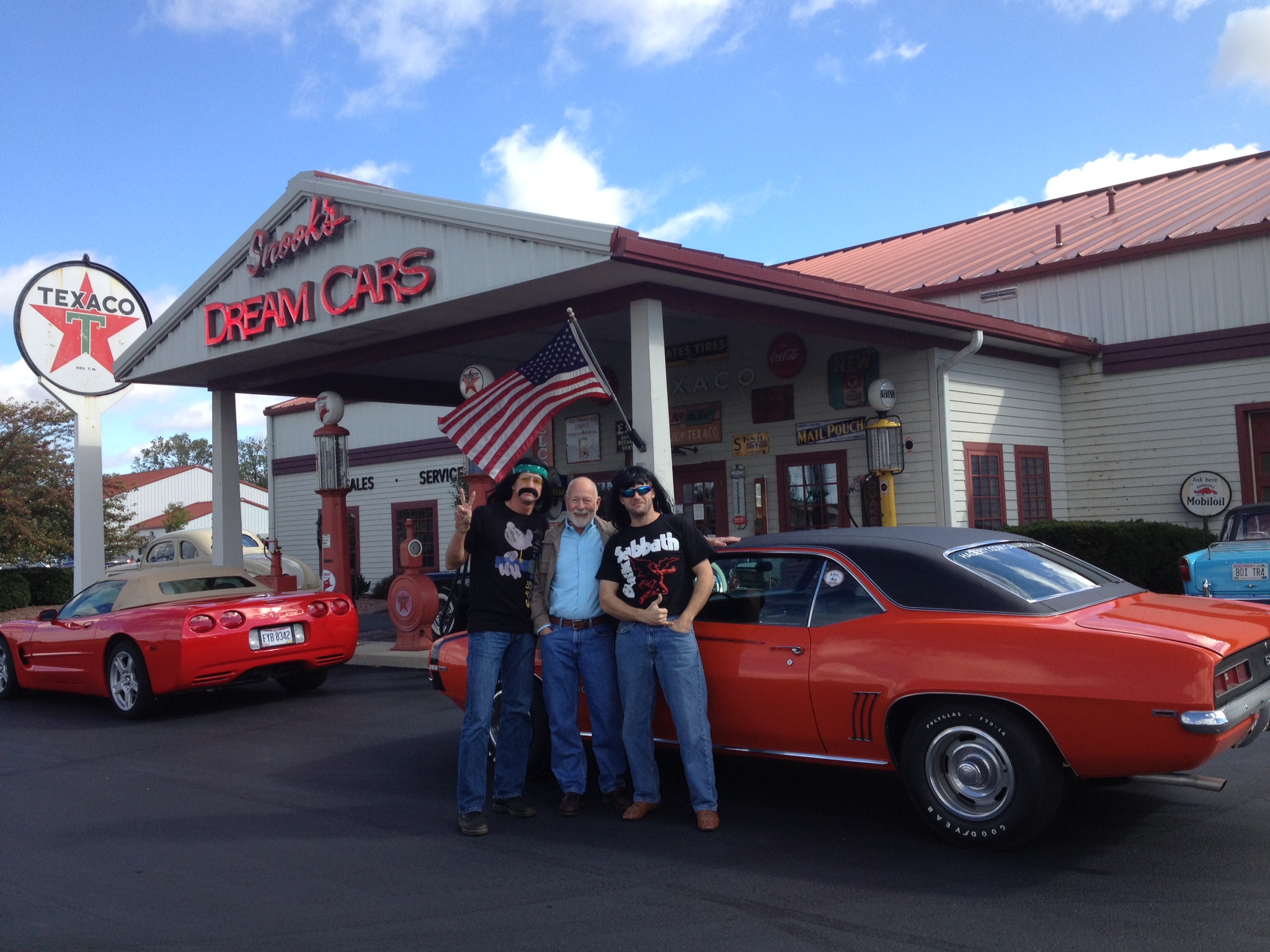 Day 1 of the Comeback Camaro's trip to the AACA Fall Meet in Hershey, Pa., went by so fast it seemed like a blur. And that's saying something, considering we left Hagerty headquarters in Traverse City, Mich., at 5:30 a.m. and didn't pack it in until 16 hours later in Boardman, Ohio.
With the exception of a 20-minute rain shower in mid-Michigan and a blown tire on another vehicle in our group, it was smooth sailing. The '69 Camaro drew its usual share of wavers and honkers, and we even chatted with a Michigan man who recognized it from a story he'd read in the Hagerty Classic Cars weekly newsletter.
After stopping at the Ohio border sign and snapping some photos in our 1960s attire (sorry to all of those commuters who may have been startled by the long- haired dudes in the sunglasses and rock t-shirts), we headed to our first scheduled stop: Snook's Dream Cars Museum in Bowling Green. In spite of our attire, we received a warm welcome from Jeff Snook, owner and curator of the museum, and Jeff's chief mechanic, Terry Stetler. Jeff and Terry met through a mutual interest in motor racing and have been working together for years.
Snook's Dream Cars Museum is a fascinating collection of cars and automobilia, but what makes it special is that it is deeply personal for Jeff. Most of the items in the museum were acquired by Jeff's father, Bill, who is 90 years old and no longer able to enjoy the collection. As Jeff tells it, his dad ran a manufacturing company and bought and sold auto-related items on the weekends. One of Bill's regular stops was Hershey, and Jeff said "he'd sell stuff, but then he'd have money in his pocket so he'd go out and buy more." Bill favored Texaco-related items, slot machines, kids toys, car-shaped alcohol decanters and Ohio license plates (he has a full run from 1910-1974; the state began issuing renewal decals in 1975).
Among the cars in the museum are a 1954 Kaiser Darrin, 1933 Cadillac, 1936 Auburn, 1940 Packard, 1931 Ford woody wagon and race cars that Jeff still enjoys. In fact, Jeff calls the place "a living museum" because every car is driven. At every turn, there is a tribute to Jeff's dad, including a 1942 Ford/Willys Jeep like the one that Army Sgt. William Snook drove as a member of the 97th Infantry Division from 1943-1946.
Snook's Dream Cars Museum opened in 2002, and the displays were designed by students in the Bowling Green University design department. One area replicates downtown Bowling Green during the 1940s, while another area includes "Bill's Diner" and "J & B's General Store."
Our thanks to the incredibly hospitable Jeff Snook and Terry Stetler for showing us their impressive collection. Snook's is a must-see stop for the car guy, and it's just minutes off I-75.
Next stop was Lowellville, Ohio, near the Pennsylvania border, for the town's weekly Cruisin' the River show. Since Lowellville is perfectly situated between Cleveland and Pittsburgh, it draws great and unusual cars, and today was no different. Despite cooler weather and skies that threatened rain, we were greeted warmly by Al Smith, who runs the show, and treated like celebrities by all in attendance. One of the more fascinating cars was a gorgeous 1964½ Chrysler 300 Silver Edition, owned by Chuck and Patti Adams of Columbiana, Ohio. Chuck saw it in a used car lot three weeks ago and "just had to have it." It was easy to see why.
Day 2 was enjoyable, but not quite as fast paced. We started the day with the short drive to Sharon, Pa., for lunch at the original Quaker Steak & Lube restaurant/pub. QSL, as it is referred to on numerous souvenir items in the gift shop, opened here in 1974 as a way for co-owners George "Jig" Warren III and Gary "Moe" Meszaros to pay homage to "old gas stations and high-powered muscle cars" while serving great food and drinks. Quaker Steak & Lube now has nearly 50 franchises in 20 states and Ontario, Canada. In addition to classic car and motor racing fans, it is also a favorite hangout for motorcycle owners, particularly on Wednesday Bike Night.
We took I-80 east through some gorgeous Pennsylvania countryside, driving the final five hours to Hershey. During a fuel stop we saw a beautiful white 1967 Chevrolet Caprice, a car that Chevy built for more than 30 years (1964-1996). The first generation models were the most popular.
We were welcomed by a group of fellow Hagerty employees who were awaiting our arrival at Tröegs Brewery in Hershey, just down the road from the AACA Fall Swap Meet, which officially began on Thursday. Looking forward to discovering more great cars and interesting people. Stay tuned.