Concours d'Lemons: A break from perfection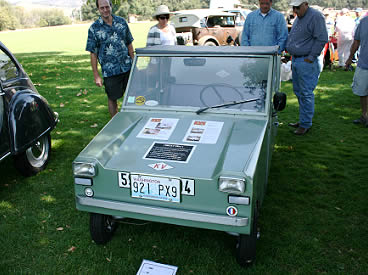 Pebble Beach is where gearheads go to see the best of the best, but there is such a thing as too much perfection. If you find yourself wandering from Delage to Delahaye, senses overloaded with automotive opulence, perhaps it's time to shake things up. Take a break from perfection at the Concours d'LeMons.
Now in its second year, the Concours d'LeMons is the antithesis of Pebble Beach; here, they celebrate the very worst of automotive imperfection. This is probably the largest collection of ill-conceived and poorly executed cars you'll ever see in one spot. And with classes like Rust Belt American Junk, Unmitigated Gaul and Rueful Britannia, you know you're in for a decidedly non-stuffy good time.
"It's a bit of a send up of Pebble Beach," says organizer Alan Galbraith, "we just want to let some of the hot air out of that balloon."
Twenty miles away from Pebble Beach at Toro Regional Park in Salinas, proud Pacer, Gremlin and Rambler owners have found a home — finally. "These owners are no less passionate," says Gailbraith, "and they actually do the work on their cars. With a $500,000 Delage restoration, all they're doing is writing checks."
Passionate indeed. Take last year's Worst of Show winner, Mike Harrell, who towed his French-made 1980 KV Mini 1 nearly a 1,000 miles from Seattle. While it's amazing that he'd go to such lengths to get this "truly awful car" here, his reason for buying it in the first place is even more compelling.
"It was just so strange … the idea that someone would propel a car by rubbing grindstones against the tires … I just couldn't pass it up."
Stranger still is that when Harrell bought a second KV Mini 1 from Great Britain ("It was the only way to get parts!"), it was cheaper to fly the car than ship it by boat. At 400 pounds, the Mini weighs less than some Sumo Wrestlers.
The Concours d'LeMons was a natural outgrowth of the 24 Hours of LeMons, a racing event conceived by Galbraith's friend Jay Lamm, where amateurs compete in cars costing $500 or less. After competing in the race for several years, Galbraith dreamed up the Concours d'Lemons.
"Jay brought the fun back to racing, so why not do the same for concours?" he says.
While Pebble Beach might take itself a bit too seriously, d'LeMons is all about fun. Judges wearing wigs and sombreros encourage bribery (liquor, food and cash). Mike Harrell believes his French francs sealed his win; the inebriated judges may have forgotten that francs are now worthless.
While many of the cars at LeMons display their owners' creativity (take last year's S&M Cadillac or the disco-ball Pinto, winner of the Studio 54 Award) some cars really are historically significant. To wit: the sturdy but uncomfortable 1958 Toyota Toyopet—the first (and least successful) Japanese import to the U.S.
This year, expect to see some historically significant — and terrible — vans and SUVs, including the dreaded Shag van favored by make-out artists, cartoon ghost hunters and serial killers. But most of all, expect to laugh — a LOT.
Concours d'LeMons
Saturday, Aug 14 9:00am-4:00pm
Toro Regional Park
501 Monterey-Salinas Highway 68, Monterey
http://concoursdlemons.com
$20